Start Your ALEKS Free Trial Without Giving Access to Your Credit Card
ALEKS is an online learning and assessment platform for grades 3-12 that offers mathematics, chemistry, statistics, and accounting course materials. It uses artificial intelligence to map out a student's strengths and weaknesses.
Educators leverage ALEKS' powerful tools to understand their student's progress in class better. DoNotPay can help you get an  without exposing your credit card information. Read on to find out how.
Does ALEKS Offer a Free Trial?

Yes. ALEKS offers trials for both students and educators/administrators.  on its platform:
1. Independent use
For families or individuals. Allows you to choose a course and complete an Initial Knowledge Check, target gaps with uniquely tailored learning, and monitor improvement with automated reports.
2. Instructors and administrators
For K-12 or Higher education. Allows you to explore ALEKS as a student and as an instructor. You can create student assignments while monitoring student and class progress.
With both types of free trials, you have the option to explore ALEKS in two modules; Student Module or Instructor/Master Module.
How Long Is an ALEKS Free Trial?
The free trial length depends on the free trial you have selected.
Independent use — allows you to explore the ALEKS Student Module for 3 hours anytime during the next 48 hours.
Instructors & Administrators — allows you to explore ALEKS as a student for three hours anytime during the next five days.
How Can I Get an ALEKS Free Trial?
ALEKS makes getting a free trial quite simple. All you need to do is follow the steps below:
Open ALEKS' website on a browser and click on the 'Free Trial' link on the top right navigation menu.
Select an ALEKS free trial to proceed with by clicking on the 'Continue' button.
Select the module you wish to explore ALEKS in — Student or Instructor Modules.
Accept the ALEKS' User Agreement and click 'Continue.'
Create an  Account by providing all the required information and selecting a course.
Your guest account will be created with an auto-generated username and password. You will be prompted to change the password.
Lastly, you will get a guided tour of the dashboard.
How Much Does an ALEKS Subscription Cost?
ALEKS offers its clients a wealth of options in terms of subscription packages.
Individual packages are as follows:
| | |
| --- | --- |
| Subscription | Price |
| 1 Month | $19.95 |
| 3 Months | $49.95 |
| 6 Months | $99.95 |
| 12 Months | $179.95 |
ALEKS also offers a Family Discount Program that is suitable for families with more than one child. Its prices are as follows:
# of Students  
6 months
12 months
Price 
Total Discount
Price 
Total Discount
1
 $99.95
16.50%
 $179.95
24.83%
2
$169.90
29.03%
$305.90
36.11%
3
$239.88
33.20%
$431.88
39.87%
4
$299.84
37.38%
$539.84
43.63%
5
$374.80
37.38%
$674.80
43.63%
6
$449.76
37.38%
$809.76
43.63%
*Discounts are based on the monthly individual rates.
Does an ALEKS Free Trial Automatically Renew Into a Paid Subscription?
No. ALEKS does not require any credit card information for a free trial. Therefore, they will not charge you once the free period is over. You will need to buy a subscription to use the service.
Use DoNotPay to Avoid the Risk of Auto-Renewal Once a Free Trial Is Over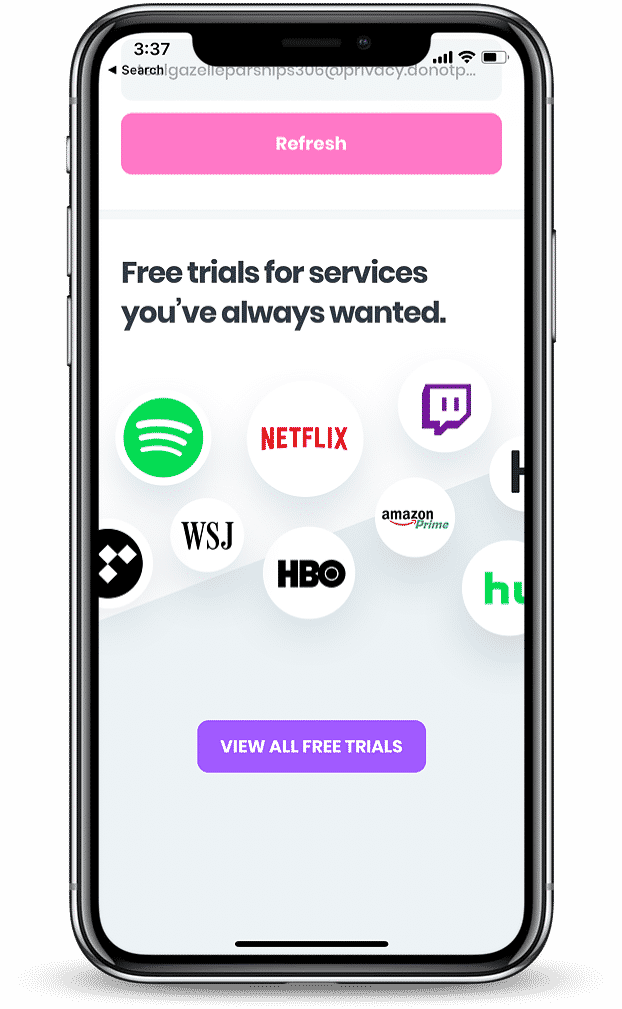 ALEKS does not need any credit card information for you to create a guest account for a free trial. However, companies like Audible and Adobe need credit/debit card information before a free trial. It is easy to forget to cancel the trial before the first billing cycle with such companies. Luckily, DoNotPay has got your back!
DoNotPay's virtual credit cards will help you avoid automatic renewals once the free trial ends. DoNotPay's virtual credit card acts as a one-time use credit card. It hides your actual banking information by generating a random credit card number, expiry date, and a temporary email address. The service will not charge you once the free trial is over because they will not have access to your actual banking information. Instead, you will automatically be unsubscribed from the service.
Feel at ease when registering for free trials by using our free virtual credit cards. Get a free virtual credit card when you sign up for DoNotPay.
What Are the Most Popular Alternatives to ALEKS?
If you need something more than what ALEKS offers, or maybe a similar one but with lower pricing, you can check one of the following alternatives.
Make the Most of DoNotPay

DoNotPay can help you cancel a subscription, get a refund from a company that has wronged you, or even sue them in a small claims court.
Visit DoNotPay on a web browser if you need help with:
 to learn more!