How to Cancel Zurich Life Insurance in 3 Steps
Life insurance is a valuable form of financial protection for your family should something happen to you. If you have Zurich insurance, you know that they proudly claim to offer daily life reassurance by protecting your financial future and supporting you right now.
However, there may come a time when you no longer need or desire to keep a particular life insurance policy. If that is the case, do not fret. If you are wondering how to policy, DoNotPay is here to help you navigate the entire process.
Cancel Zurich Life Insurance During the Cooling Off Period
Generally, the cooling-off period for cancelling a purchase or insurance policy is 14 days. However, if you have purchased life insurance, the cooling-off period is 30 days. Your cooling-off period starts from the date you receive your policy documents, or the date the policy starts, which is later. You are entitled to a refund of the premiums paid. When you first take out a Zurich policy, they will actually send you details on if you change your mind.
How to Cancel Zurich Life Insurance After the Cooling-Off Period
After the initial 30-day cooling-off period has ended, you are still entitled to cancel your Zurich life insurance policy, but there are a few important things you should know:
You may at any time
After the first 30 days, Zurich will not refund any premiums that you have already paid towards your insurance policy
You need to contact Zurich directly to cancel your insurance policy
How to Contact Zurich About Your Life Insurance Policy/Cancellation
During the course of cancellation, you will need to contact Zurich and may find that you need to contact them in multiple ways, depending on your circumstances. There are a few different ways to contact Zurich.
Call Zurich
You can reach the UK-based Zurich team at 0370 333 1500, Monday through Friday from 8:30 AM – 5:30 PM, with the exception of bank holidays. Be advised that they may record or monitor calls for training and/or quality purposes.
Email Zurich
Although it is not generally advised to send sensitive, personal information through email, this is sometimes an easy way to follow up with a company with additional questions or concerns.
Write to Zurich
While writing is not the most speedy or efficient way to contact a business, it may be necessary for formal contact.
Zurich Insurance Contact Information
Phone
0370 333 1500
Email
Zurich.Customer.Service@uk.zurich.com
Postal Address
Zurich Assurance Ltd

New Bridge Square

Swindon

SN1 1HN
DoNotPay Will Cancel Subscriptions and Memberships on Your Behalf
At DoNotPay, we understand that it can be tedious, time-consuming, and sometimes confusing or frustrating to cancel memberships and subscriptions. Every company has their own cancellation policy, and sometimes you have to jump through hoops just to cancel something. If you have decided to cancel multiple subscriptions, you may have a long process that changes from one company to the next.
Instead of using up your valuable time, let DoNotPay help you manage your subscriptions. We can get started right here, right now. You simply give us the important information to get started, and we will handle the rest on your behalf. DoNotPay will notify you once the service has been cancelled.
Here is how to cancel subscriptions or memberships in 3 steps:
Log-in to DoNotPay and search for the Manage Subscriptions product.

Provide the name of the subscription service you want to cancel.

Provide your account details such as email address and username.
Once you provide us with the details, we will work on cancelling your subscription! We will even try to get any applicable refunds on your behalf.
What Subscriptions Can DoNotPay Help Me Cancel?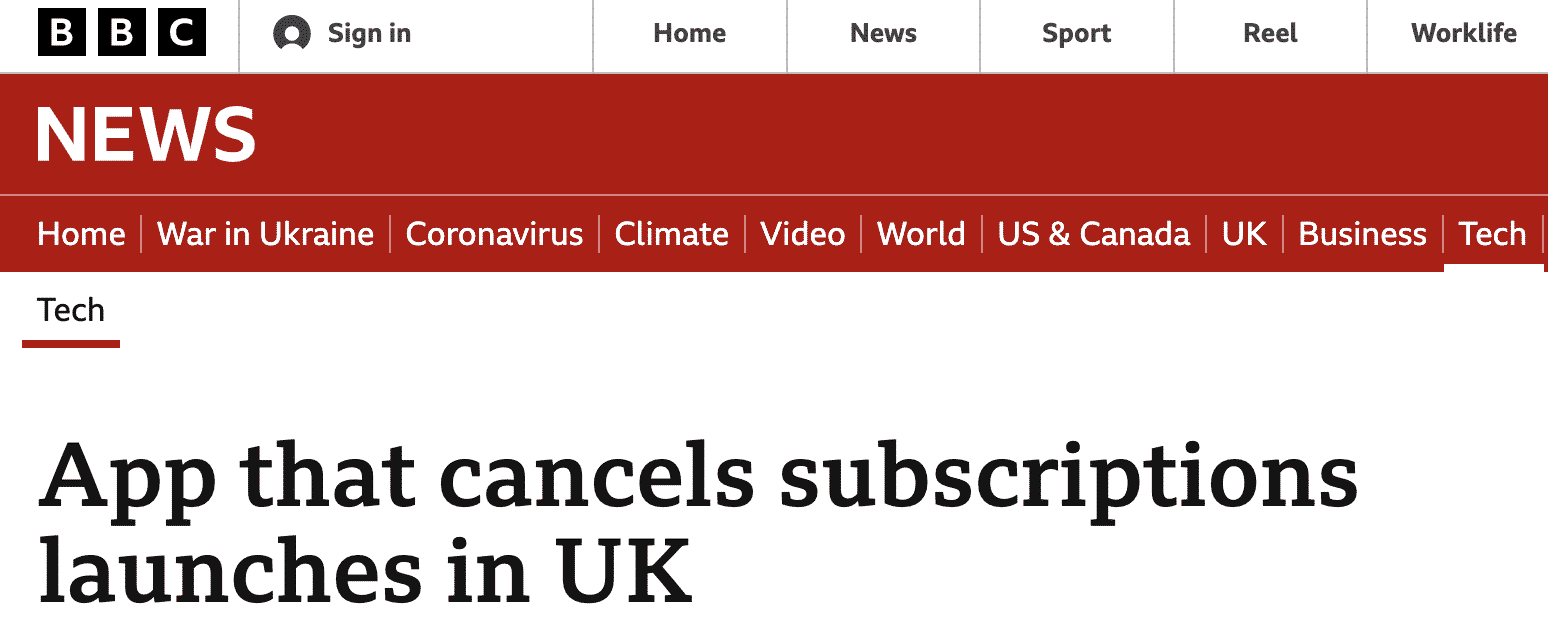 DoNotPay can help you cancel virtually any type of membership or subscription. We know that sometimes people sign up for things and forget to cancel trials, they decide the service is not a good fit or they find a service they like more, or sometimes they just need to save money each month.
Whatever the reason, we can help you cancel those memberships you no longer want. Whether it's a gym or a streaming service, we have successfully helped others cancel subscriptions and memberships to companies like:
In What Other Ways Can DoNotPay Help?
In addition to helping you cancel any subscription or membership, there are many other ways in which DoNotPay can help you out today. We are here to help with any of the following and more:
No matter what problem or concern you have, DoNotPay has a solution to save you time, money, and stress.