Get a Zoosk Free Trial With a Virtual Credit Card

Finding your soulmate might be possible with an online dating company that touts 40 million members...or it might not. In reality, many people simply want to try out dating sites and see what they're like. A  allows singles to try the dating app with no obligation. 
You don't have to enter your credit card information to use a Zoosk free trial, but you also don't get to use all of its features. If you want to find a potential partner, then Zoosk wants your credit card numbers.
Any time you give a subscription service your credit card information, that information is vulnerable to misuse. You could end up paying for a membership you didn't want, or you could be roped into months of payments while trying to find the time to cancel.
DoNotPay can help you with your Zoosk subscription by:
Helping you get a Zoosk refund
Does Zoosk Offer a Free Trial?
Zoosk does not offer a traditional . Instead, it offers free access to the site to observe what could be. You can make a profile and view the profiles of others. If you want to actually contact anyone or use the functions of the site, you must pay.
There are some discount codes available online that reduce the cost of a Zoosk membership, but that does involve a subscription. Therefore, you have to enter your credit card information.
How Can I Get a Zoosk Free Trial?
Zoosk is available for free in a minimal capacity. That means you can build your profile, but you cannot make those romantic connections without paying for a subscription.
The minute that you put your credit card information onto the Zoosk platform, you have to realize that it is vulnerable regardless of Zoosk's security features.
There are no security features.
Zoosk could mistakenly continue your subscription or make other transactions erroneously.
Once a company has your card, you are subject to their mistakes and poor business practices.
Even the rare error can wreak havoc on your personal bank account.
How Does the Zoosk Free Trial Automatically Renew into a Paid Subscription?
The Zoosk free trial does not require a subscription or payment because it is more akin to free access to profiles rather than a free trial of the platform itself. You can enter your information, but you can't do anything with it until you pay for a subscription.
The problems occur when you do subscribe, because Zoosk has a firm no refund policy. Therefore, if you accidentally subscribe, you aren't going to get that money back. There are very few exceptions to this policy, so you have to cancel before your membership renews.
Avoid Automatic Renewal With DoNotPay Virtual Credit Card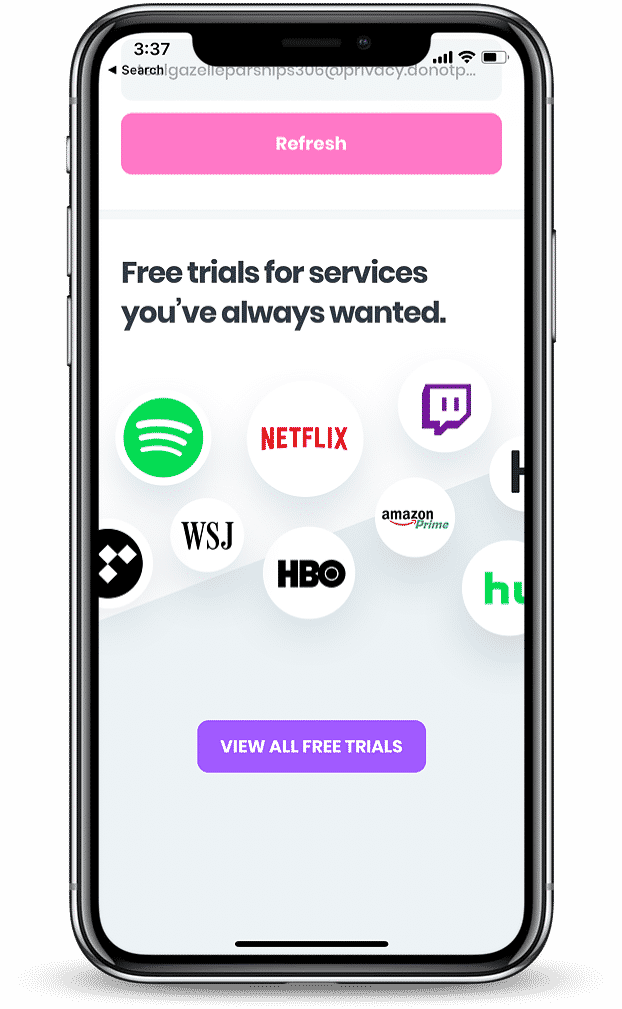 Most people forget to cancel free trials and then keep paying for subscriptions they don't need. You don't have to deal with uncancelled trials. DoNotPay can help cancel free trials and avoid automatic renewals with virtual credit cards.
DoNotPay virtual credit cards unlock the door to a subscription without providing financial information that can be used in the future. If you paid with a virtual credit card, Zoosk won't have a way to collect additional money at renewal–that means there is no automatic renewal. It also means your credit card isn't used on something you no longer want.
Here are the benefits of a virtual credit card:
Virtual credit cards work like regular credit cards, except that they have an extra layer of protection against fraud when shopping online. The cards use a virtual credit card generator which generates an expiration date and a card number visible to online vendors.
You don't have to link your credit card information to this card; you can add any name and set your expiration date.
Once your free trial expires, you won't have to worry about being charged, since there isn't any money linked to the free trial card and online vendors don't have access to your real credit card information.
How Much Does Zoosk Subscription Cost After Free Trial?
The normal cost of a Zoosk subscription is $12.49 USD. There are no additional membership levels to increase the monthly amount, but you can buy Zoosk coins.
Zoosk coins can boost your appearance in the search results. They cost $19.95 for 180 coins. These extra charges can make Zoosk fun, but they also introduce an opportunity for faulty charges.
What Are the Most Popular Alternatives to Zoosk?
There are many alternatives to Zoosk, and they all have different membership fees and options. Some popular options include:
| | |
| --- | --- |
| Platform | Fee |
| eHarmony | $35.90 a month |
| Match.com | $35.99 a month |
| Dating.com | based on credits $0.33/1 credit (small bundle = 150 credits = $49.99) |
As with all of Zoosk's competitors, it is difficult to weed through all of the agreements, and this creates risk if you are using your standard credit card.
Why Use DoNotPay to Get a Zoosk Free Trial?
Instead of risking your financial security, you can use Zoosk to get a virtual credit card to pay for your subscription. This does two things. It prevents you from auto renewing your membership if you forget about it, and it prevents your credit card information from being used by the dating website.
Using DoNotPay to get your free trial means quick and easy financial security. There aren't many places that can offer that. They've accomplished their goal if you've received excellent assistance.
What Else Can DoNotPay Do?
DoNotPay can help you with almost anything, including:
Sign up for DoNotPay today and make your life more secure!