Is a Yandex.Money Virtual Card My Best Option?
If you've been looking into getting a  but aren't sure if it's the best option out there, we understand your confusion. Depending on where you live in the world, this type of virtual credit card may or may not even be on everyone's radar.
For those in Eastern Europe or who spend a lot of time on Russian-language or Russian-run websites, Yandex.Money is likely higher on your list than other options. But is it really the best choice? Fortunately, DoNotPay is here not only to educate you on how the Yandex.Money virtual card works but to point you toward a risk-free option a bit closer to home.
What Is a Yandex.Money Virtual Card?
Yandex.Money (also called UMoney) is an electronic payment system popular in Russia. Originally affiliated with the Russian company that owned the web portal Yandex, it's been increasing in popularity over the last decade or so. In 2014, they partnered with MasterCard to create Yandex.Money virtual cards.
Are Yandex.Money Cards Free?
Creating Yandex.Money cards are a quick process that only takes a few minutes. The service is also touted as being "totally free." 
What Are Some Potential Risks Associated With Yandex.Money Cards?
As with any virtual credit card used online, there are definite risks involved:
| | |
| --- | --- |
| Risks | Description |
| Potential data breaches. | Any banking data you enter or store online could potentially be stolen and used without your permission. |
| Fraudulent websites. | Websites that have been created for the sole purpose of stealing your data can be hard to spot. |
| The parent company could be in financial trouble. | Recent geopolitical developments have put Yandex.Money's parent company Yandex in a tight financial situation in which it may not be able to pay its current debts. |
The good news is that Yandex.Money virtual cards aren't your only option. DoNotPay has a safe, secure alternative-based Stateside.
How to Get the Yandex.Money VCC Card
Getting the Yandex.Money virtual card is quite a simple process. By using your US phone number for verification, you can visit Yandex.com and click "Register" to create an account. From there, you visit Yandex.Money and follow the prompts.
Alternative: The DoNotPay Free Trial Card

Given the uncertainty surrounding how the current Russian economy will impact the , you would be wise to consider an alternative. DoNotPay's Free Trial Card could not be simpler and more effective.
With the DoNotPay Free Trial Card, you can sign up for free trials without risking payments if you forget to cancel, test products, sign up for samples without worrying about extra charges, and so much more. And the process of signing up only takes moments.
To get your DoNotPay Free Trial Card:
Log into DoNotPay through your browser
Choose "Virtual Card"
Follow the prompts
DoNotPay will then issue you a virtual credit card number and associated information. You can use your VCC to sign up for free trials, make reservations at restaurants, or request samples or "free" downloadable features without worrying that your card will be charged at some point.
Where Can I Use DoNotPay's Free Trial Card?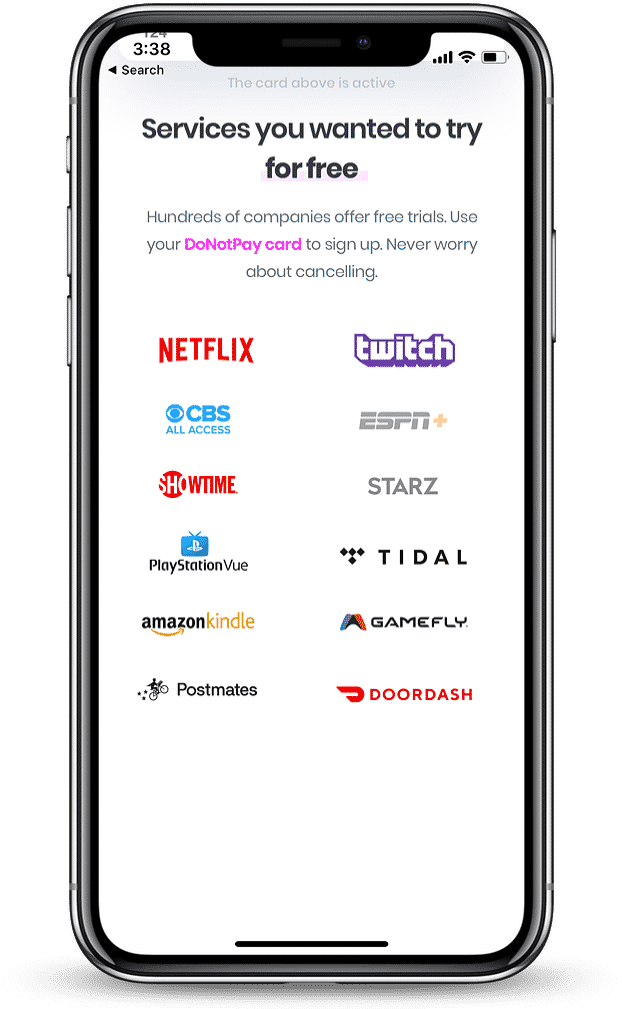 The best thing about DoNotPay's Free Trial Card is that it can be used across industries. Whatever free trials you're interested in signing up for, whether they be related to education, entertainment, health, beauty, or other goods and services, you can do so without worrying about exposing your real credit card information.
Our DoNotPay VCCs have been used successfully with such companies as Doordash, Postmates, Spotify, Hulu, CBS All Access, HBO, Jira, Netflix, Tidal, and Starz. Wherever "free trials" are found, you can use your VCC to sign up safely and securely. If you forget to cancel or companies try to sneakily charge you for extras, you will pay nothing. Since your VCC is not associated with your real bank account, there is no risk.
The best thing is that generating your DoNotPay Free Trial Card takes only seconds. You could be enjoying your new risk-free trials in moments!
DoNotPay Has What You Need
In life, some days we feel we have all we need to thrive. Other days, we're barely keeping our heads above water. That's where DoNotPay comes in. We've created products and services to help you keep ahead of your financial questions.
Of course, not all your issues are related to credit cards and finances. That's why DoNotPay has what you need for a wide variety of issues.
Come to see how DoNotPay can help simplify your life.