How To Remove the Wake Forest Application Fee Easily
Wake Forest University is a private university with a bit more than 8,000 students. It was founded in 1834 and is located in Winston-Salem, North Carolina.
In case you are interested in becoming a student in this school, you are probably aware of the amount of money you'll need to set aside for tuition and other college fees. 
There are ways to avoid paying some of those expenses in special situations, and DoNotPay will let you know how.
The best place to start are fees you need to pay even before getting into any college.
Everything You Should Know About College Application Fee Waivers
As if there is not enough stress around the entire process of becoming a college student, schools generally add additional fees that strip the applicants of their money. The average fee for a college application is anything between $50 and $100. If a student were only looking to get into one school, that amount would be tolerable. 
The reality is a bit different. No one wants to risk not getting accepted, so students apply for multiple schools at once. This is when the fees snowball, and you end up with a cost of hundreds of dollars.
College application fees are avoidable if you are eligible for fee waivers. If you meet the required criteria, you can get these fees removed. There are a few ways of getting this done, but the easiest one is by using DoNotPay.
Remove the Wake Forest Application Fee With DoNotPay
DoNotPay is the way to go when you want to waive college application fees. We can help you avoid extra expenses when applying to Wake Forest or any other school. You will only need to follow these simple instructions:
Access DoNotPay from any

web browser

Find and select the

College Application Fee Waiver

feature

Select the fee you want to remove

Tell us what college you're applying to

Give us answers to a few questions regarding your financial status
Depending on your preference and need, DoNotPay can fill out the form and mail it to the counselor for signature or directly to the school's financial aid office.
Our app is capable of waiving three types of fees:
Enrollment Deposit Fee Waiver

New Student Application Fee Waiver

Transfer Student Fee Waiver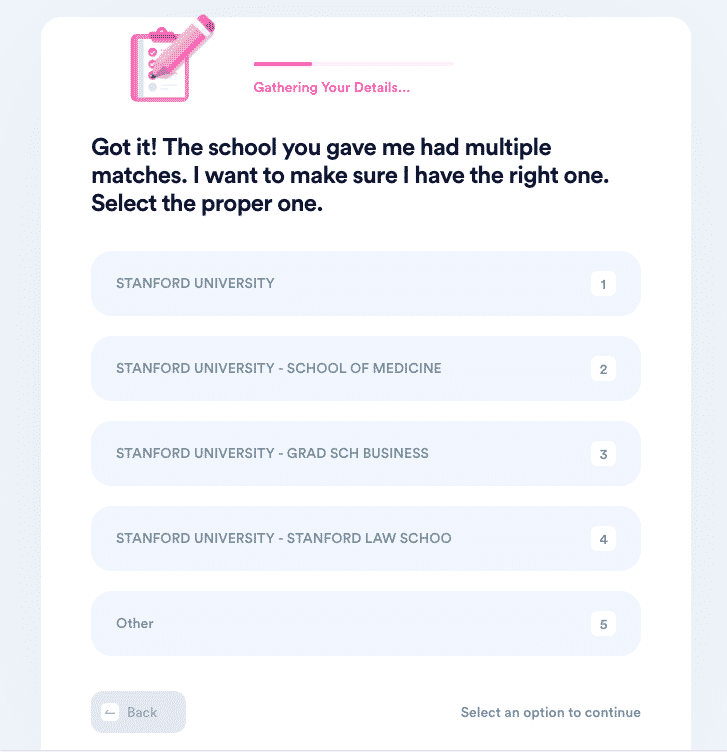 How Much Is the Wake Forest University Application Fee?
A future student of Wake Forest University must pay an application fee of $65. This fee is non-refundable and non-transferable. The same amount is required for first-year, grad, and transfer students.
Who Is Eligible for Automatic College Application Fee Waivers?
Students who have already received an ACT or SAT fee waiver are automatically eligible for college fee waivers. You should check with schools you are applying to and see their specific policies regarding this topic.
Who Is Eligible for an Application Fee Waiver at Wake Forest?
You may request an application fee waiver from Wake Forest University based on two reasons:
Program participation (within the last two years)

Financial need
Check out this table to see the rules for graduate students:
Program Participation
Financial Need

The

U.S. Military

and U.S. Military Veterans

WFU Graduate School Summer Research

Minority Biomedical Research Support Program

Minority Access to Research Careers

Mellon Minority Undergraduate Fellows Program

WFU in the Neuroscience Minor

WFU Graduate School of Arts and Sciences
Undergraduate students are eligible for a fee waiver if they meet some of the criteria related to their financial status. To request a fee waiver, you have to:
Receive public assistance

Be homeless

Be eligible for the Federal Free or Reduced Price Lunch program

Have a family income that meets the

USDA Food and Nutrition Service

Income Eligibility Guidelines

Be an orphan

Live in a foster home

Be included in programs that help students coming from families with financial struggles
How To Obtain the Application Fee Waiver From Wake Forest by Yourself?
You need to send your fee waiver request along with your applications to Wake Forest University. This school offers a few ways of applying, so take a look at your options:
| | |
| --- | --- |
| Can You Request a Fee Waiver With | Yes/No |
| DoNotPay | Yes |
| The Common App | Yes |
| The Coalition App | Yes |
| Wake Forest Application | Yes |
| Mail | Yes |
How To Request an Application Fee Waiver via the Common App
If you are applying through the Common App, you'll need to follow these directions:
Sign in to your

Account

Click on the

Profile

link

Choose the

Common App Fee Waiver

option

Provide the information about your eligibility for the fee waiver

Select the economic factors that apply to your financial situation

Answer other questions

Finish the procedure by providing your signature
This way of applying is available for freshmen students only.
How To Request an Application Fee Waiver via the Coalition App
First-year students are the only ones who can apply via the Coalition App. This is what you'll need to do:
Create an account or log in if you have one already

Click on the

Profile

link

Mark all the factors that make you eligible for a fee waiver

Select

Wake Forest University

as the school you're applying to
How To Request an Application Fee Waiver via the Wake Forest Application
Freshmen students can use the Wake Forest Application to apply and add the information about their fee waiver request. You will have to:
Create an

account

Select the right application

Answer all the questions, including the fee waiver info

Click on the

Continue

button to save your responses
You can change your responses whenever you want by providing your email address and password.
How To Request an Application Fee Waiver by Mail
You may also apply to Wake Forest University via mail and include your fee waiver request with the application. Proceed as follows:
Download the

application

Complete all the fields, including the fee waiver ones

Print the application

Send your application to

Undergraduate Admissions, P.O. Box 7305, Winston-Salem, NC 27109-7305
DoNotPay Is Your Way Out of the Bureaucratic Woods
DoNotPay understands the financial struggles students deal with on a daily basis. If you live in North Carolina, we can help you lower your electric bills and help you find clinical trials to earn some extra cash.
If you are a driver or about to become one, you can count on our app to help you pass a permit test or renew your license in NC without trouble.
Access DoNotPay from a web browser and let your virtual assistant help you with:
Appealing traffic citations

Disputing speeding tickets