Everything You Need to Know About a Venmo Virtual Card

In a virtual world, it is more important than ever to protect your identity online. One way to do this is to closely monitor any sort of payments that you make online. This can be very difficult to do, however, especially since so many transactions are handled online. A virtual credit card allows you to keep your personal credit cards under wraps, all while getting access to the free trials that you want.
This guide will help you understand your options when it comes to the . It will also break down why you might want a virtual credit card, and introduce you to DoNotPay, the fast, easy, successful way to get a virtual credit card. Whether you decide to pursue a Venmo virtual card or get a virtual credit card through your local bank, there are many benefits to becoming familiar with virtual cards!
Why Would You Want a Virtual Credit Card?

A virtual credit is a digital credit card that is designed for one-time use. It features a 16-digit number that will pass most authentication systems and allow you to sign up for free trials without compromising your actual credit card information. Virtual credit cards, like ,  are safe to use, and with identity theft issues becoming more and more prevalent, these virtual cards are becoming a popular way to interact with merchants online.
What Are the Benefits of Using a Virtual Credit Card?
There are many reasons why someone would want to sign up for a virtual credit card. Here are some of the top reasons to use a virtual card online:
Virtual credit cards protect your privacy. You don't have to link them to your bank account or provide any personal information, making them a safe option for signing up for free trials online.
Virtual cards save you money since you won't get hit with recurring charges after the initial free trial.
Scammy or spam websites won't get access to your personal information when you use a virtual credit card.
Are There Drawbacks to Using a Virtual Credit Card?
Virtual credit cards are safe to use and can save you money in the long run. However, there are potentially a few drawbacks to utilizing a virtual credit card. Here are some things to be aware of:
Virtual credit cards do not allow you to withdraw any money, since they aren't linked to your bank account.
Depending on the specific instance, you might not be able to use a virtual credit card for things like rental cars and hotel stays.
Does Venmo Offer a Virtual Credit Card?
Venmo is a popular mobile app that was designed to allow friends and associates to easily transfer money to each other. Venmo acts like a digital wallet, storing a variety of payment methods of your choice and allowing you to keep track of what money comes in and what money goes out. Venmo is convenient and is generally considered to be very safe to use.
While Venmo does offer a bespoke credit card, they do not currently advertise a virtual card option. If you are a Venmo user and are interested in getting a virtual credit card, your best course of action would be to contact your bank of choice to see if they offer one - or to utilize DoNotPay's virtual card service.
If you plan on getting a Venmo credit card, you may want to check out their fees below:
| | |
| --- | --- |
| Annual Fee | None |
| Cash Advances | Either $10.00 or 5% of the amount of each cash advance, whichever is greater. |
| Foreign Transaction | None |
| Late Payment | Up to $40.00 |
| Returned Payment | Up to $29.00 |
Venmo calculates your balance based on their method called "daily balance", check out their website to learn more.
How to Get a Virtual Credit Card on Your Own
You can contact your bank to ask about their virtual card options. Not every bank offers virtual cards, but more and more financial institutions are realizing the benefit of virtual cards. Here's how to ask your bank for a virtual card:
Visit your bank in person, or make a phone call to do some information-gathering. Discuss with the representative why a virtual card is important, and ask if they offer such a benefit to their customers.
If they do offer virtual cards, ask about the signup process, and what you need to do to get one.
Once you get your virtual card, you can start using it online. The bank representative should be able to walk you through the various types of transactions that you can use the virtual card for.
DoNotPay's Virtual Credit Card Product is Quick and Easy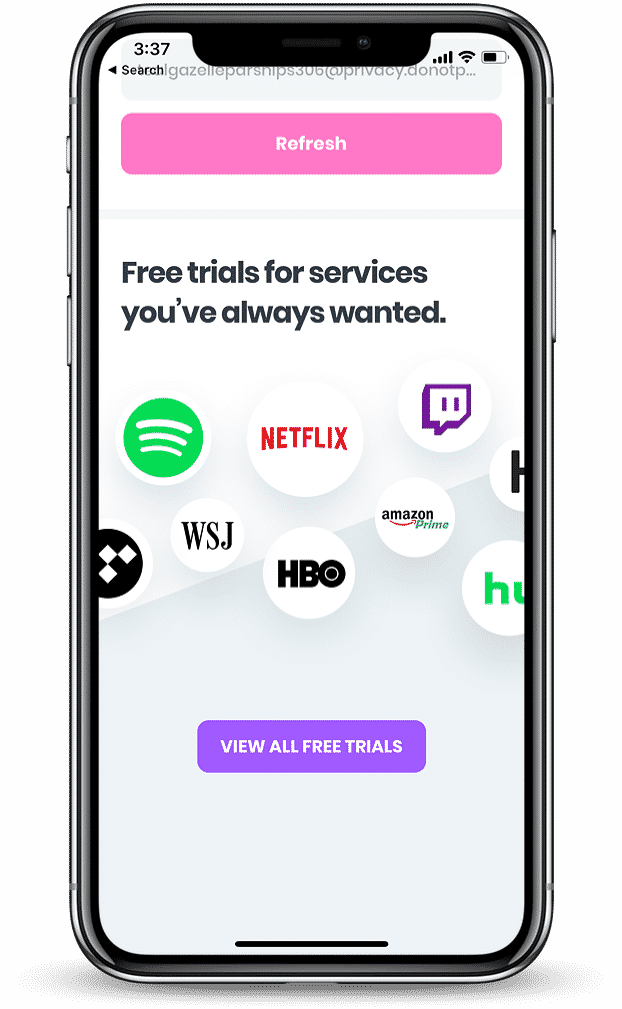 DoNotPay has the fast, easy, successful way to sign up for free trials online - by using DoNotPay virtual cards. DoNotPay's virtual credit cards can bypass authentication, allowing you to enjoy the free trials that you want, without fear of getting slapped with expensive fees down the road. Plus, each virtual card is deactivated after it is used, so you don't have to worry about manually going in and canceling any subscriptions after you have enjoyed the benefits of the free trial.
What Else Can DoNotPay Help With?
DoNotPay can help with all your virtual credit card questions and concerns! Here are some of the many ways DoNotPay can help: