How to Appeal a TAMU Parking Ticket
Texas A&M opened in 1876 as the state's first public university, and is now considered the second most populated university in the U.S. It is currently home to 74,000 students and 3,845 faculty members.
The university's Transportation Services oversees the parking and transportation operations across the campus. It issues permits, manages public transport, and enforces parking regulations.
Whether you're a student or visitor, it's important to be aware of Texas A&M's traffic rules so you can avoid getting a citation. This article will go over the university's parking schedule, permit registration process, and appeals process.
Parking Permits at Texas A&M
The university transitioned to a new permit system in the fall of 2021: license plates serve as permits. This virtual system eliminates the need for paper permits and reduces the occurrence of permit fraud.
Parking permit registration for the next school year ends in July. When the time comes, you can log-in to your Texas A&M account and:
Choose which

lot

you want a permit for

Enter license plate and home address

Review and submit
Approvals will be based on student class and year.
Texas A&M Parking Rules
The regulations set by Transportation Services are based on the state's Motor Vehicle Laws and the Texas Education Code 51.202. Here are some general rules below:
All vehicles are required to have a Texas A&M parking permit when parked on campus

No trailers are allowed

Parking signs override information on the website or the parking map if different

All vehicles must be parked within the designated lines

Forged permits will result in immediate tow and referral to

the Department Head
Texas A&M Violations and Fines
The table below goes over reasons for citations and the fines that would come with each:
| | |
| --- | --- |
| Violation | Fee |
| Overnight parking in visitor space | $30 |
| Bicycle removal | $25 |
| Bike lane violation | $45 |
| Improper parking | $45 |
| No permit | $45 |
| Expired parking spot violation | $45 |
| Boot removal fee | $100 |
| Fire lane/hydrant violation | $150 |
| Fraudulent use of permit | $150 |
| Disability parking violation | $150 |
It is also important to note that habitual and chronic offenders will be subject to increased and doubled fines.
The department can reduce the fine by $10 if the ticket is paid within 14 days. Unpaid citations by offenders not affiliated with the university will be transferred to a third-party collections agency after 60 days.
How to Pay or Appeal for a Citation
If you ended up receiving a citation, don't panic! You have 14 days to appeal it. If you'd rather pay the ticket and admit to your fault, you can pay by going online and filling out the citation information. You can also visit 1250 TAMU, College Station, TX 77843 to pay directly in-person.
You will have 14 days to appeal your citation - all appeals sent after 14 days will be ignored and you will be liable for the fine. Appeals can be submitted online as well. The following cannot be used as excuses:
No other spots were available

Can't pay the fine

Was not aware of parking regulations

Other vehicles were parked wrong as well

Late to a class

Was only parked for a short while
Get Your Parking Ticket Appealed With DoNotPay!
Save the hassle and have the world's first robot lawyer, DoNotPay, contest your citation for you! The process is simple and only takes 3 steps:
Log-in to

and click on the Parking Ticket product
Upload a photo of your citation, tell us which state the ticket was issued in, and provide a reason for the appeal
Have DoNotPay send it for you
That's it! How convenient was that? If you prefer to send it in yourself, you can download the copy of the appeal letter we provide you.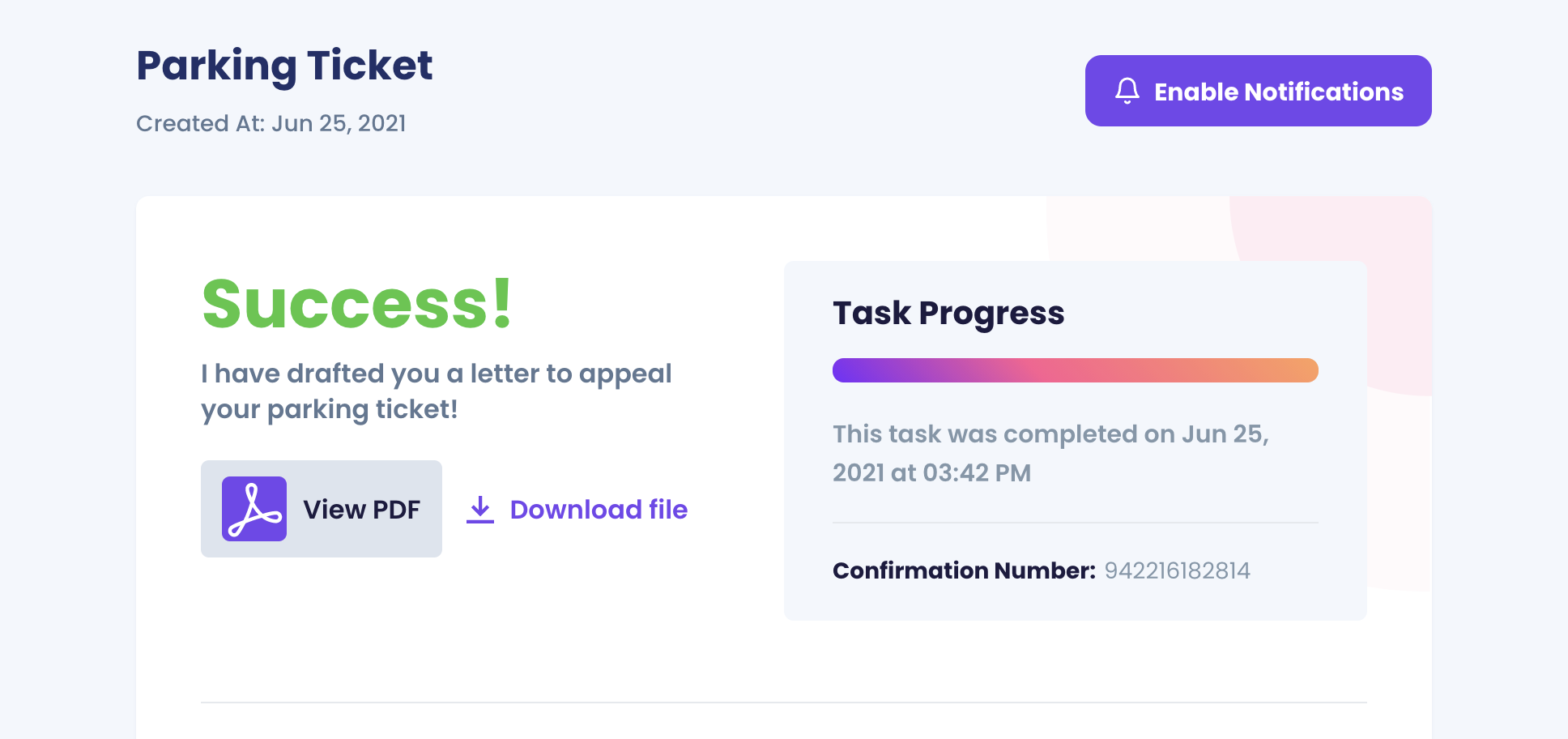 DoNotPay helps users fight and beat tickets in any city
DoNotPay helps users fight parking tickets in every city in the US and UK. Here are a few cities we've helped users dispute the most tickets in:
What Else Can DoNotPay Do?
Aside from successfully beating parking infractions, there are other services DoNotPay can help with. DoNotPay can: