What Is Snap Finance Virtual Card & Is It Safe to Use?
Snap Finance is a company that offers accessible financing options to consumers. People with bad or no credit use it to finance purchases. Snap Finance won't check your credit card score while financing. All it does is check the stable income source, and that's it. If your income is stable, you can buy the goods on lease. Once the leasing term is over, you will own the right to the item. If you don't have cash on hand, you can use the platform to overcome financial challenges. Being a quick online application, it will help you to buy products on lease. However, many people claim that the expenses that they paid were extremely high. The offered by the store can help you make purchases online. If you are looking to choose the right virtual card, can help. Our virtual credit card is safe and secure to use, giving you peace of mind.
What Are the Eligibility Requirements to Qualify for Snap Financing?

To get your hands on a Snap Finance virtual card, you need to meet some eligibility conditions. Here are the few requirements you must meet:
Must be 18 years
Must have an active account checking
Have a stable income source
Verifiable phone number or valid email address
How Does Snap Finance Virtual Card Work?
Snap Finance virtual card is offered by Snap Finance stores to eligible people. To receive financing online, you need to follow a few steps. A minimum of 3 steps needs to be followed to proceed further.
Apply Online – Fill out the form with the complete details. You need to submit your valid driver's license number. Next, you need to submit your social security number to complete the form. Once the information is filled in, Snap Finance will verify your application.
Choose Retailer Partner – Then, you need to select the right retailer partner. Choose the item for up to $3,000 at the nearest retail store. Be sure the retailer you choose comes under the retailer list of Snap Finance.
Check Out – Once the application is approved, you will receive a notification. To proceed with the transaction, you can show the received email at the store. This will help you to buy items by financing.
What Is the Cost of Using Snap Finance?
does not reveal any fixed cost for the services. However, certain fees are associated with using the card. These include:
Application fee
Processing charges
Non-payment fees or missed payments
many customers claim that they paid double the cost of the product. You will be charged monthly interest that you must pay every month. Be sure you check out everything before finalizing your choice.
Is Snap Finance Virtual Card Completely Safe?
There is no definite answer to this question as the cards may or may not be safe. For many people, these cards can be a safer option. On the other hand, it may lead to fraud and money loss. This reason is that Snap Finance requires the real details of your driving license and SSN. In case you're dealing with a fraud merchant, you might lose your hard-earned wealth. If you wish to protect yourself from online attacks, it's important to research. You need to find a virtual credit that won't link to your details. If you can't find the best alternative to snap a virtual finance card? Fret no more; DoNotPay is here to guide you! Our virtual credit card is one of the safest options in the world. You won't have to give your data while using the card. Also, you don't have to give your real email address either. We will offer you a fake VCC along with a fake email address.
How DoNotPay Virtual Credit Card Work to Offer the Right Help?
virtual credit card works to offer you the right results. You don't have to link it to any real money source. It will meet your needs and preferences for a real credit card. You can use the card to get free trials on your favorite services. To use the virtual credit card, all you need to do is follow a few simple steps.
Log in to the DoNotPay platform using any web browser
Choose the DoNotPay virtual credit card option from the product list
DoNotPay will quickly create single-use card details
Once you get the single-use credit card details, you are free to use them. You can use it to access free trials from different companies. The companies include:
Adobe After Effects
PlayStation Vue
C.B.S. All Access
Postmates
Showtime
Starz
Tidal
Spotify
Netflix
Hulu
Twitch Prime
Jira
HBO
Amazon Prime
ESPN Go
Doordash
Does DoNotPay Offer Other Products/Services Too?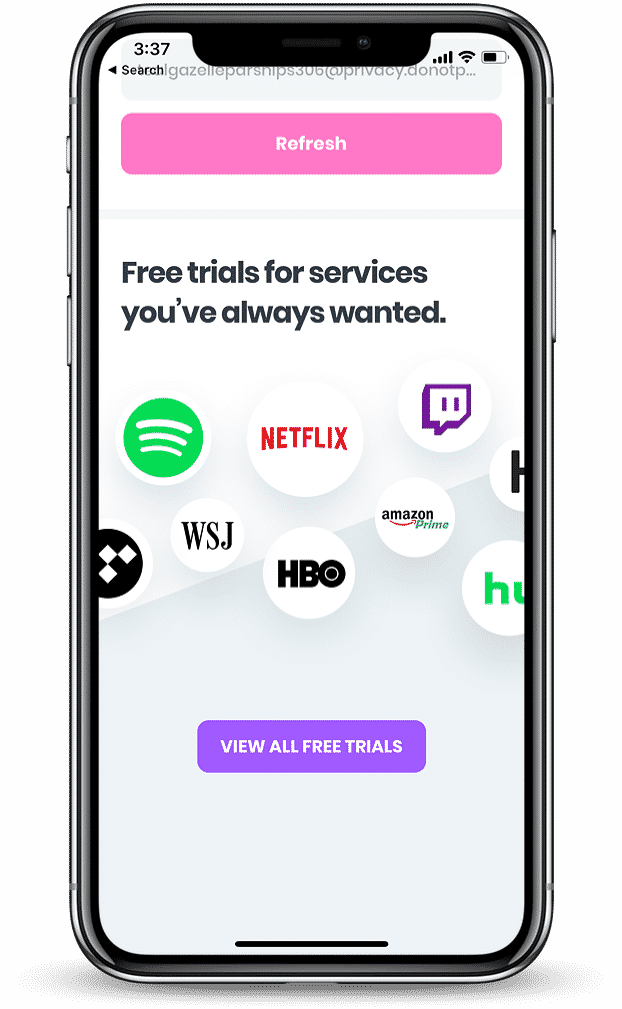 Yes! DoNotPay offers feature-rich products/services for its users. The array of products available will help you to solve your issues quickly.
Want to know more about feature-filled products of ? Log on to the DoNotPay platform today to access the products!