The Search for Sex Offenders in Brooklyn Made Easy With DoNotPay
Are you worried about the safety of your loved ones with sex offenders in Brooklyn walking around freely? You can relax by staying informed on who the sex offenders living near you are and what laws they need to abide by.
DoNotPay will show you how to using the standard methods. We will also present our Sex Offender Search feature, which gives you results faster than the official registry website.
How Are Sex Offenders in Brooklyn Classified?
They are classified based on the likelihood or risk that they will commit the same crime, as per the table below:
| | |
| --- | --- |
| Level | Risk |
| Level 1 | Low |
| Level 2 | Medium |
| Level 3 | High |
The registration period for Level 1 sex offenders is 20 years, while the registration period for those classified as Level 2 and Level 3 offenders is for life.
Registration Rules for Sex Offenders in Brooklyn
Sex offenders in Brooklyn need to register with the Division of Criminal Justice Service (DCJS) and update their registration every year. It's a felony if a sex offender in Brooklyn fails to register.
The offender needs to provide the following information when registering:
Full name and alias(es)
Home address(es)
Work address(es)
Their crime
Vehicle information
Supervision (parole or probation)
Photos
When searching for low-risk offenders, the only address information displayed is the ZIP Code. For medium and high-risk offenders, the complete address will appear.
There are a few more rules for the registration of sex offenders in Brooklyn:
Sex offenders need to report in person to a local police station to have their pictures taken:

Level 1 and Level 2 offenders—every three years
Level 3 offenders—every year

Level 2 and 3 offenders need to report their employer's address to the DCJS
Sex offenders need to list their internet service providers, email accounts, and social media user names
Sex Offenders in Brooklyn—Restrictions and Obligations
Besides registration rules, sex offenders in Brooklyn need to comply with various restrictions and obligations, especially regarding travel and residence.
Residency Restrictions and Obligations
There are no restrictions in the state of New York that limit where sex offenders can live. While New York may be more lenient than numerous other states, the offender still cannot live within 1,000 feet of a school or a child care facility if they are under parole or probation.
When registering their home addresses, sex offenders in Brooklyn face additional obligations:
Any change of address must be reported within ten days for all levels
Level 3 sex offenders and sexual predators need to confirm their address every three months with the law enforcement
Travel Restrictions
Sex offenders who plan to travel to the state of New York for more than 14 days need to register with DCJS within ten days of arriving.
Where To Look for Registered Sex Offenders in Brooklyn
The information on sex offenders is publicly available, thanks to Megan's Law. This means that anyone in the United States can search for a sex offender using the official registry on the appropriate government website. You can use these registries to map out sex offenders who live in your vicinity.
The State of New York has a centralized registry, so whether you are looking for Brooklyn sex offenders, the Onondaga County sex offender registry, or the Oswego County sex offenders registry, you will need to go to the same website.
How To Search for Sex Offenders in Brooklyn Using the Official Website
To search the sex offenders official registry for New York, you need to:
Open the Department of Criminal Justice website
Enter any of the following:

Last name of the offender
County where you/offender live(s)
ZIP code

Select any of the following checkboxes if you wish to narrow down the search:

Incarcerated
ICE Custody
In Custody

Check the Captcha box
Hit the Search button
You can also sign up for email alerts through NYalert, where you will be informed every time an offender moves into or from your indicated address of interest.
Organized and Updated Information on Sex Offenders With DoNotPay
Searching the public registry of sex offenders is time-consuming, and you probably don't have the time to keep checking for new sex offenders that may have moved into the neighborhood recently.
You can delegate all the hard work to DoNotPay.
We also offer you the option to sign up for weekly automated alerts about sex offenders near you. To use DoNotPay, here's what you need to do:
Type in Sex Offender in the search box
Specify the address and proximity (one, two, or three-mile radius of your address)
Select the weekly check option
You will instantly receive a report with the information on sex offenders near you, and you will be registered to receive comprehensive weekly reports.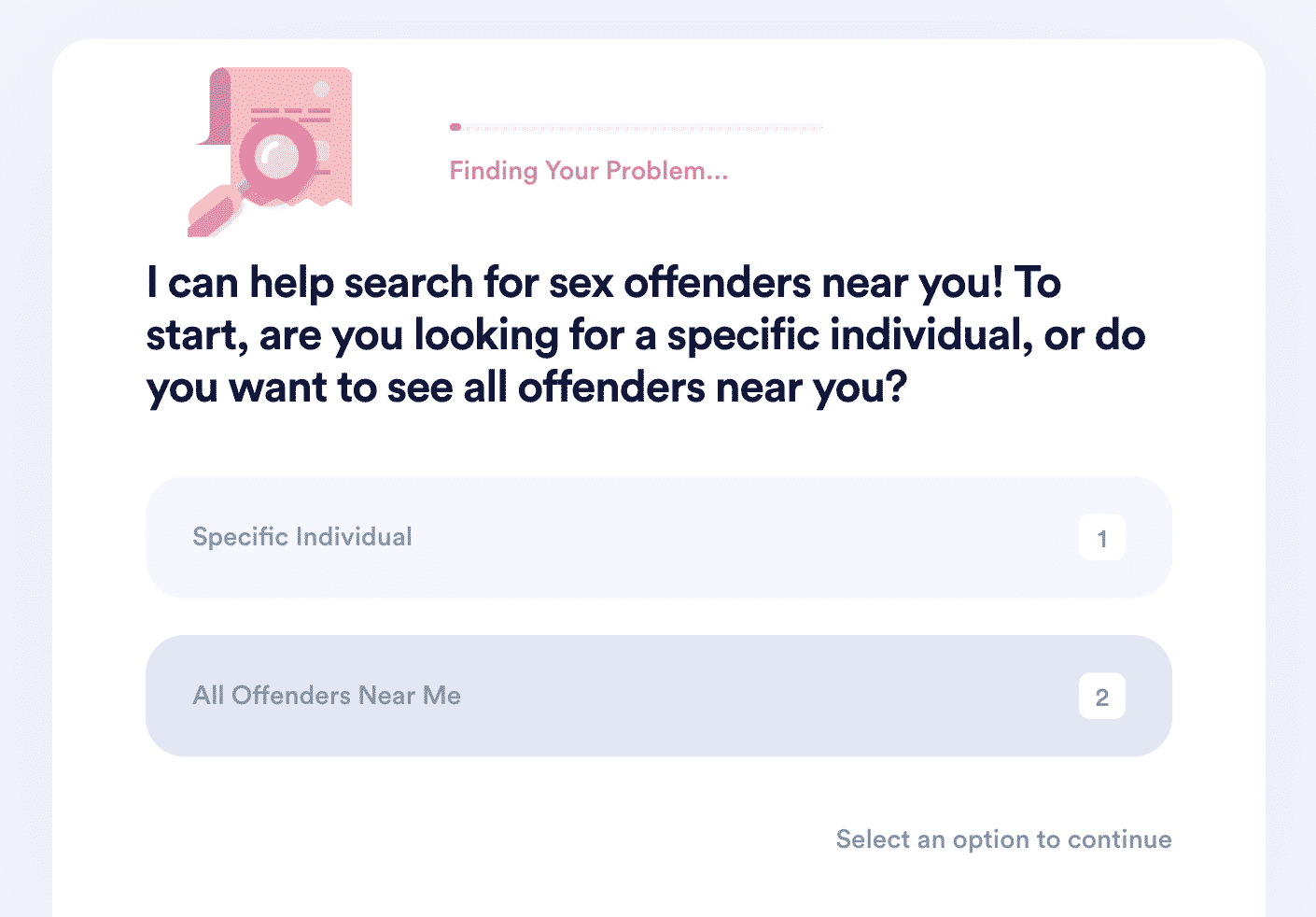 How Should You Treat Sex Offenders in Brooklyn?
Sex offenders in Brooklyn still have basic civil rights. Any form of harassment, threat, or act of violence against them is a crime punishable by law. If you have any concerns, you should contact your local authorities and report any suspicious behavior. It's important that you don't try to take matters into your own hands.
Only the Sky Is the Limit for DoNotPay
DoNotPay has an insane number of features that keeps growing. Our platform can help you:
Say Goodbye to Spam Mail With DoNotPay
DoNotPay has designed a feature that will put a stop to the flood of junk and spam mail into your inbox! We can help you join a class action against a spammer or take any person or company that's wronged you to small claims court!
Need a virtual credit card number or a fake phone number to protect yourself from scammers? We've got you covered! We can help you fight text spam or even assist you in sending mail without any chance of error.
Our users' safety is our number one concern, so we've developed a feature that will protect you from cyber stalking or harassment!