Get an SDSU Application Fee Waiver In Five Minutes
San Diego State University (SDSU) is a public research university located in San Diego, California. SDSU has an alumni base of over 300,000 people. The most popular majors in SDSU are:
Psychology

Criminal Justice and Safety Studies

Business Administration and Management

Health and Physical Education

Biological Sciences
Even though college fees are average, SDSU's application fees are on the expensive side.
Learn what makes you eligible for an SDSU fee waiver and how to obtain it in the quickest and most convenient way. DoNotPay can help you get a college application fee waiver in no time!
What Is a College Application Fee Waiver?
Before you enroll in any college, you'll need to apply first. Most colleges charge an application fee, which can be quite expensive, especially if you have financial difficulties.
Many future students want to apply to at least two colleges so as to have a plan B. Applying to multiple colleges could be economically challenging because the total amount you have to pay can reach over $350.
College application fee waivers are requests that applicants submit to lower their expenses—by getting the opportunity to apply to a college for free. Universities tend to waive college application fees for students who can prove their economic needs.
How Much Is the San Diego State Application Fee?
The application fee you're required to pay at SDSU is $70. SDSU application fee is among the expensive ones, so a fee waiver would be an ideal solution.
San Diego State University offers fee waivers to students who are eligible.
Do You Qualify for the San Diego State University Application Fee Waiver?
The eligibility criteria for SDSU application fee waivers are determined by the California State University (CSU). The admissions office will consider you for a fee waiver if you are:
An undergraduate student

A California resident for longer than one year

A U.S citizen or permanent resident who qualifies for the

AB540

tuition exemption
If you are eligible, you may apply to four CSU colleges, but no more than four per application term. Keep in mind that the college won't approve of your fee waiver request if you:
State that you're a dependent applicant with one family member

Enter the same amount of money in the Adjusted Gross Income and Untaxed Income fields

Type in "none" in the field about which U.S. State/Possession is your permanent home
How Can You Get the SDSU Application Fee Waiver by Yourself?
There are a few ways you can obtain an SDSU application fee waiver, but you can get it only if you meet all the eligibility criteria. Here's how to request a fee waiver at the San Diego State University:
Submit an application fee waiver via the

Cal State Apply

form

Call the admissions office

Write an email
How To Apply for an Application Fee Waiver via the Cal State Apply Form
The university will consider you for an application fee waiver automatically if you submit your application through the Cal State Apply form. Cal State will approve your fee waiver based on the information you provided during your application.
To find out if you're eligible for a fee waiver, follow these steps:
Complete the application form

Fill out the required fields for the application fee waivers

Click on the

Check My Fee Waiver Status

next to

Submit All
Phone the University's Admissions Office To Request an SDSU Application Fee Waiver
You can call the university's admissions office at 619-594-6336. Their lines are open from Monday to Friday, 9 a.m.–4 p.m. Follow the instructions below to obtain a fee waiver:
Call the SDSU admissions office

Tell them that you need a fee waiver

Follow their further instructions
How To Request an Application Fee Waiver via Email
Follow these steps to ask for a fee waiver through email:
Write an email stating you need a fee waiver

Send the email to

admissions@sdsu.edu
Can You Request an Application Fee Waiver Via
Yes/No

DoNotPay

Yes

SAT

/

ACT

/College Board

No

Phone

Yes

The Common App

No

Email

Yes

Cal State Apply

Yes
DoNotPay Helps You Obtain Application Fee Waiver Without Any Trouble
With DoNotPay, you can get three kinds of application fee waivers. They are:
New Student Application Fee Waiver

Transfer Student Fee Waiver

Enrollment Deposit Fee Waiver
We know that higher education is expensive—that's why we created the feature for waiving application fees. Applicants might get discouraged from applying to a college because of their financial situation. Let DoNotPay help you lower your college expenses a bit.
Our platform will make requesting an application fee waiver easier because you won't have to fill out your request forms on your own—we will do it for you. DoNotPay will send your application for a fee waiver to the financial aid office of your university.
We can also obtain a signature from your high school official, which might maximize your chances of getting a fee waiver.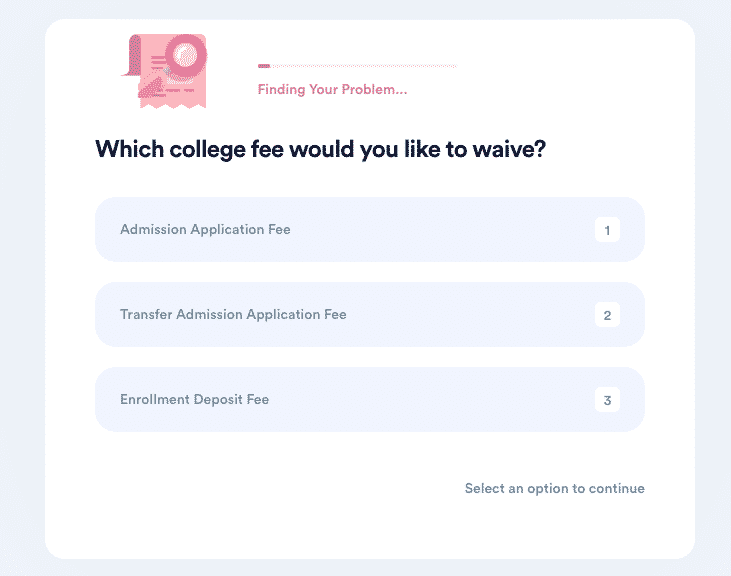 How To Request a Fee Waiver via DoNotPay
To access DoNotPay's application fee waiving feature, open our app in your . After you create an account, follow the steps below to request the fee waiver from any college:
Sign in to your DoNotPay account and find the

College Application Fee Waiver

feature

Click on one of the three options we offer

Type in

San Diego State University

and answer a few questions about your financial situation

Indicate if you want DoNotPay to request your school counselor's signature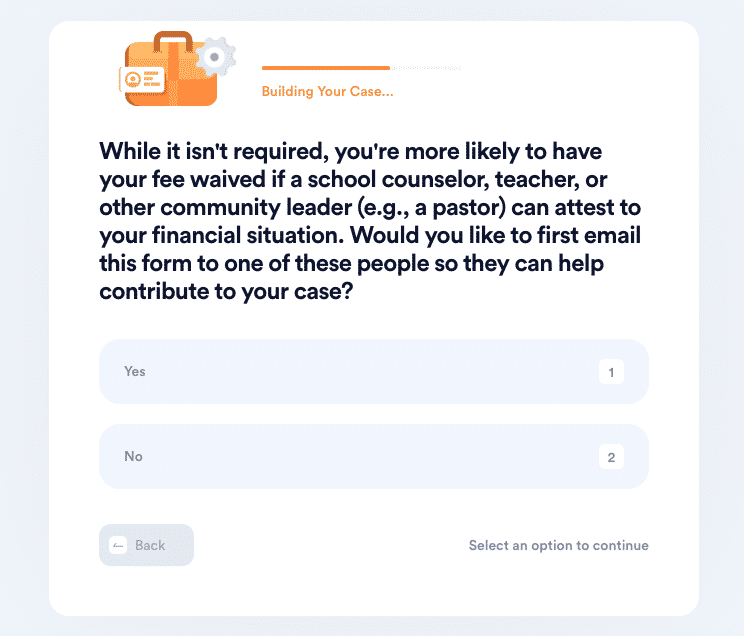 After you hit submit, DoNotPay will complete the whole process on your behalf. We'll send your request to the university's financial aid office. All you need to do is wait for the university to contact you.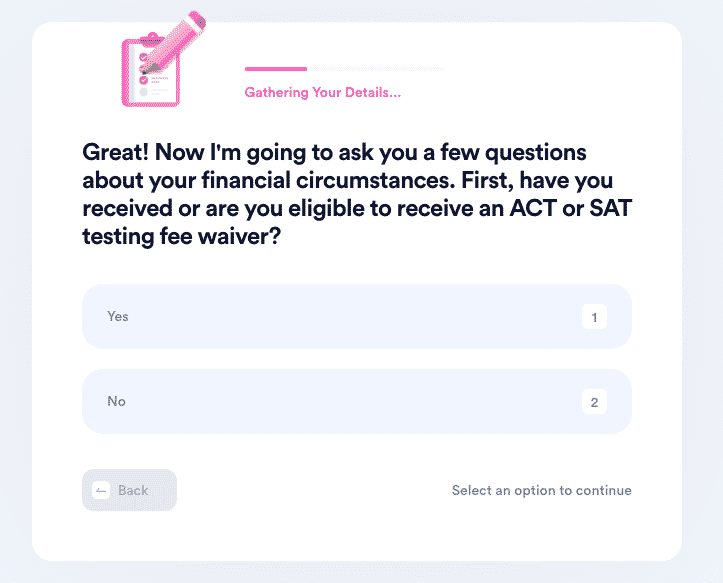 DoNotPay Offers a Variety of Other Features
Our platform can help you get a fee waiver from various other colleges you might want to apply to, such as University of California (UC), University of Southern California (UCS), University of California San Diego (UCSD), and many others.
If you have your heart set on San Diego, DoNotPay has other useful tricks for you. We'll help you to avoid parking tickets in San Diego or find clinical trials to earn extra money.
If you are a resident of San Diego, you might have some unclaimed money—you can find out in five minutes with DoNotPay!
Our app will enable you to solve many administrative issues in no time. All you need to do is open DoNotPay in any . You can get help with:
Disputing traffic tickets

Fighting speeding tickets