How to Get a RemotePC Free Trial Without a Credit Card

RemotePC is a service that allows users to access their Mac, PC, or Linux machines from anywhere and any device. You can transfer files, print documents, and provide remote access for multiple users. If you're interested in a , but don't want to risk being charged, DoNotPay can help.
Many companies offer free trials of their services to new users but require credit card information to sign up. If you are unable to cancel in time, you will be charged. At DoNotPay, we believe you should never have to pay for something advertised as free. That's why we created our Virtual Credit Card service. Keep reading to learn how it works and everything you need to know about accessing free trials of RemotePC.
Does RemotePC Offer Free Trials?
Yes, RemotePC offers a  of certain subscription types for new customers. RemotePC provides plans that are scalable according to how many computers you plan on connecting. Each plan comes at a different price point, and only the two most expensive options have free trials. Let's take a look at the options:
Plan
Number of computers
Cost
Free Trial?
Consumer Plan
2
$29.62 for the first year

$59.25 for two years

No
SOHO Plan - 1
5
$44.62 for the first year $89.25 for two years
No
SOHO Plan - 2
10
$59.62 for the first year $119.25 for two years
No
Team Plan
50
$224.62 for the first year $449.25 for two years
Yes

7 days

Enterprise Plan
100
$449.62 for the first year $899.25 for two years
Yes

7 days
How Can I Get a RemotePC Free Trial?
To access a Remote PC free trial, you will have to follow these steps:
Visit the signup page of RemotePC's website.
At the top of the screen, select the type of free trial you would like. This can be either the Team or Enterprise 7-day trial.
Scroll down and enter your account information, including your name, email address, and phone number.
Click "Create My Account" and enjoy access to your free trial.
At any time during the trial, you can upgrade your account to a paid subscription. If you do not, your access to the service will end after seven days. However, you might receive marketing phone calls from RemotePC.
Do RemotePC Free Trials Automatically Become a Paid Subscription?
No. As per their terms and conditions (last updated April 22, 2020) free trials of RemotePC do not require any credit card information to access and will only become an automatically renewing paid subscription if you upgrade your account during or after the trial and provide your banking information. RemotePC is one of the few companies that offer free trials without asking for credit card information.
If you want to learn how to take advantage of other free trial offers and not provide your billing details, keep reading.
Avoid Automatic Renewals and Other Free Trial Charges With DoNotPay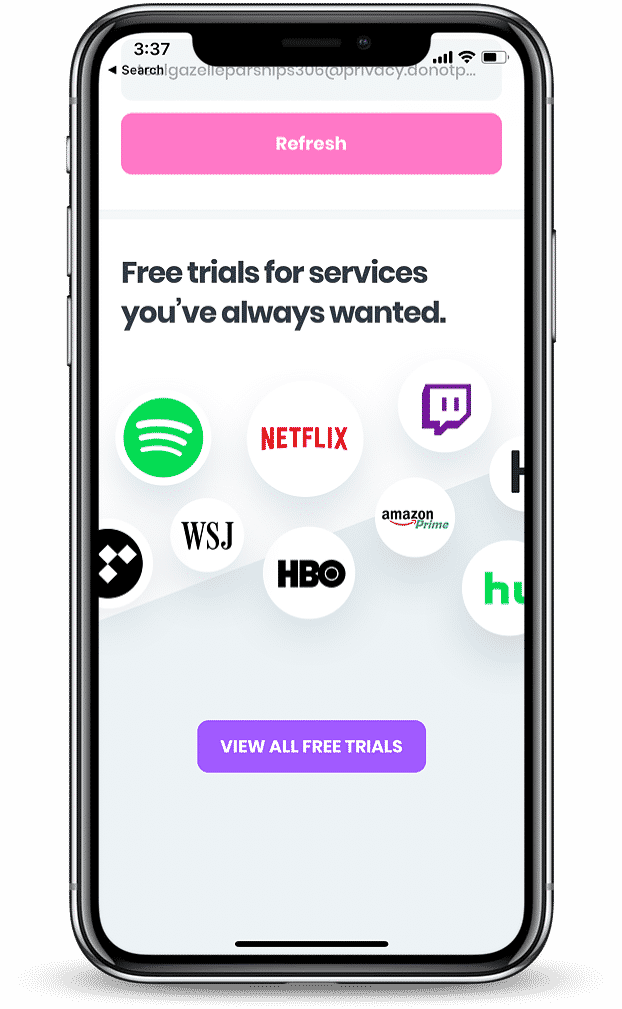 DoNotPay's Virtual Credit Card product allows you to sign up for as many free trials as you want without ever having to disclose your private banking information. Using this service is fast and simple, so you'll not only save money but time as well.
Here's how it works:
Sign up for DoNotPay and select our Virtual Credit Card service.
We will generate a random credit card number, expiration date, and CVV for you.
Use this information to sign up for as many free trials as you like. Since it's not connected to an actual bank account, it's impossible for you to be charged at the end of your trial.
When your trial period ends and the company is unable to charge you, they will simply cancel your account membership and you will be automatically unsubscribed, with no hassle.
Here are the benefits of using a virtual credit card:
Virtual credit cards work like regular credit cards, except that they have an extra layer of protection against fraud when shopping online. The cards use a virtual credit card generator which generates an expiration date and a card number visible to online vendors.
You don't have to link your credit card information to this card; you can add any name and set your expiration date.
Once your free trial expires, you won't have to worry about being charged, since there isn't any money linked to the free trial card and online vendors don't have access to your real credit card information.
What Are Some Alternatives to RemotePC?
RemotePC has many competitors that also offer free trials, some of which may require a credit card to access. You can take advantage of all of these offers without ever worrying about having to pay with DoNotPay's Virtual Credit Card. Check out the following table for more companies to try:
| | | |
| --- | --- | --- |
| Service | Cost | Features |
| TeamViewer | Entry-level price of $10.99 per month | 14-day commercial free trial for prospective new customers, remote black screen for privacy, in-session collaboration capabilities |
| AnyDesk | Entry-level price of $24.90 per month for one user and three computers | 14-day free trial, latency-free secure connection, easy to use |
| VNC Connect | Entry-level price of $3.39 per month per remote computer | 30-day free trial, fully-encrypted software that's intuitive to use |
What Else Does DoNotPay Do?
At DoNotPay, we provide fast and easy solutions to an enormous number of highly diverse problems. Some of our most popular solutions include:
Don't get trapped into paying for free trials that include purposely deceptive fine print or complicated cancelation processes. Use DoNotPay's Virtual Credit Card and never worry about canceling again.