Cancel Rakuten Subscription in Less Than 2 Minutes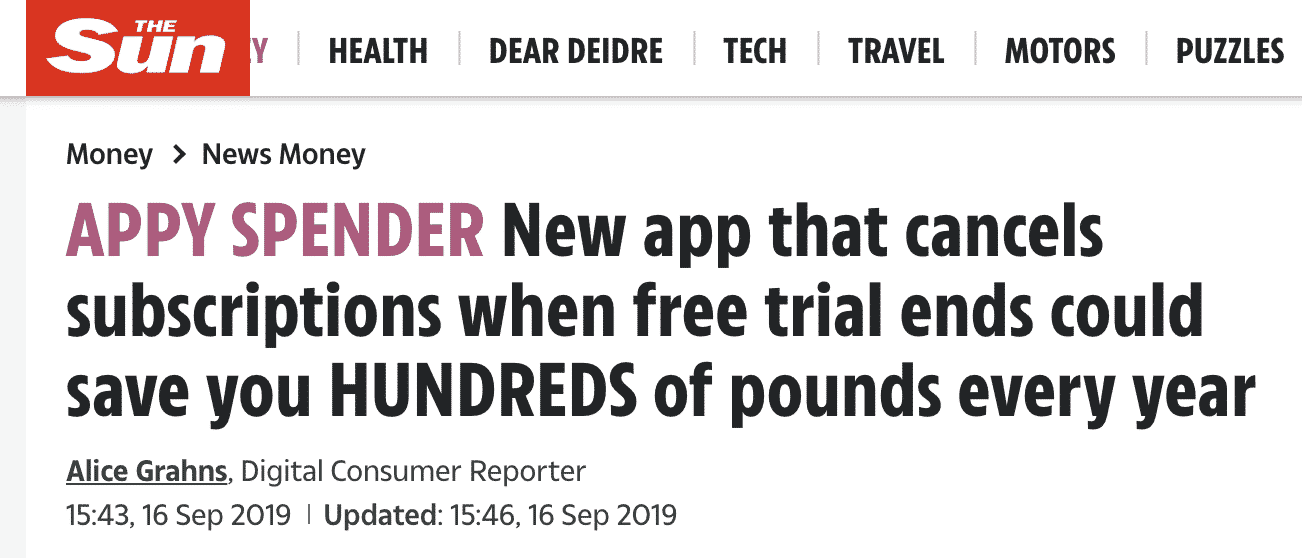 Rakuten has over 5 million active subscribers, many of which are unaware of how to unsubscribe. Also, many active subscribers have no information on the hidden charges that come with having an active Rakuten account. The need to protect such customers has led to DoNotPay creating a service to cancel subscriptions.
DoNotPay offers the best solution for the cancellation of Rakuten subscriptions and other unused subscriptions, including Planet Fitness, Sky, BT Sport, Xbox, CVS CarePass, and Vodafone. Our platform will help or set an automatic cancellation system at your preferred future set date.
What Are Rakuten's Cancellation Policies?

Below are the two primary policies:
The Rakuten subscription plan automatically renews each month unless you manually cancel your Rakuten subscription.
Rakuten account cancellation should be made 24 hours before the free trial period ends. This is a huge inconvenience as customers usually fail to cancel subscriptions timely.
Cancelling Rakuten Service Within 14 Days
Account holders of Rakuten are protected under the Consumer Contract Regulations, and cancellation within the 14 days is free, provided that the Rakuten account user signed up less than 14 days ago, falling within the 'cooling-off period.'
Cancelling Rakuten After 14 Days
Cancelling Rakuten after 14 days requires payment, as the service is already received and ready to use. The Rakuten account user is charged for the entire monthly contract.
Potential Problems When Cancelling a Rakuten Subscription
You might face the following problems when cancelling a Rakuten subscription:
To deactivate your Rakuten Account, you must have a stable internet connection, meaning an unstable internet connection can cause problems when cancelling your subscription.
The only way to cancel a Rakuten subscription is through their web platform. This inconveniences many users who, at the time, may not be able to access the platform and want to cancel a Rakuten subscription.
Does Rakuten Have Any Cancellation Fees?
There is no cancellation fee provided the user cancels their Rakuten subscription before the following monthly fee is charged. Rakuten Tv costs €6.99 or £5.79 per month, and this leads up to a yearly total of €83.88 or £69.48.
How Much Does a Rakuten Subscription Cost?
Below are the average Rakuten costs:
Product
Option
Availability in Video Library
Cost per Item SD Quality
Cost per Item UHD/HD Quality
New Release Productions
Rent
48 hours
€4.99 or £4.13
up to €15.99 or £13.25
Buy
up to 2 years
€9.99 or £8.28
around €13.99

or £11.59

Back Catalogues
Rent
48 hours
1.99 or £1.65
€3.99 or £3.31
Buy
up to 2 years
€2.99 or £2.48
€8.99 or £7.45
What Are the Best Alternatives to Rakuten?
Below are the Best alternatives to Rakuten and their benefits:
Amazon Prime
Amazon Prime subscriptions cost €5.99 or £4.96. The main advantage of using Amazon services over Rakuten is that you can use the Alexa voice remote. You can also add video subscriptions to Showtime and other prominent services.
Netflix (Basic Plan)
Netflix's basic plan charges are €7.99 or £6.62. The advantage of using Netflix is that it has an easy user interface on different devices. It also allows up to 5 profiles on one account.
Hulu
Hulu's subscriptions cost €11.99 or £9.93. The main advantage of using Hulu over Rakuten is that Hulu has more extensive on-demand content.
How to Cancel Rakuten Subscription on Your Own
You can only cancel a Rakuten subscription through their web platform, and the process involves:
First, log in to Rakuten TV using your email and password.
Go to the SETTINGS on the menu.
Click on SUBSCRIPTIONS.
Choose the option, Thinking of Unsubscribing? Click here. Then confirm Rakuten cancellation by selecting the option Yes, unsubscribe
A Do-it-Yourself method of cancelling a subscription is outdated and has many disadvantages, such as:
A user might not know all terms and conditions of cancelling subscriptions.
Users cannot remember all the relevant dates to their subscriptions.
Claiming refunds is a lengthy process.
DoNotPay is the best option, an easy and fast way of cancelling subscriptions.
DoNotPay Can Cancel Your Rakuten Subscriptions
Below are 3 easy steps for cancelling a Rakuten subscription using DoNotPay:
Log in to DoNotPay and search for the Manage Subscriptions product.

Provide the name of the subscription service you want to cancel.

Provide your account details such as email address and username.
Once you give your details, we will work quickly on cancelling your subscription. A notification will be sent to you once the service is cancelled. We will also try to get a refund for you.
There is no need to pay more in the long run and be stressed about managing your subscription. Join DoNotPay, claim all your refunds, and ensure you are fully unsubscribed to subscriptions you are not using.
What Else Can DoNotPay Do?
Other than Rakuten, many people are charged occasionally for other services they did not use or do not know how to opt out. DoNotPay can also help you cancel:
Sign up with DoNotPay today to make your life easy, save money, and ensure sound planning.