How To Find a Gay Prisoner Penpal and What To Know When You Do
Life behind bars is full of challenges—physical, emotional, and psychological—especially for minority groups. The LGBTQ community is particularly affected, and they need all the support they can get.
Maybe you would like to write to a gay prisoner, offering understanding and hope—something to keep their spirits up? Eventually, you may decide to learn the inmate visitation rules and meet your inmate friend in person.
But before that, let's see how you can find inmates and what rules you need to follow when getting in touch with them.
Things To Know When Corresponding With a
Gay Prisoner Penpal
Before you decide to dive into correspondence with an inmate, there are things you should consider:
Rules for

writing letters to inmates

Gay inmate's situation

Prison security checks

Your safety
Rules for Writing Letters to Inmates
If you want your mail to reach its destination, you have to adhere to the rules set forth by the prison administration. Most prisons only accept mail sent through the U.S. Postal Service or similar commercial services. You cannot deliver it by hand or a courier.
To make sure your prison pen pal receives your mail, you should also follow the prison-specific guidelines for addressing a letter to an inmate. The prison may, otherwise, refuse to accept the mail.
To be on the safe side, the envelope should be plain, without any decorations or fragrances. The only information it should contain is both your and the inmate's addresses.
You can review the instructions in the table below.
Line
Center
Upper Right Corner

First line

Prisoner's full legal name

Prisoner ID number

Your full legal name (or pen name)

Second line

Third line

City, state, and zip code

City, state, and zip code
Gay Inmate
's Situation
Members of the LGBTQ community face discrimination on the outside, but things can be far worse inside correctional facilities.
No matter if you know a person or write to them for the first time, you should tread carefully when it comes to their LGBTQ identity. You may be the only one aware of it, and disclosing such information in letters could have negative repercussions for the inmate and their safety.
Prison Security Checks
When corresponding with inmates, you should always remember that your letters are not private. Except for legal correspondence between inmates and their lawyers, all other exchanges are subject to scrutiny by prison staff.
Whether you are writing to a familiar person or someone you don't know well enough, ensure that the content of your letter is not:
Contraband—it could be rejected for safety reasons

Too revealing of your or prisoner's privacy—you probably don't want everybody to know what goes on in your lives
Sometimes you may wish to send your inmate a package, but you have to check whether it is in line with the facility regulations. Some prisons don't allow it, whereas others require that the inmate has written approval from an authorized institution staff member.
Your Security
Your security should be of the utmost importance when it comes to corresponding with prison inmates. This is particularly important when you are reaching out to someone you don't know.
Though your intentions may be pure, and you may want to provide emotional and psychological support, you should be wary, especially at the beginning of your correspondence.
Some of the things you can do to maximize yours and the safety of your loved ones are:
Instead of providing your real home address, register a P.O. box as the return address

Refrain from talking about people you care about or sending their photos

Share only what you feel comfortable with
While most prisoners are looking for someone to talk to and relate to, some inmates could use the information they have against you.
How To Locate a
Gay Prison Inmate
If you wonder how to find a friendly gay prisoner pen pal on your own, here are some options:
These platforms feature inmates' names and addresses. You can contact an inmate to initiate a friendly and supportive chat or pursue a romantic relationship.
Locate Your
Gay Inmate Penpal
Quickly With DoNotPay

Maybe you want to rekindle contact with your friend or family member who's detained in prison, but you don't know what facility they are in? DoNotPay has introduced a new feature—Connect With an Inmate—enabling you to easily locate your loved ones in any penitentiary facility in the U.S.
It is super easy to use! All you need to do is provide the inmate's name and the state they are located in.
Here's how it works:
Visit DoNotPay in any

Tap the

Connect With an Inmate

option

Choose

Locate Someone

Provide the name of the inmate and the state they are in
The DoNotPay locator will find your inmate and provide their most current location.
What Can Be Mailed to
Gay Inmate
s?
As each state and prison may have their own particular rules about what you can send to inmates and what's a no-no, you should familiarize yourself with inmate mail rules and regulations.
Some items are universally accepted or forbidden across the U.S. The table below lists some of the most common items from each category.
Approved
Forbidden

Cash

Drugs (legal or illegal)

Contraband content

Sexually explicit photos,

magazines

, or books

Hardcover or spiral-bound books

Ornaments and embellishments, such as stickers, glitters, ribbons
If you want to send books or periodicals, you should note that most facilities require that they are brand-new and sent directly from the publisher.
Send Mail to Your
Gay Prison Inmate
Without a Sweat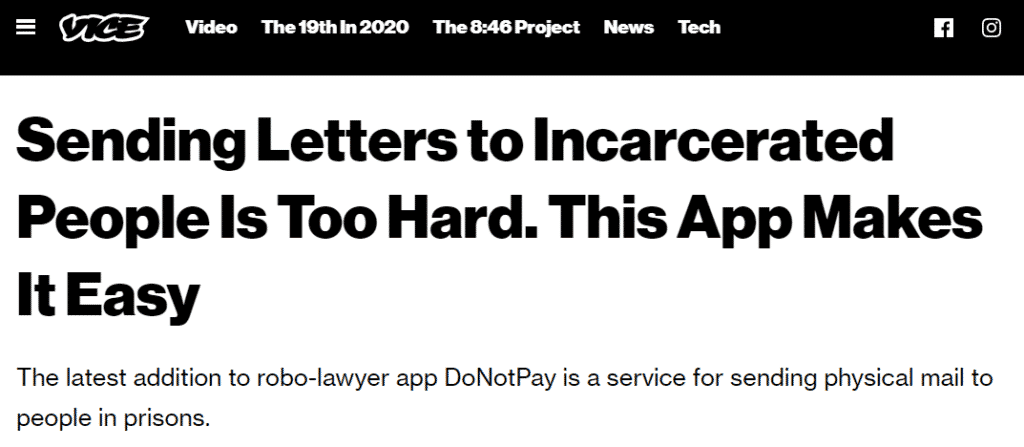 Complying with all the rules and guidelines for writing to your imprisoned pen pal can be quite exhausting when all you want to do is convey your thoughts or feelings to the recipient.
Choosing the right ink, paper, envelope, or format for your letter is now a thing of the past with DoNotPay!
Our Connect With an Inmate service enables you to focus on writing, leaving everything else to DoNotPay's diligent team. To use it, access the feature from your and follow these steps:
Select

Send a Personalized Letter

Follow the steps to provide the inmate information

Compose a letter through our app or upload a file with the message

Embed any photos or images you want to send

Select a template
Once you are done, DoNotPay will immediately print the letter and forward it to its destination.
Get Your
Gay Inmate Penpal
's Letters Online

Another feature our Connect With an Inmate service offers is the possibility to receive all the mail from your prisoner pen pal through a digitized mailbox.
The feature is particularly useful if you want to avoid disclosing your real address to the inmate (unless you know them) or keep all the correspondence in one place.
Your penpal will be able to send a letter to the address provided by DoNotPay, which will digitize and direct it to your virtual mailbox.
To set up your virtual mailbox, go to your DoNotPay account in any and:
Hit

Connect With an Inmate

Select

Virtual Mailbox

Tap

Create My Mailbox
Now that you have created it, you can revisit your mailbox as many times as you want and use the Request Mail Check option to see if you've got mail.
Other DoNotPay Tips and Tricks

Our multifaceted app can also instruct you on the rules for sending packages to inmates in Alabama, Arizona, California, and other states.
Other than inmate-related dilemmas and technicalities, DoNotPay can procure solutions for everyday challenges that people on the outside face.
Log in to your account in any and see how DoNotPay can help you:
Contest speeding tickets

Appeal traffic tickets