How Many Phone Calls Do Inmates Get a Day?
Inmate calling is more complicated than writing letters.
Prisoners are allowed to call you, but you can't call them back. In some prisons with extreme measures, even phone calls are not permitted. The prison rules will determine how often a prisoner can call you and how long the conversation can last.
If you want to hear your incarcerated loved one's voice, you'll need to write them a letter to schedule the call—this is the safest way, but not always the fastest. Here's where DoNotPay comes in! We can help you write a letter and get it delivered fast!
How Often Can an Inmate Make Calls
and
How Long Can
They
Talk on the Phone
?
Phone calls are limited to 15 minutes, and inmates have to wait an hour to make another call, but the rules of call limitations are set by the specific prison they're in. As for privacy—there's none. All calls are recorded and monitored by the prison officials.
Prisoners get to spend 300 minutes on calls every month. In some correctional facilities, the warden can approve additional minutes if there's a family emergency, but this rarely happens. The warden sometimes authorizes another 100 minutes in November and December to increase family contact.
Prisoner's telephone privileges can be restricted, suspended, or terminated as a disciplinary measure. The inmates who act out can have their telephone privileges sanctioned for some specific period.
The duration depends on the severity of the offense, and the Unit Discipline Committee or a Disciplinary Officer will conduct the punishment. If the prisoner engages in illegal activities over the phone, their access to the telephone can be terminated.
How Can a Prisoner Call a Cell Phone
?
The first thing an inmate has to do is compile a list of people they'd like to call.
After the prison officials approve it, the prisoner can make collect calls, but only to a landline. An inmate needs a prepaid or debit calling account to call you on your cell.
Prepaid account—

With the prepaid account, the prisoner will be allowed to call only the number you set as a designated one

Debit account

—If you open an inmate debit account, the prisoner will be able to call anyone they want, as long as that person is on their approved list
To set up an account for your incarcerated loved one, you'll need to use a telecommunications service that has a contract with the prison your inmate's in.
You'll also need to check the specific prison rules and regulations before you choose your form of communication.
As for inmate visitation, some prisons will need to do a background check on you—you will have to pay for it.
American Inmate Calls
—The Most Popular Telecommunications Services in the U.S.
You can find the three most popular communications services in the table below:
Service
Prices
Features

ICSolutions

N/A

Prepaid and debit telephone account

Video visitation

Voicemail messaging

Collect calling

Secure mail and photo

Securus Technologies

Start at $0.21/minute

Telephone service

E-messaging

Video connect

Outbound voicemail

Secure communications platform

Digital mail center

Global Tel Link (GTL)

Start at $1.23/minute

AdvancePay phone calls

PIN debit phone calls

Voicemail
DoNotPay Can Help You Contact Your Loved One in Prison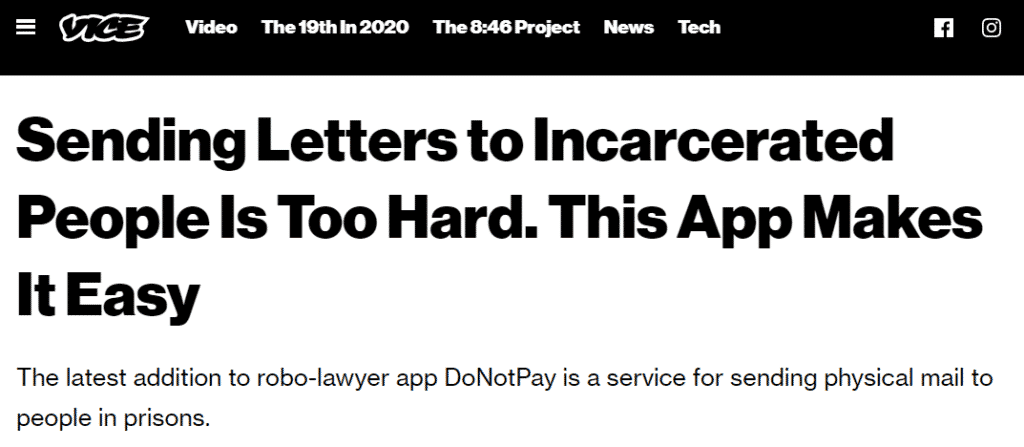 DoNotPay has developed a feature that lets you write any prisoner.
Whether you're contacting a loved one or your prison pen pal, use our app to make this difficult process as easy as possible.
If you opt for writing letters to inmates, DoNotPay is your go-to platform! We can help you:
Send a Personalized Letter
Use a

Virtual Mailbox

to receive letters from your inmates
What happens when your letter is returned because you used a wrong envelope, forgot the inmate ID, or added a wrong unit number? The frustration because of wasted time is almost palpable.
With DoNotPay, none of this will happen—because we'll show you how to address a letter to an inmate, and you won't even have to leave your house.
Sign up for DoNotPay by opening our app in your .
How To Send a Personalized Letter to Your Loved One in Prison With DoNotPay

To send a letter via DoNotPay, follow these steps:
Find the

Connect With an Inmate

feature

Select

Send a Personalized Letter

Give all the information required

Write your letter

Click on

Enter
We will ask you whether you want to receive a response from your loved one through DoNotPay. You will have the option to add a picture and style your letter any way you like.
Your inmate will get the letter in its printed version.
If You Don't Know Where a Prisoner Is, Locate Them With the Help of DoNotPay

To send a letter, receive a call, or visit a prisoner, you need to know where they are first.
You can easily find out by using DoNotPay's awesome feature—Locate Someone. The best part about it? You don't need to know the prisoner's birthday, unit number, or inmate ID to locate them with DoNotPay.
All you need to know is their full name and the state their prison's located in. To find out which prison is your loved one in, do the following:
Go to the

Connect With an Inmate

feature

Click on the

Locate Someone

option

Type in your inmate's full name and the state they're located in

Hit

Enter
DoNotPay will find your loved one's prison and give you the address.
Use Virtual Mailbox To Receive Letters From an Inmate
The Virtual Mailbox feature makes it simple for your incarcerated loved one to write back. Once an inmate writes the letter, it will be scanned and digitized, so you'll get it directly to your Virtual Mailbox.
You can access this option either from the Connect With an Inmate feature or opt for it once you write your personalized letter. Our app will ask you if you want to set up a virtual mailbox where you'll receive letters from your inmate.
DoNotPay Offers a Variety of Useful Features To Make Your Life Easier

Now that you know how to contact an inmate via DoNotPay, you can see what other things DoNotPay can do for you. Check if sending books and pictures to inmates is an option. Find some sample letters of encouragement to inmates you can use to lift your loved one's spirits.
Open DoNotPay in your to create an account and see the rest of our fantastic features. We can help you:
Fight speeding tickets

Appeal traffic tickets