How To Contact Philippine Embassy in Washington DC
The Philippine Embassy in Washington DC focuses on:
Managing relations with the US government at a federal level through the White House
Managing linkages with state and local governments in:
Alabama
Florida
Georgia
Kentucky
Maryland
North Carolina
South Carolina
Tennessee
Virginia
West Virginia
District of Columbia
Representing the Philippines Government and its agencies in vis-a-vis organizations like the World Bank, the International Monetary Fund, and the International Finance Corporation
Representing the Philippines in international conferences and managing relations with US-based constituencies like:

The business community
Media, nationally and internationally
Academic communities
The "policy institutions" or think tanks
Non-governmental organizations
The Filipino-American community
What are the Service Fees?
There are various fees associated with the services the Embassy provides, including:
Typical Consular Services
Legalization: $25 USD
Civil Registration: $25 USD
Travel Documentation: $30 USD
Passport Extensions: $20 USD
Dual Citizenship
Principal (Adult): $50 USD
Derivative (Minor): $25 USD
Passport Services
First Time or Renewal: $60 USD
Lost Passport: $150 USD
Visas (Single-Entry)
Nationals of countries with visa agreements with the Philippines: $30 USD
Nationals of countries without visa agreements with the Philippines: $40 USD
Chinese passport holders: $25 USD
What Can the Philippine Embassy Do for U.S. Citizens?
The Philippine Embassy in Washington deals with consular/embassy affairs for U.S. citizens, as well as Philippino nationals.
Service to the public in the form of advice; consular assistance to nationals in distress and;
Efficient processing of legal documents, passports, and visas
Conduct of consular outreach programs
Consularization (authentication) of documents such as SPAs, Deeds, school and medical records, trademarks, oaths, and appointments
Civil registration of births, marriages, and deaths of Filipino nationals
Process of applications for dual citizenship
Transport of pets to the Philippines
Applying for NBI clearances
Renewal of Philippine driver's license
Medical Missions to the Philippines
How to Contact the Philippine Embassy in Washington?
Where is the Philippino Embassy in Washington DC?
Directions from Washington's Union Station
Board the M Bus (Red) Towards Shady Grove
Disembark at Farragut North
Walk 10 minutes
Enter the Embassy of the Republic of the Philippines in the United States
How to Contact the Philippine Embassy in Washington With DoNotPay?
Wait times are often extended due to the COVID-19 pandemic, and it might not be as easy for you to visit the location in Washington, especially if you are coming from one of its 10 service states.
Additionally, information and guidelines regarding passport processing and visa obtaining measures are relatively complex, and the office is inundated with inquiries. To counter this, discover how DoNotPay acts as a middle-man, helping your inquiry gets recognized and answered, fast!
To streamline this process, discover , a specialized service that sends automated emails to embassies with ease. To get in contact with any Consulate/Embassy, all you have to do is:
1. Type in "Contact Embassy" on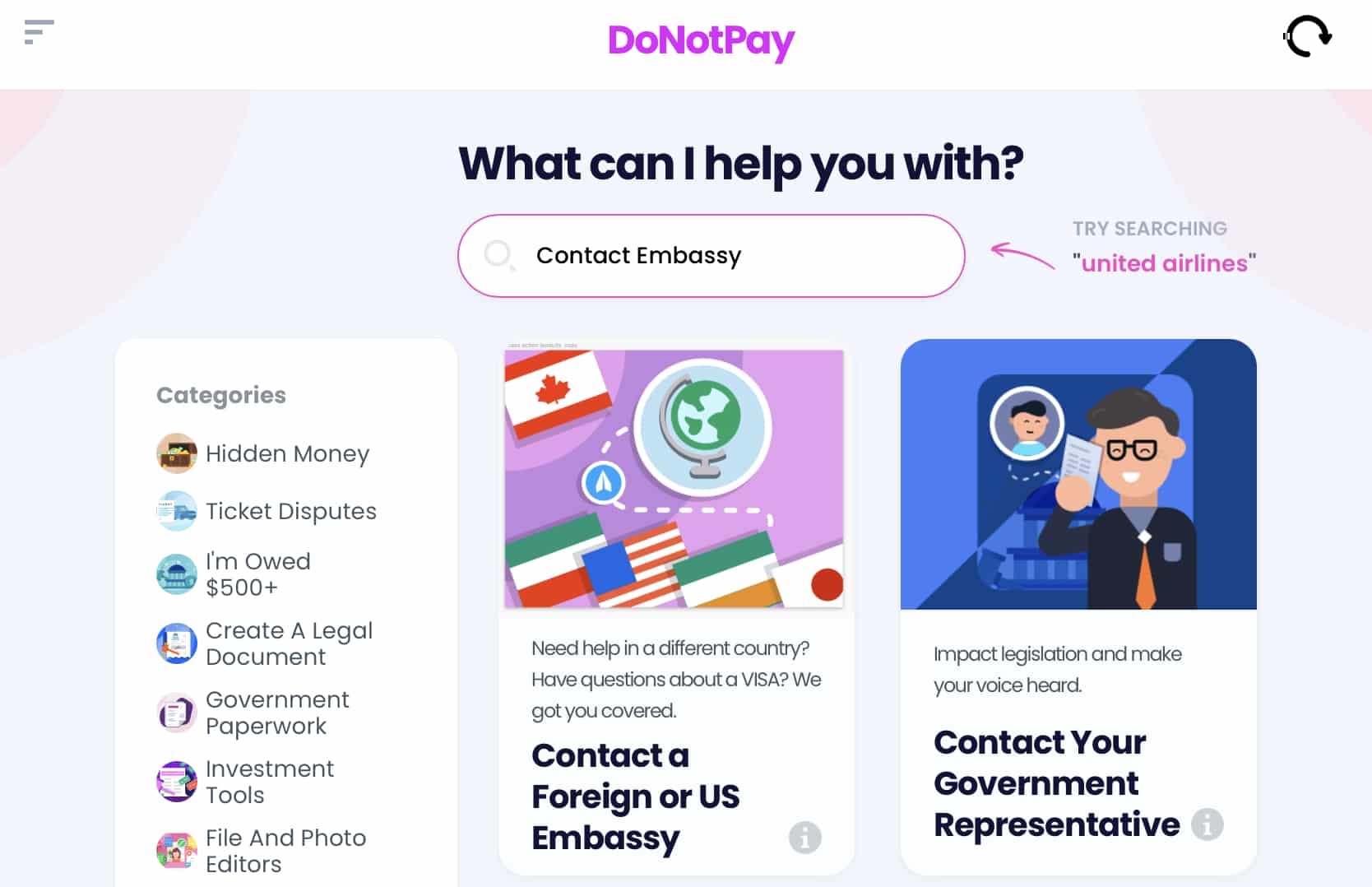 2. Choose if you want to contact a foreign embassy or consulate in the U.S.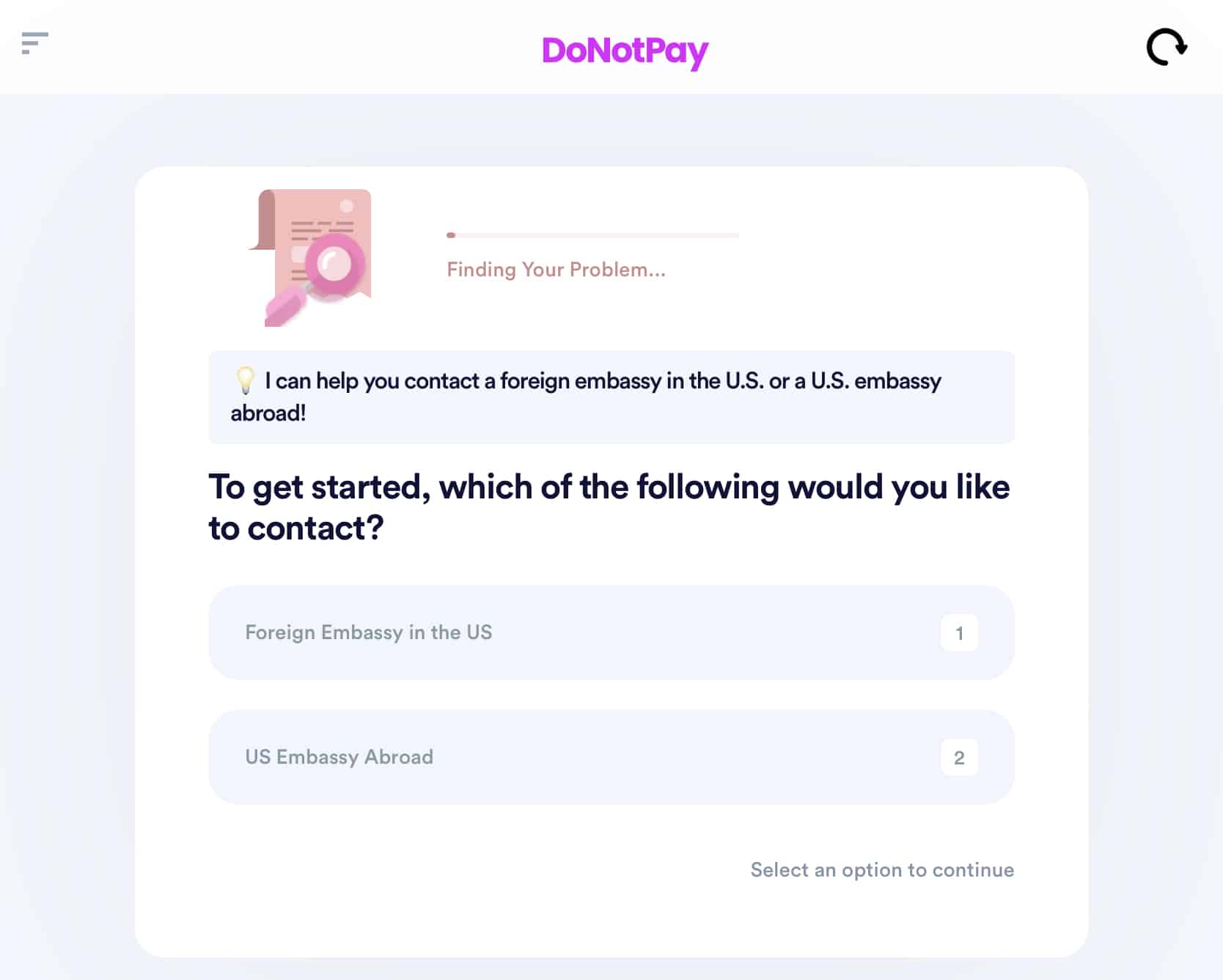 3. Explain your issue and any questions you may have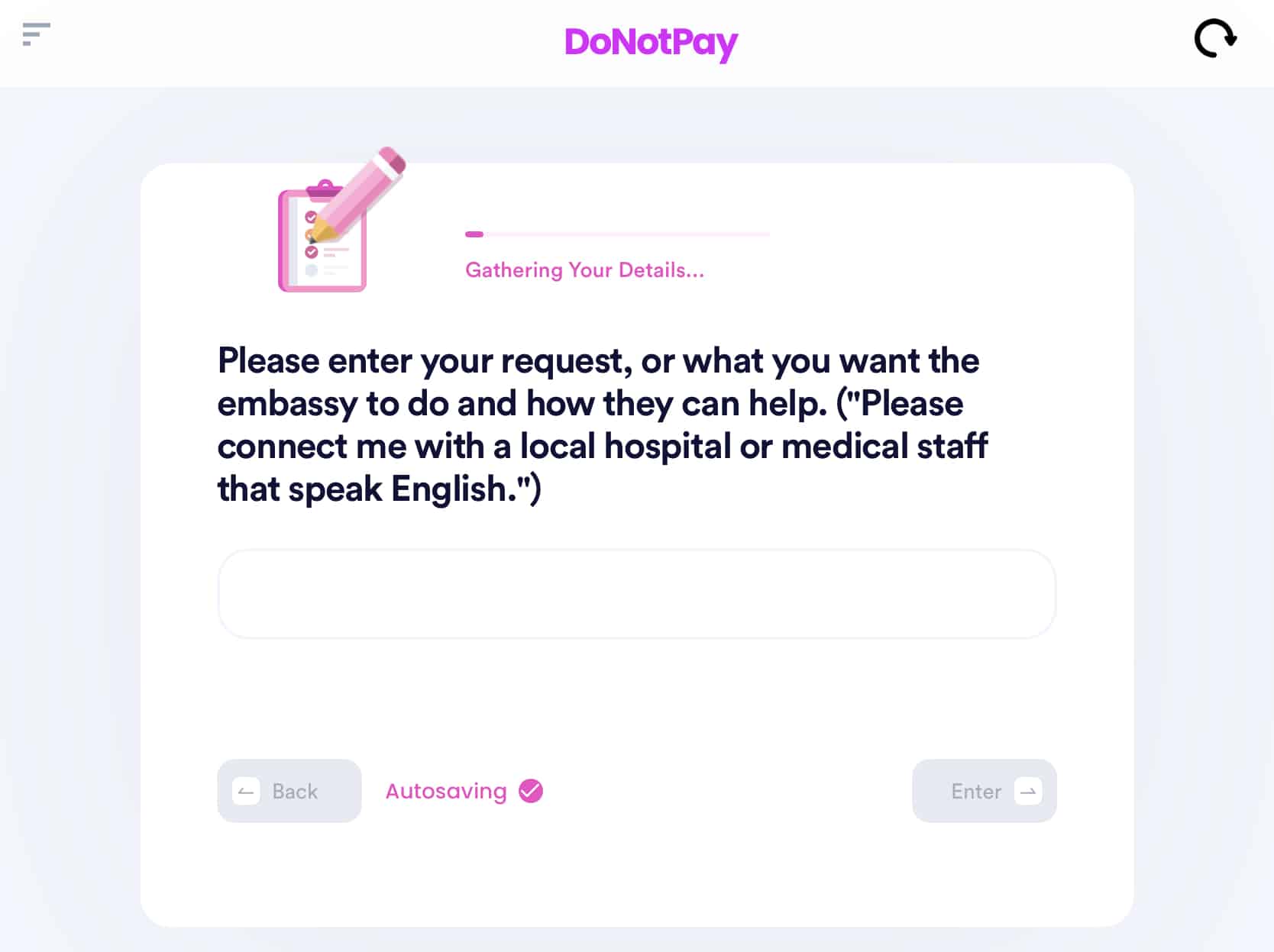 4. Enter "Philippines"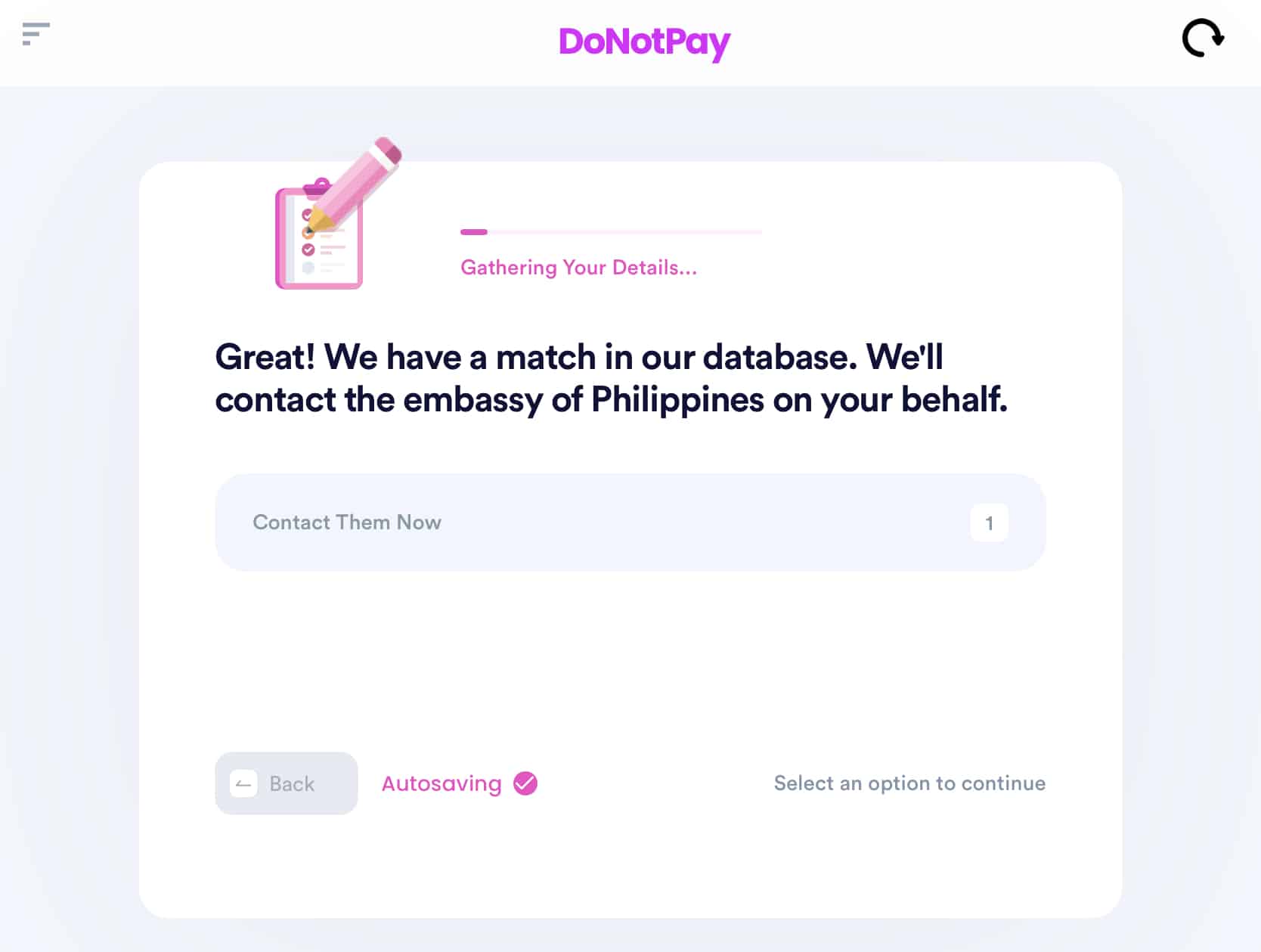 That's it, you're done! You can expect a direct response from the Philippine Embassy in Washington to your issue by email.
Who Else Can DoNotPay Help You Contact?
Chinese Consulate (

Los Angeles

,

Chicago

,

New York

)
Philippine Consulate (Los Angeles, San Francisco, New York)
Nigerian Embassy (

Atlanta

)
Russian Embassy (

Washington, D.C.

)
Indian Embassy (

New York

,

Chicago

,

Houston

)
Brazillian Consulate (

Miami

)