Contacting the Mexican Consulate in Raleigh, NC
The Mexican consulate in Raleigh provides support to the diplomatic services of the Mexican embassy in Washington DC. The consul general is Claudia Velasco Osorio who has extensive experience in international relations in countries such as Brazil and Bolivia.
The Raleigh Consulate General also has mobile consulates. To find the nearest mobile consulate, you need to set an appointment by calling 1 877-639-4835.
The consulate general in Mexico's area of jurisdiction include:
North Carolina
South Carolina
Nonetheless, residents of a certain state are not required to go to the consulate where your state is, and you can process documents in any Mexican consulate in any location.
How to Go to the Consulate of Mexico in Raleigh NC?
The consulate of Mexico is located at 431 Raleigh View Rd. Some buses and trains stop near the consulate, but driving and finding a parking spot near the consulate can be a challenge. The consulate has a parking area in its compound, but make sure to arrive early so you can get a parking spot. You can reach the consulate by:
Taking the Bus
Buses 20-A and 20-B stop at Garner Rd at Raleigh View Rd station which is only a three-minute walk away from the consulate. From the bus stop, head north on Garner Rd then turn left onto Raleigh View Rd. The consulate will be on your right.
Taking the Train
Raleigh Union Station that services Carolinian, Piedmont, and Silver Star is the nearest Amtrak train station. You can take a taxi from the train station to the consulate. Depending on traffic conditions, travel time is around 8 to 18 minutes.
Contact Details for the Mexican Consulate in Raleigh
Address
Consulate General of Mexico in Raleigh, North Carolina

431 Raleigh View Road

Raleigh NC 27610

Email
conraleigh@sre.gob.mx
Phone
(919) 615-3653
Fax
(919) 615-3690
Office Hours
Monday to Friday

7:00 AM to 5:00 PM

Social Media
Facebook
Services of Consulate General of Mexico in Raleigh
The consulate provides visa application services to foreigners and can address other minor diplomatic issues, in contrast to an embassy that can provide a full range of services. The consular services in the Raleigh Mexican consulate can also provide services in different indigenous languages. If you are processing a passport, consular registration, birth registration for dual citizenship, or notaries, you must first make an appointment by calling 1-877-639-4835. Here are some of the services provided by the consulate:
Passport applications
Visa applications

Tourist visa
Student visa
Family reunification visa
Visa for a family (with approval of Mexican Immigration Institute using Unique Processing Number)
Adoption visa
Temporary resident visa
Permanent resident visa
Paid activities visa (with approval of Mexican Immigration Institute using Unique Processing Number)
Religious activities visa
Report of lost, stolen, or destruction of Temporary or Permanent card
Non-ordinary visas such as diplomatic, official, and others

Notarization of specific documents
Legalization of documents
Issuing emergency travel documents
Registration of marriage, birth, and death
Authentication of documents
How to Contact Mexican Consulate in Raleigh With DoNotPay?
Processing documents at embassies and consulates can be challenging. You will have to deal with long wait times, draft lengthy emails, find the correct contact details, and wait for sluggish email responses. will let you do away with all the stress and hassle of trips to the embassy or consulates. We are the world's first robot lawyer and we can help you get in touch with any diplomatic office in the US.
1. Type "Contact Embassy" on the search bar.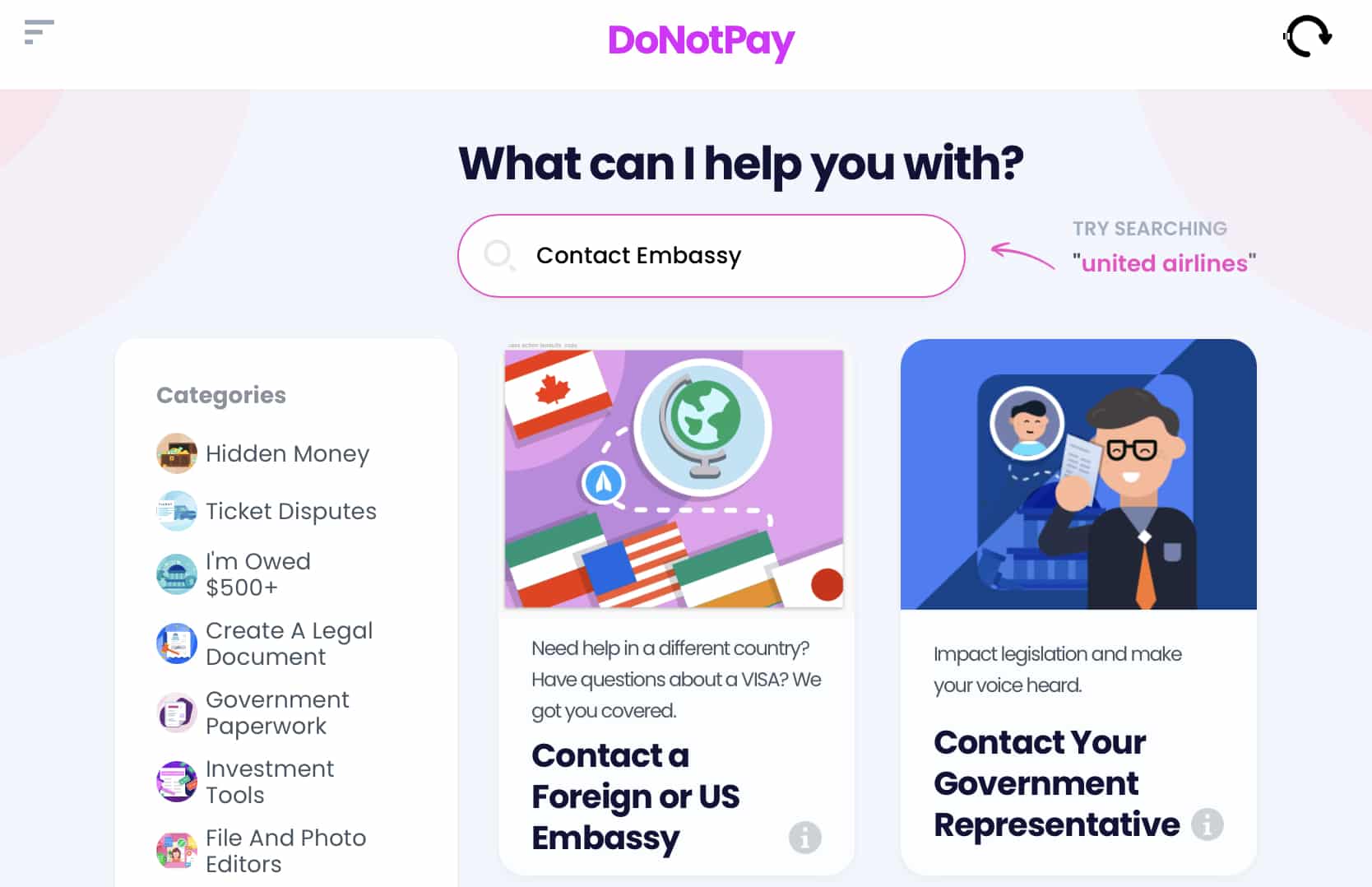 2. Choose if you want to contact a foreign embassy/consulate in the U.S. or a U.S. embassy abroad.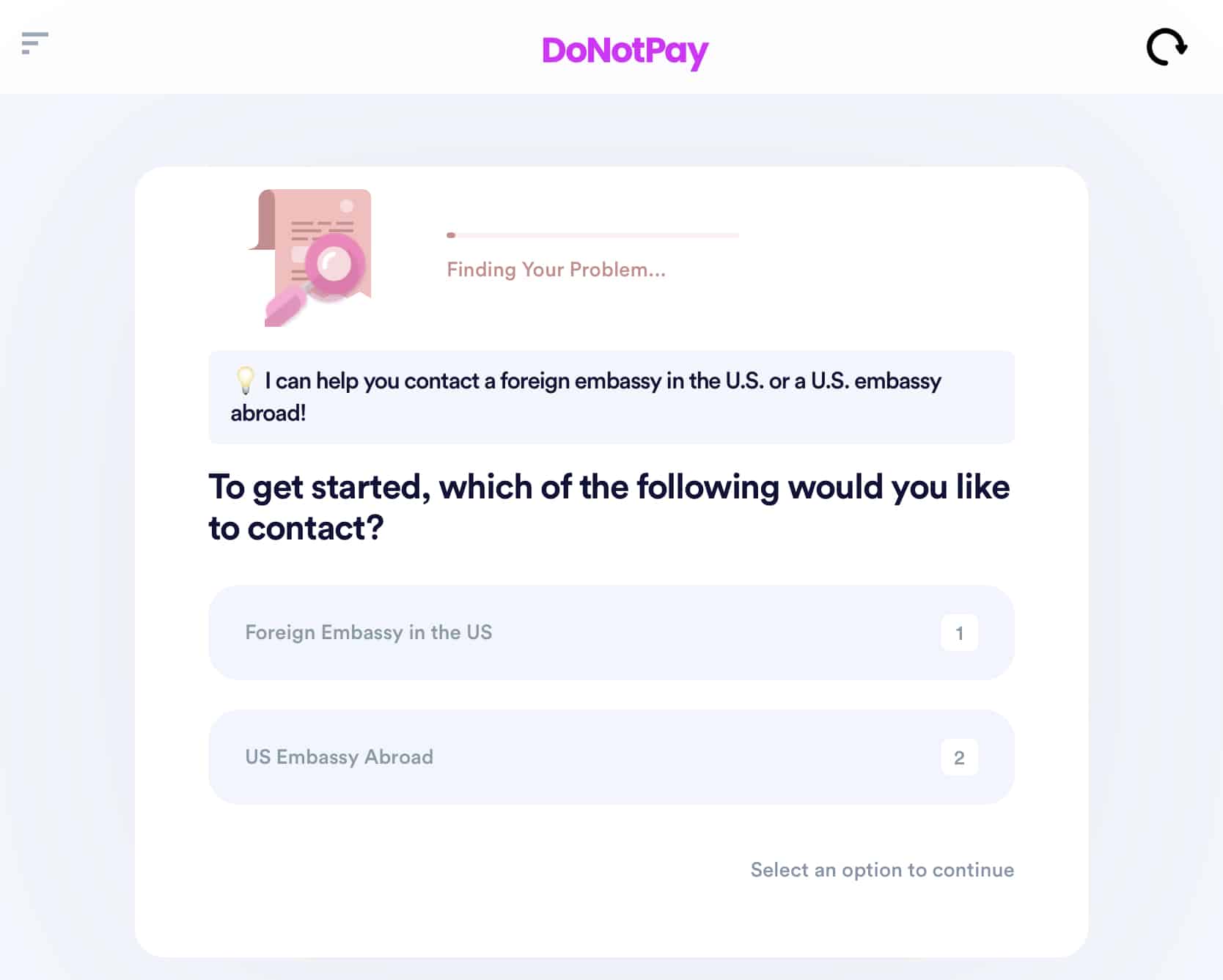 3. Briefly explain the issue and the questions you may have.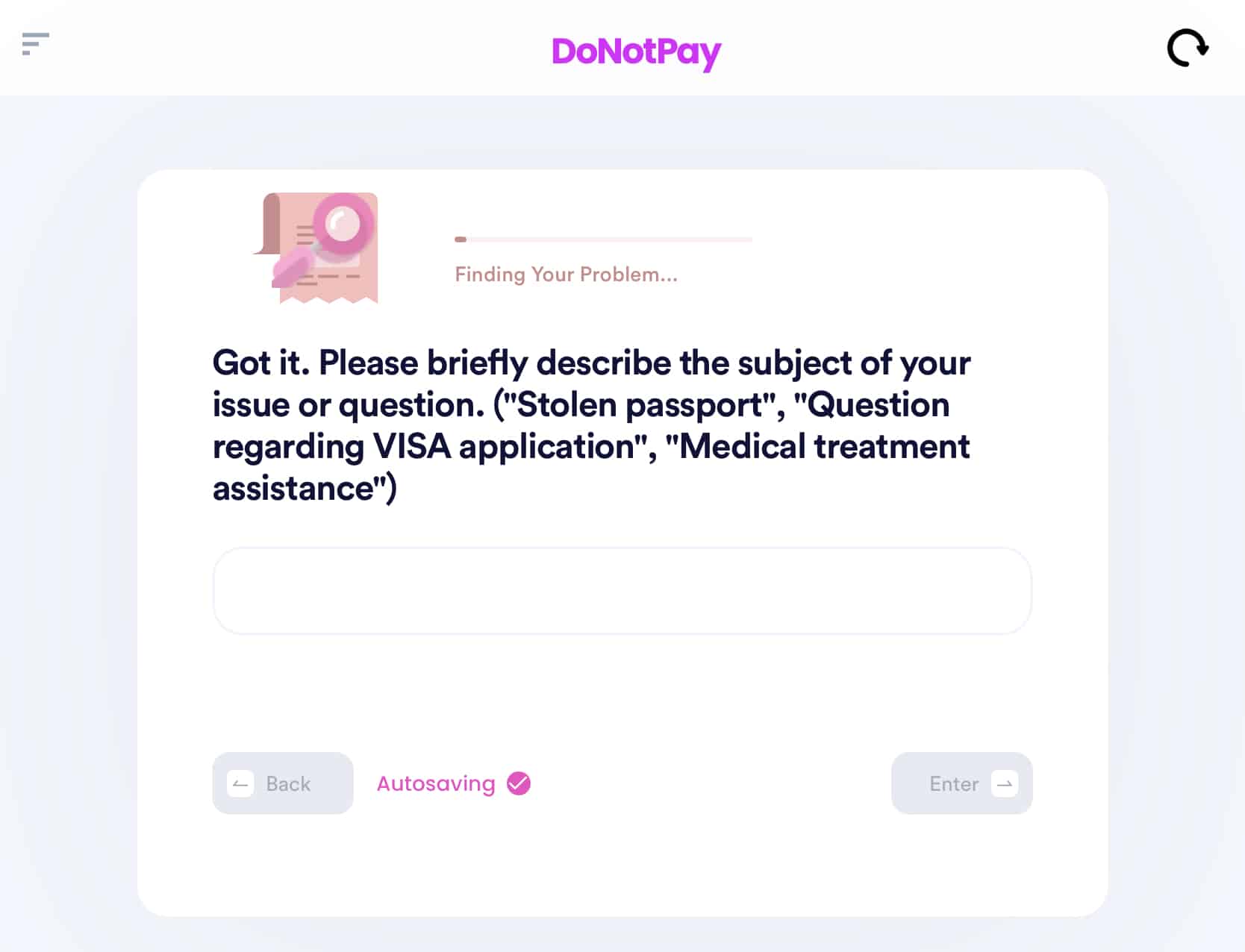 4. Enter the country or city of the embassy you wish to contact.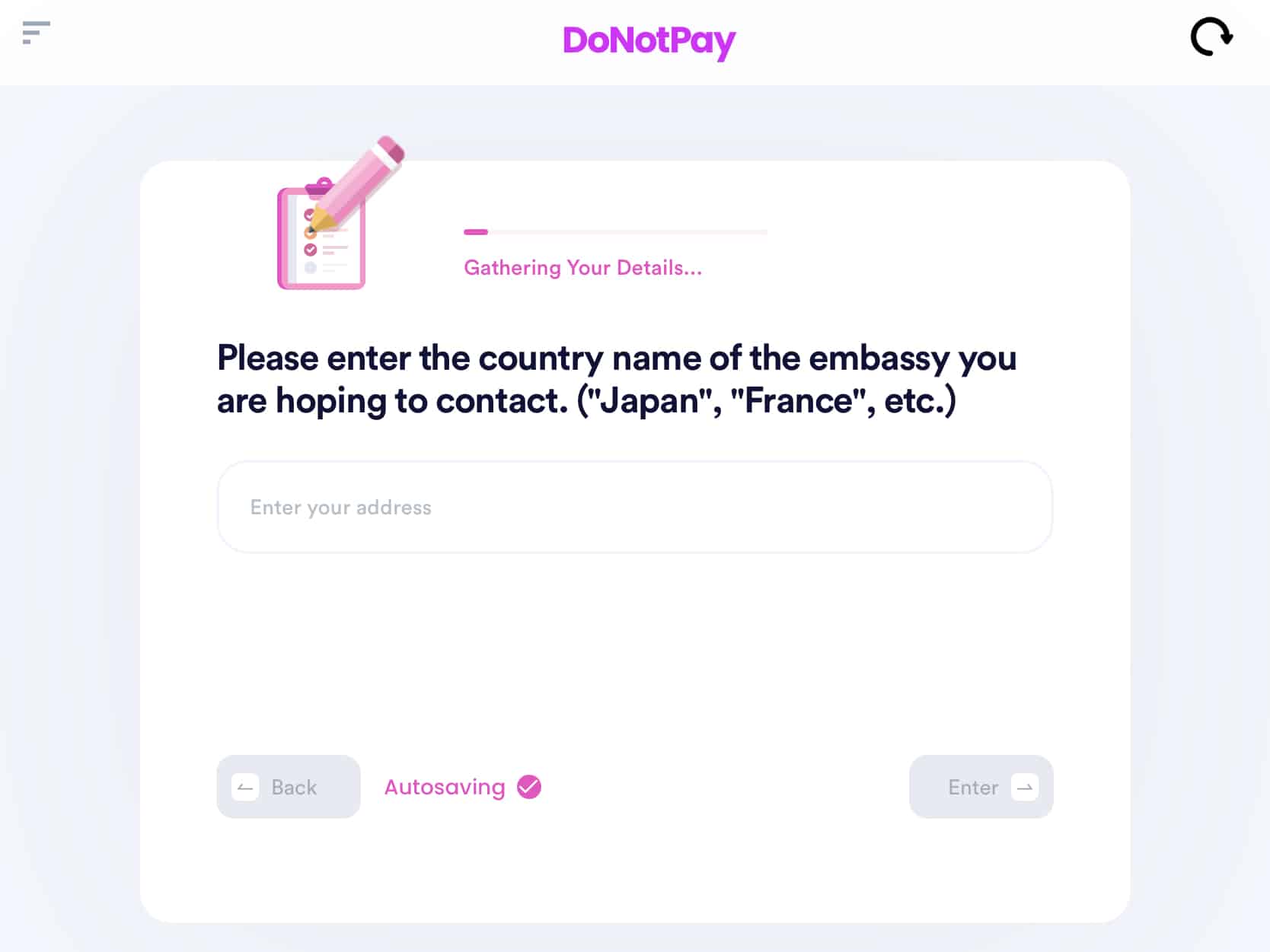 That's it, you're done! You can expect a direct response to your email.
Other Embassies and Consulates in the USA
In addition to the Mexican consulate, we have been helping our users contact embassies and consulates in the USA easily. These include the following:
| | |
| --- | --- |
| Philippine Consulate, Los Angeles | Chinese Consulate, Los Angeles |
| Philippine Consulate, San Francisco | Chinese Consulate, New York |
| Philippine Consulate, New York | Chinese Consulate, Chicago |
| Nigerian Consulate, Atlanta | Indian Consulate, Houston |
| Russian Embassy, Washington D.C. | Indian Consulate, New York |
| Brazilian Consulate, Miami | Indian Consulate, Chicago |