All About The Philippine Consulate, San Francisco
Whether you are a Filipino trying to get in touch with your consulate or a foreigner looking to travel to the Philippines, the Philippine Consulate General in San Francisco is ready to help you with all your questions. Sometimes, it can be very time-consuming to find the right channel to get in touch with the consulate or tiresome to get to the office physically, especially during the COVID-19 pandemic.
This article will serve as a guideline on how to get in touch with the Philippine Consulate in San Francisco, the matters they can help you with, and how you can use to contact them!
Where is the Philippine Consulate in San Francisco?
The Philippine Consulate is conveniently located just one block away from San Francisco Union Square. The exact address of the consulate is:
447 Sutter Street, San Francisco, CA, 94108, USA
There are various public transportation options you can use to get to the Philippine Consulate in San Francisco. Here are the options and ways you can get to the consulate:
If you are going to take Muni, you can take any of these buses to get to Union Square and quickly walk over to the consulate: 14R, 38, 38R, 5, 7, LBUS
If you are planning to take CalTrain, take the LIMITED B line.
For BART, you can take the Blue, Green, Red, or Yellow lines and get off on Powell or Montgomery Street.
For Light Rail, you can take the N line.
How To Get in Touch with The Philippine Consulate San Francisco
If you need to contact the Philippine Consulate, here's a table that lists all the ways you can reach them:
Address
447 Sutter Street, San Francisco, CA, 94108, USA
Email
The email will change depending on the service you are requesting, which is specified at the beginning of the emails:
Phone
+1 (415) 433-6666 (9:00 AM - 5:00 PM)
Fax
+1 (415) 421-2641
Office Hours
Monday to Friday

9:00 AM - 5:00 PM

(except Philippine & US Holidays)
If you want to be up to date with all the news and announcements about the Philippine Consulate in San Francisco, you can follow them on Facebook, Twitter, or Instagram!
What Can The Philippine Consulate Help You With?
The Philippine Consulate offers assistance with a variety of tasks. The table below explains what services they offer:
Passport

Adult/minor first-time applicant
Adult/minor passport renewal
Passport Extension
Downloadable Forms

Travel Document
Issued to a Filipino in an emergency, who needs to return home urgently but unable to fully comply with the conditions of passport issuance. Emergencies include:

Serious illness of a family member
Death in the family

Dual Citizenship

Requirements for the Principal
Requirements for the Principal's Minor Derivative
Downloadable Forms

Notarial

Acknowledge of documents
Authentication of documents
Renunciation of Philippine Citizenship
NBI Clearance
Pet İmportation

Civil Registry

Report of Birth
Report of Marriage
Judicial Recognition of Foreign Divorce
Report of Death

Visa

Temporary Visitors Visa
Transient Visa
International Treaty Traders & Investors Visa
Foreign Government Officials Visa
Student Visa
Special Non-Immigrant Visa
Immigrant Visas

Overseas Voting

Filipino citizens living in the US can apply for "Overseas Voting" for the 2022 Election in the Philippines
Registration will close on 30 September 2021.

Consular Outreach
Appointment availability for consular outreach services goes public at least 3 weeks in advance.
Forms

Passport Application Form
Affidavit of a Lost Passport
Affidavit of Passport Destruction
Passport Extension Form
Waiver Form for Extension of Validity of Passport
Consent Form for Passport Delivery

Schedule of Fees

ePassport: 60$
Replacement of Lost ePassport: 150$
Replacement of Lost MRP Passport: 90$
Passport Extension: 20$
Get in Touch with the Philippine Consulate in San Francisco with DoNotPay!
Most of the time, finding the proper way to reach out to the consulate can be confusing. Instead of doing such complicated work yourself, let DoNotPay help you contact the consulate on your behalf! All you have to do is:
1. Search for "Contact Embassy or Consulate" on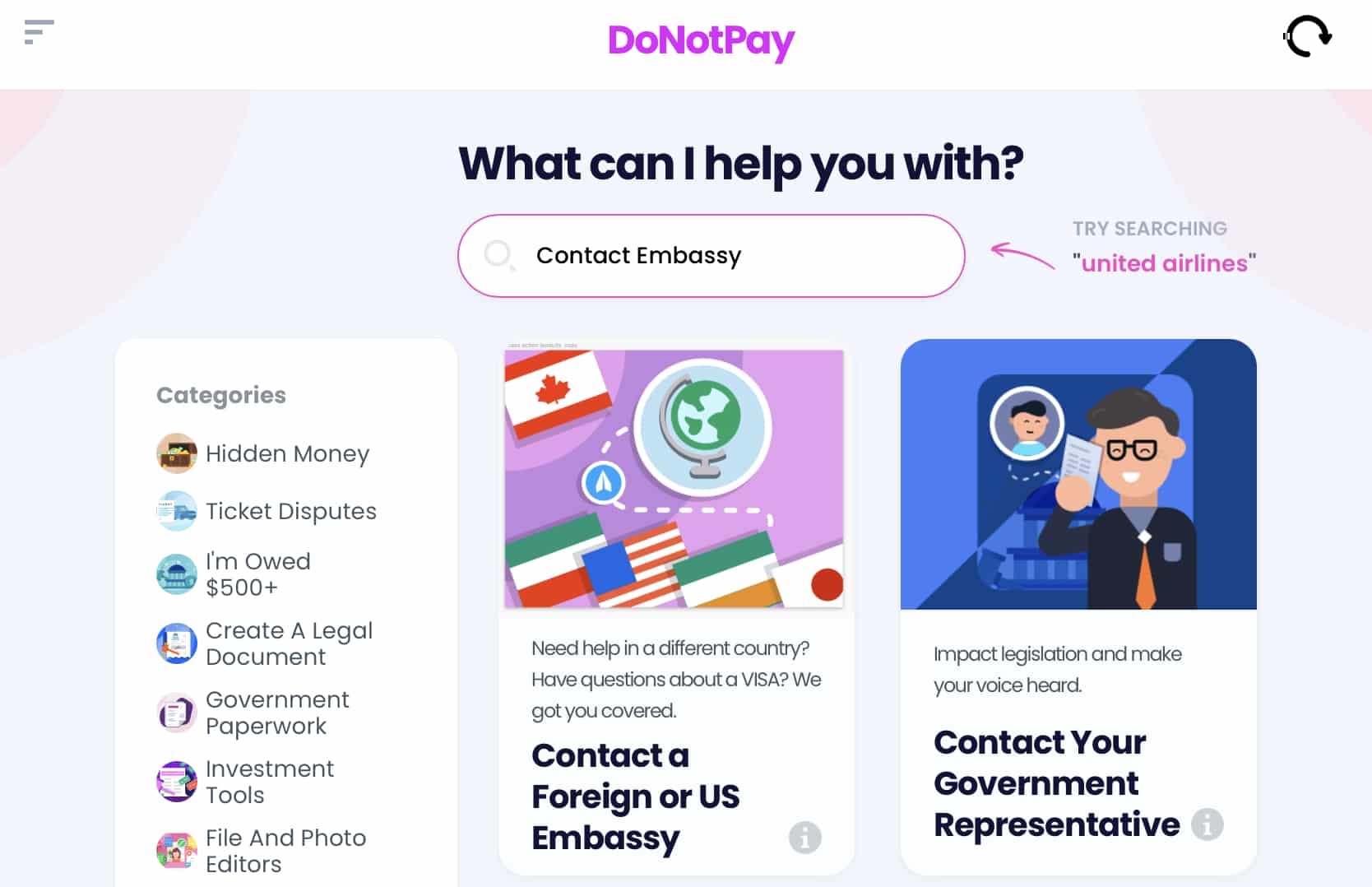 2. Choose between contacting a foreign embassy/consulate in the US or a US embassy/consulate abroad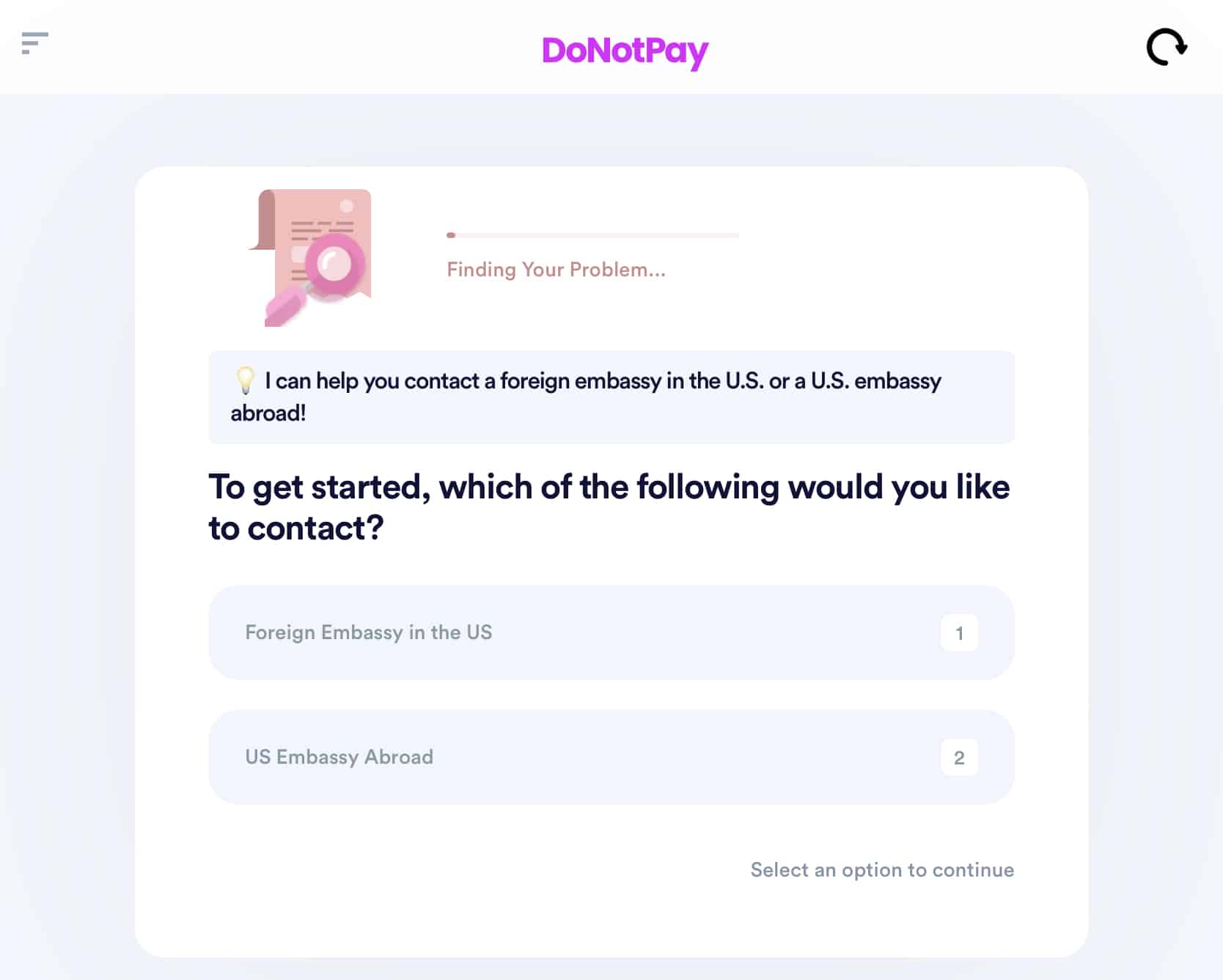 3. Describe your issue, why you need help, and any questions you have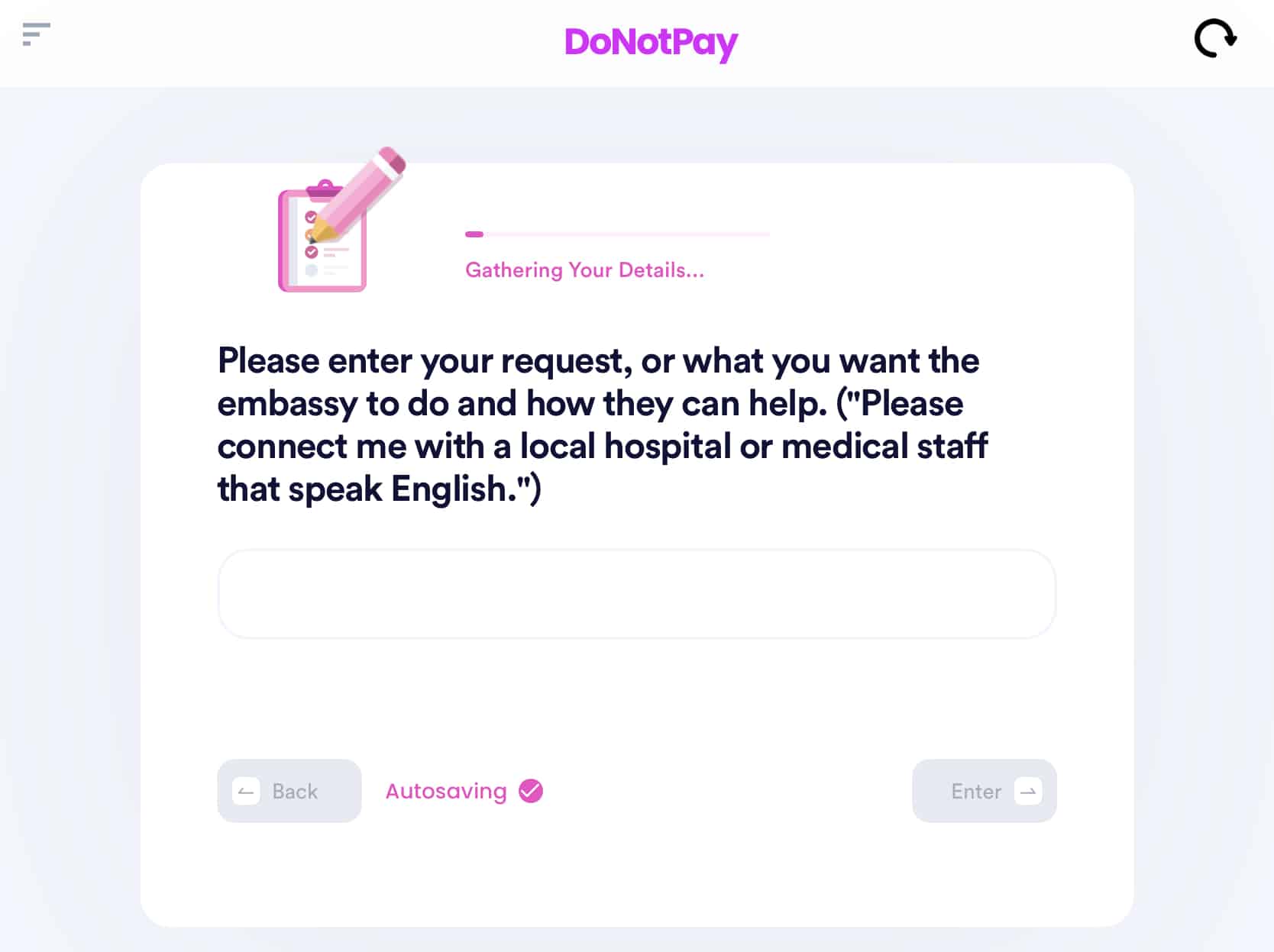 4. Write the country of the embassy or consulate you want to reach, and we'll send your request to the closest consulate near you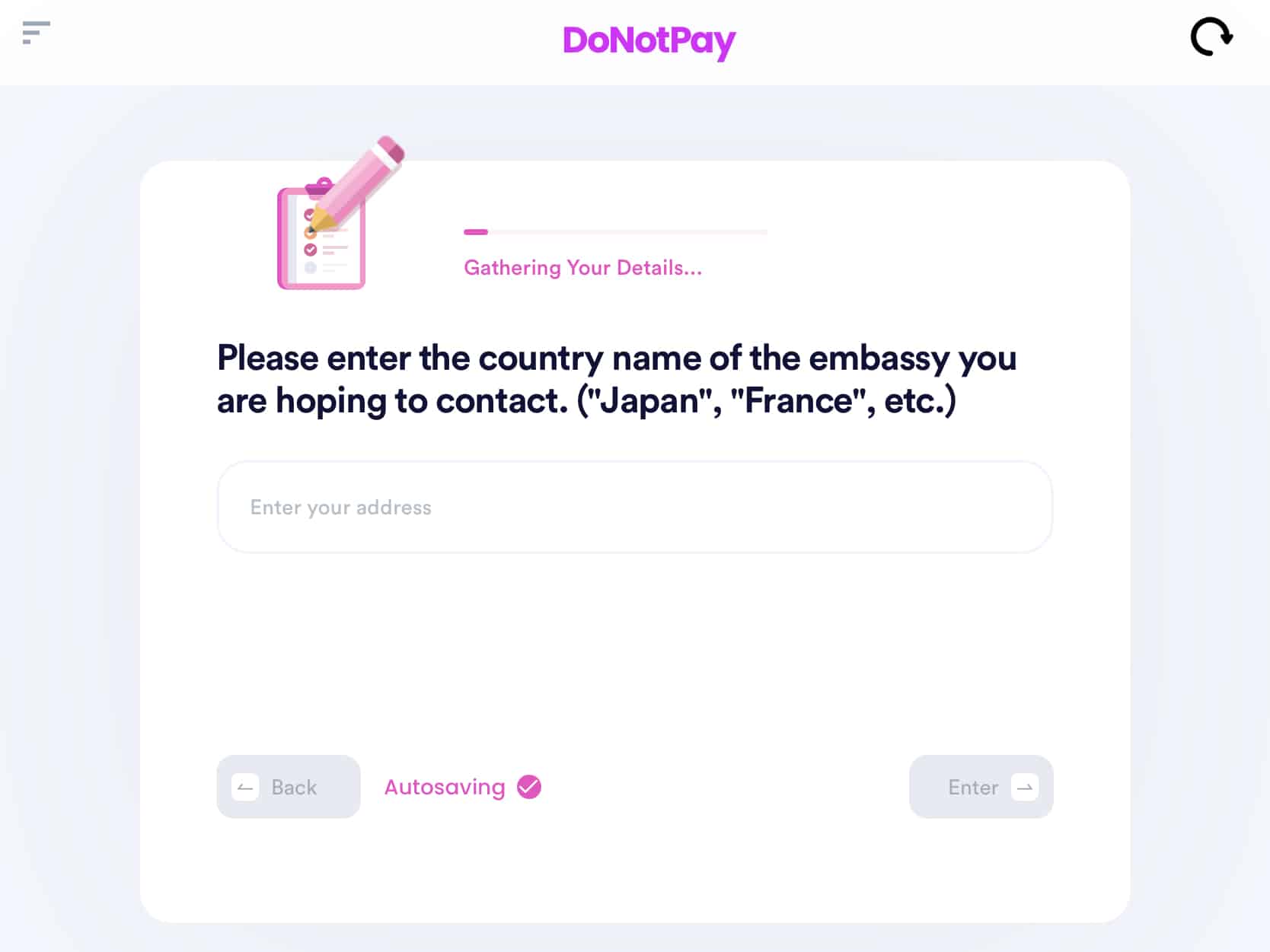 That's all you have to do! DoNotPay will generate a proper customized email for you, send it to the right address on your behalf, and have the consulate respond to your email address! You do not have to think about reaching the consulate or contemplating what to write. We take care of it all.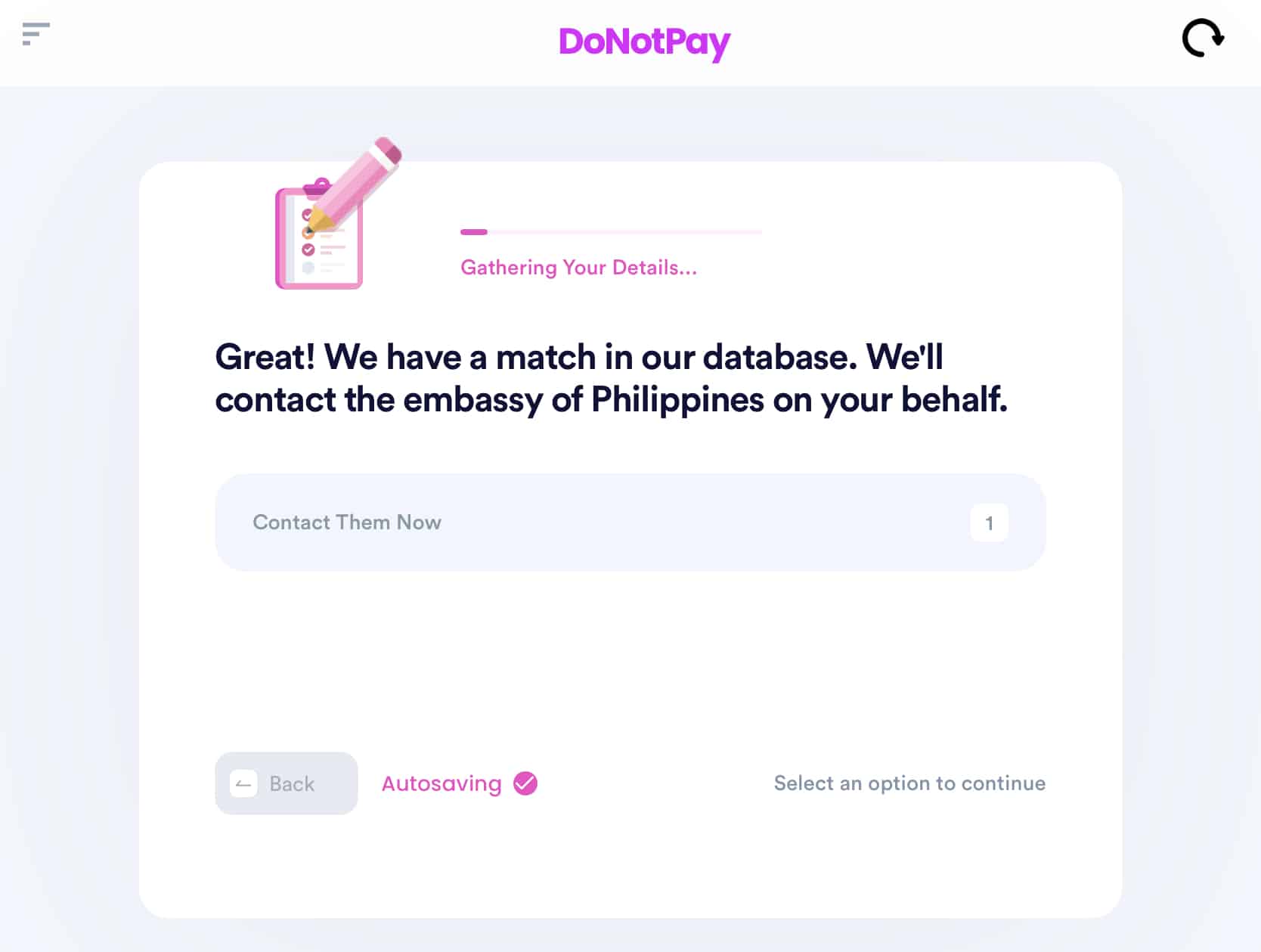 Other Embassies and Consulates DoNotPay Contacts For You
Philippine Consulate, Los Angeles and New York
Chinese Consulate

Los Angeles

,

New York

, and

Chicago

Nigerian Embassy

Atlanta

Indian Consulate

Houston

Indian Embassy

New York

and

Chicago

Brazilian Consulate

Miami

Russian Embassy

Washington, DC