Get In Touch With The Italian Consulate in Miami
Ciao!
If you are staying or residing in Florida and its neighboring states and you're looking to get in touch with the closest Italian embassy, this article is for you. You've found a comprehensive guide all about the Italian consulate in Miami. We have divided the sections of the article to answer the following commonly asked questions:
How do I renew my Italian passport in Miami?
How do I get an appointment at the Italian consulate?
How can I contact the Italian consulate in Miami?
Is there to contact the Italian consulate in Miami?
The Italian Consulate in Miami
The Italian consulate in Miami (Consolato Generale d'Italia Miami) is one of the 32 diplomatic outposts of the Democratic Republic of Italy, serving over 15 million Italians living in the U.S. They are assigned a certain number of states or counties to oversee; for the Italian consulate in Miami, its areas of jurisdiction are:
Florida

South Carolina

Mississippi

U.S Virgin Islands

Jamaica

St. Eustatius

American Virgin Islands

Turks & Caicos

Georgia

Alabama

Puerto Rico

Bahamas

St. Marteen

Saba

The British Virgin Islands
If you do not live in any of these areas, then you may have to check other Italian consulates to see which of them covers the area you live in. The next section will give you various ways you can contact the Italian consulate.
How Do I Contact The Italian Consulate in Miami?
There are many ways you can get in touch with the Italian consulate in Miami. Locating the consulate is pretty simple and you can get to your destination by Metro rail (if you are coming from the Miami airport) or a private car. See the accurate address and all other contacts details in the table below:
Address
Consolato Generale d'Italia in Miami

4000 Ponce de Leon, Suite 590

Coral Gables, FL 33146

Email
miami.urp@esteri.it (for general consular inquiry)

passaporti.miami@esteri.it (for passport services)

cittadinanza.miami@esteri.it (for citizenship services)

visa.miami@esteri.it (for visa services)

notarile.miami@esteri.it (for notarial services)

Phone

305 549 5518 (general inquiry)

305 753 0532 (for emergency)

Use the following extensions together with the number 305 374 6322 to get to the respective departments:

1008/ 1002 - passport services

1017 - Visa services

1013/1014 - citizenship services

1024 - Notarial services

1009 - AIRE services

Fax
+1 305 374 7945
Office Hours
9:00 AM - 12:30 PM

Monday to Friday
For visa applications, the consulate opens every other day except Thursday and weekends. For notarization services, the consulate opens only on Mondays to Wednesdays.
The consulate has no space for the safekeeping of personal items like phones, laptops, bags, and briefcases, etc and you'll have to leave them at home or in your car.
Consular Services At The Italian Consulate in Miami
Here are some of the most common consular services you can get at the Italian consulate in Miami.
Passport services
If you plan on getting an Italian passport for the first time or you had your passport stolen, misplaced, or expired you can contact the embassy to issue you a new one. You'd need to book an appointment first. An e-passport costs $137.65 to get and would require you to bring along your:
Proof of citizenship
Utility bills
2 passport photographs
Filled and signed registration form
Your current passport booklet
Police report/sworn affidavit (for cases lost passport)
Self-addressed, pre-stamped envelope
Proof of payment for processing
You can also get an emergency travel document at the consulate.
Visa services
The consulate offers four basic types of visas. See the table below for the different visa and their cost.
| | |
| --- | --- |
| Types of Visas | Cost |
| Schengen visa | $96.50 |
| Schengen visa for minors | $48.30 |
| National visa | $139.0 |
| Study visa | $60.30 |
Starting July 1st, 2021, contact the consulate to see if there are any changes in the visa fees as they review it quarterly.
Citizenship certification
At the consulate, you can apply for a citizenship certification if you became a citizen by descent or by marriage. The application fee for Italian citizenship is $300. You may also renounce or reinstate your citizenship at the Italian consulate.
Notarization services
You can get your driver's license, fiscal codes, legal attestation, Italian translation services, and other certificate services like birth, death, and marriage certificate at the Italian consulate. Use the contact details in the table above to contact the department of notary services.
Registration services
All Italians living in the U.S or staying for a significant period are required to register at the nearest Italian consulate.
A Quicker and Better Way To Contact The Italian Consulate in Miami
DoNotPay offers the fastest and easiest way to get in touch with any embassy or consulate across the world, including the Italian consulate in Miami! With you can cut back on frequent in-person visits and the risk of exposure to COVID-19, and save up your transport and parking costs. Here's how to use DoNotPay:
1. Type in "Contact Embassy" on .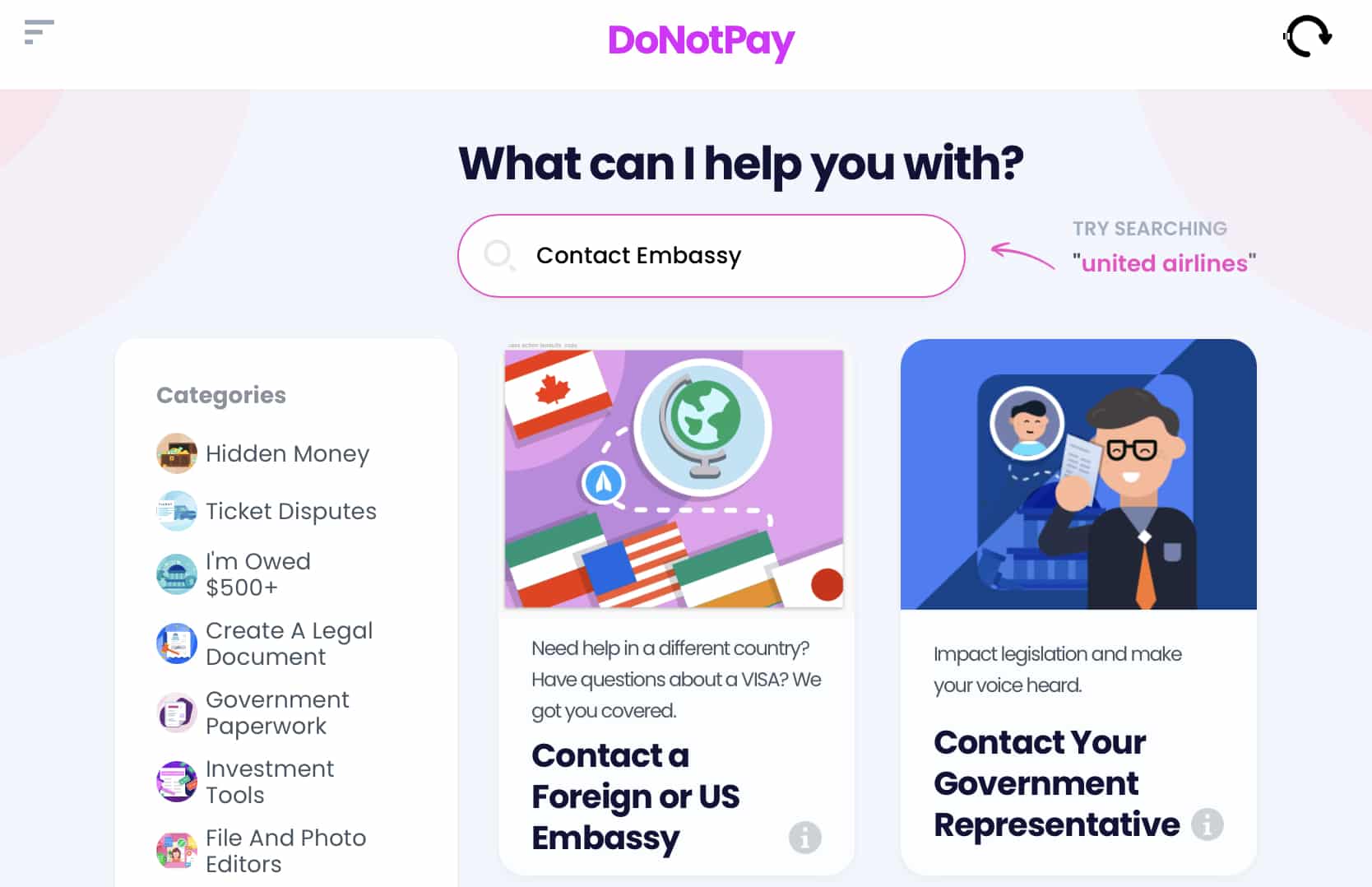 2. Select the embassy/consulate you intend to contact.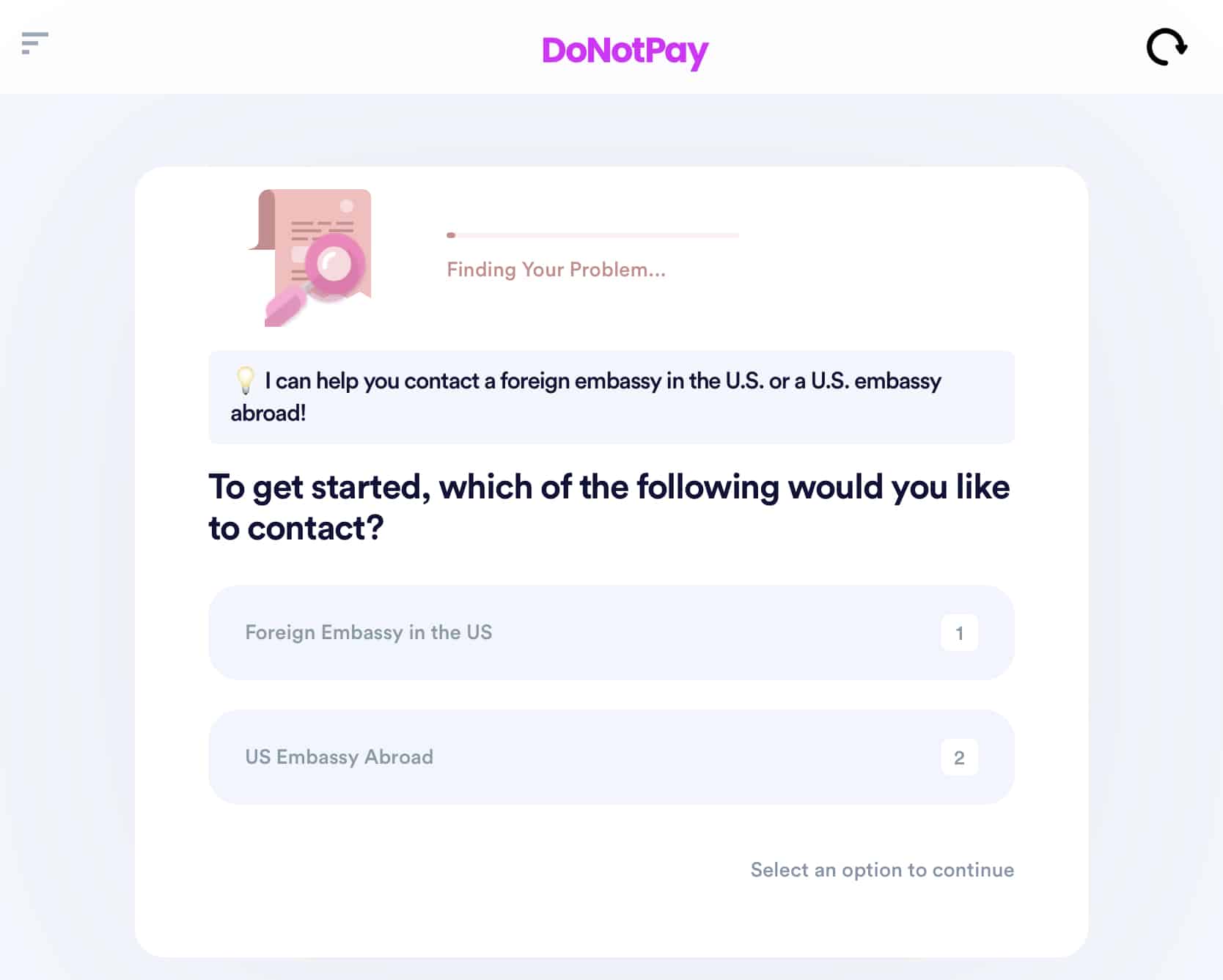 3. Briefly explain your inquiry and any important information you want to add.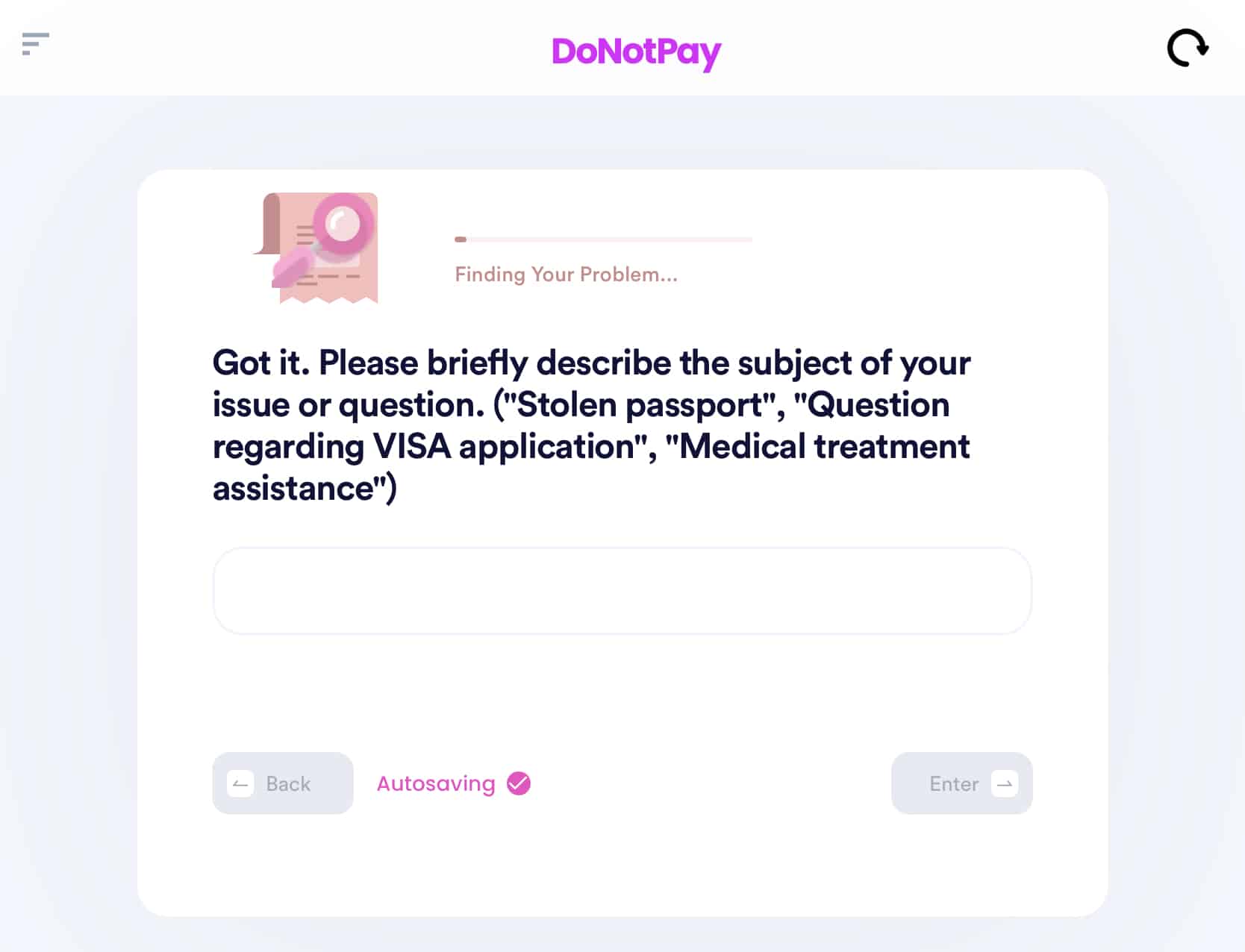 4. Tell DoNotPay which embassy/consulate you want to contact.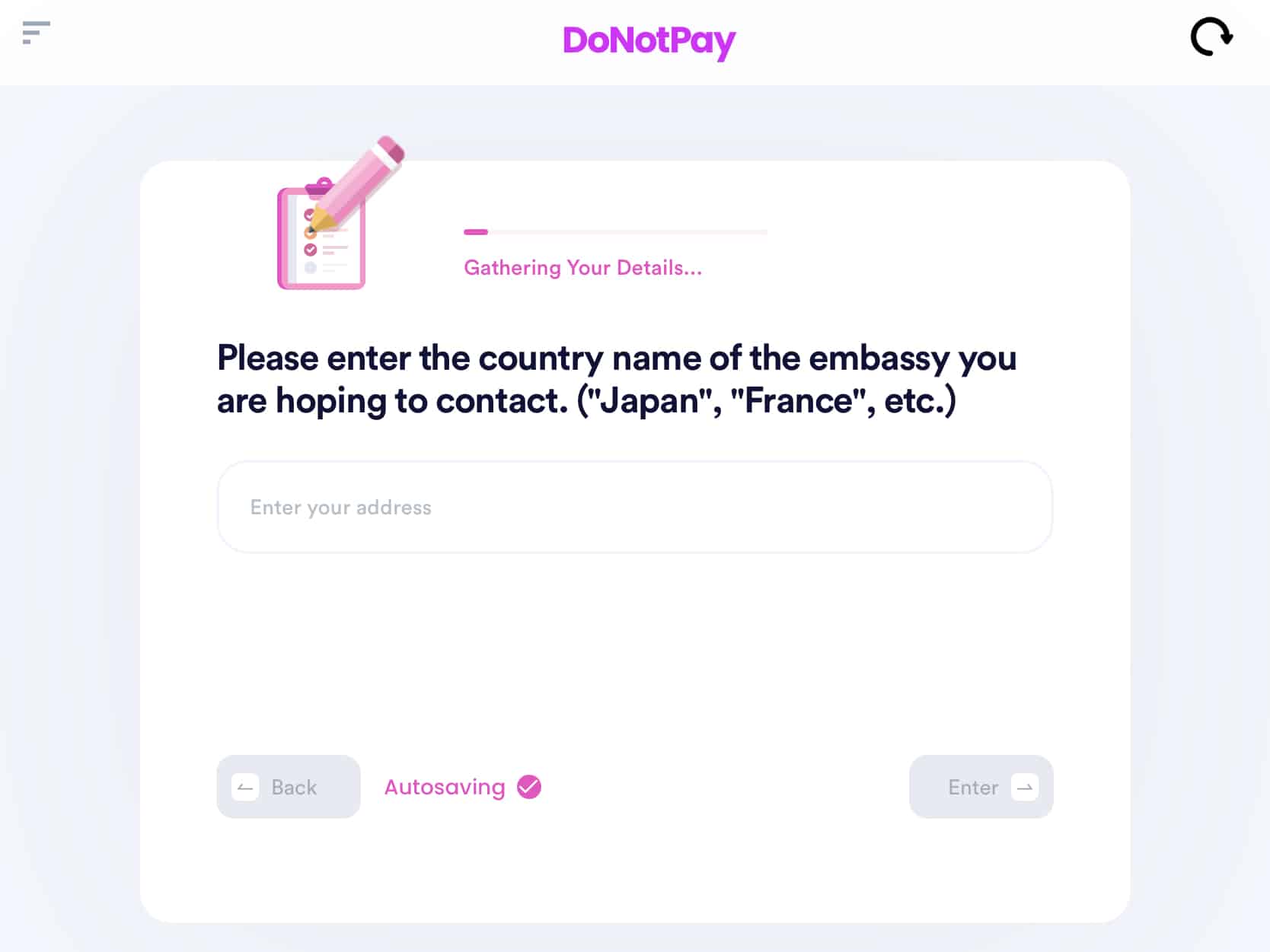 And that's all you need to do! DoNotPay will take it from there. Expect to receive a response directly to your email!
Embassies/Consulates DoNotPay Can Contact
Philippine Consulate, Los Angeles, New York, and San Francisco
Chinese Consulate,

Los Angeles

,

New York

, and

Chicago

Nigerian Consulate,

Atlanta

Russian Embassy,

Washington DC

Indian Consulate,

Houston

,

New York

, and

Chicago

Brazilian Consulate,

Miami