How to Contact the Kenyan Embassy in Washington, D.C.?
The Kenyan Embassy in Washington, D.C. is the only one in the country, holding jurisdiction in all of the United States and Mexico. If you need in-person services, Kenya also has consulate locations in New York and Los Angeles.
What Can the Kenyan Embassy in Washington, D.C. do for U.S. Citizens?
The Kenyan Embassy can provide the following services to U.S. citizens:
Information on Kenyan trade, investment, tourism, history, education, and culture
Consular services including but not limited to

Passport renewal and applications
Visa services
Citizenship documentation
Birth, death, and marriage certificates
Assistance in the case of arrest or injury

Authentication and certification of legal documents
What are the Types of Kenyan Visas?
There are six classifications of Kenyan Visas offered by the government:
Single Entry Visa: allows a single entry into Kenya for non-citizens for e purpose of business, tourism, or medical reasons
Transit Visa: issued to those traveling through Kenya for 72 hours or less to reach an alternative destination (not required for connecting flights without leaving the airport)
Multiple Entry Visa: allows non-citizen multiple entries into Kenya for business, tourism, or medical reasons
5-Year Multiple Entry Visa: a multiple entry visa valid for 5 years issued to USA nationals who must enter Kenya for business or tourism
East African Tourist Visa: a joint tourist visa allowing the holder to travel within Kenya, Rwanda, and Uganda for tourism
Courtesy Visa: issued to holders of a Diplomatic, Official, and Service passport visiting Kenya on official business or duties and to regular passport holders at the discretion of the Director-General
How to Obtain a Kenyan Visa?
Kenyan Visas are only available for application online through eVisa. Generally, it takes 8 days for a visa to be processed and approved. It is highly recommended to apply for your entry visa in advance in case of complications that could slow processing. Depending on the type of visa, fees for your application may vary. Fees do not vary depending on your nationality
Single entry: $51
Transit: $21
Multiple Entry: $101
5yr Multiple Entry: $201
East African Tourist: $101
How to Contact the Kenyan Embassy in Washington, D.C.?
Where is the Kenyan Embassy in Washington DC?
From Washington DC's Union Station, take the following route:
Take the red line from Union Station to Dupont Circle Metro Station
Exit the metro station
Turn to your left and walk seven minutes up Massachusetts Ave NW until you reach Sheridan Circle NW
Walk right around the circle, taking a right turn on R Street NW
The Kenyan Embassy will be directly in front of you, across the street
Special Announcements Regarding COVID-19
Due to the Covid-19 outbreak, the Kenyan Embassy in Washington DC has suspended all in-person services until further notice. If you must travel to Kenya, the following protocols apply:
Passengers with a body temperature under 99.5 F, without a persistent cough, difficulty breathing, or flu-like symptoms, and with a negative PCR test within 96 hours of travel are exempt from quarantine
How to Contact the Kenyan Embassy in Washington DC with DoNotPay
Due to the COVID-19 pandemic, all in-person services have been suspended at the Kenyan Embassy in Washington DC. This makes the process of obtaining visas and passports substantially more complex.
To streamline this process, discover , a specialized service that sends automated emails to embassies! To get in contact with any Consulate/Embassy, all you have to do is:
1. Type in "Contact Embassy" on .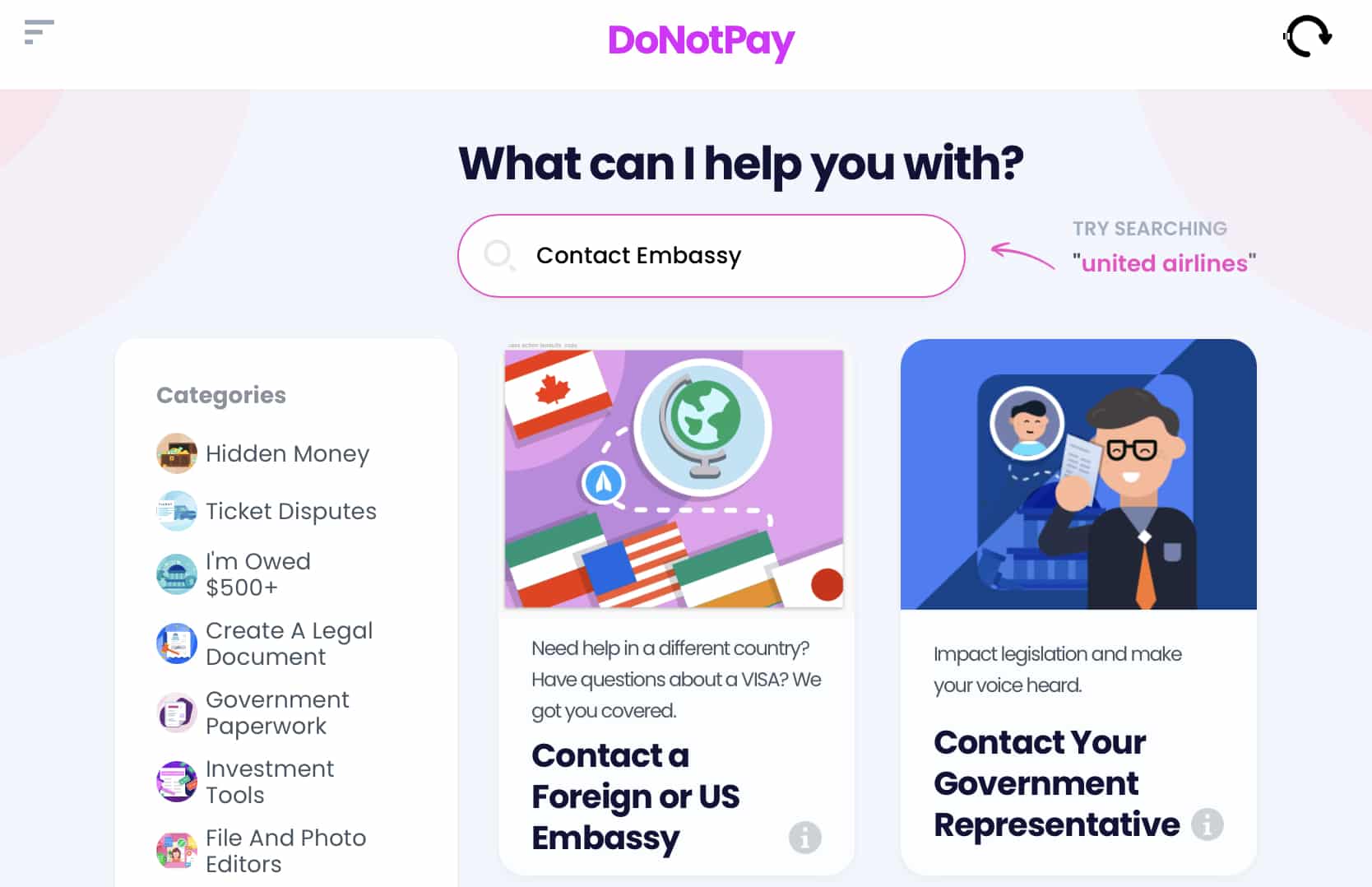 2. Choose if you want to contact a foreign embassy or consulate in the U.S.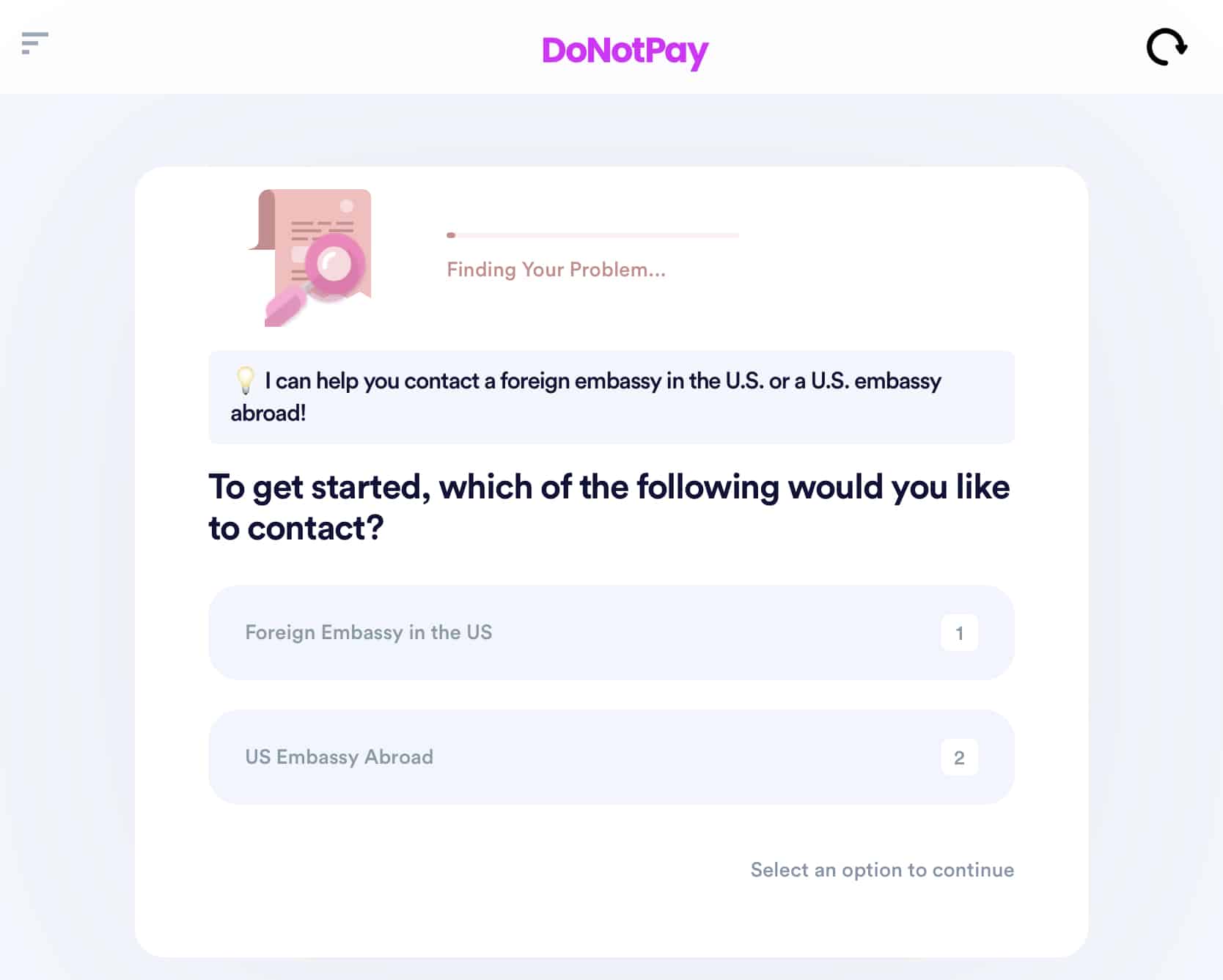 3. Explain your issue and any questions you may have.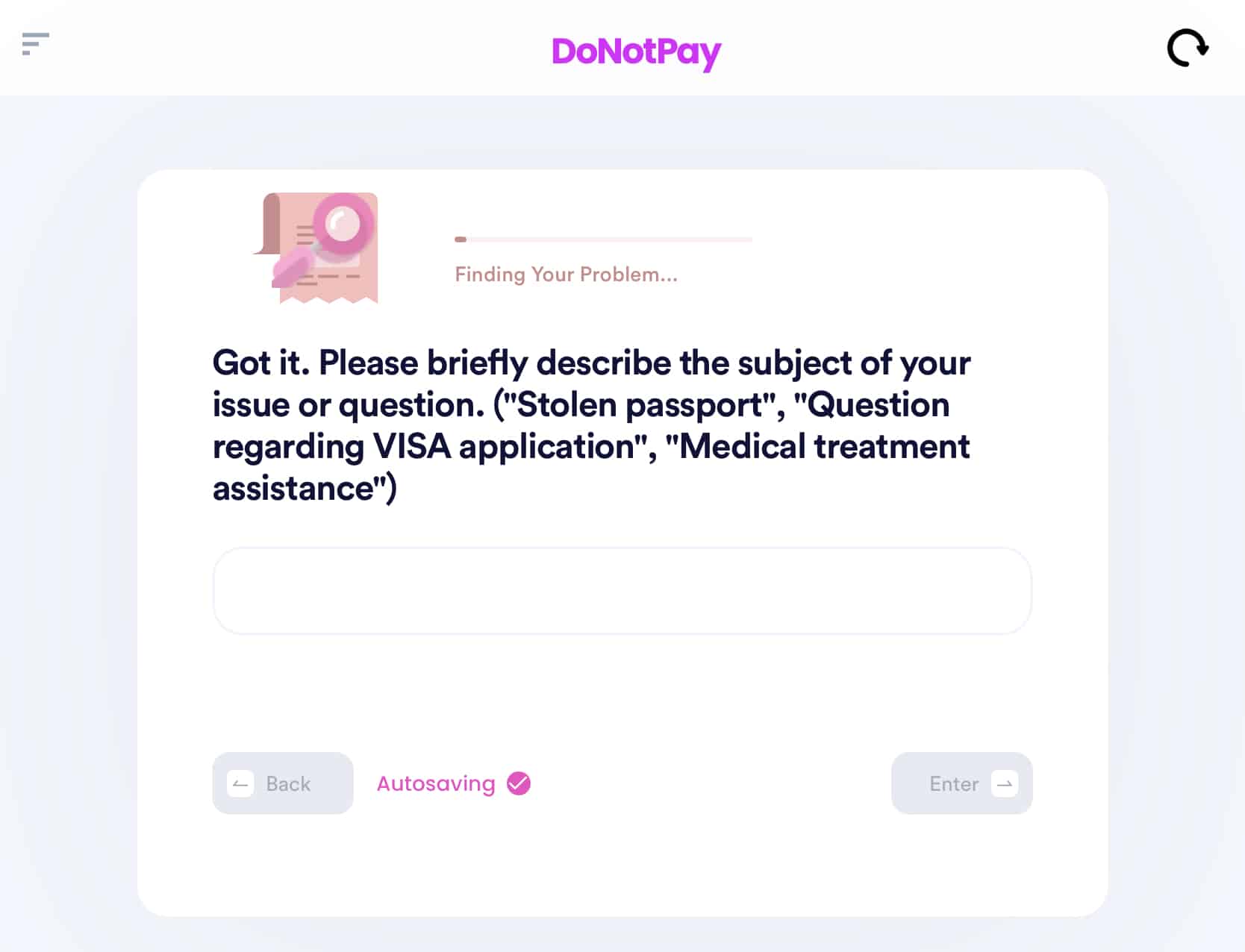 4. Tell DoNotPay which embassy or consulate you want to contact.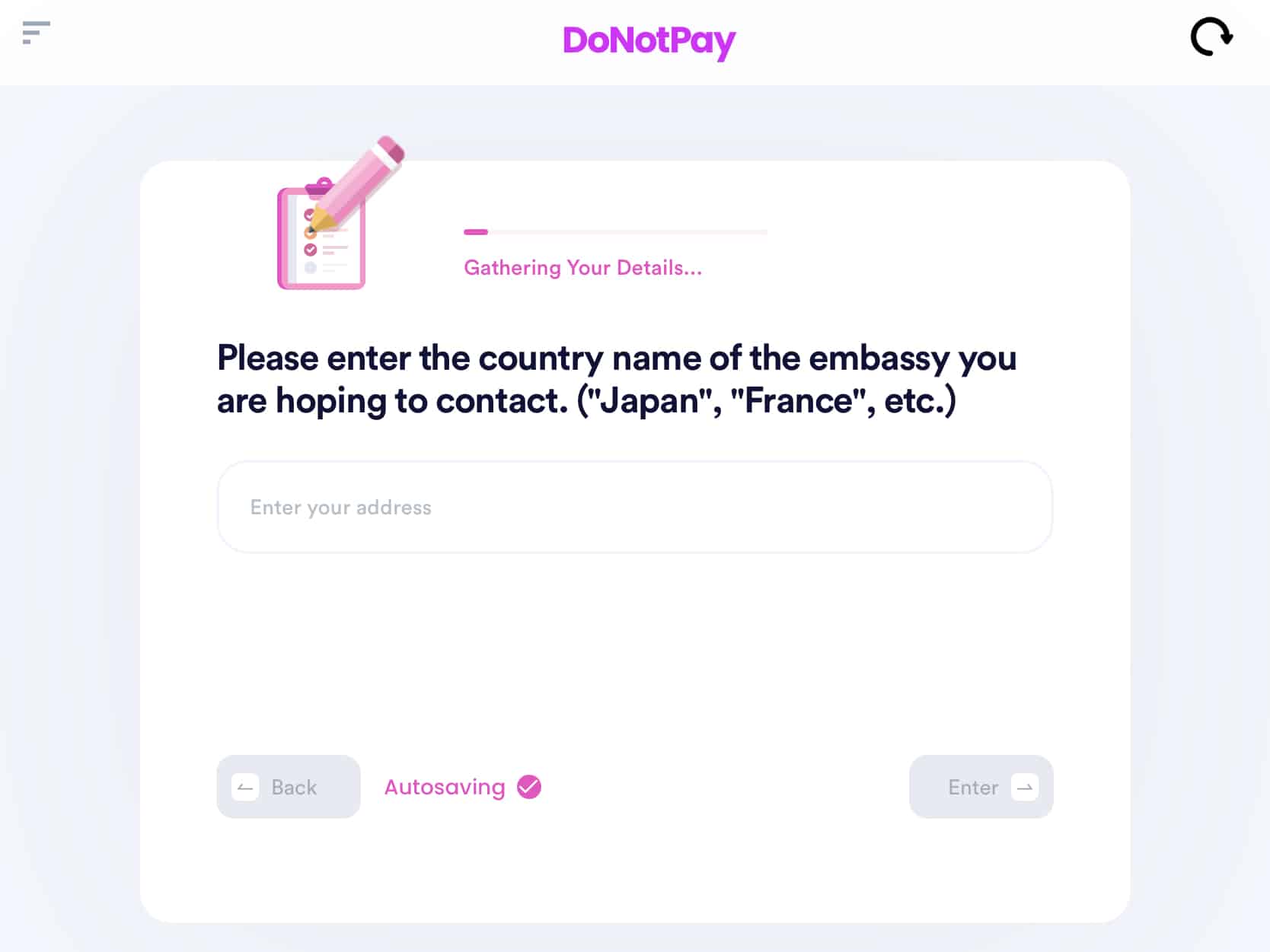 That's it! You can expect a direct response from the Kenyan Embassy in Washington DC in your email inbox within a short timeframe!
Who else can DoNot Pay help you contact?
Chinese Consulate (

Los Angeles

,

Chicago

,

New York

)
Philippine Consulate (Los Angeles, San Francisco, New York)
Nigerian Consulate (

Atlanta

)
Russian Embassy (

Washington, D.C.

)
Indian Consulate (

New York

,

Chicago

,

Houston

)
Brazilian Consulate (

Miami

)