Contacting the Philippine Consulate In Los Angeles
Did you know that there are eleven Philippine consulates and one Philippine embassy in the US? This article will help you if you're looking to visit the Philippine Consulate, Los Angeles any time soon.
About the Philippine Consulate General, Los Angeles
The Philippine Consulate in Los Angeles is one of the eleven locations available in the US. Established in 1947, the consulate offers visa and passport services, birth, marriage, and death registrations, notarizations and other legal help, and assistance for Filipinos in need.
The 74-year-old consulate should be your go-to place for inquiries and appointments if you reside in any of the following areas:
Regions
Counties
Southern California

Orange
Santa Barbara
San Luis Obispo
San Bernardino
Los Angeles
San Diego
Imperial
Riverside
Ventura
Kern

Southern Nevada
Arizona
All 15 counties in the state
Where To Find The Philippine Consulate In Los Angeles
The Philippine consulate is located in Koreatown. Here is the exact address:
3435 Wilshire Boulevard Ste 550
Los Angeles, California 90010
The Consulate General is located on the 5th floor of the 34-story Equitable Plaza Building. There is parking available in an underground lot, but it may be cramped. Street parking is available a few blocks from the building.
Before the COVID-19 pandemic, walk-ins were welcomed. However, due to the ongoing situation, the Philippine consulate is strictly only seeing those with appointments. You can see this disclaimer on their website.
Making An Appointment at the Philippine Consulate In Los Angeles
You must make an appointment before visiting the Philippine consulate in person. You'll need to make an appointment online, depending on the reason for your visit. Here are the ways you can do so:
If your concerns or needs do not require an immediate visit, here are some of the other ways you can reach the consulate:
Postal letter 
Send all correspondence, inquiries, or suggestions to:

3435 Wilshire Boulevard Suite 216, Los Angeles, California 90010.

Email
Tourism: PDOTLA@aol.com

Trade: LosAngeles@dti.gov.ph

Phone
Office hours: (213) 639-0980

After Office hours: (213) 268-9990

Fax
(213) 386-4063
Office Hours
Monday - Friday 9am - 4pm
Services Offered At The Philippine Consulate in Los Angeles
While the Philippine consulate may not offer the full range of services that you would typically find in an embassy, they provide the valuable and basic services most citizens and travelers need. Here are some services offered by the Philippine consulate:
Passport application and renewal
Visa processing and grant
Civil registry including issues about birth, death, marital status, and update of personal data
Documentation and approval of dual citizenships
A broad range of notarization services for both commodities and humans.
Travel advisories including updated COVID-19 guidelines for the country
Voting information for overseas
Outreach missions
Comprehensive guide to visiting the consulate general
Cultural promotion
Due to the limited number of staff and its finite office capacity, the Philippine consulate strongly discourages you from showing up at the consulate without a prior appointment. If you need help contacting the Philippine consulate, but just don't know where to begin or can't wait for an appointment 3 months later, DoNotPay can help!
Contact Philippine Consulate in Los Angeles With DoNotPay
DoNotPay helps you contact the Philippine consulate in Los Angeles and makes the process simpler. Here's all you have to do:
1. Type in "Contact Embassy" on DoNotPay and select the product.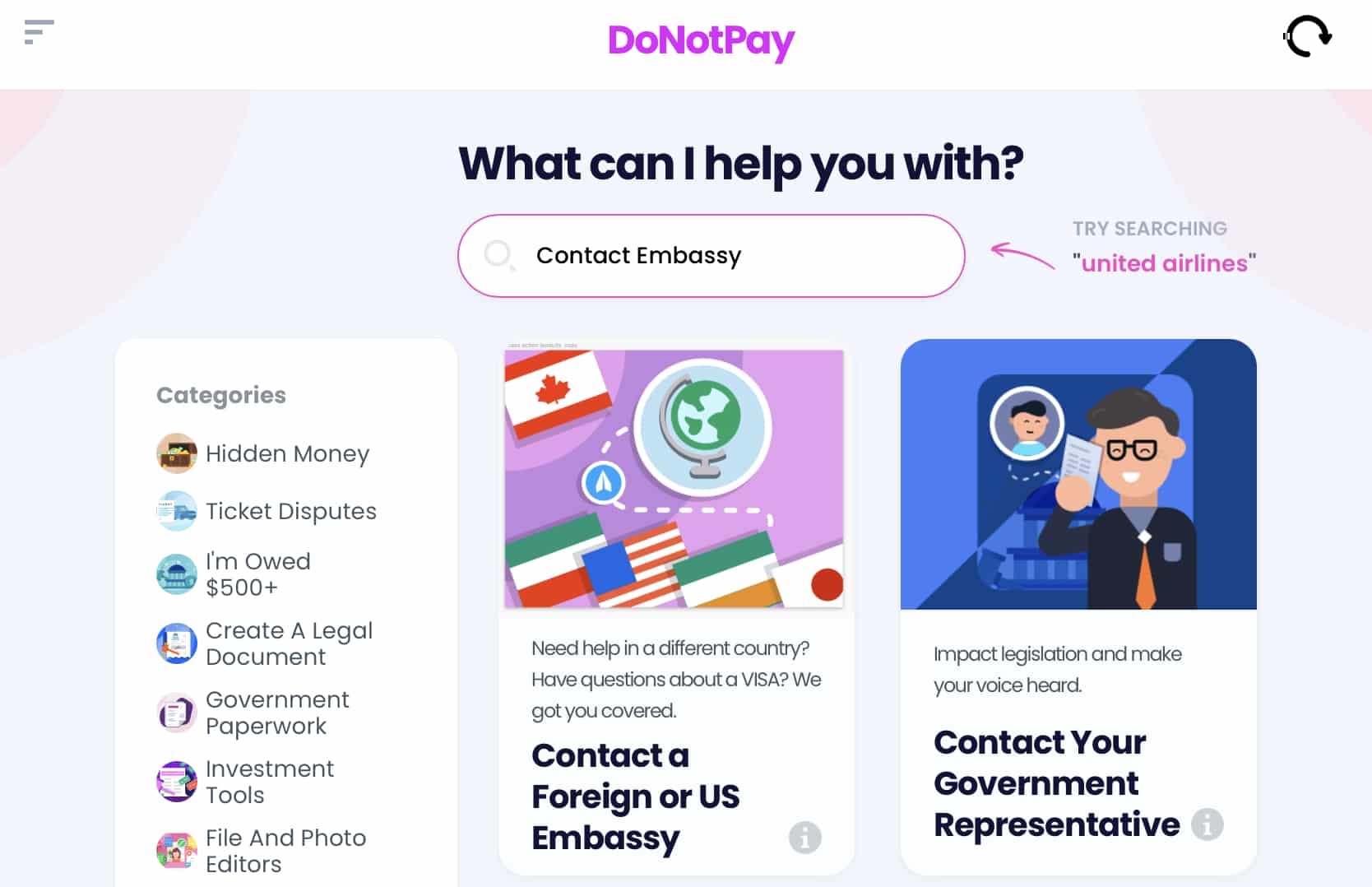 2. Select "Foreign Embassy in the US".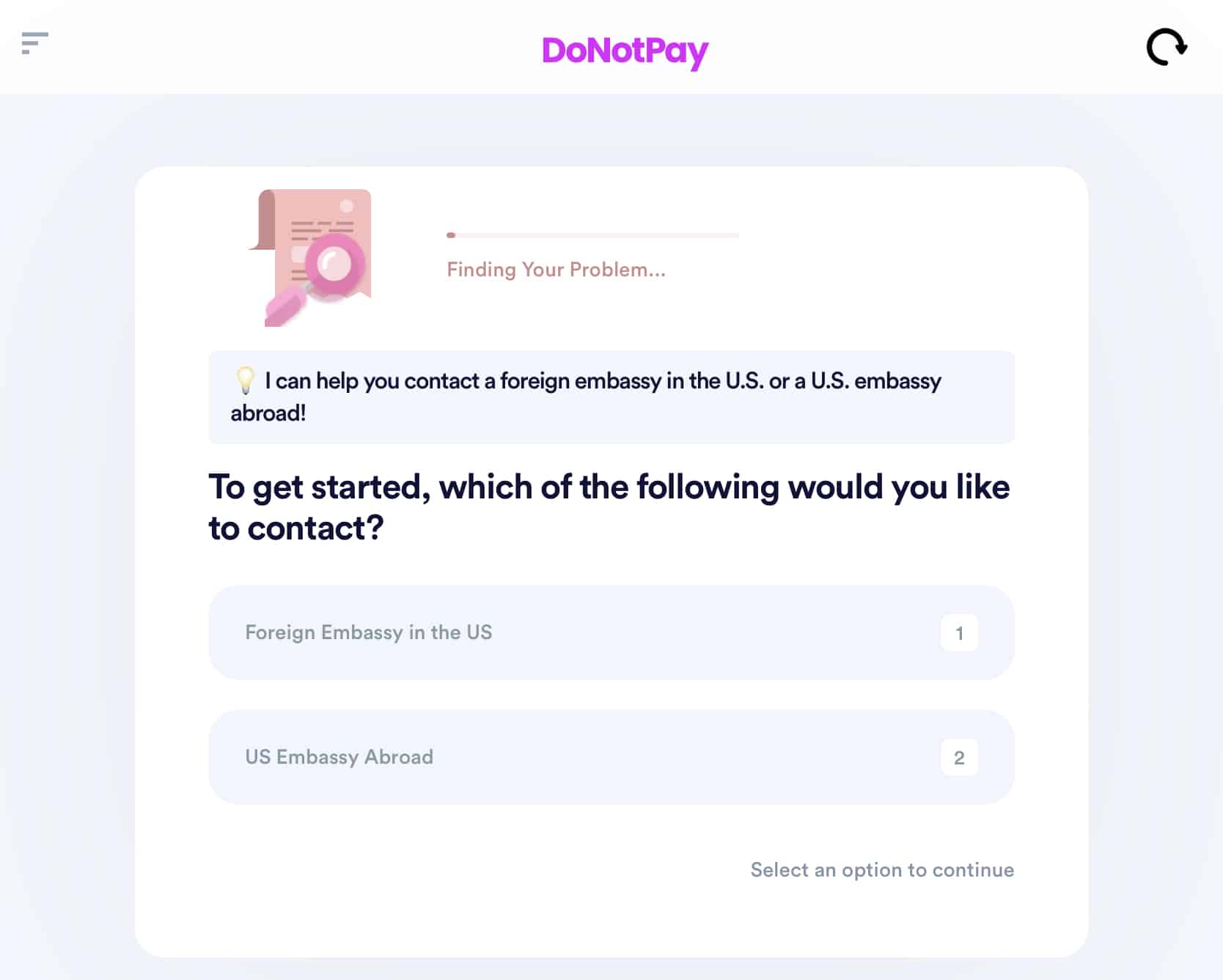 3. Briefly explain the questions you have or the issue you wish to resolve.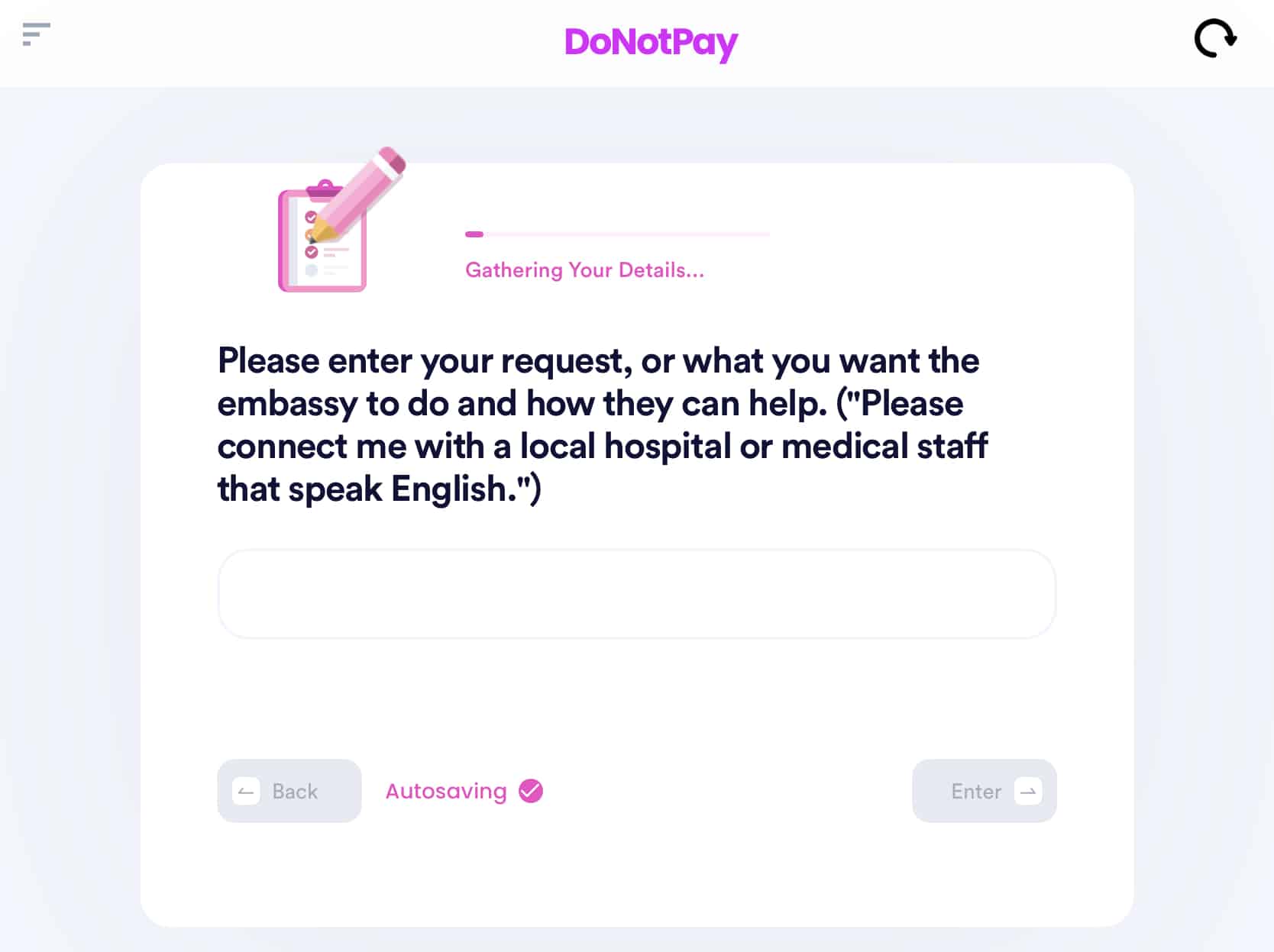 4. Enter the name of the consulate you wish to contact - "Philippines".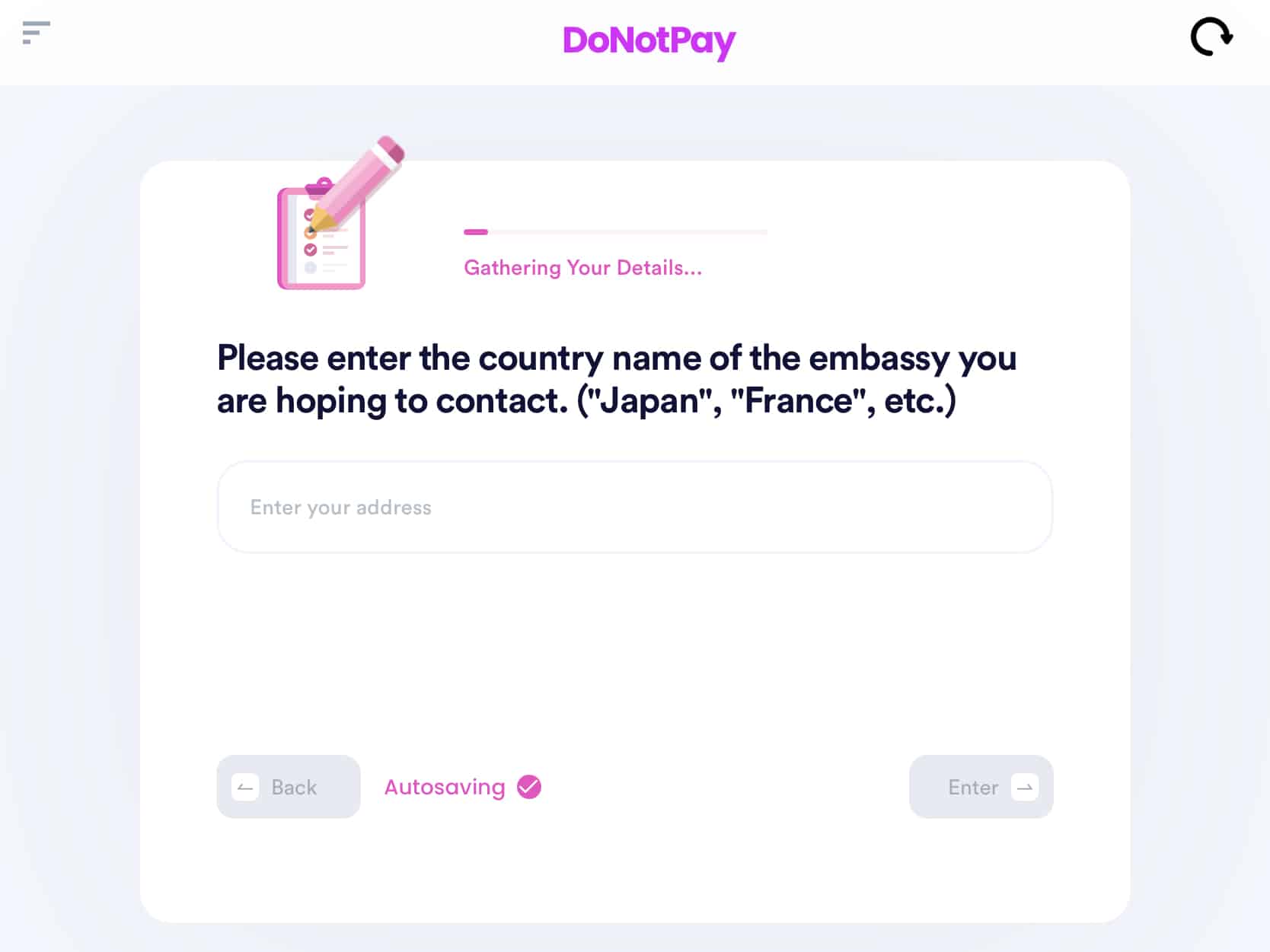 That's it, you're done! We'll automatically send an email to the Philippine consulate so you don't have to. Better yet, you can expect a direct response to your own email!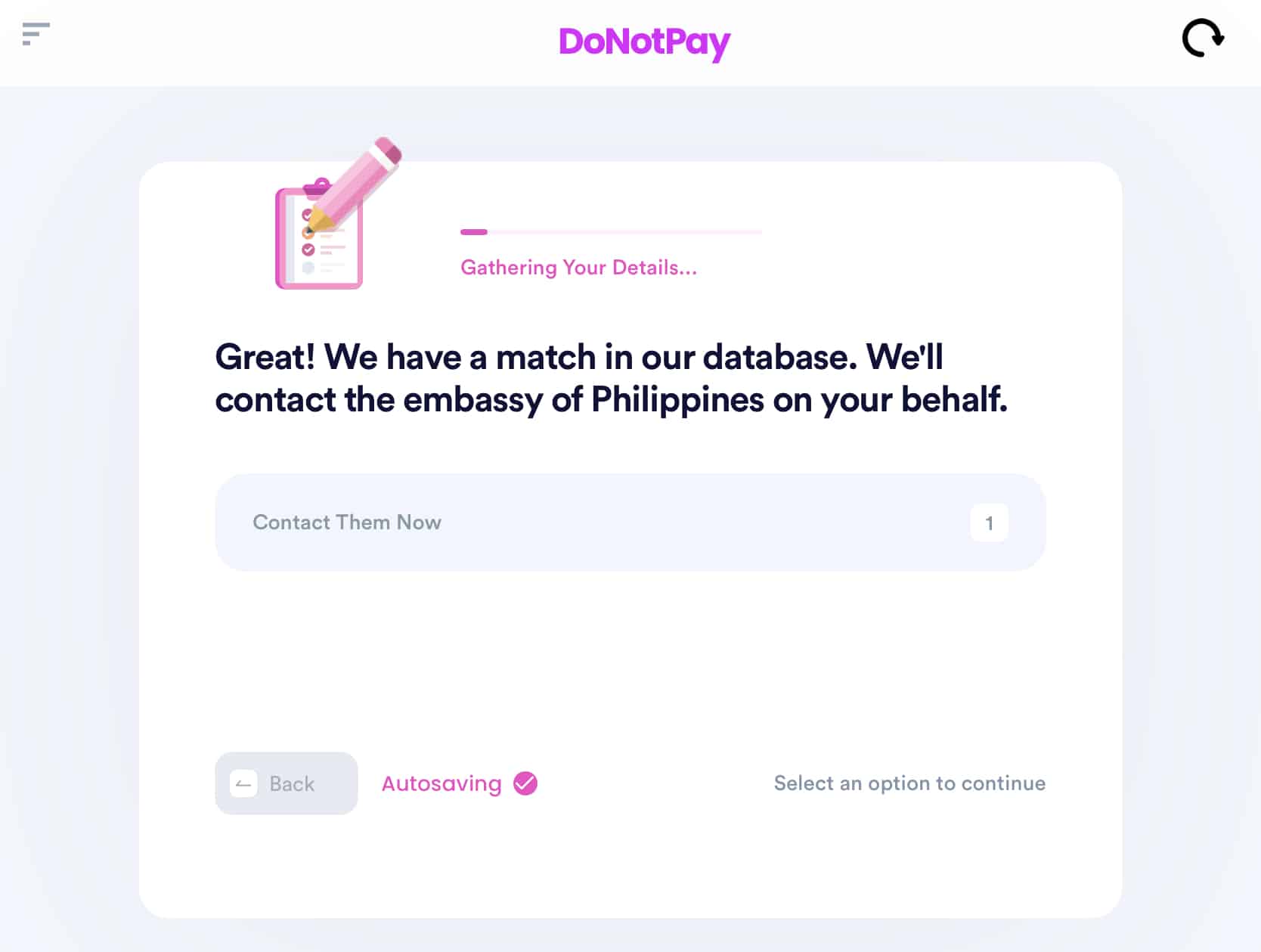 DoNotPay Also Helps You Contact: