How to Contact the Spanish Consulate, Chicago
Are you in need of the Spanish Consulate's service? You might be a Spanish citizen living in Chicago and wondering how to register your marriage or a US citizen wishing to go to Spain for the holidays. Either way, the Spanish Consulate in Chicago can help you with all of your travel and civil registration needs. Instead of going to the consulate physically, you can email or phone them, but it is not always easy to find the correct contact information.
That is why we have put together this article, which will help you to find out how to contact the Spanish Consulate in Chicago! We'll also provide information about the services they provide as well as an alternative option you can contact them using !
Where is the Spanish Consulate in Chicago Located?
The Consulate General of Spain is located next to Millennium Park on N Michigan Avenue. The exact address of the consulate is:
180 North Michigan Avenue #1500, Chicago, IL 60601, USA
Since the Consulate General of Spain is conveniently located in a busy area, you have numerous options to get there by taking public transportation. Here are your options:
If you wish to take the bus to the consulate, you can take one of the following routes, depending on where you are coming from 121, 147, 151, 20, 3, 6
If you are planning on taking the train, you can take these routes: SSL, UP-N, UP-NW
If you are taking the Chicago 'L' subway, you can take the following lines: Blue line, Green line, Red line
The Contact Information of the Spanish Consulate in Chicago
The Spanish Consulate in Chicago can help you with visas, passports, and more! If you think your problem can be solved by the consulate and you wish to contact them by yourself, here is all of their relevant contact information:
Address

180 North Michigan Avenue, Suite 1500, Chicago, IL 60601, USA

Email
Phone

+1 (312) 782-4588

Fax

+1 (312) 782-1635

Office Hours

Monday to Friday (By Appointment Only)

9:00 AM - 2:00 PM

(Except Public Holidays)

Website
http://www.exteriores.gob.es/Consulados/CHICAGO/en/Pages/inicio.aspx
Only a few procedures require an in-person visit. These procedures include:
Visas
FNMT
Passports
Citizenship
Notary Public
What Can Spanish Consulate in Chicago Help You With?
There are various matters that the Spanish Consulate in Chicago can help you with. Here are some of the general services that the consulate provides:
Civil Registry

Death
Marriage
Birth
Divorce
Change of Name

Citizenship

How to Become a Spanish Citizen?
Dual Citizenship

Passport & Other Documentation

Lost Passport
Renewing Passport
Expiring Passport
Applying for a Passport

Legalizations

Legalization of Documents
Legalization of Translations
Authentication of Signature
Legalization of Photocopies
Affidavits and other Certificates

Notary Public
Visas

Students Without the Apostille
Students Missing More than the Apostille
Who Can Apply by Mail? (Visas are only granted to students for the time being)
Documents to Include in Application by Mail

DNI (National Identification Documents)
NIE (Foreign Identification Number)
NIF (Tax Identification Number)
Criminal Record Certificate
Permit for Hunting Guns in Spain
Entry of Pet Animals into Spain
For information, contact: washington@magrama.es
Consular Fees & Assistance
Assistance for Persons Under Arrest
Protection
Hiring a Foreign Lawyer
Assistance for Detainees
Contact with Local Authorities
Assistance in Situations of Need
How You Can Contact the Spanish Consulate in Chicago with DoNotPay!
Although this article provided you with everything you need to know about the Spanish Consulate in Chicago, you may still be wondering if you have another option. offers an easy way to get in contact with any embassy or consulate around the world! You won't need to do it on your own. All you need to do is:
1. Search for "embassy or consulate" on the app or website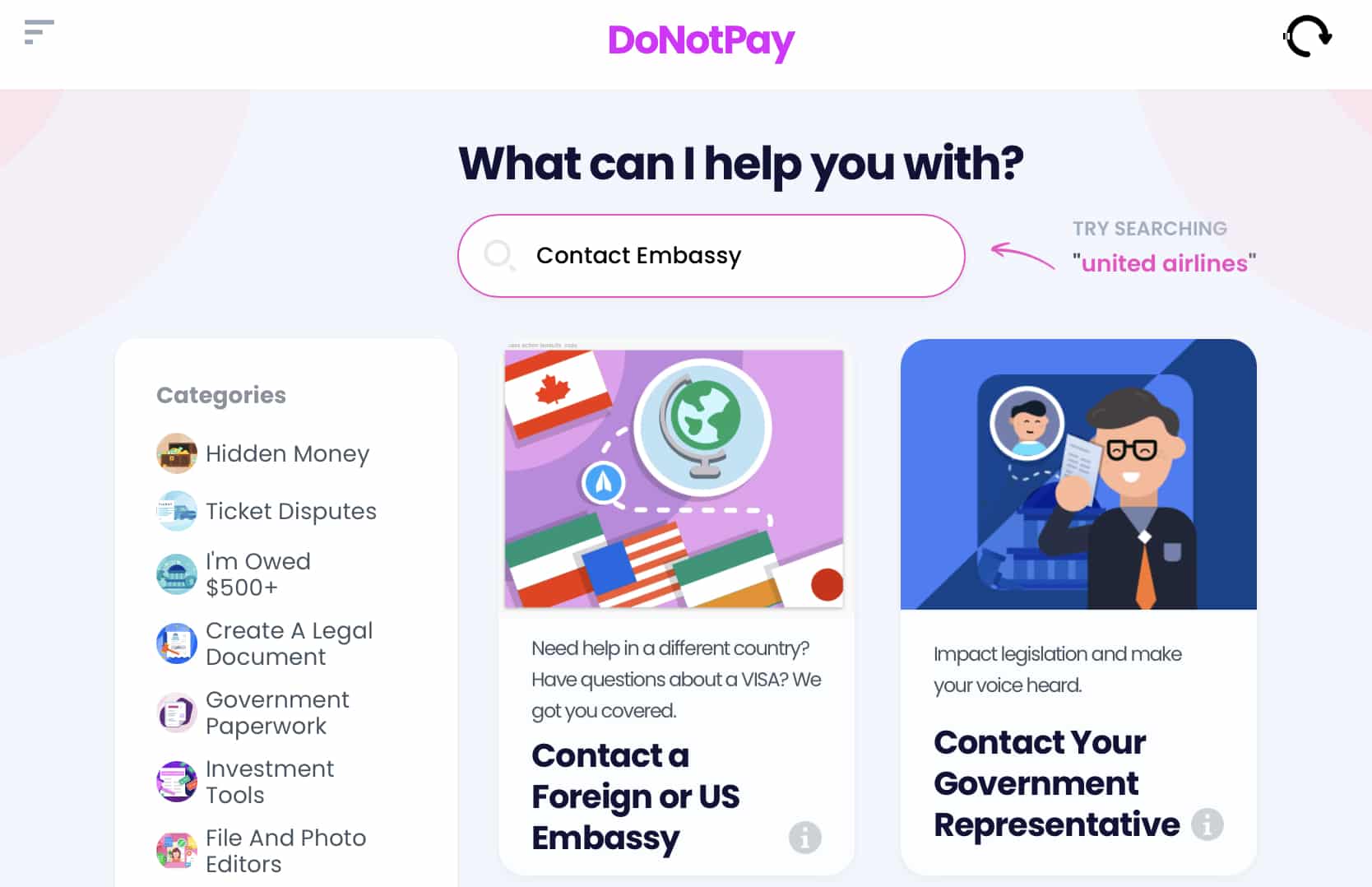 2. Select between contacting a foreign embassy/consulate in the US or a US embassy/consulate abroad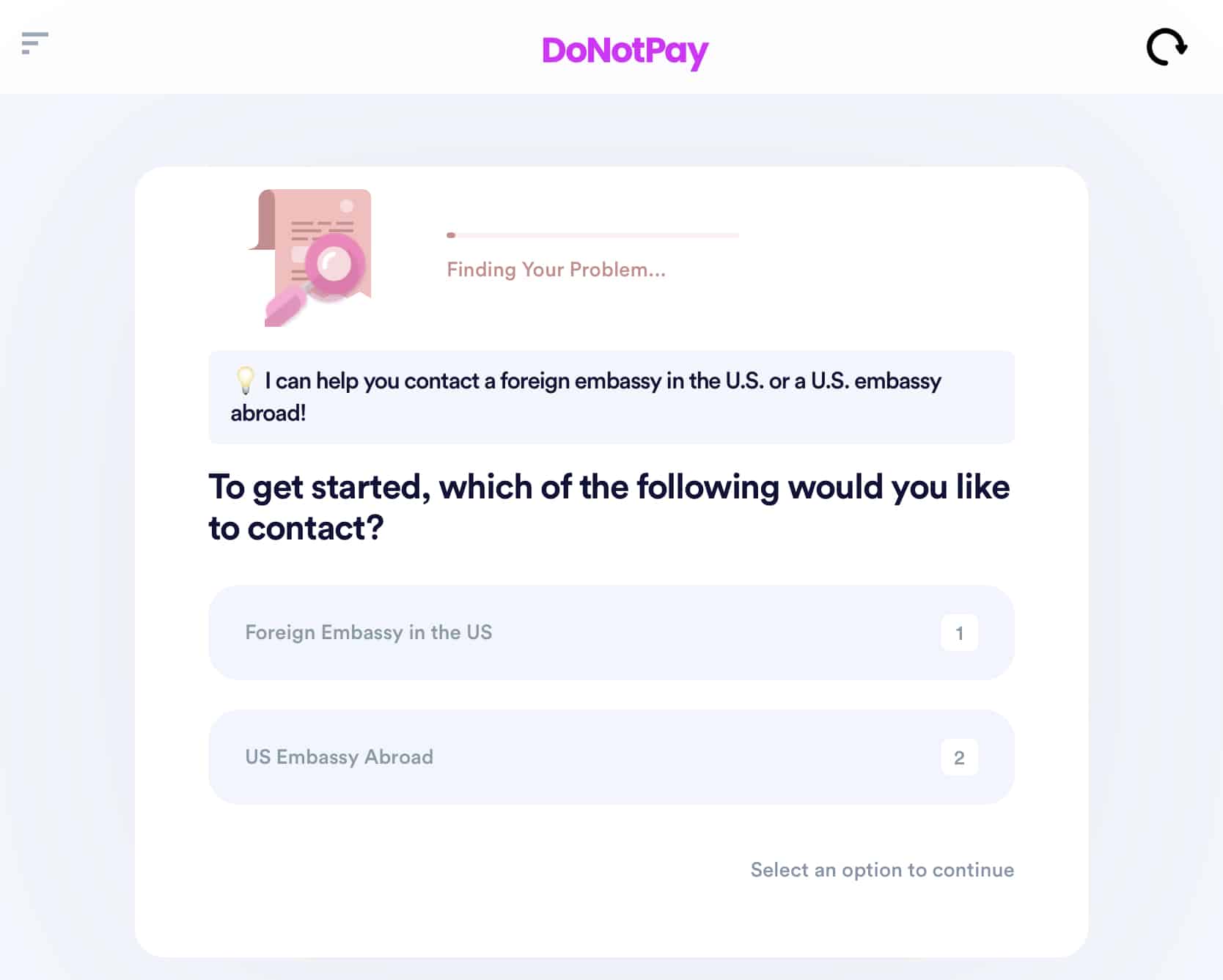 3. Describe your issue, why you need help, and any questions you have for the consulate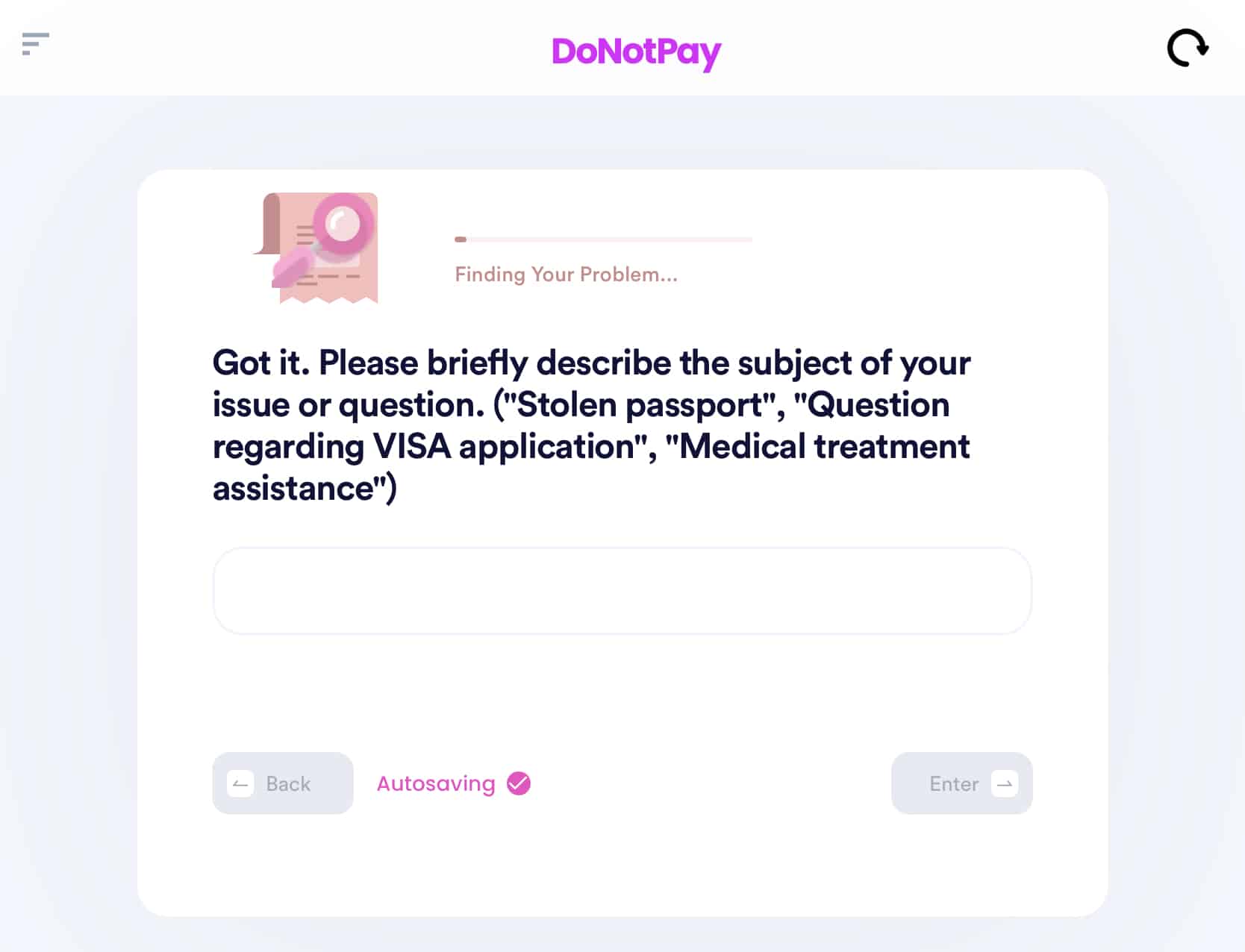 4. Write the country of the embassy or consulate you want to get in touch with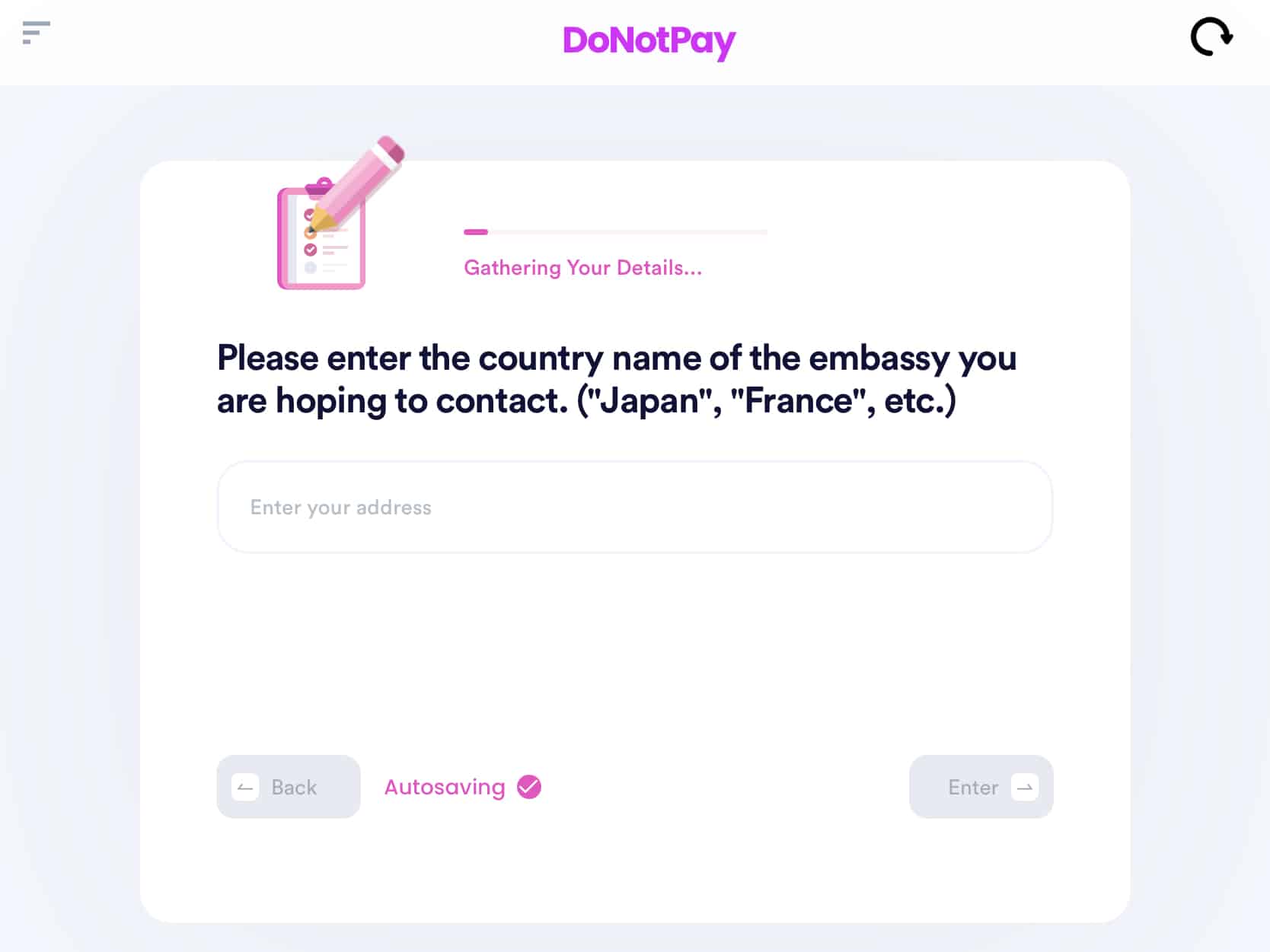 That's all you need to do - will take it from there. We will write an email specific to your issue and questions, send the email to the right channel, and even direct the response of the consulate to your email address!
Embassies and Consulates DoNotPay Contacts
Philippine Consulate, Los Angeles, New York, San Francisco
Chinese Consulate,

Los Angeles

,

New York

, and

Chicago

Nigerian Consulate,

Atlanta

Russian Embassy,

Washington DC

Indian Consulate,

Houston

,

New York

and

Chicago

Brazilian Consulate,

Miami