Is the Oxygen Bank Virtual Card the Right Choice for You?
If you've been enjoying Oxygen Mobile Banking and have been considering an , be sure you check out all your options before you commit. While a virtual credit card (VCC)  associated with your bank account does have some benefits, it also has significant drawbacks. You should weigh all your options before making a decision. 
If you're looking for the sort of virtual credit card that will let you sign up for free trials without the risk of getting charged, it could be that the DoNotPay Free Trial Card feature is right for you. Gather more information about how VCCs work in general,  specifically, and which option is best for you.

What Is an Oxygen Bank Virtual Credit Card?
According to the most recent information on their website, Oxygen Bank offers Oxygen virtual cards to their customers: A "Virtual Card" is a disposable, impossible to lose debit card linked to your Oxygen account with a 3-digit security code and an expiration date. These Virtual Cards can be used online or by phone without presenting your physical Oxygen card number.
How Do Oxygen Bank Virtual Cards Work? 
 are intended to give you a level of privacy and safety when making purchases online:
| | | |
| --- | --- | --- |
| Expiry Date | Yes | Each virtual card expires after one year |
| Can it be reused? | Yes | They can be reused or used for one-time purchases |
| Transaction Limit | Yes | Transactions are limited to $2,500 charges |
The number of virtual cards you can create depends on your element.
| | |
| --- | --- |
| Elements | Number of Virtual Cards |
| Air | Unlimited |
| Earth | 3 Active |
| Water | 15 Active |
| Fire | Unlimited |
By limiting the transaction amounts and setting an expiration date, Oxygen Bank helps customers limit their spending (because forgot-to-cancel subscription fees will not continue forever) and protect against secondary, surprise charges (by allowing customers to deactivate numbers after a purchase). There are some downsides to these types of cards, however.
The Downside of Oxygen Bank's Virtual Cards
Because your  is associated with your real, actual bank account, you cannot use it to sign up for "free trials," samples, and test products without risking extra charges. While there's a limit to how much you can be charged, your real, current bank account is connected to your Oxygen VCC.
How to Get the Oxygen Bank VCC Card
Signing up for the Oxygen Bank VCC is simple. If you are a current customer, log into your online banking app, navigate to "More/My Cards" and swipe right to create a new VCC. But just because it's easy doesn't mean it's what you're looking for.
What Is the DoNotPay Free Trial Card?
 have their benefits, but they also have downsides. If you're looking for the best VCC to sign up for free trials and samples, DoNotPay's Free Trial Card is the right choice for you.

Getting your Free Trial Card from DoNotPay is easy:
Navigate to DoNotPay on your browser
Sign in with your password
Select the "Virtual Card" feature
Follow the instructions
With those four fast and easy steps, DoNotPay will generate a new virtual credit card number and associated information on your behalf. This is the fastest and most effective way to sign up for free trials without any risk.
Are There Certain Places Where I Can Use DoNotPay's Free Trial Card?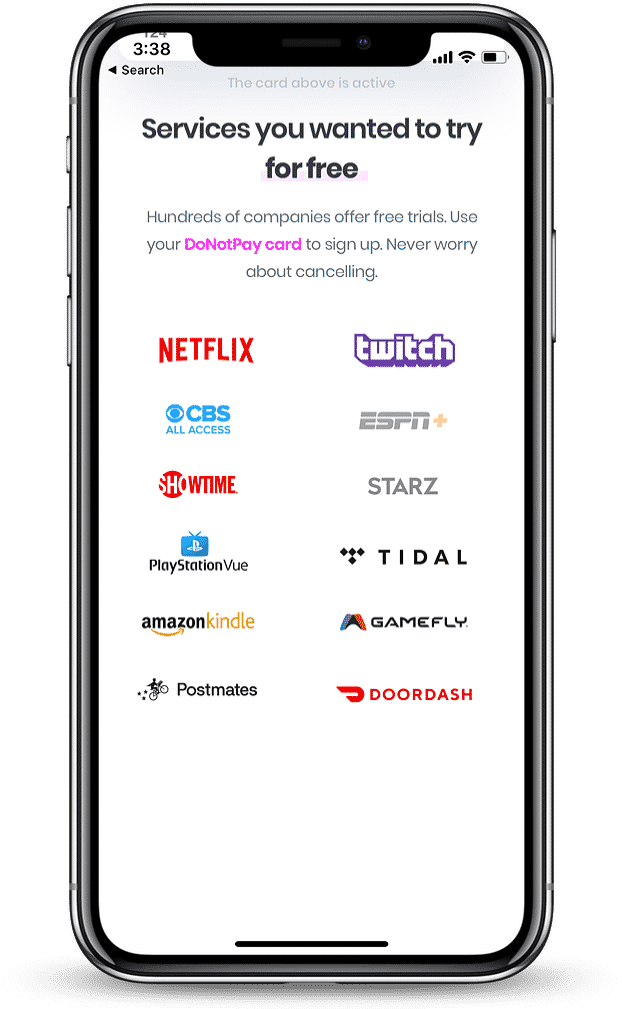 Where can you use your DoNotPay VCC number? It would be easier to tell you all the places you can't use your DoNotPay Free Trial Card. (Spoiler alert: we don't know of any.) Your free VCC number can be used across all industries and services to sign up for free trials and sample products and subscriptions without risking your real financial info.
That would include companies such as Tidal, Amazon Prime, Starz, Postmates, ESPN Go, Showtime, Netflix, Hulu, Spotify,  HBO, Twitch Prime, CBS All Access, PlayStation Vue, and more. Whatever your heart desires, you can now sample risk-free! And that's not the only benefit of having DoNotPay on your side.
DoNotPay Is Here for You
It seems these days that everyone is looking out for themselves. While it can be easy to feel like no one is in your corner, remember that DoNotPay is here for you. Especially when it comes to issues related to virtual credit cards.
But that's not where our help stops. We have created products and features to help you in many aspects of your life.
Whatever situations in your life are stressing you out, DoNotPay has a related service to help you solve the problem. Come see all we have to offer. DoNotPay can also help you with: