Safe Online With a Norton Free Trial
Formerly known as Symantec, NortonLifeLock Inc. is an American software company providing cyber safety products and services that protect devices, identities, and online privacy of over 50 million consumers.
Some of its most notable products are Norton Antivirus Plus, Norton Security, and Norton Secure VPN. The company also offers comprehensive plans, such as Norton 360 and Norton 360 with LifeLock. One of the greatest perks of NortonLifeLock's products is the Virus Protection Promise—a money-back guarantee if a Norton expert fails to remove a virus from your device.
NortonLifeLock offers free trials for some of their products or services so consumers can get a better sense of them before they commit to a paid subscription. If you'd like to learn more about those free trials, read on.
Norton Free Trial Offer—What's on the Market?

You can use all the features of the selected Norton services during the trial run. NortonLifeLock offers a 7-day free trial for its comprehensive plans:
Norton Antivirus Plus

Norton 360 Standard

Norton 360 Deluxe

Norton 360 with LifeLock Select
If you want to learn more about the offers, take a look at the table below.
Norton Subscription Plan

Number of Devices

Benefits

Norton Antivirus Plus

One

Powerful device security plus:

Online protection

Antivirus, malware, spyware, and ransomware protection

Smart Firewall

Password Manager

Security for one PC or Mac

Two GB of PC Cloud and Backup

Norton 360 Standard

One

All the Norton Antivirus features plus:

Safe cam

Secure VPN

Dark Web Monitoring

Security for one PC or Mac tablet or smartphone

Ten GB of PC Cloud and Backup

Norton 360 Deluxe

Five

ALL the Norton 360 Standard features plus:

Parental Controls

Security and VPN for five devices

50GB of PC Cloud and Backup

Norton 360 with LifeLock Select

Five

ALL the Norton 360 Deluxe features plus:

SSN & Credit

Credit Monitoring

LifeLock Identity Alert System

Stolen Wallet Protection

ID Verification Monitoring

Up to $25K in Personal Expense Compensation

Up to $1M in Coverage for Lawyers and Experts
Additional Free Trials
If you are not ready to commit to comprehensive Norton plans, you can try out other security software products or services.
Norton offers a 30-day free trial for Norton Mobile Security for iOS and Android.
What Devices Does NortonLifeLock Support?
Norton products can be installed on various devices, such as:
Windows computers

Mac computers

iOS devices

Android tablets and smartphones
Follow this page to view devices supported by specific Norton products.
How To Register for a Norton Free Trial Version
If you'd like to take advantage of Norton's free trials, you should:
Visit the Norton

Free Trial page

Select the plan you want

On the next page, click the

Checkout

button

Sign in to your Norton account to complete the checkout process

Download and install your free trial on your devices
What Payment Methods Does Norton Accept?
NortonLifeLock accepts the following payment instruments:
JCB

VISA

Discover

MasterCard

PayPal

American Express
Does Norton Security Trial Version Transition Into a Paid Subscription Automatically?

If you don't cancel your free trial by the end of the trial period, your payment method will be billed, and auto-renewing paid subscription will commence.
What Happens When I Cancel My Norton Subscription?
If you cancel your Norton subscription before the auto-renewal billing date, you will continue to enjoy protection for the remaining period of your paid subscription. After that, you agree to uninstall and delete the software from your devices.
In case you are not sure how to manage your subscription cancellation, DoNotPay can do it for you via its Find Hidden Money functionality.
Can I Get a Refund?

According to NortonLifeLock's 60-day Money Back Guarantee, each annual subscription purchase or renewal is eligible for a refund if requested within 60 days of being charged.
To qualify for a monthly subscription refund, you have to request it within 14 days of your purchase.
In case you cancel your subscription but it still got renewed, you can ask for a refund as well.
For more information about NortonLifeLock's Cancellation and Refund Policy, refer to this page.
If you are not sure how to request a refund from Norton, you can resort to DoNotPay's Chargeback Instantly feature. Once we have processed your refund request, we will inform your financial institution and send you VISA and MasterCard codes to strengthen your case. We can also contact Norton and request a refund in your stead.
All you have to do is access DoNotPay from any web browser.
What Makes Me Eligible for a Virus Protection Promise?
To be eligible for it, you need to have a qualifying plan with auto-renewal.
How Much Will My Subscription Plan Cost After the Free Trial?
If you are interested in becoming a subscriber, you can check the subscription prices in the table below.
| | |
| --- | --- |
| Norton Subscription Plan | Price |
| Norton Antivirus Plus | $19.99/year |
| Norton 360 Standard | $34.99/year |
| Norton 360 Deluxe | $39.99/year |
| Norton 360 with LifeLock Select | $99.98/year |
What Are the Most Popular Alternatives to NortonLifeLock?
Should you find your NortonLifeLock product unsatisfactory and decide to switch to another, you can check the most popular alternatives in the table below.
Security Company

Price

Benefits

ESET NOD 32 Antivirus: $39.99/year

ESET Internet Security: $49.99/year

ESET Smart Security Premium: $59.99/year

Multi-device protection

Protection against viruses, worms, spyware, and ransomware

Uninterrupted videos and gaming

Antivirus Plus: $22.74

Advanced Security: $35.74

Ultimate Security: $48.99

Home protection

Business protection

Advanced security
Secure Your Norton Free Trial With DoNotPay's Virtual Credit Card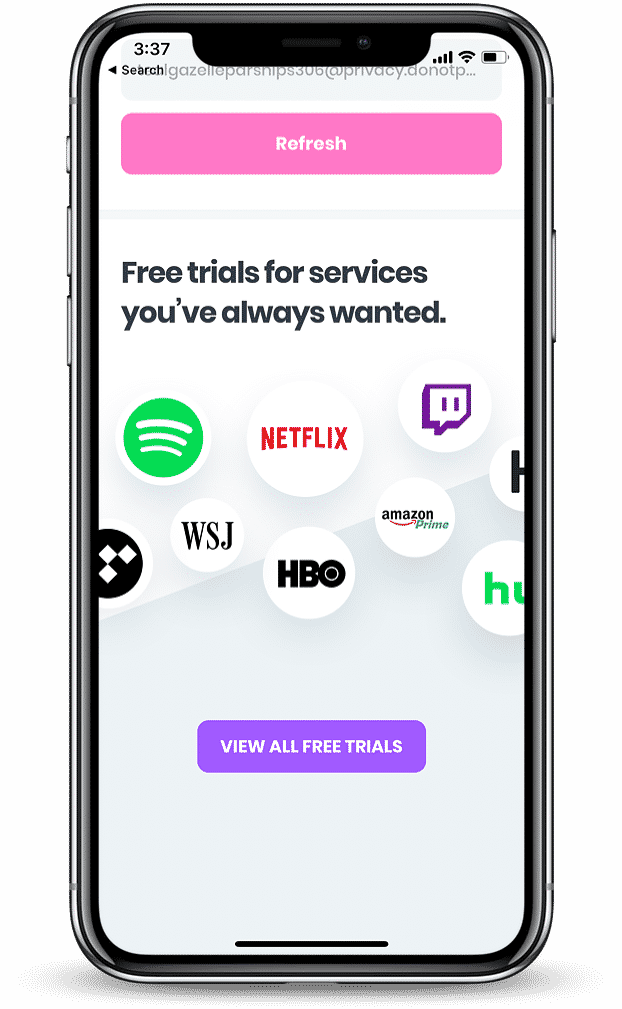 In case you want to run a free trial of various services, but fear the risk of getting charged automatically for a subscription once the trial run is over, use DoNotPay's Free Trial Card.
The Free Trial Card is a virtual credit card that generates a temporary 16-digit card number with all the features of a standard card except that it is not associated with any bank account. It also creates a random name as well as email and home addresses.
Some of its greatest perks are:
Anonymity

Approval on free trial pages

Rejection of automated subscriptions
Though NortonLifeLock requires your payment method for free trials, the company won't charge you until your free trial expires.
Some companies may attempt to verify your payment method by requesting an authorization hold, in which case your Free Trial Card won't be accepted.
Be a Winner Every Day With DoNotPay

Besides helping you get free trials risk-free, DoNotPay offers a scope of other money-saving services.
If you are a single mom and need help with bills, such as medical ones, you can rely on DoNotPay to find a solution.
Are you struggling with annoying Credit Card services' robocalls and wondering how to report them and get some money along the way? Or are you not sure if you can get a refund for your plane ticket? DoNotPay is your go-to solution.
To learn more about all the other services DoNotPay offers, check the list below.
Contesting speeding tickets

Appealing traffic tickets
You can access DoNotPay from your web browser.