DoNotPay's support and help with bills for single moms
Being a single mom is a full-time job. Feelings of safety and security are reserved for a lucky few, while the majority of single-parent households struggle to make ends meet. In the United States alone, almost a quarter of children under 18 live with just one parent. 
Covering the whole family's expenses with a single salary is not a small feat, and doing it for months on end can take a toll on our overall well-being. 
That is why DoNotPay matters. We can help single moms pay bills, write extension letters, provide them with legal advice, and so much more. 
DoNotPay's bill assistance for single mothers

Here at DoNotPay, our top priority is to make your life easier by doing the hard work for you and providing assistance with issues that seem insurmountable in the given moment. If you do not have the means to pay your gas bills, medical bills, or any other type of debt you might be facing, turn to DoNotPay for a simple and effective solution.
Our services are free of charge, and all you have to do to access them is:
Open DoNotPay through a

web browser

Click on Corona Relief

Let us know what problem you are looking to solve

Provide us with some basic personal information  
When it comes to the personal information we will be asking for, know that we need only the basic stuff, such as your full name, email address, residential address, etc. For example, if you need us to write a rent extension letter for you, we will need this information to make the letter personal and authentic.
Single moms can and should negotiate their bills!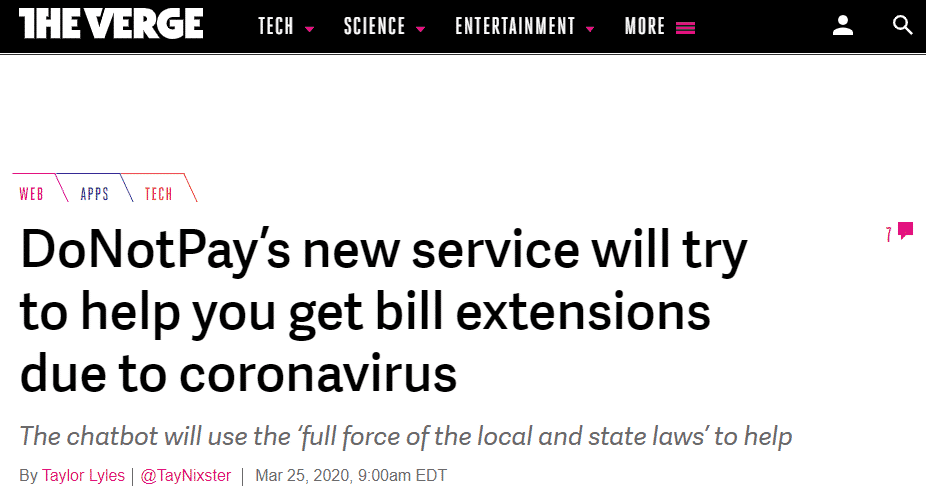 Negotiation is not something that we usually relate to paying bills. In fact, we act as though negotiation is only an option when we are purchasing a used vehicle or shopping at the farmers market. Everything is negotiable, as long as you know how to approach it. 
If you are a single mom, you should not be embarrassed over not having enough assets to cover your monthly expenses! There are plenty of ways to either get the funds you need to cover your bills or postpone their payment when you fall on hard times. 
Ways to cover your overdue bills
Steps you need to take

Charities that help single moms pay bills

Try to find a charity that best suits your needs 

Check if you are eligible for financial assistance

Get the funds you need to cover your bills 

Grants for single moms

Find a program that specifically helps single moms

Check if you qualify for the grant

Apply for it

Negotiate your bills

Try to be friendly and assertive

Do the negotiation with someone who has the authority to do so

Start negotiating by asking for more than you need and slowly work your way down
Charities that help single moms pay bills
Luckily for all of us, there are plenty of incredible charities out there that work diligently on helping low-income families, and single parents get financial assistance. In times of hardship, you should feel free to reach out to them if bill negotiation is not something you feel comfortable doing. 
Here are but a few charities to seek help from:
Grants for single moms
Another way to get the financial assistance you need is to apply for a government grant. Many programs are aimed towards helping single parents pay bills, get food on the table, resolve housing issues, etc. Some of the best ones to look out for are:
The art of negotiation
In case you want to do the negotiation by yourself, there are a few things worth taking into account to achieve the best possible results. Being friendly is a must, but it is not the only thing worth keeping in mind. Try to do the following:
No matter what, keep a friendly and assertive tone

Make sure to speak with someone who has the power to help you

Try to avoid pushing things too far. If the other side refuses to meet you halfway after a few tries, back down.

The best way to get what you want out of a negotiation is to start by asking for more than you need, then slowly working your way down
DoNotPay as the master negotiator
If you are not comfortable with any of the above-mentioned options, feel free to turn to us for help. We have mastered the negotiation process, and we are more than willing to step in and do the "dirty work" for you. By using DoNotPay, you will have more time on your hands to tend to your child's needs, while we secure the desired outcome. 
Organizations that help single moms with bills
Though we have briefly touched upon this topic in the previous section, it is the right time to discuss in further detail all the different organizations that help low-income and single-parent households cope with times of hardship. The most notable ones are:
Medical care organizations 
If you are a single mother in urgent need of medical care, these are the organizations to turn to:
Children's Health Fund
Dispensary of Hope
Children's Health Fund
Children's Health Fund, known as CHF, is one of the leading non-profit organizations dedicated to providing healthcare to low-income families across the United States. What sets this organization apart is its mobile approach to health care. Today, the organization has more than 50 mobile clinics working full steam at providing children's healthcare, health education, and preventive care.
CHF has over twenty active pediatric care programs, the most notable ones being Terra Firma and Health Barriers to Learning. Terra Firma is a result of the partnership between CHF and Catholic Charities and offers medical, mental health, and social services to immigrant children. HBL addresses medical conditions such as asthma, vision loss, dental pain, and hunger in schools with disadvantaged children. You can reach out to CHF by calling (212) 535-9400.
Dispensary of Hope
Dispensary of Hope is a program aimed at people who cannot afford their much-needed medications for virtually no cost. Manufacturers across the country donate excess medications to the organization instead of wasting it. In case you want to get in touch with the Dispensary, you can do it by calling (888) 428-HOPE. The organization has a vast network of dispensing sites all across the country that includes charitable pharmacies, outpatient pharmacies, safety-net clinics, and federally-qualified health centers. Many hospital readmission can be avoided with increased affordability of medication, and the Dispensary of Hope provides that.
Organizations that help with housing and shelter 
Sometimes, sorting out your housing situation can be a real burden. If you are struggling to pay your rent each month, due to it being too expensive, try contacting the following organizations:
Mercy Housing
National Coalition for the Homeless 
Mercy Housing
Mercy Housing is a non-profit organization that strives to eliminate poverty and homelessness through affordable housing. Mercy Housing has offices in almost every state in America, so reaching out to them for help should not be too challenging. If you do not want to visit them in-person, you can always do it by giving them a call at (303) 830-3300. One way in which Mercy ensures sustainable and affordable housing is through community loans, infrastructure projects, and support. Applying for housing through Mercy is a fairly straight-forward process. Since each one of their properties has its own leasing office and application process, all you have to do is call the property directly and inquire about its availability, income requirements, etc.
National Coalition for the Homeless
National Coalition for the Homeless is a coalition of many organizations and charities that provide support and help to those who face eviction. This organization also offers information to single mothers with housing problems and helps the ones in need of short-term housing. The fastest way to get in touch with them is by calling (202) 462-4822. The National Coalition for the Homeless also offers a variety of educational programs to communities so that they can learn more about homelessness from individuals who have experienced it first-hand.
Organizations that provide food to those in need
Food is essential to life. Many respectable organizations work day and night to provide food to disadvantaged individuals and communities. If you ever find yourself needing food, contact the following organizations:
Feeding America

 

No Kid Hungry

 
Feeding America
Feeding America has food banks in all fifty states in America. The organization proudly distributes over four billion meals each year to those in need and helps the nation in its fight against hunger. To get in touch with Feeding America, you can call (800) 771-2303.
No Kid Hungry
No Kid Hungry is a non-profit organization dedicated to ending child hunger in the United States. The organization is active during the summer months, and through various programs and food banks, it delivers meals to children across the country. To get in contact with No Kid Hungry, you can call (800)969-4767. According to No Kid Hungry, over three million kids in America do not have a healthy breakfast at school. That is why one of their programs includes distributing breakfasts to children all across the nation. 
Organizations that provide financial support to single moms
Instead of loaning the amount of money you need to cover overdue bills, you can apply to get financial assistance from various non-profit organizations. Some of the best ones are:
Community Action Organizations 
Catholic Charity 
Community Action Organizations
Community Action Organizations offer various types of assistance, from paying utility bills, all the way to job training. You can get in touch with CAO by paying a visit to their website. Getting in touch with them directly should also be fairly simple as they are located all across the country. All programs are paid for through government grants, but the money is evenly distributed to qualified low-income individuals and families. Community Action Organizations provide case managers to families that help them find jobs, reduce debt, and teach about self-sufficiency. The only downside is that the application process for support is extensive.   
Catholic Charity
Catholic Charity is one of the largest financial aid organizations in the United States. They provide financial assistance to those in need, regardless of their religion or background. You can visit their website to get in touch with them or learn more about the organization. Catholic Charity has more than three thousand offices across the country, but the number of available funds varies from state to state. Among other programs, Catholic Charities provide emergency shelters, temporary shelters, legal assistance services, and mental health services. If you are a single mom who is looking for a short-term loan or help with paying the bills this month, Catholic Charities is an organization you can count on.
Ask for extension dates for your bills with DoNotPay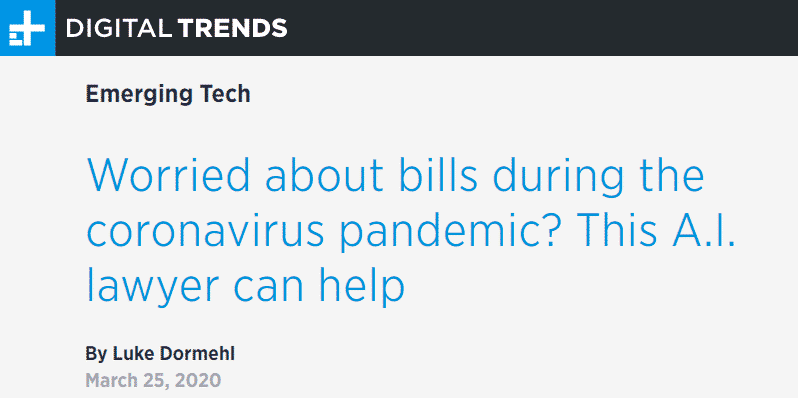 Another thing you should not be shy about doing is asking for extension dates for your bills. Usually, this is done by:
Asking for an extension date in-person

Calling to ask for an extension date

Sending a letter with an extension date request
Each one of these options is fairly time-consuming, and more often than not, extremely stressful, especially if you want to get things done fast. 
What if we told you that you do not have to do this on your own? We know how precious your time is and how little of it you have to yourself. DoNotPay can write an extension date letter on your behalf and send it to your supplier in a matter of minutes. 
At this point, it is worth mentioning that our app does an incredible job of writing these letters. Rest assured that your supplier will be kindly informed about your circumstances and how greatly beneficial an extension date would be to you. 
Paying your bills with a credit card
Paying bills with a credit card can be a great option for single moms with good credit scores. There are several perks that come with using a credit card for these purposes. For example, credit cards are a great tool for tracking your spendings. You can also use them to pay certain bills automatically each month, thus never missing a due date.
Of course, if the amount you need to cover with a credit card is too big, you might want to second-guess this option as it can deal a decent amount of damage to your credit score.
The safest way to get a waiver on late fees is with DoNotPay

A great way to get some financial relief is to ask for a waiver on some of your late fees. There are plenty of ways to go about doing this. The most common ones are:
Sending your supplier a letter

Getting in touch with the customer service team

Getting it done in-person

Consulting with your lawyer

Consulting with a consumer rights advisor
You should probably know that getting a waiver over the phone cannot be done in a few minutes unless you are using DoNotPay. Phone queues are a massive pain in the neck, but our app can help you jump them in a jiffy. 
Our safe bet is that the fastest way to get a waiver on your late fees is to send your supplier a letter with DoNotPay. We can generate it in a matter of minutes and send it on your behalf. The only thing you will need to do is provide us with some of your basic personal information and the reason for your waiver request. Access our app through a web browser and we will sort it out!
We just wanted to mention that, although we will create and send the letter on your behalf within a few minutes, the process can take up to 48 hours because the supplier will not process your request immediately. 
DoNotPay serves more than one purpose! Use it to your advantage!
DoNotPay packs a ton of useful features that you can use to your advantage completely free of charge! We want to be by your side when guidance is what you need the most. Our services are constantly being upgraded and updated, and you can rely on us for:
Fighting speeding tickets

Disputing traffic tickets