How to Get a Free Motor Trend Trial With a Virtual Credit Card

Motor Trend is an American media brand comprised of different vehicle trend content services, including its website, MotorTrend.com, MotorTrend Magazine, and a subscription on-demand video App service. Motor Trend aims to embrace and entertain motor vehicle enthusiasts worldwide.
The  that gives you access to all its videos and features. To access the Motor Trend free trial, you must choose your subscription and your preferred credit card payment method. Here's the catch! Unless you cancel your subscription, Motor Trend will bill your subscription every cycle. This puts you at risk of spending on something you probably don't need.  is here to help you avoid this with its virtual credit card.
What is Motor Trend on Demand Services?
Over time, motor enthusiasts have been using the Motor trend website to access free original automotive entertainment. These shows include catalogs and past seasons of their shows like
| | | |
| --- | --- | --- |
| Motor Trend on their YouTube Channel | RoadKill | Dirty Every Day |
| Ignition | House of Muscle | Epic Overhauling |
| House of Muscle | | |
These shows are free to binge-watch on-demand, but with advertisements. Viewers who want to enjoy these episodes without advertisements should choose the on-demand service.
The on-demand service is available on mobile apps and desktop computers or using apps that connect with smart TVs. They can access ad-free content and the Motor Trend experience using MotorTrend on-demand services.
Viewers can also see all-new episodes of original shows like:
Hot Rod Garage
Roadkill
Dirty Every Day
Head 2 Head
You can enjoy all these at $4.99 per month or $49.99 per year.
Does Motor Trend Offer Free a Trial?
Yes. Currently, , which was previously a 14-day free trial. To access their free trial, you must subscribe to one of their plans and choose your payment plan. However, you'll be required to cancel your subscription before the trial ends to avoid an automatic subscription renewal.
How Do You Get a Motor Trend Free Trial?
MotorTrend on demand is available through their mobile application and website. To get a Motor Trend free trial on their website, follow these steps:
Visit the MotorTrend on Demand and click "Start Free trial."
The "start free trial" will direct you to a log-in page.
Enter your credentials or "Sign Up" to create an account
While signing up for your account, you must enter your credit card information to be billed for your monthly or annual subscription.
Does Motor Trend Free Trial Automatically Renew?
Yes. Motor Trend will bill you every month or after a year on the package that you choose. Your payment form will be charged immediately after your free trial is complete, and continue billing you the same day after every billing cycle.
If you're using your credit card for your billing, the charges will appear as "Motor Trend" or "DVD Motor Trend." Please note, if you choose your subscription through an app store, you'll be billed through the app store, i.e., Apple Wallet or Android Pay.
Monthly subscribers can cancel their subscription at any time. This will automatically close at the end of your billing cycle, but you can continue watching premium content until the billing period ends.
Annual subscribers can also cancel their accounts at any time. They can continue accessing premium content until the annual plan ends. Follow these steps to cancel your subscription:
Sign in to your Motor Trend Account
Find the "Manage" link next to the "Account Profile Page."
Click "cancel your subscription."
Wait for an email confirming that you've canceled your subscription
How Do You Avoid Motor Trend Free Trial Automatic Renew With DoNotPay?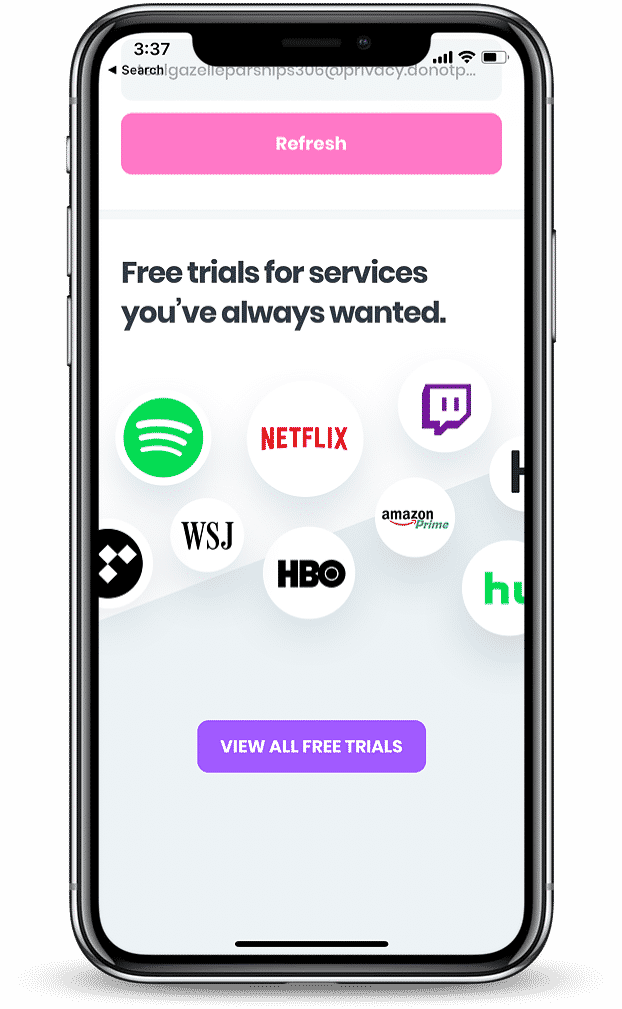 Our virtual credit card lets you sign into Motor trend free trial and continue enjoying their services for seven days without worrying about their automatic subscription renewal. We understand that you can forget to cancel your subscription, especially if Motor Trends don't excite you.
DoNotPay virtual card works by mimicking your credit card information generated from our app algorithm. Using our virtual credit card to subscribe to the Motor Trend free trial, the app will decline their transaction request since they will collect no money.
Our virtual credit card gives you peace of mind since you can avoid unwanted Motor Trend charges and allow you to use your $4.99 monthly subscription fee or $49.99 annual subscription to cater to your needs.
You can use our credit card to sign up for almost any free trial that requires your credit card information. You can use it to sign up for free streaming services like Netflix, HBO, Showtime, and Amazon Prime. It also allows you to access free trials offered by educational services like Grammarly and Chegg.
Solve Other Issues With DoNotPay

Apart from using a DoNotPay virtual credit card to sign a free trial, we can help you solve almost any other issues, including:
 today to access our virtual credit cards and other products!