How To File Microsoft Complaints and Make the Company Resolve Your Issue
Microsoft is a huge company, with operations in over 190 countries. That means that anyone who has a complaint is going to have a hard time getting their voice heard.
The most common Microsoft complaints range from how unresponsive customer support is to how Microsoft has removed features from their products without notifying the users.
One of the biggest sources of frustration people have with Microsoft is Windows 10. Thousands of users complain about the operating system being installed on their computers without their consent.
Windows 10 is also notorious for pushing updates despite the users opting against them. People who have this complaint often feel that Microsoft tech support refuses to help them remove or disable the Windows 10 update.
As far as complaints about Office 365 go, users report that Microsoft has removed features from Office 365 that were present in the earlier Office 2013 and 2010. Most people feel that the company should at least have notified them about this before they asked them to pay for Office 365 rather than the older versions of Office.
Another major inconvenience is that Microsoft has been known to impose additional charges on their customer's accounts without prior notice. In some cases, users are charged hundreds of dollars simply for exceeding their monthly data limit in a subscription service.
How To Complain to Microsoft About Windows 10 and Office 365—Microsoft Complaints Procedure
There are two ways in which you can complain to Microsoft about Windows 10. The first method is to use the built-in Feedback Hub app. Open your search by pressing the magnifying glass icon and type in "feedback hub" to open the app.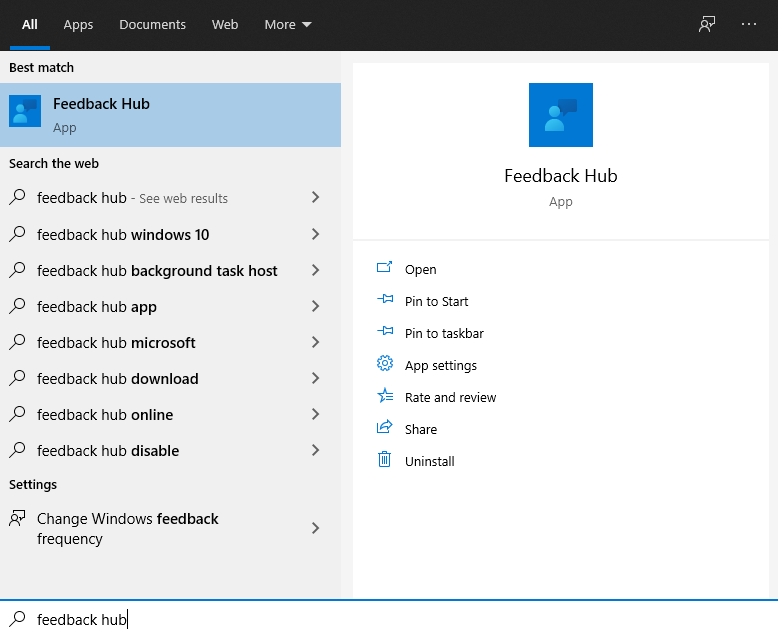 You can also use this method to report any bugs that you have encountered with the operating system, as well as suggest a feature.
The other way is to contact Microsoft customer support through the Get Help app on the Contact Us page and explain your concerns regarding the Windows 10 update. The main problem with this method is that Microsoft customer support staff members are notoriously difficult to deal with. Most users have complained about the support agents being not only unwilling to help but also condescending and arrogant.
The best way to complain about Office 365 is to contact customer support through the Support Page on Microsoft's website.
You can also contact Microsoft's support the old fashion way by calling (800) 642 7676. Users report being put on hold for over an hour and claim that Microsoft's customer support is rarely able to help them with their issues.
How To File a Complaint Against Microsoft
Getting in touch with Microsoft's customer support is difficult, but coming to a satisfactory resolution of the problem is even harder.
If the company's customer support cannot or does not want to help with your issue, you can file a complaint against Microsoft with:
The Federal Trade Commission (FTC)
The U.S. Attorney's Office
How To File a Complaint Against Microsoft With the FTC
The easiest way to file a complaint against Microsoft with the FTC is to use their online complaint form. Keep in mind that the FTC primarily handles complaints that revolve around fraud and deceptive business practices.
If you have an issue with Office 365 or a Windows update, it might not be the best idea to get the FTC involved. That said, if Microsoft has repeatedly overcharged you, then the FTC might be willing to step in and help resolve your issue.
You can file a complaint with the Federal Trade Commission by completing the Report Fraud form on their website.
How To File a Complaint Against Microsoft With the U.S. Attorney's Office
The Attorney's office will take complaints that can be prosecuted as fraud cases where the victim has suffered at least $1,000 in damages.
To file a complaint, you can either fill out the online form with your state's Attorney General or mail them a letter with the following details:
Your name only. This is considered an anonymous complaint.
The business address of Microsoft Corporation (500 5th Avenue, Redmond, WA 98052)
A detailed description of your complaint and why you believe it qualifies as fraud
For example, in a situation where Microsoft charged you extra for your subscription without informing you about it, you should state this in your message.
Have Unresolved Microsoft Complaints? Sue Microsoft in Small Claims Court
Microsoft has been sued by numerous customers in small claims court (in 2007 and 2009). The results have been mixed, as some have won while others have failed to find any wrongdoing on Microsoft's part.
To start the legal process against Microsoft, you first have to draft a professional demand letter and serve it to the company, notifying them of your intent to sue if they do not resolve your complaint and compensate you for the damages.
The demand letter must include the following information:
A clear description of your claim along with the basis for your claims.
The amount of damages you are seeking.
A clear request for the company to make a full and unconditional apology to you and acknowledge their wrongdoing.
Once the demand letter is completed, it must then be sent to the company by signed certified mail or personal delivery. The mailing address for Microsoft is:
Microsoft Corporation P.O. Box 1096 Redmond, WA 98073-1096
The company will have 15 days to respond to your demand letter. If you fail to receive a response from them or if they do not comply with your demands, you can then file a lawsuit against them in small claims court.
To prepare for the lawsuit, you first have to draft a statement of claim and include the following information:
A direct statement of fact with details to support your claim.
Description of events that led up to your legal action against Microsoft.
Details about how Microsoft refused or failed to act on your demand letter and how it affects you negatively.
Keep in mind that you have to fill out the online complaint form on the court's website and mail your complaint to Microsoft including a copy of your filing receipt. If your local small claims court doesn't have an online complaint form, you'll have to file the lawsuit in person with the court's clerk.
With DoNotPay, You Can Sue Microsoft in Small Claims Court Hassle-Free
Filing a lawsuit against a company can get complicated, and finding and hiring a lawyer to handle your case is both time-consuming and expensive. You might be asking yourself, is it all worth the trouble?
But worry not, because DoNotPay is here to make the process as quick and painless for you as possible! With our app, you won't need to spend weeks on drafting the lawsuit or to hire a lawyer to take care of all the legal documents and procedures. Instead, you can answer our bot's questions and let us handle the rest.
Here's all you need to do:
and search for the Sue Now product
State how much money the company owes you, if applicable
Pick a reason for the lawsuit from the menu
Answer several short questions
Add any evidence that will be helpful in building your case
Our app will send a demand letter to Microsoft on your behalf. If the company does not respond, we will help you take them to small claims court and get the justice and compensation you deserve.
Have Any Other Microsoft Complaints?
With its robust set of products, DoNotPay can assist you in tackling any issue caused by Microsoft. We can help you report email spam to Microsoft, block Microsoft robocalls, claim your warranty, cancel your subscription, unsuspend your account, return anything to the company, and so much more!
Struggling With Legal and Security Issues? DoNotPay Can Help You Make Them Go Away
A company has refused to give you a refund you believe you're entitled to? Get your money back by suing it in small claims court with the help of our app, the world's first AI lawyer. DoNotPay will also give you a hand if you want to prevent stalking or harassment, protect your work from copyright violation, or get virtual credit cards to sign up for services without disclosing your credit card information.
Aside from helping you in seeking security and justice, we can assist you in composing various legal documents, preparing divorce settlement agreements, contesting parking tickets, and arranging DMV appointments.
DoNotPay Makes Dealing With Administrative Issues Easier Than You Think
The DoNotPay app was created to assist you in dealing with mundane everyday tasks you would rather avoid. Our app's features will make sure you can: