How To Send a Fax to Mexico in a Fast and Affordable Way
Do you have personal, family, or business connections with Mexico and need to send certain sensitive documentation to this country? If you do, you should know that one of the safest ways to send paperwork is faxing.
DoNotPay can show you how to send a fax to Mexico or any other destination so easily that you won't need any other fax service or app ever again.
Should You Use Email To Send Sensitive Documents?
The most convenient, easiest, and fastest way to send a file is by attaching it to an email. You can access your email from any computer or cell phone. It saves time and energy.
What about security? An email should not be your first choice if you need to send confidential data and documentation, including:
Contracts

Legal files

Business documents

Medical documentation

Financial statements and reports
You must protect sensitive information and paperwork so that they do not end up in the hands of your competitors or nosy individuals that could harm you, your family, and your business.
The problem with emails is that they can be:
Hacked easily

—In this case, your information will be revealed to unknown people, companies, or organizations

Blocked or deleted

—This often happens with emails containing large attachments. If you are sending an email to a serious business, their security system might identify your email as spam or malicious and automatically block and delete it

Delayed

—In case your email is not blocked or deleted, it can end up in the junk or spam folder, and the recipient might not see it in due time
How To Fax to Mexico Securely
Should you need a safe method of transferring your confidential documents to Mexico, you can opt for:
Regular mail

Fax machines

Online fax services
Should You Use Postal Services To Send Documents to Mexico?
You can use regular mail to exchange documentation. It is generally safe, but it is called snail mail for a reason.
It is likely that your business partners will have to wait for a few days, possibly even weeks, to receive a contract. Upon signing it, they need to return one or two copies to you. It means there will be weeks before both parties get their signed copies of legal documents.
Should you want to reduce the waiting time, you might select a faster courier service, but this comes with a higher price. In this case, you can end up with a hefty sum for the necessary exchange of paperwork.
What About Fax Machines?
A fax machine is a traditional and safe method to send files. If you have one in your office or at home, you can use it to fax a file anywhere—in the States or abroad. can provide information on how to get a fax number in case you don't have one yet.
Here is how to send a fax to Mexico using a fax machine:
Print out a document

Upload a file into the fax machine

Dial:

011—International prefix for calling internationally

52—Country code for Mexico

55—Area code if you are faxing to Mexico City

The phone number—If the Mexican number starts with 0, you should omit it when calling from the USA
Here are some area codes of cities in Mexico:
| | |
| --- | --- |
| City | Area Code |
| Mexico City | 55 |
| Tijuana | 664 |
| Ecatepec | 55 |
| Leon | 477 |
| Puebla | 222 |
| Cancun | 998 |
| Acapulco | 744 |
If you opt for a fax machine, you should be aware of some common problems you can come across, including:
Busy lines

—You will need to wait in front of the fax machine and redial

Noise on the call

—This can happen during long-distance calls and can lead to data loss

Slow transmission

—It takes time to send

multiple-page documents

. You will need to redial and restart the transmission if the line is cut off
All these issues can increase your phone bill significantly.
Send a Fax to Mexico—Benefits of Online Fax Services
Those who need to fax abroad should consider an online fax service because it is:
Safe
Fast
Affordable
Convenient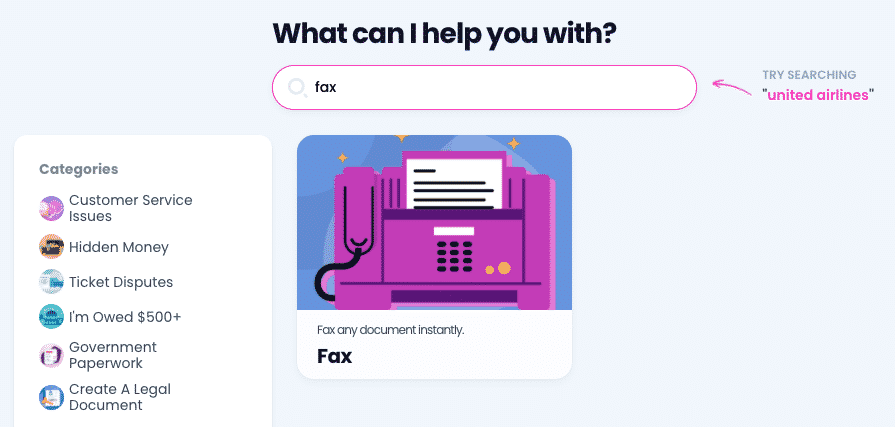 Online fax services can save you from:
Hefty phone bills

Clunky fax machines

Significant delays when using regular mail
DoNotPay offers all of the above-listed perks, and we can show you how to fax to Mexico from your cell phone, laptop, or desktop computer in no time.
Use DoNotPay To Send Faxes Smoothly
DoNotPay's Fax feature provides a comfortable, quick, and dependable way of faxing formal and sensitive documents.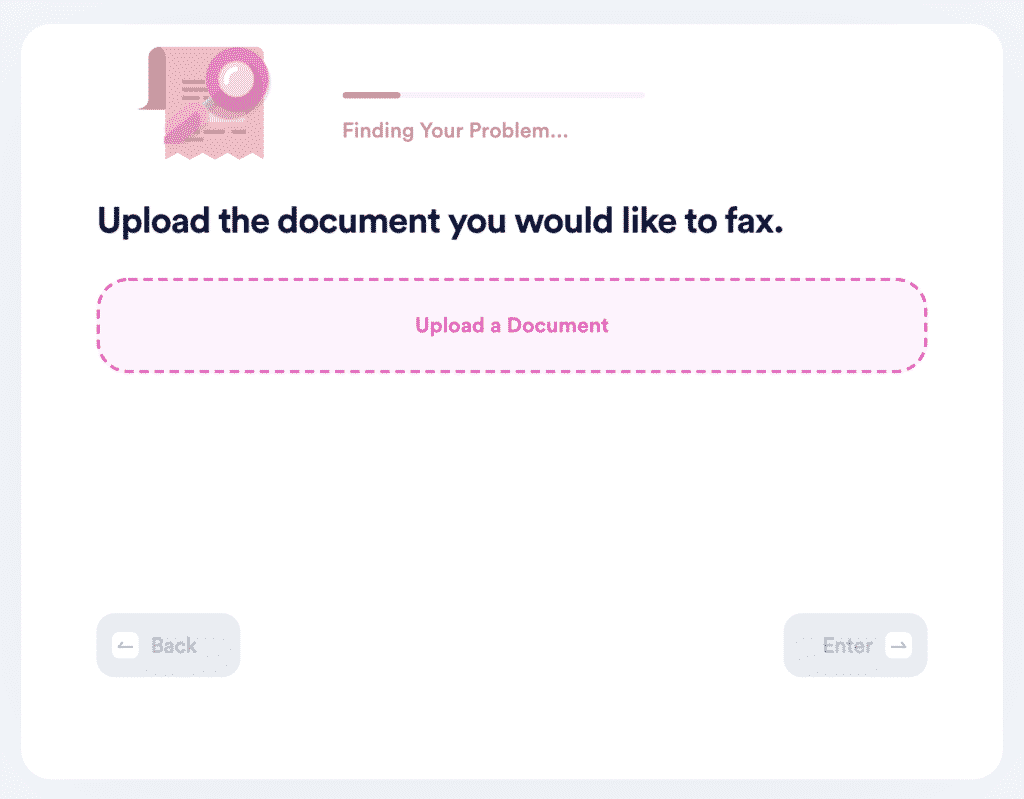 What do you need to do? Not much, just follow these instructions:
Visit DoNotPay in any

Upload a file or take a photograph

Enter the receiving fax number—Use our above-listed dialing instructions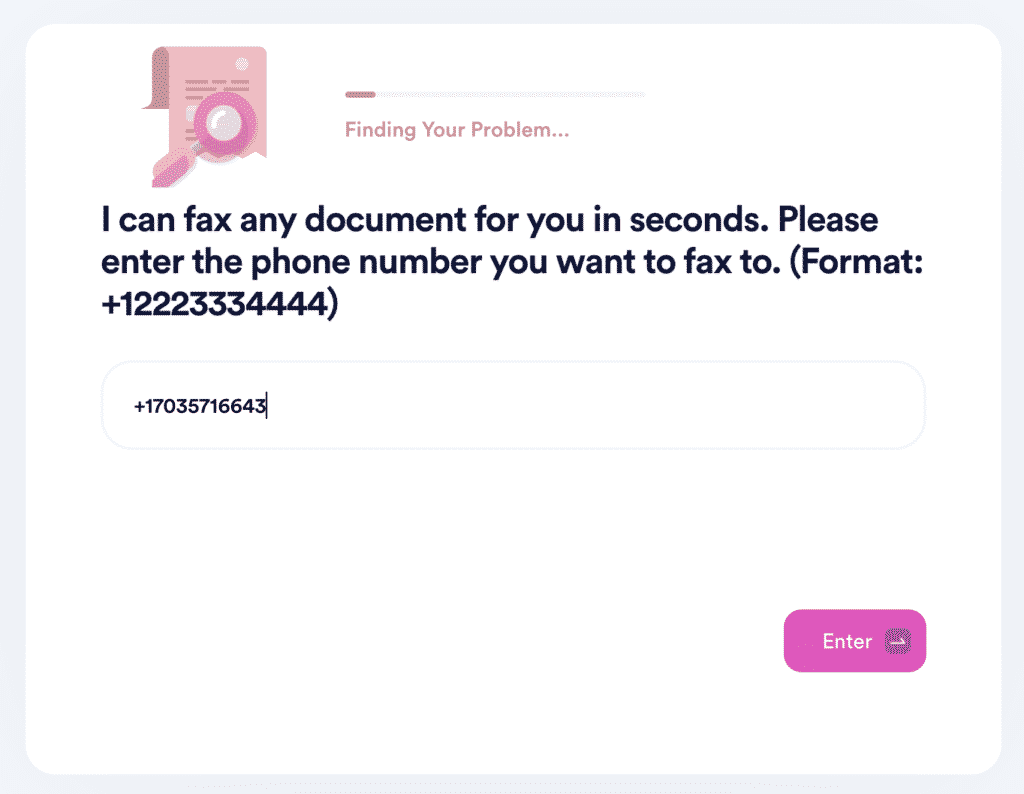 After you complete these simple steps, DoNotPay will send your fax to any U.S. or international destination in no time.
Do you know what the best part is? By subscribing to DoNotPay's Fax product, you get all our other numerous services for free!
Subscription Issues? DoNotPay Can Help!
If you are looking to test out a service, think twice before disclosing your payment info. Companies will often ask you for your credit card details even when signing up for a free trial—they charge you once the trial expires.
Use our virtual credit card, and don't worry about unwanted charges!
Our credit card gets automatically approved for any free trial, but it rejects any real charges since there is no money on it.
DoNotPay will locate and cancel all your unwanted subscriptions without you having to deal with customer service reps.
We can also help you request refunds from companies or take them to small claims court if they refuse to cooperate.
Clear Out Your Daily Tasks Fast With DoNotPay
Are your parking tickets piling up, but the process of appealing them is way too complicated? Do you struggle to pay your bills but are not sure how to get an extension? Is it time to extend your driver's license, but reaching the DMV is a nightmare?
DoNotPay will turn all of these dreadful tasks into easy-to-do items you can check off your agenda quickly!
Get rid of spam emails, texts, and calls quickly using our AI-powered app!
Learn how to secure compensation from airlines, get your college fees waived, claim your lost funds, or reduce your property tax—all with a few clicks!