How to Get Money off Dasher Direct Virtual Card in Seconds

Virtual credit cards are everywhere, it seems. And rightly so!  With worries of cyber hacks and personal information being stolen, consumers are being more cautious than ever about making online purchases using their personal credit card information. Virtual cards are issued to protect your information, and some, like the Dasher Direct virtual credit card, can be used in place of a debit card. You never have to worry about how to get money off Dasher Direct virtual card!
Virtual credit cards have a variety of uses. For example, you will never have to be worried about getting charged for a free trial. DoNotPay offers a one-time-use virtual credit card that allows you to enjoy free trials for major companies such as Amazon Prime, Hulu, or Netflix without the worry of forgetting to cancel and getting charged.

What Is a Virtual Credit Card, and How Do They Work?

Virtual credit cards are temporary credit card numbers that you can use when shopping online. They are designed to protect your actual account number from hackers, who may steal your personal information during a data breach or unsecured connection.
There are generally two types of virtual credit cards.
| | |
| --- | --- |
| Types of Virtual Credit Cards | Description |
| Permanent cards. | These cards have randomly generated numbers, along with an expiration date and security code that are tied back to your actual credit card or bank account. |
| Temporary or Burner cards. | These cards are for one-time use only. Use DoNotPay's Virtual Cards for validation when signing up for a free trial. These cards have no money on them, so when the company tries to charge them when your trial period is over, they are declined and you never have to pay. |
How Does Dasher Direct Work?
Dasher Direct is a virtual credit card that is offered to Door Dashers. Funds are immediately deposited in your Dasher Direct Account, giving you access right away. Some advantages are:
Immediate access to earnings, with no deposit fees.
Cashback rewards of 2% on gasoline purchases.
The downloadable app makes account management easy, allowing you to check balances, transfer money and even use one of over 20,000 no-fee ATMs.
How Can I Get a Dasher Direct Virtual Card?
Signing up is easy. Simply go to Earnings in your Dasher app and apply. You will need to provide basic information including name, date of birth, social security number, address, and a copy of your driver's license. Normally, approval occurs within minutes and within ten days, you will receive your card. Once activated, it can be used anywhere that debit cards are accepted.  Keep in mind that Dasher Direct works like a debit card. The only funds available are those that have been deposited into your account. Once you have completed a dash, your funds are available in your Dasher Direct account within minutes. Tips could take a few hours or days longer, depending on the customer.
Even before your card arrives in the mail, you will be given a virtual card that allows you to make purchases online or bank transfers. Once your physical card arrives, the virtual card will be deactivated. Though the virtual and physical numbers are the same, they will have different expiration dates and security codes.
How Do I Get the DoNotPay Virtual Credit Card?

DoNotPay makes it easy and quick to get a virtual credit card to use in canceling subscriptions, getting free trials, or protecting your personal, private information. Just go on to the DoNotPay website and choose the Credit Cards option. It's that easy! Then, when you want to sign up for a free trial, use the numbers generated by DoNotPay to sign up! You never have to worry about getting approved or making a deposit! These numbers are good for one use and are not backed by funds. If you want to continue with the service or subscription, you will need to enter your real information to do so.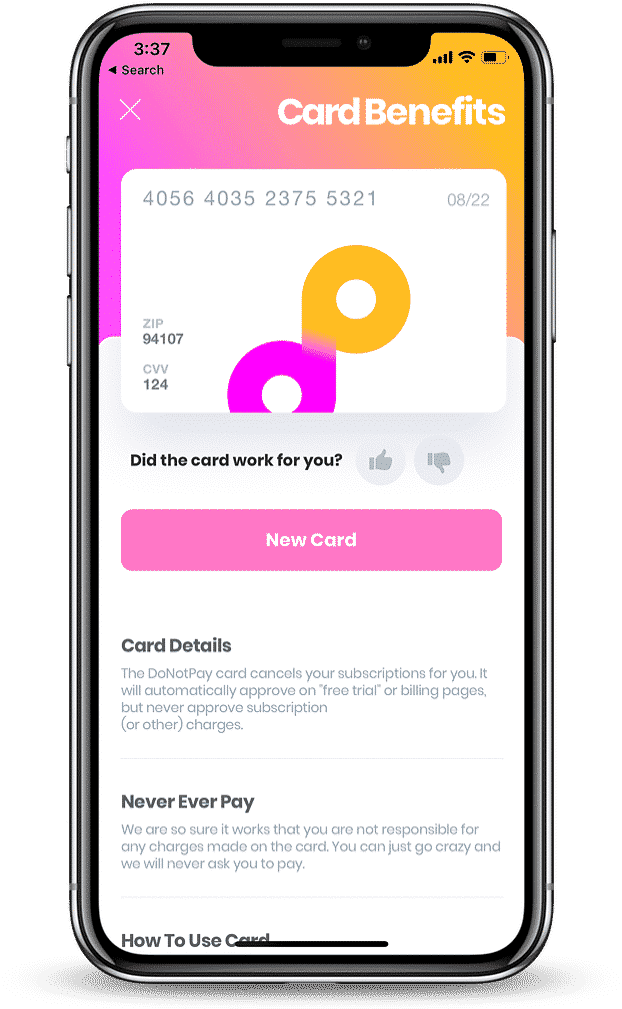 Where Can I Use the DoNotPay Card?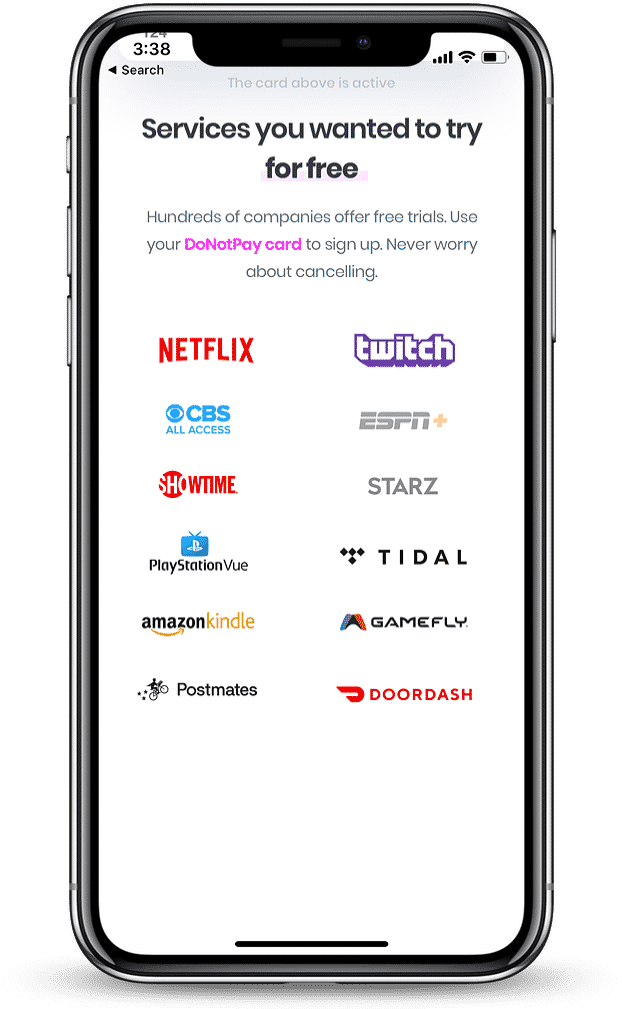 Use DoNotPay for any of the many free trial offers that you want to try. Our virtual credit card makes "try before you buy" a reality. And it will never disclose your data and block the merchant's charges when your free trial expires. Use it for free trials offered by companies such as:
HBO and Showtime
Subscription services such as health clubs or meal services
Amazon Prime or other memberships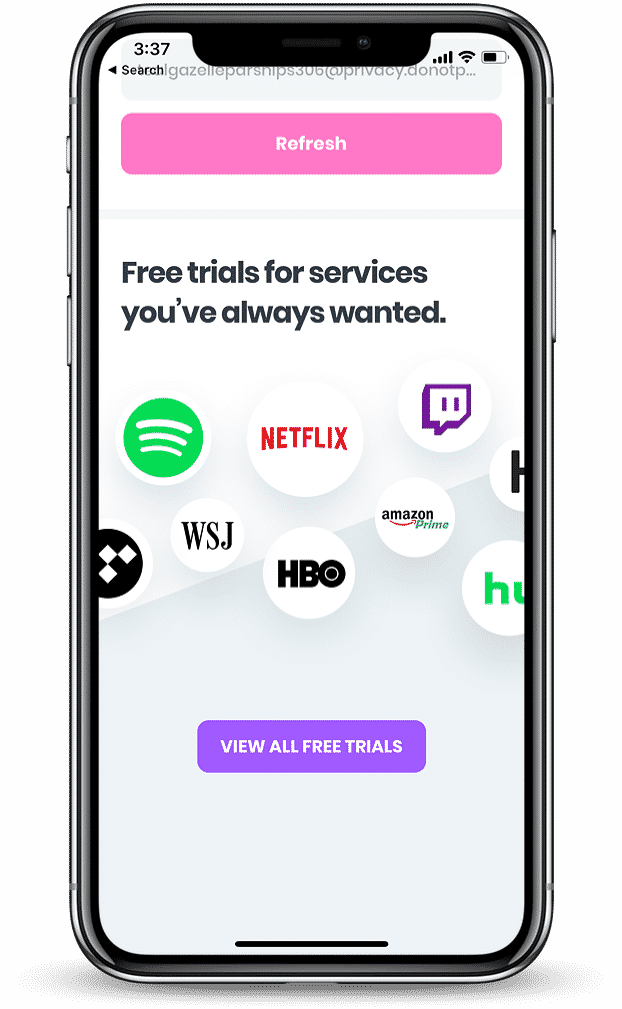 What Else Can DoNotPay Do?
DoNotPay can save you time, headaches, and money by providing simple solutions to complex problems. For example:
We have helped over 300,000 people solve the very same problems that you need help with.  Let us help you!