How To Find an Inmate in California—A Complete Guide to Locating Prisoners in California Hassle-Free
Visiting and writing letters to inmates are two main reasons why one would want to locate prisoners and find out the address of the correctional facility they're held in.
Most records are available to the public, including the location of offenders, their charges, and similar. While you have a variety of options to locate someone in California prisons, DoNotPay can make this process fast and effortless.
Why You Might Want To Know How To Find a Prisoner in California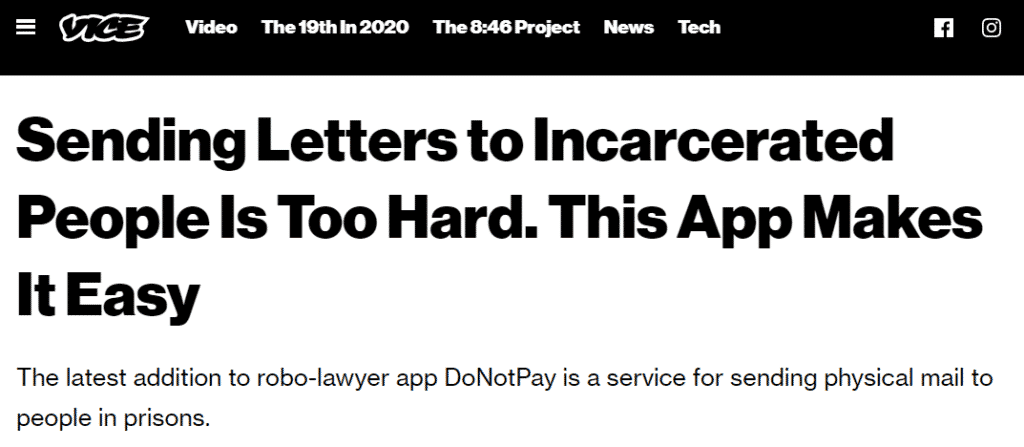 Knowing a facility's address is crucial if you want to write a prisoner because you need to know how to address a letter to an inmate correctly. This is not the only reason why you'd want to find an inmate in California, Texas, or any other state in the U.S.
Sending books, magazines, and care packages can be another occasion in which you'd need to know the precise location of the offender in question.
Having access to California county jail listings can be beneficial if you don't know where your loved ones are and want to check if they were arrested.
Besides being able to find an array of websites dedicated to locating inmates based on their full name or ID, people also have online access to criminal records and listings such as:
Types of Criminal Records and Documents
What They Include

Arrest records

Info about individuals who have been arrested

Details of the alleged crime

Names of the arrestee and the arresting officer

The address of the jail

Jail and inmate records

Info about individuals who have been incarcerated

Details about the offense

Incarceration and release dates

The address and the security level of the facility

Sex offender listings

Names and locations of registered sex offenders

The compliance status of the offenders

Conviction records

Info about individuals who have been found guilty for the crime they were charged for
If you are suspicious about a certain neighbor, colleague, or even a new friend, you can look them up and find out whether or not they have a criminal record, which can help keep you and your family safe.
How To Find Out Inmate Charges in California
Numerous websites enable you to find out if a certain person has a criminal record.
You will need to provide info such as name, surname, and current and previous state(s) of living. Some websites even ask about the potential relatives of the person in question to make the search more precise.
These are the most popular websites you can check out:
Some prisons might even allow you to give them a call or access the physical records inside the facility, which can be useful if you aren't tech-savvy.
How To Locate an Inmate in California On Your Own
Depending on whether the offender in question is in state or federal prison, you can choose from a few websites to find an inmate by yourself.
Besides enabling you to search for criminal records, the Inmate Search Info website also offers the possibility of locating inmates in both state and federal prisons as well as county jails.
Other available websites usually concentrate on only one type of correctional facility.
How To Locate Inmates in California Federal Prison
Is your incarcerated loved one held in federal prison in California? You can locate them through the Federal Bureau of Prisons website like this:
Visit the website

Click on

Find an Inmate

in the

Inmates

tab

Choose between the

Find By Number

and

Find By Name

option

Type in the info accordingly

Click on

Search
How To Find Someone in California State Prison
If you know that your incarcerated friends, family members, or prison pen pals are held in state prison in California, but you're not sure in which facility, you can try and find them through the California Department of Corrections and Rehabilitation (CDCR).
You can either find them on the website or over the phone by dialing (916) 445-6713. If you decide to find an inmate online, follow these steps:
Visit the website

Click on

Inmate Locator

in the

Offender Info

tab

Click on

Agree and Proceed to Search

Type in the inmate's CDCR number or last name

Enter the first and middle name for a more precise search

Click on

Search for Inmate
How To Locate an Inmate in California County Jail
Can't find your incarcerated loved one in any state or federal facility? Try looking them up on the Write a Prisoner website by following these steps:
Visit the website

Click on

Inmate Locator

in the

Home

tab

Select

California Inmate Locator

on the left side of the dashboard
You'll see the list of all county jails in the area. Check each website until you find your loved one.
How To Find Someone In Prison in California With DoNotPay

DoNotPay offers a tool that can save you a lot of time when looking for an inmate's location. Our Connect With an Inmate tool will locate any prisoner in the U.S. within minutes.
You need to type in the prisoner's name and state—in this case, California—and we will provide you with the last known address. You can take advantage of this feature by:
Logging in to your account from a

Clicking on the

Connect With an Inmate

tool

Picking the

Locate Someone

option
DoNotPay Can Make Your Correspondence With California Inmates Efficient and Stress-Free

Helping you locate inmates isn't the only thing our tool can do for you. The main purpose of the Connect With an Inmate feature is to simplify the process of sending letters to offenders.
Remembering all the inmate mail rules a certain correctional facility has—such as choosing the right envelope or picking appropriate photos, to name a few—can be challenging. Whether you want to send a love letter, words of encouragement, or share some news with an inmate, DoNotPay is here to ensure everything runs smoothly.
You won't have to worry about addressing the letter, using the right pen, and similar—DoNotPay will take care of everything for you. As soon as you finish your letter, we will print it and send it to the correctional facility in question.
These are the steps you should follow to send a letter to a prisoner through our app:
Open your account in a

Click on

Connect With an Inmate

and pick the

Send a Personalized Letter

option

Write your letter directly in the app or upload a file

Attach a few photos

Pick one of the letter templates you like
DoNotPay's app also enables you to receive mail in digital form through the app by receiving letters on your behalf, scanning them, and sending them to your virtual mailbox.
If you like that option, make sure to click on Create My Mailbox in the Virtual Mailbox feature of the tool.
DoNotPay Has a Feature for All Your Everyday Issues

Other than ensuring your letter is approved by the facility and handed over to your incarcerated loved one—which will make your correspondence easier and more enjoyable—we can also help you deal with other problems life throws at you.
Once you sign in to your account from a , you'll be able to use our app whenever you need assistance with:
Contesting traffic tickets

Fighting speeding tickets