A Complete Guide to the Hotels.com Refund Policy
Hotels.com is one of the most used hotel booking websites that lists a variety of accommodation options in more than 19,000 locations. 
If you want to cancel the hotel you booked, but you're not sure whether you'll get a refund, this article will explain everything you need to know about the Hotels.com refund policy.
The Options You Have to Request a Refund
Here's how you can request a Hotels.com cancellation refund:
| | |
| --- | --- |
| Can You Request a Refund Via | Yes / No |
| DoNotPay | Yes |
| Email | Yes |
| Phone | Yes |
| Letter | No |
| Website | Yes |
| In-person | No |
Want to Get Your Money Back Fast and Easy? Request Your Hotels.com Refund With DoNotPay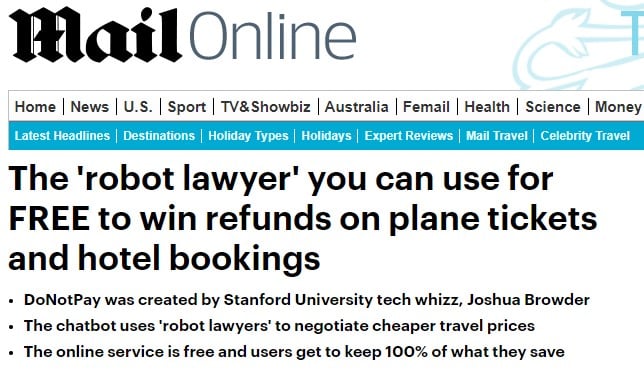 The fastest way to request a refund from a property owner is through DoNotPay's website. Follow these steps and complete your request in a matter of minutes:
Log in to your DoNotPay account from a

web browser

Scroll to the "Chargeback Instantly" option

Click on "Get Protected"

Respond to all the questions

Enter the name of the hotel you booked in the "Merchant" field

Verify your signature

Click on "Submit"
The request will be automatically faxed to your bank once you submit it. According to the Fair Credit Billing Act rules, DoNotPay will also send a letter that contains all the Visa or Mastercard codes. We will also contact the merchant to provide evidence on your behalf. 
Here are just some of the companies we can help you request a refund from:
Request a Hotels.com Refund the More Complicated Way
The only thing you can do from the Hotels.com website is to cancel your hotel, and the hotel will automatically issue a full or partial refund to your account if you're eligible. Cancel your accommodation on the Hotels.com website by following these steps:
Go to "Your Bookings"

Select "Cancel Booking"

Follow the instructions
You can also contact the Hotels.com customer support via live chat on the "Customer Service Portal" page and ask them to cancel your booking.
If you wish to cancel a vacation rental, you will have to contact the property manager. You just need to select the booking in question, and you'll be able to find the property's email or phone number in the booking details.
Call them or compose a formal email asking to cancel your accommodation. Make sure to request a refund, if possible.
Nitty Gritty Details on the Hotels.com Refund Policy
Hotels.com allows you to cancel your hotel whenever you want, and the site itself doesn't charge any cancellation fees. Whether you get a refund or not will depend on the refund policy of the property you booked. 
Some properties will approve the refund only if you cancel at least 24–48 hours before your check-in date. Make sure to read the refund policy of the hotel carefully or any other type of property you choose to book.
The money will be credited either to your bank account or in the form of a gift card, depending on which payment method you used when booking. If the law of the state you live in allows only low gift card balances, you can send an email to giftcards@hotels.com and request to receive money instead.
Need Help Canceling Your Hotel? DoNotPay Comes to the Rescue!

Other than saving you a lot of time when requesting a Hotels.com refund, DoNotPay can also help you cancel your hotel fast and hassle-free. Here's how you can do it:
Open your DoNotPay account from a

web browser

Go to "Find Hidden Money"

Enter the name of the property
We will notify you once we cancel the reservation.
With DoNotPay's assistance, you can easily cancel any other service such as:
How Long Should I Wait to Receive My Hotels.com Refund?
When it comes to the Hotels.com gift cards, you'll be sent a new one within four hours of requesting a refund. 
If the refund is being credited to your bank account, it will be processed within 24 hours of requesting it, but your bank can take up to seven days to transfer the money into your account. 
Not Patient Enough? Check Your Hotel.com Refund Request Status
If you think that the refund process is taking too long, you can check the status by contacting your bank or credit card issuer. Wait around seven days from requesting a refund and then call to check if the money doesn't show up on your account during that period.
It's also possible to check your refund status by contacting the Hotels.com customer support via live chat on their website. Here's how:
Go to the

"Customer Service Portal" page

Click the "Chat" icon in the bottom right corner

Choose "Get refund status" from the offered queries

Follow the instructions
Pay Attention to These Issues When Requesting a Hotels.com Refund
The best thing to do before booking your accommodation is to make sure it's refundable. All of the details should be provided on the Hotels.com website once you select the property you're interested in. If there's not enough info about the refund, or if their explanation is too shady, the best option is to contact the hotel directly and talk it over with them.
Need to Cancel Your Flight Too? DoNotPay Will Help You Get a Refund 

Are you unable to travel and want to cancel your flight as well? DoNotPay can help you request a refund from any airline in no time if you're eligible for a refund. 
We can even assist you in claiming compensation if you think that your airline passenger rights have been violated. Whether you want to get compensation for a canceled or delayed flight, poor Wi-Fi quality, or any other issue you were having with the airline, count on the world's first robot lawyer to be there and make the process easier.
Is the Hotel You Booked Being Difficult? DoNotPay Has Got Your Back

You can sue the hotel in small claims court with DoNotPay's assistance if the property manager doesn't want to issue you a refund, even if you're eligible to request it. 
Our chatbot will ask you a series of questions to determine whether or not your case is eligible for small claims court. After that, we will help you compose a demand letter. If the hotel refuses to settle, DoNotPay will assist you in collecting the necessary paperwork, completing all of the forms, preparing your court statement, and serving the hotel.
Your only job will be to file the claim and appear in court to state your case.
DoNotPay Saves You Money and Energy

Should you have trouble handling annoying administrative issues, rely on DoNotPay's help and solve all of them in no time. Stop wasting money on pricey consultants and unused subscriptions that you don't know how to cancel. 
Access your DoNotPay account from a web browser and we will help you:
Dispute traffic tickets

Fight speeding tickets