A Guide to Sending Dallas County Inmate Mail
Writing letters to inmates is never easy and straightforward.
You probably want to convey positive thoughts and words of encouragement, but it can be annoyingly difficult if you also have to think about all the protocols and rules imposed by prisons.
If you want to write to a prisoner in Dallas County Jail, DoNotPay has shared some useful info in this article.
The Dallas County Jail Inmate Mail Rules and Regulations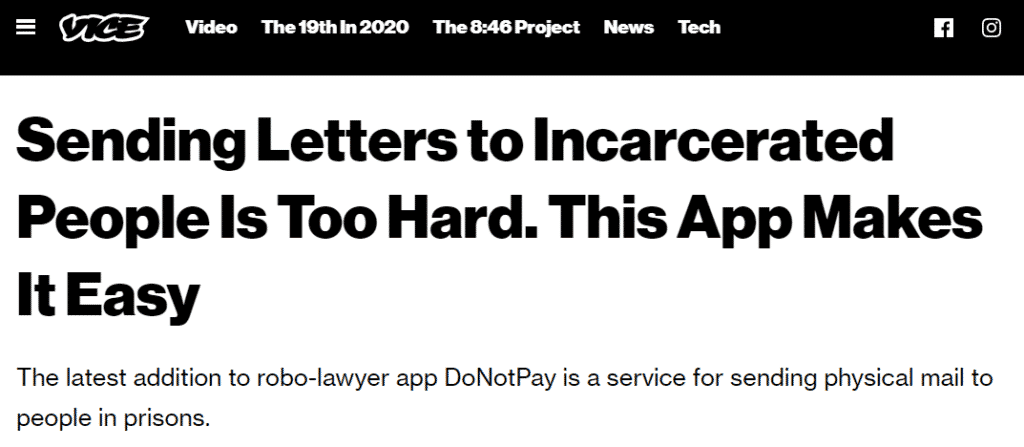 Dallas County Jail accepts inmate mail, but senders must abide by a set of inmate mail rules and regulations.
All mail coming to a Dallas County Jail facility must be properly addressed, containing both the sender and recipient information. You should address the mail as follows:
Sender
Inmate

First and last name

First and last name

Book-in number

Return address

Inmate location

Example: Tank #11 S 14

P.O. Box # 660334

Dallas, Texas 75266-0334
Note that Dallas County Jail won't forward mail to released individuals. In case they receive such a mail, one of the following will happen:
They will return the mail to the sender if the return address is provided

They will forward the mail to the dead letter department at the U.S. Post Office
DoNotPay can teach you how to address letters to inmates in other Texas counties and U.S. states.
What Can I Mail to a Dallas County Jail Inmate?
Though each facility may differ in terms of allowed and prohibited content inmates may receive by mail, general rules are listed in the table below.
Content
Allowed
Prohibited

Sent by a publisher

Eligible bookstores: Mardel, LifeWay, Barnes & Noble, Better World Books, Amazon

Inmates may possess up to five books at any time

Softbound books

Sent by individuals, including family, friends, acquaintances, other

prison pen-pals

, or any other private company

Hardback books

Photographs

Larger than 8"x10"

Polaroid photos

Depicting violence, obscenity, or pornography

Greeting cards

Signed

Smaller than 8"x10"

Unsigned

Larger than 8"x10"

Containing padding, plastic, glitter, ribbon, string, confetti, or musical devices

Letters

Without stains

No profanity on the envelope

Containing contraband

Written in marker, crayon, or colored pencils

Miscellany

X

Jewelry or clothing

Writing material (stamps, blank paper, envelopes, pen/pencils, or stationery

Tape, glue, glass, clasps, magnets, paperclips, liquids, or any devices
Besides those outlined in the table, other prohibited items include any illegally obtained or possessed ones under the Texas Penal Code.
What Is Contraband?
Contraband includes any content of inflammatory nature that could pose a security threat within a prison facility, including anything that:
Could be construed as inciting prison riots, strikes, or escapes

Contains information about drugs, weapons, or explosives and instructions on how to manufacture them

Is or might be detrimental to an inmate's rehabilitation by encouraging deviant behavior
Connect With an Inmate Through DoNotPay

DoNotPay has got everything you need to correspond with prison inmates effectively and without the hassle of checking where they are or going to the post office to send the letter.
Our Connect With an Inmate functionality enables you to:
Find inmates anywhere in the U.S.

Send personalized letters to prisoners

Receive letters from prisoners regardless of your location
Locate Inmates With DoNotPay
If your friend or a family member is incarcerated, but you don't know what prison they are in, DoNotPay can locate them at any state, county, or federal detention center.
Here's how you will learn where the individual you're looking for is:
Visit DoNotPay in your

Open the

Connect With an Inmate

tab and click

Locate Someone

Enter all the inmate info you have, such as their name, date of birth, and the state they are serving time in
DoNotPay will show you the results once it has located the inmate matching the specifications you listed.
How To Send Letters to Prison Inmates With DoNotPay
Once you have found the inmate you were looking for, you can now get down to work and draft a letter you will brighten their day with. It could be a love letter, a creative one full of games and puzzles, or anything you believe would help them feel connected to you.
Check out the steps below:
After logging in to DoNotPay in your web browser, go to the

Connect With an Inmate

feature

Select

Send a Personalized Letter

Enter the inmate details and write a letter

Upload any photos you'd like to share with you recipient and submit the letter
DoNotPay will print the letter and post it promptly so that the recipient will get and read it as soon as possible.
If you need an idea as to how to offer support to your prison pen pal (male or female), you can check a DoNotPay article covering sample letters of encouragement to send to inmates.
Receive and Have Your Inmate Mail Stored in DoNotPay's Virtual Mailbox
You can also create a virtual mailbox where all the letters you get from your imprisoned pen pal will be stored.
To enable it, hit Create My Mailbox, and that's it!
Anytime you want to know whether you've got a new mail, click Request Mail Check.
Why Is Corresponding With an Inmate via DoNotPay the Right Choice?
DoNotPay's Connect With an Inmate product is designed to cater to both your and your imprisoned pen pal's needs and situation.
If you travel a lot and don't spend much time in one place or you don't want your pen pal to know your address, you will only need internet access to send or receive mail like you would any email.
Your recipient will get a printed version of the letter with an address designated by DoNotPay, which they will send their reply to.
Prisoners appreciate corresponding via letters as most of them don't have internet access, but you can still use the digital space for your mail. It's a win-win for both parties!
How To Send Money to an Inmate in Dallas County Jail
All Dallas County Jail inmates have access to the Inmate Trust Fund. Each prisoner has an account to which all the money they possess during intake is deposited, and which they can use through a bar code on their armbands.
Family and friends can deposit to an inmate's account in one of the following ways:
| | |
| --- | --- |
| Method | Details |
| By phone | |
| Online | |
| Walk-in locations | |
| In person | Kiosk machines located at each facility |
Regardless of what method you use, you will always have to provide the following inmate details:
First and last name

Book-in number
Note that you may have to pay a service fee depending on the method you choose.
DoNotPay—Solutions to All Your Problems in One Place

Besides helping you maintain your connections with inmates via mail, DoNotPay can give you info on how to send a care package to an inmate as well as details pertaining to inmate visitations.
Wonder what the rules for Dallas County Jail inmate phone calls are? Want to know how to marry an inmate in county jail? DoNotPay gives you answers to all the hows and whats in an instant.
Our robot assistant can help you handle matters from other areas of life, too.
Access DoNotPay from your and use a variety of services we provide to simplify your life. Take a look at the list of processes we can help you with:
Fighting speeding tickets

Appealing your traffic tickets