How to Cancel Legal Templates Fast and Easy—A Step-by-Step Guide
Legal Templates is a contract generator that offers a variety of contract templates that users can sign, download, and customize.
Cancel Legal Templates on Your Own
You can cancel the Legal Templates subscription by yourself in a few ways.
| | |
| --- | --- |
| Can You Cancel With | Yes / No |
| DoNotPay | Yes |
| Email | Yes |
| Company website | Yes |
| Letter | No |
| In-person | No |
| Phone | Yes |
How to Cancel Legal Templates via Email
You can contact the Legal Templates customer support representatives by sending an email to support@legaltemplates.net. Ask them to cancel your membership, and don't forget to include the following:
How to Cancel Legal Templates Through the Website
To cancel your Legal Template subscription on their website, do the following:
Go to "My account"

Choose Cancel
How to Cancel Legal Templates Over the Phone
If you want to unsubscribe from Legal Templates by calling their customer service reps, dial the number (800) 242-6680. We advise you to request a confirmation email once they cancel your membership.
DoNotPay Makes Getting in Touch With Customer Support Much Easier

Do you hate waiting for ages until one of the customer care agents is ready to talk to you? DoNotPay can take that burden off your shoulders.
Count on us to help you navigate the complex phone tree and hold the line until one of the representatives shows up. Then we will notify you, and you can cancel your Legal Templates service.
DoNotPay can help you get in touch not only with Legal Templates but also with the customer support reps of many other significant companies such as:
The Fastest Way to Cancel Legal Templates Is With DoNotPay

Other than helping you contact customer service agents fast and easy, DoNotPay is also the most efficient way of canceling your Legal Templates subscription. We will even notify you once your cancelation is complete.
Here's what you should do:
Log in to your DoNotPay account from a

Go to "Find Hidden Money"

Enter "Legal Templates"
Need Help Canceling All Unused Subscriptions? DoNotPay Has Got Your Back!

DoNotPay will be your reliable partner when you want to cancel memberships you don't use. With us, you can cancel popular subscriptions such as:
The entire process will only take you a few clicks because your only job will be to connect your bank account or email address with the DoNotPay account. That's how we will get access to all of your subscriptions and highlight the unused ones.
After that, you just need to select which memberships we can cancel, and voilà! You'll be unsubscribed from all of them in a matter of seconds.
Can I Pause Legal Templates Instead of Canceling?
It's not possible to pause your Legal Templates subscription.
Does Legal Templates Offer a Prorated Refund?
You won't be offered a refund after canceling your Legal Templates membership. You'll be able to use the privileges until the end of the billing cycle.
Will My Legal Templates Free Trial Automatically Renew Into a Paid Subscription?
Legal Templates offers a free trial period to new users. You'll be automatically charged for the premium subscription at the end of the trial unless you cancel it.
Rely on DoNotPay's Virtual Credit Card to Avoid Being Charged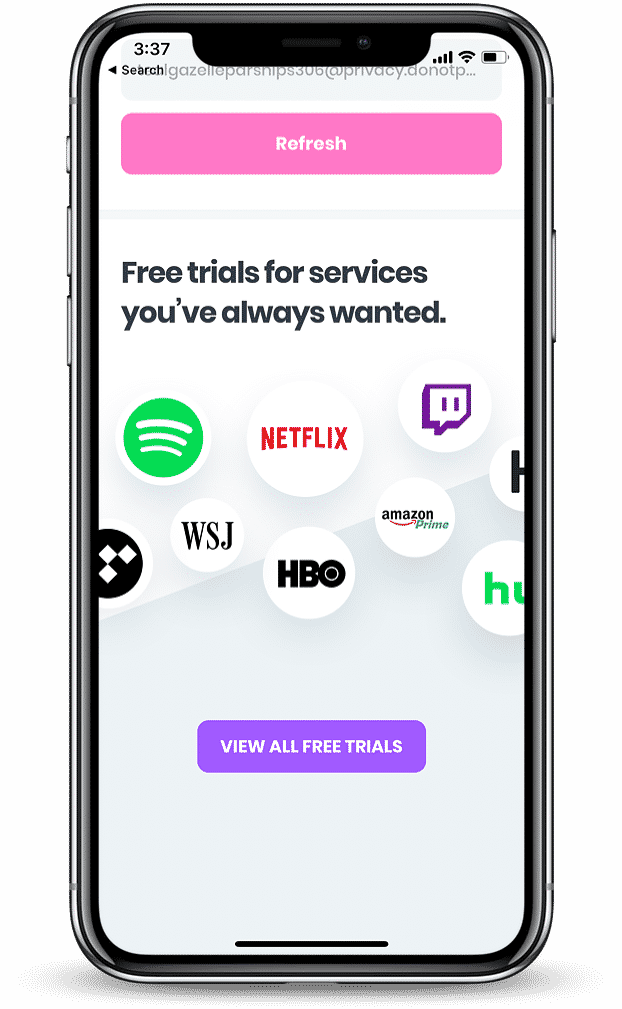 If you're afraid that you could forget to cancel the trial, or if you just don't feel comfortable providing Legal Templates with your credit card info, DoNotPay can offer a solution. With our virtual credit card, you'll be able to sign up for the free trial and forget all about canceling it because you won't be charged.
Use DoNotPay's randomly generated credit card number and a temporary email address to sign up. Once the trial is over, Legal Templates won't be able to charge you because our virtual credit card doesn't contain money. You'll be automatically unsubscribed.
Sue Legal Templates With DoNotPay's Help

Need help suing Legal Templates in small claims court? DoNotPay strives to make the complex bureaucracy much less stressful.
After figuring out if your case qualifies for small claims court, we will help you write a demand letter, complete all the forms, collect the necessary paperwork, and compose your court statement.
The only thing that DoNotPay can't do for you is to file the complaint and show up in court. You can take advantage of our help with every other detail.
What Legal Templates Alternatives Can I Try Out?
Check out this Legal Templates alternative:
Company

Pricing

Benefits

Free

Transparent sources

Customizable templates

Open-source
DoNotPay Helps You Resolve Other Annoying Issues

Access your DoNotPay account from a and allow us to assist you in: