How to Get in Touch With the Brazillian Consulate in Boston, Quickly!
Olá! This article includes everything about the Brazilian Consulate in Boston, Massachusetts. The Brazillian Consulate in Boston currently serves 4 American states:
Maine
Massachusetts
New Hampshire
Vermont
If you do not reside in these states, don't worry! The Brazillian Consulate is available to you in a different location.
What Can the Brazillian Consulate in Boston Do for U.S. Citizens?
Typically, U.S. and Brazillian citizens alike reach out to the Brazillian Consulate to inquire and obtain:
Brazilian Birth Certificates
Brazilian Marriage Certificates
Brazillian Nationality (proof)
Consular Registration Cards

A document created to assist Brazilians living in the United States
Includes personal information, can be a piece of ID but does not replace a license, passport, or proof of immigration status

CPF

Registering, regularizing, modifying, or canceling CPF (benefits) for residents abroad

Death Certificates
Divorces
Electoral Services
FGTS

A workers' compensation program that the Brazillian government authorizes

Residence Certificates
Legalization and Authentication Documents
Life Certificates
Military Draft Registration
Passports
Powers of Attorney
Retirement
Traveling with Pets
Visas
Waiver J-1 (No Objection Statement)
Obtaining An Apostille Certification
The "Apostille Convention'' facilitates the use of public documents abroad, abolishing the traditional requirements of legalization. Public documents issued by a U.S. state court must have an Apostille seal in order to be used in Brazillian government affairs. Typically, Apostilles can be used in these scenarios:
If there is a Brazillian marriage certificate but a divorce decree is issued in the U.S., an Apostille must be issued for the divorce to be valid in Brazil.
In order to transport the body or remains of a Brazillian citizen from the U.S. to Brazil, certain documents (death certificate, cremation certificate, transit permit) must have an Apostille certification.
To use U.S. school or university documents in Brazil, the documents must have an Apostille certification.
Registration with the Brazillian Federal Police
For non-Brazilians residing in Brazil for more than 90 days on a temporary visa, an original birth certificate with an Apostille certification must be presented to the appropriate authorities.
Visa Applications
Brazil only offers one type of visa. Here's how to obtain a general visa:
Visas are limited to 90-day entries in Brazil, for a maximum period of 180 days altogether
Americans, Canadians, Australians, and Japanese citizens are VISA EXEMPT
All other citizens need to obtain a visitor's visa
Visa turnover time is approximately 5 business days
Please note that all visa applications are currently suspended due to COVID-19.
How to Contact the Brazillian Consulate in Boston
Address

Consulate General of Brazil in Boston

175 Purchase Street

Boston, MA

02110

Email
General Inquiries

contacto.boston@itamaraty.gov.br

Visa Inquiries

Phone
(617)-542-4000
Fax
(617)-542-4318
Office Hours
8:00 a.m. — 1:00 p.m.
Where is the Brazillian Consulate in Boston Located?
The Consulate is a 3-minute walk from Boston's South Station:
Head northeast on Atlantic Ave towards Congress St.
Turn left on Congress St.
Turn right onto Purchase St.
Arrive at The Consulate General of Brazil in Boston
COVID-19 Travel Regulations
Children under the age of twelve who are traveling with a companion are exempt from presenting a document proving the accomplishment of a laboratory test RT-PCR
All companions must present documents proving that a laboratory test has been carried out as a result of the negative or non-reactive RT-PCR for the SARS-CoV-2 coronavirus (covid-19), carried out in the seventy-two hours prior to the flight departure.
The new Ordinance maintains the obligation, for all travelers - Brazilians and foreigners - to:

Present to the airline, before boarding, a document proving laboratory testing (RT-PCR), for screening for SARS-CoV-2 infection, with a negative / non-reactive result, performed within 72 hours prior to boarding; and
Complete the Traveler's Health Declaration (DSV)

The Brazilian traveler with origin or history of passing through the United Kingdom of Great Britain and Northern Ireland and the Republic of South Africa in the 14 days prior to the trip must remain in quarantine for 14 days when entering Brazilian territory.
How to Contact the Brazillian Consulate in Boston With DoNotPay?
It might not be as easy for you to visit the location in Boston, especially if you are coming from one of its surrounding service states.
Additionally, information and guidelines regarding passport processing and visa obtaining measures are relatively complex, and the office is inundated with inquiries.
To streamline this process, discover , a specialized service that sends automated emails to embassies with ease. To get in contact with any Consulate/Embassy, all you have to do is:
1. Type in "Contact Embassy" on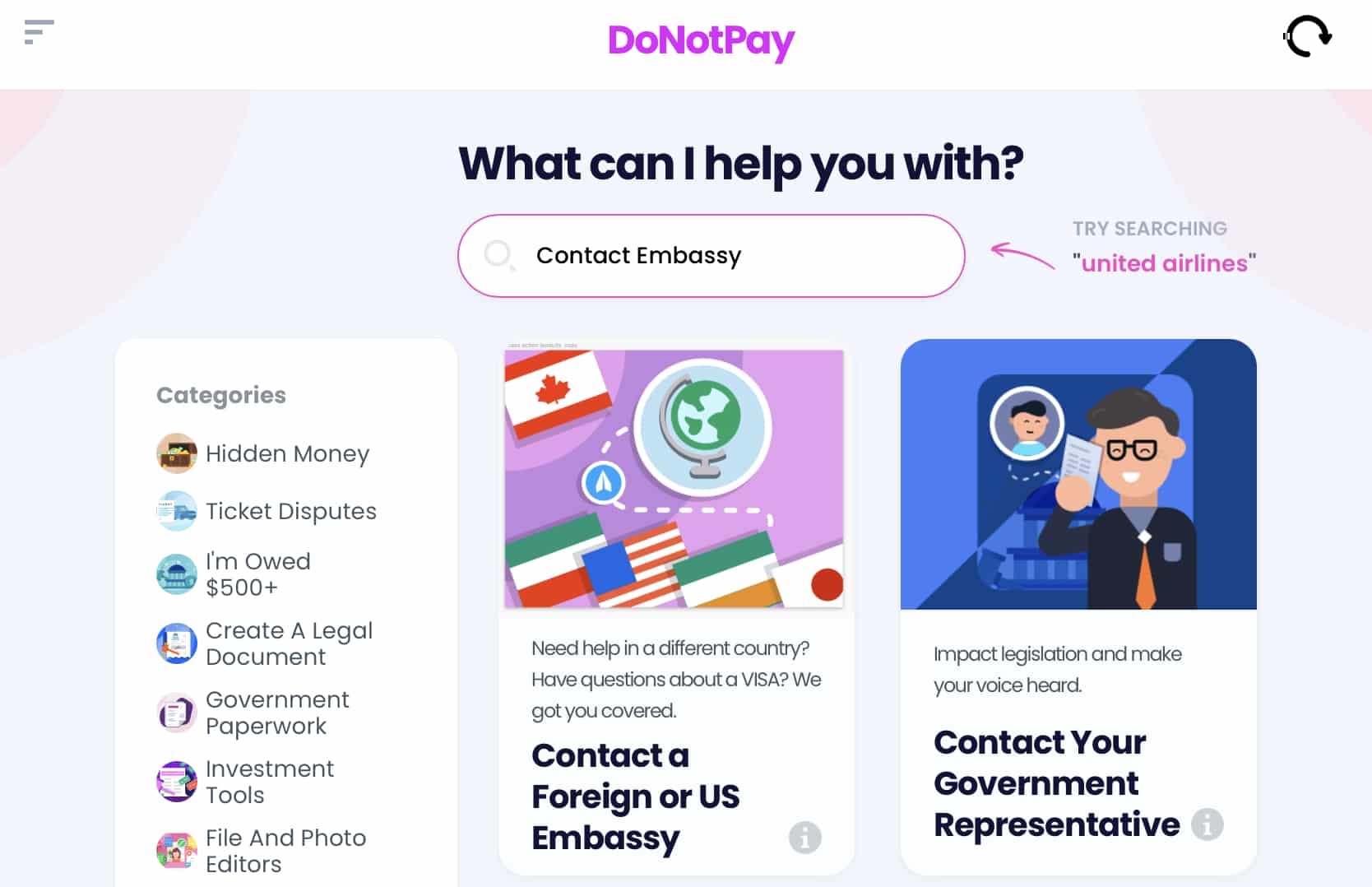 2. Choose if you want to contact a foreign embassy or consulate in the U.S. or a U.S. embassy or consulate abroad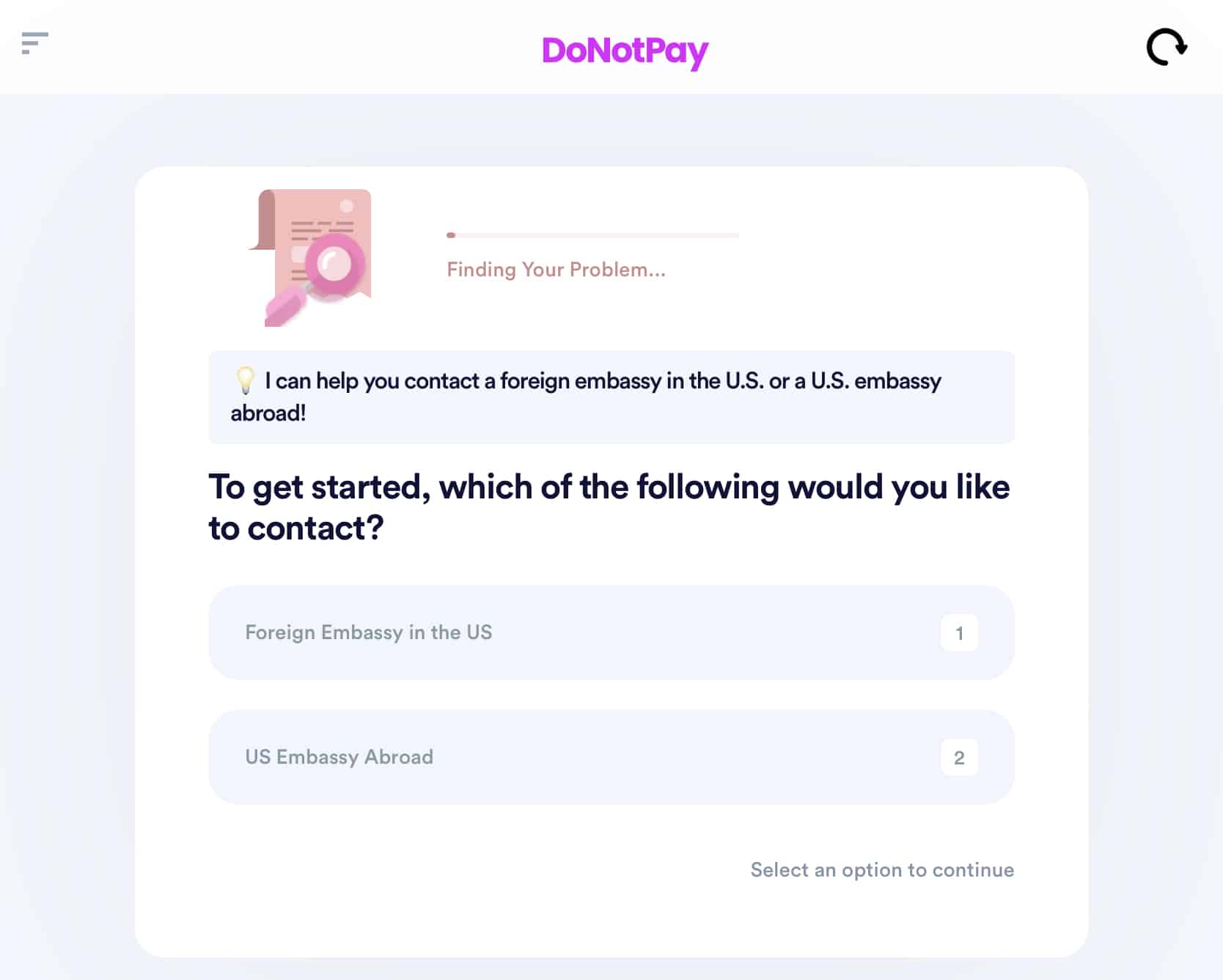 3. Explain your issue and any questions you may have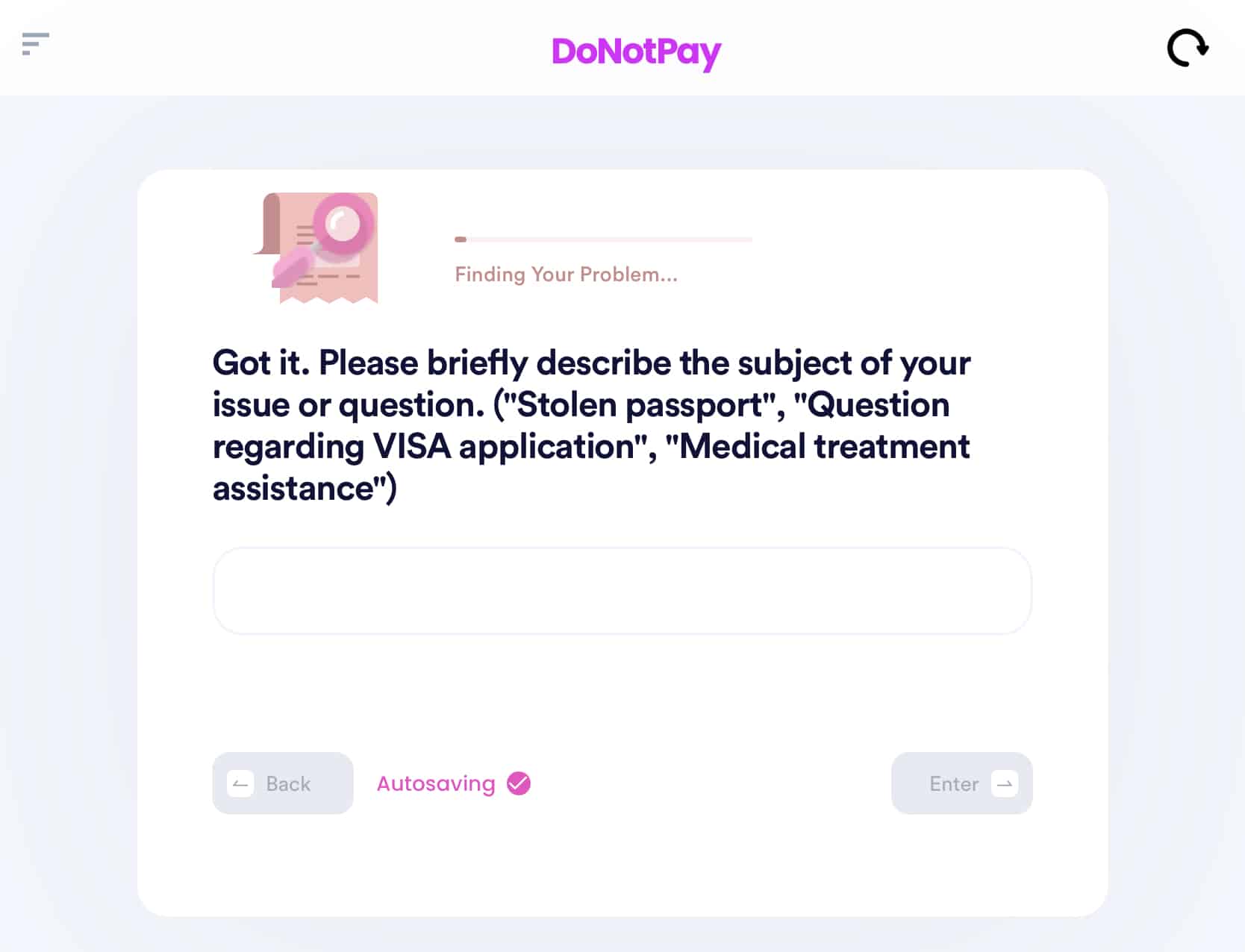 4. Tell DoNotPay which embassy or consulate you want to contact by typing in the City/County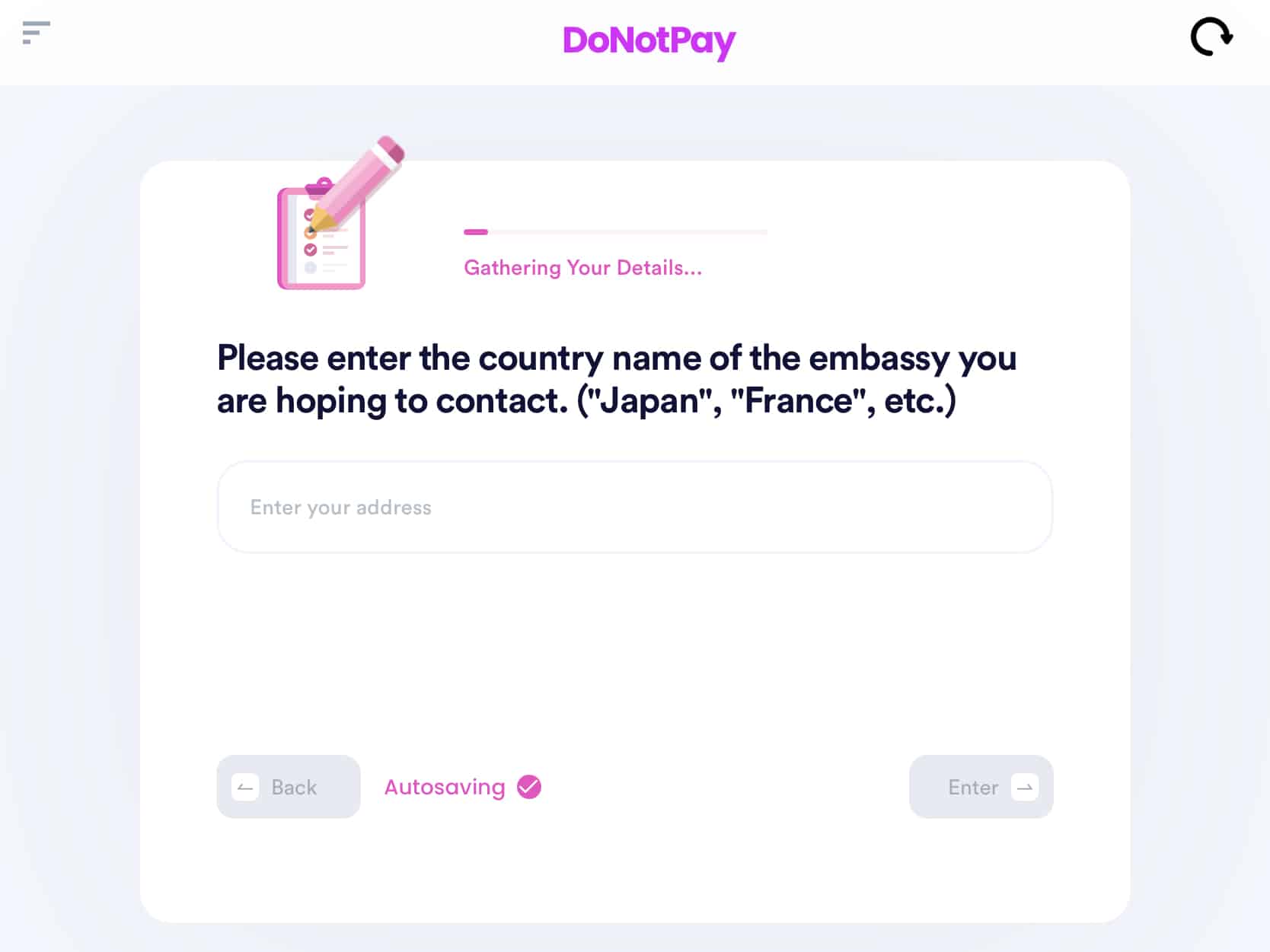 That's it, you're done! You can expect a direct response from the Consulate of Brazil in Boston about your issue by email.
Who Else Can DoNotPay Help You Contact?
Chinese Consulate (

Los Angeles

,

Chicago

,

New York

)
Philippine Consulate (Los Angeles, San Francisco, New York)
Nigerian Embassy (

Atlanta

)
Russian Embassy (

Washington D.C.

)
Indian Embassy (

New York

,

Chicago

,

Houston

)
Brazillian Consulate (

Miami

)