Anonymous Virtual Credit Card—Better Safe Than Sorry
By the end of September 2019, there were over 5,100 data breaches exposing almost eight billion records! Compared to 2018, that was an increase of 112%! It is no wonder that people have become extremely cautious about who they are providing their personal information to. Canva's data breach exposed 139 million records and Capital One's exposed 106 million records—this just goes to show that the size of the company plays no part in how safe your data is.
Enter anonymous virtual credit cards. Many third-party companies like DoNotPay and major financial institutions started providing virtual credit card services (VCC) to mitigate the issue of data theft. VCCs are randomly generated and do an incredible job of hiding and protecting your personal information. DoNotPay's Free Trial Card, for example, does not allow unauthorized charges—such as subscription auto-renewals—to your account.
What Are Anonymous Virtual Credit Cards, and How Do They Work?

Virtual credit cards were created with the intent of making your personal information perfectly secure. Anonymity plays a crucial role in this process, as virtual card numbers—as well as security codes and expiration dates—are randomly generated. DoNotPay's Free Trial Card even provides you with a temporary email address to prevent email spam and scam attempts.
Apart from hiding your real information, virtual credit cards can be tied to a single transaction or merchant, and even have a maximum charge limit set up by you!
Virtual credit card issuers generate a random account number and a new token that is used to verify a given transaction. After the verification process is over, VCCs stop being valid, thus preventing retailers and service providers from charging your account further.
Nowadays, a lot of third-party companies and major banks issue virtual credit cards to their users.
Unlike static credit cards that contain permanent information that is susceptible to data breaches, virtual credit cards mask your real information, keeping you protected from identity theft!
What About Static Anonymous Credit Cards?
If the prospect of a virtual credit card does not work for you, it is worth knowing that anonymous credit cards exist, but they are a bit of rarity. You can get a hold of an anonymous static credit card two ways:
Purchase a prepaid card with cash and use it for online payments
Get an anonymous credit card directly from the issuer
Prepaid Cards as Anonymous Credit Cards
Yes, you can use a purchasable prepaid card provided by Visa, Mastercard, and American Express, as an anonymous credit card. Though this is a viable option, keep in mind that they can only be used for purchasing services and not products. To order a product, you need to provide the merchant with a shipping address.
Another thing that is worth mentioning is that you should try to purchase a non-reloadable prepaid card. Reloadable cards include actual credit, meaning that you will have to use your social security number to activate them.
To activate a non-reloadable prepaid card, you will have to provide your name and address for the AVS check, but that information will never get verified. Activation fees are a real thing, but they rarely cost more than $7.
Prepaid cards do come with a few restrictions. You cannot:
Withdraw cash from them
Purchase services from non-US merchants
Use them for recurring monthly payments
For registration purposes, if you want to remain completely anonymous, use the Tor browser. Tor is an onion routing implementation that anonymizes digital communications. It would be smart to use Tor even when you are making online purchases.
Anonymous Credit Card Issuers
Though it is fairly rare, some international banks issue anonymous credit cards. Some of them are:
Visa Anonymous Cards
Visa Infinite Offshore
Centurion Cards
American Express
Visa Premier Offshore
These anonymous international cards are in Euros. With them, you can withdraw cash 24/7 wherever you may be in the world. Best of all, some of these cards do not even require you to have or open a bank account! This is a perfect solution for those who are frequently on the go, traveling the world—because they can get instant access to their funds.
What Makes DoNotPay's Virtual Card So Special?

DoNotPay's virtual credit card does an awesome job of keeping your personal information protected. We do not even ask you to link your physical credit or debit card with our virtual one. You are free to take any available billing address, security code, and expiration date to use for your new virtual card.
Our Free Trial Card is always linked to a single transaction and cannot be used for other purposes and with other merchants. When the transaction gets authorized and completed, the virtual card ceases to be valid, thus preventing the provider from charging your account with fees you did not agree upon!
Since your safety means the world to us, we will even generate a temporary email address for you. The idea behind this is to stop shady merchants from putting your real email address on marketing lists and bother you. Your fake new email address will automatically forward messages to your genuine one.
To get access to our virtual credit card services, simply open DoNotPay through a .
As a brief reminder, here are the things our Free Trial Card can do for you:
Create a new virtual credit card number
Automatically approve billing pages and free trials
Stop unauthorized charges to your account
Cancel unused subscription on your behalf
Anonymous Virtual Credit Cards—For or Against?
Given how much DoNotPay can do in terms of data security, we believe that, despite their drawbacks, virtual credit cards are a must-have in today's world.
Here are the most notable upsides and downsides of anonymous virtual credit cards:
| | |
| --- | --- |
| Upsides | Downsides |
| You can set a maximum charge limit on your virtual credit card | You cannot use a virtual credit card for cash withdrawal |
| You can lock a virtual card to a single online retailer | There is a chance that you will have to manually enable eCommerce services on your VCC |
| Even if a website gets hacked, your personal information remains protected | You can only purchase services online |
| VCCs like DoNotPay's Free Trial Card stop free trials from turning into paid subscriptions | |
| You can set up a recurring monthly payment plan with a virtual credit card | |
What Can You Use Your Anonymous Virtual Credit Card For?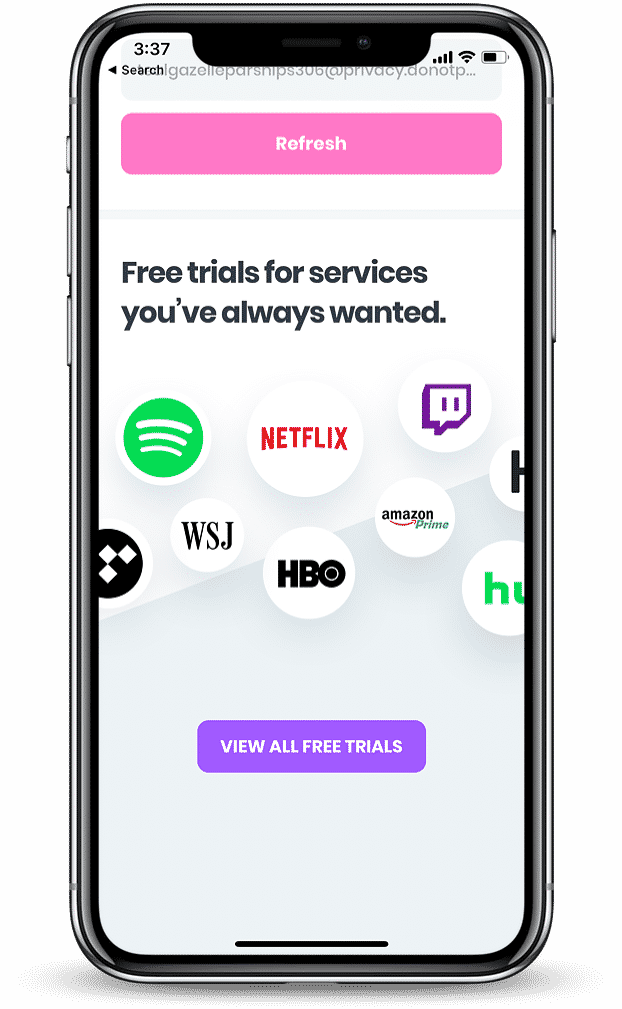 Because VCCs are so flexible and convenient to use, there are many ways to utilize their unique features. Making safe transactions is certainly one of them, but people also use VCCs for:
Locking their virtual credit card to a single online merchant
Preventing free trials from becoming unauthorized paid subscriptions
Setting a maximum charge limit on their virtual credit card
Only a Single Merchant Can Charge Your Account
A lot of people use virtual credit cards for setting up a payment plan with a single merchant. If you are used to ordering products from an online store you trust, this feature can save you a ton of time and effort. Even if a hacker gets access to your card information, he or she will not be able to do anything with it, let alone charge your account!
Stop Unauthorized Charges
DoNotPay's Free Trial Card makes unauthorized auto-renewals a thing of the past. How many times have you fallen victim to alleged free trials? The company offers you a month to test their services without informing you that your free trial will result in a paid subscription if you do not manually unsubscribe. You can use our virtual credit card to prevent this from happening. We will generate a random card number for you and authorize the transaction, but as soon as the provider tries to charge your account, we will prevent them from doing so. Here are some of the services you can sign up for with our Free Trial Card:
ESPN Go
Jira
Amazon Prime
Netflix
HBO
Showtime
Adobe
Hulu
Twitch
Putting a Limit on Your Spending
Virtual credit cards are a great solution for unexpected charges appearing on your credit card statement. You can set up a maximum charge limit that will prevent fraudulent merchants from overcharging your account. Even in cases of a data breach, your balance will be protected from unauthorized overcharges!
Do Physical Credit Cards Still Sound Like a Better Option?
In case you are still wondering why you should not just use your static credit card for online payments, let us make a case for the DoNotPay virtual credit cards by directly comparing them to their physical counterparts:
| | |
| --- | --- |
| Static credit cards | DoNotPay virtual credit cards |
| Credit cards can lose you hundreds of dollars each year | DoNotPay VCCs make sure that you lose $0 |
| Credit cards reveal your personal information | DoNotPay VCCs keep your personal information well protected |
| Data breaches compromise your credit card information | DoNotPay VCCs are resilient to data breaches |
| Unauthorized charges such as subscription auto-renewals happen | DoNotPay VCCs prevents unauthorized charges from occurring |
Where To Look for Anonymous Virtual Credit Cards?

Given the state of data security in previous years, anonymous virtual credit cards have become easy to get a hold of. Many credit card issuers and third-party companies provide these types of services, mostly for free! If you have made your mind up about using a virtual credit card, these are the organizations to turn to:
| | |
| --- | --- |
| Virtual credit card issuer | What the service entails |
| | DoNotPay's Free Trial Card is the perfect solution for unauthorized monthly subscription charges. Free trials are meant to be free, and DoNotPay's virtual card makes sure that they are. Our app prevents auto-renewals and cancels unused subscriptions on your behalf. |
| Ezzocard | Ezzocard is a popular virtual credit card solution. The issuer allows you to set an international address on your account, and make worldwide purchases with it. Each Green Card is valid for six months, so you can even use it for ongoing subscriptions. Most importantly, there are no processing fees to worry about. |
| | All Capital One personal card holders have access to Eno, the digital assistant. Eno can be installed as a web browser plugin and used for generating virtual account numbers. You can set whichever nickname you want, expiration date, CVV number, etc. The only thing you cannot do is set a maximum charge limit. During check out, Eno will automatically ask you if you want to create a new virtual credit card for the upcoming transaction. |
| Citibank | If you are a Citibank cardholder, you have access to the bank's virtual credit card services. All you have to do is log in to your account and click on Enroll. Keep in mind that Citibank's virtual credit cards are short-term solutions, and they cannot be used for recurring monthly payments such as subscription renewals. |
Anonymous Virtual Credit Cards Versus Mobile Wallets
Mobile wallets, or e-wallets, serve the same purposes as virtual credit cards. They are digital applications that you install on your device and use as a replacement for your traditional wallet.
Mobile wallets keep your personal information well protected, but you need to link your credit or debit card with them. What separates e-wallets from VCCs is the fact that you can use your digital wallet to purchase products in brick and mortar stores (if the store supports payments via mobile wallets). Also, unlike VCCs, mobile wallets can be used for storing additional documentation such as driver's licenses and loyalty cards.
Probably the biggest downside of digital wallets, apart from not being widely accepted, is that they are highly dependent on the devices they are installed on. Your phone or tablet needs to be charged and with you at all times if you want to be able to use your mobile wallet.
Let us put these two implementations side by side to better understand their differences:
| | |
| --- | --- |
| Mobile wallets | Virtual credit cards |
| Can be used for both online and offline purchases | Can be used only for online purchases |
| Support storing additional documentation such as driver's licenses | Do not store additional documentation |
| Not yet widely accepted | Widely accepted for online purchases as physical credit cards |
| Include processing fees | No processing fees are charged to the user |
| Usually, they are linked to your credit or debit card | DoNotPay's Free Trial Card is not linked to your credit or debit card |
Upsides of Mobile Wallets
Regardless of a few shortcomings, mobile wallets are a neat invention that is extremely convenient to utilize. Using an e-wallet comes with the following benefits:
You can make offline and online payments with mobile wallets
You can withdraw cash from your mobile wallet
You can verify a transaction via a PIN code or your device's biometrics
You can store additional documentation on your mobile wallet
Downsides of Mobile Wallets
Even though mobile wallets are super convenient to use and offer a ton of useful features, they come with a few drawbacks:
E-wallets are not widely accepted so you will not be able to make purchases in every store
The device you are using your mobile wallet on has to be with you all the time and fully charged
Because mobile wallet issuers tend to charge processing fees, in some cases, using a credit card can be cheaper
Upsides of Virtual Credit Cards
VCCs make online purchases incredibly easy and safe. Here are some of the things you will be able to rely on:
Every online retailer that supports credit card payment accepts VCC payments as well
You can set a maximum charge limit on your virtual credit card
You can lock your virtual credit card to a single online merchant
VCC issuers do not charge additional processing fees
You can use a VCC to set up a recurring monthly payment plan
You can use a virtual credit card for preventing subscription auto-renewal
Downsides of Virtual Credit Cards
Though it may seem like it at first glance, virtual credit cards are not flawless. Before settling for VCC services, take the following downsides into consideration:
You cannot use a virtual credit card for offline payments
Some VCC issuers do not automatically enable eCommerce services, so you will have to do that manually
You cannot withdraw cash from your virtual account
DoNotPay Is Your Ultimate Digital Assistant

We care about your safety, but we also care about your precious time. DoNotPay does not only provide virtual credit card services. Our app acts as a digital assistant that can help you with many stressful chores such as:
Disputing traffic tickets
Fighting speeding tickets