How to Sign Up for a Zapier Free Trial Without Giving Credit Card Information

Zapier is an automation tool that users can access online to connect their apps and services to automate repetitive tasks and save precious staff time.  Zapier accomplishes this without coding or requiring developers to build an integration interface. Consumers appreciate  that allows them to test drive the platform before committing to purchase services.
Does Zapier Offer a Free Trial?
Yes. The free trial lasts 14 days. If you haven't had the opportunity to use the  during the 14 days, users may request an extension from Zapier's customer support.
Zapier has both premium apps and free apps. During the free trial period, users have access to premium apps, such as PayPal and Facebook Lead Ads. They also have access to paid app features, such as:
Multistep apps for workflows with more than 30 steps;
Up to 1,000 tasks during the 14-day free trial period; and
Zaps that run more than two minutes (not instant).
The free trial is similar to the Zapier paid professional plan but has fewer tasks and does not support auto replay. When the free trial ends, Zapier automatically downgrades the user's account to the free basic plan unless the user elects to buy one of the paid plans. The free plan may pause multi-step Zaps, premium Zaps, and Zaps with paths created during the free trial.
Users may cancel, downgrade, or upgrade a subscription to Zapier at any time. If a user downgrades their plan, then any features that only apply with a paid plan will turn off immediately.
How Can I Get a Zapier Free Trial?
Users automatically get a free trial when they create a Zapier account. Setting up a free trial is an easy four-step process:
Create a Zapier account by signing in with a Google, Facebook, or Microsoft account or through your professional email.
Zapier then provides the user with workflow recommendations based on apps the user selects, such as Gmail or Mail Chimp, Zapier Formatter, Slack or any of the other 3000 apps listed.
Create a personalized workflow.
Begin automating!
The setup is easy because Zapier requires no coding. You do not need to provide your personal banking information when signing up for the free trial. The user's account stays free forever with basic options unless they elect to upgrade to a paid plan.
How Much Does Zapier Cost After the Trial?
Zapier has plans that are set forth in the chart below:
Plan
Price
Task per Month
Basic
Free
100
Starter
$29 per month, or $240 paid annually
750
$39 per month, or $468 paid annually
1500
Professional
$73 per month, or $588 if paid annually
2,000
Team Plan
$448.50 per month, or $299 paid annually
50,000
Company Plan
$898.50 per month, or $599 paid annually
100,000
The Professional, Teams and Company plans have additional options up to 2 million tasks per month available at increasingly higher prices. To view additional information on pricing and plan features, visit the website's pricing page.
Avoid Automatic Subscription Renewals With DoNotPay's Virtual Credit Card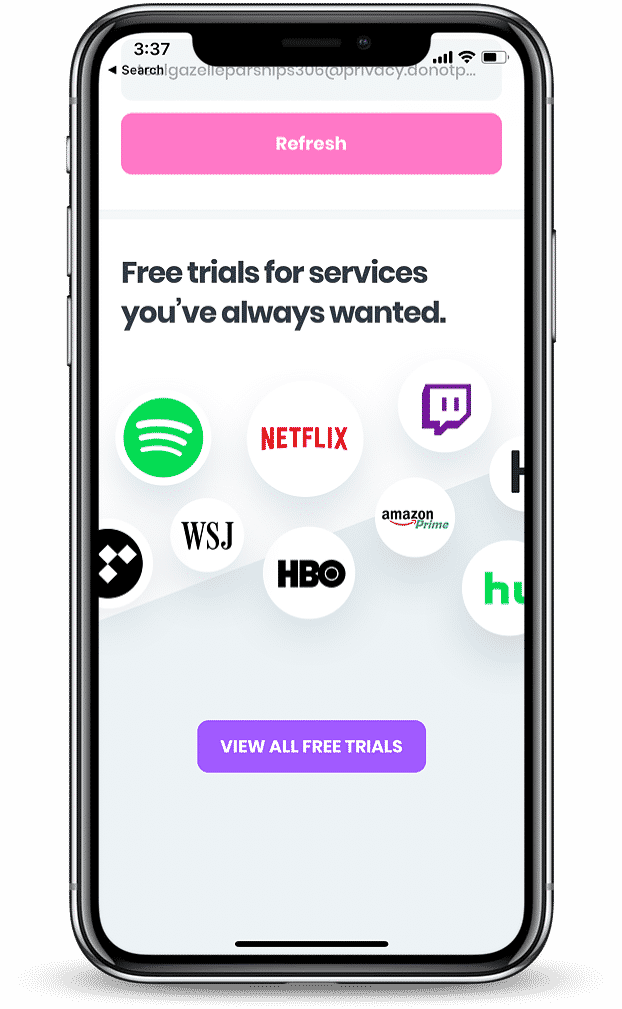 It comes as no surprise to learn that people often forget to cancel free trials. The free trial ends and the service automatically charges the customer's credit card for the renewal. Unfortunately, the consumer ends up paying for a service they do not want or need.
Unlike Zapier whose free trial account becomes a free basic account when the free trial expires, many companies count on the fact that busy people forget to cancel trial periods. They count on automatic renewals to increase profits.
Savvy consumers know how to avoid automatic renewals of other services with DoNotPay's virtual credit cards. The last thing consumers need to do is provide their personal banking information in order to obtain a free trial.
Here's how it works:
DoNotPay's virtual credit card feature generates a random number and credit card information that users may input to subscribe to any service.
After the free trial expires, the company cannot charge the consumer for a renewal because there is no money associated with the virtual credit card.
The trial service then automatically unsubscribes the user.
The free virtual credit card from DoNotPay is one way that consumers can protect themselves against deceptive practices by companies charging free trial users.
What Else Can DoNotPay Do to Make Your Life Easier?

DoNotPay can solve more Zapier-related issues, like helping you understand Zapier's terms of service or canceling your Zapier subscription.
You can also ask DoNotPay to help you with almost any consumer issue. Check out the topics below:
Visit DoNotPay today. Check out the possibilities and learn how this innovative and automated website can answer your consumer questions.