Learn How To Cancel Zapier in a Few Steps
Zapier is an online tool that allows its users to connect to their favorite apps such as Gmail, Slack, and more. If you don't need Zapier's automation services anymore, you can always cancel your subscription. Do it with ease using DoNotPay!
Learn how our app can help you cancel any subscription in an instant!
How To Cancel Zapier
Canceling your Zapier membership is possible in the following ways:
| | |
| --- | --- |
| Can You Cancel Via | Yes/No |
| DoNotPay | Yes |
| Phone | No |
| Company Website | Yes |
| Letter | No |
| In Person | No |
| Email | No |
How To Cancel Zapier by Yourself
If you want to cancel your Zapier subscription the hard way, you can do it via the company's website. To do so, you will have to downgrade your paid account to the free version. Here's how you can do it:
Go to the Zapier

pricing plans

page

Choose

Free account

Follow the on-screen instructions provided by Zapier and complete the downgrade
How To Delete Your Zapier Account
In case you want to delete your Zapier account, follow these steps:
Go to the

delete account settings page

Click on

Confirm it's you

Navigate to the

Permanently delete my account

section

Verify your email address

Find the

Confirm you want to delete your account

field

Type in and enter

DELETE

in all caps

Click

Delete my account(s)
Zapier's Cancellation and Refund Policy
After downgrading your Zapier account to the free version, any unused time from that billing period will remain usable. If you decide to re-join a paid plan, it will cost you less, depending on how much time you have left from your previous billing period.
Zapier also offers refunds in specific situations:
How To Cancel Zapier With Ease Using DoNotPay

Save yourself some trouble when canceling Zapier, and let our app do all the work for you. DoNotPay is the safest and the most efficient option you can choose when canceling any service. To cancel Zapier, follow the next steps:
Select

Find Hidden Money

Type Zapier in the search bar
DoNotPay will then cancel your membership, and you'll receive a confirmation email once the process is complete.
Our app can also help you with canceling other subscriptions:
Is Zapier Being Difficult? DoNotPay Can Help!
In case Zapier has abused your consumer rights or wronged you in any way, DoNotPay can help you out! Our AI-driven app has been recognized by the American Bar Association's Louis M. Brown Award for Legal Access and can help you sue the company in small claims court. DoNotPay can do all the work for you and will:
Fill out all the necessary court forms

Write a formal demand letter

File your complaint

Deal with all the paperwork

Teach you how to present the facts in court and help you win the case
Our app can help you sue other companies too, including:
Alternatives to Zapier
If you still want automation services but don't want to use Zapier, you can check out the alternative options:
Company
Pricing

Benefits

Integromat

Starting at $9/mo

Provides detailed information about each execution

Offers unique error handlers

Automate

Going from $9/mo to $319/mo

Is simple and intuitive to use

Has numerous supported apps

Microsoft Flow

Ranging from $15/mo to $500/mo

Includes robotic process automation

Enhances your workflows with AI builder
How To Enjoy Free Trials Safely With DoNotPay's Virtual Credit Card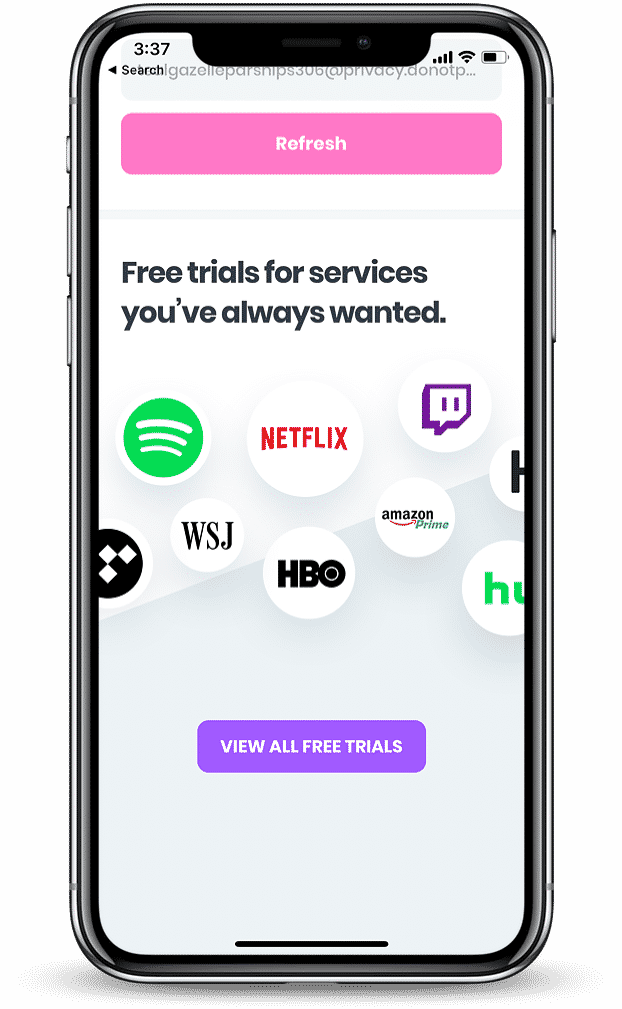 Free trials that let you try out a company's service are becoming rarer. Companies that offer trials usually auto-renew them, and then they charge you for memberships that you've never even signed up for.
You can prevent this from happening to you by using DoNotPay's virtual credit card!
Our app will provide you with a randomly generated credit card number that you can use to subscribe to various free trials. After the trial period is over, you won't be charged as the virtual credit card has no funds, and your wallet will remain intact.
and avoid auto-renewal charges!
Let DoNotPay Manage Your Subscriptions
Did you know that Americans spend $238 a month on subscription-based services, some of which they don't even use? That's a lot of money that you can save with the help of DoNotPay.
You just have to link your bank account or email address with our app, and managing your subscriptions will become a breeze. DoNotPay will show you which memberships you spend money on by finding all of the active ones in your name. Then, it's up to you to choose which ones you want to cancel and which ones you want to keep.
Learn About DoNotPay's Awesome Products!
DoNotPay is a multifunctional app that can solve numerous everyday challenges swiftly.
You can use our app to protect your work from copyright violations, schedule your driving exam or any other appointment with the DMV, reduce your property taxes in a few steps, and similar.
We have created many useful products to help our users take care of their issues through the same app. With us, you can:
DoNotPay Connects You With Your Loved Ones
Sending letters to inmates can be difficult since you have to follow certain rules to a T to avoid having your letter rejected. The situation is even more complicated if you don't know where your incarcerated loved one serves time. DoNotPay's app can help you locate prisoners and correspond with them without worrying whether you're breaking any rules.
Do you want to send a letter, but you don't feel like heading over to a post office? By using our mailing service, you can mail as many letters as you want from the comfort of your home. With DoNotPay, you can also send online faxes in under five minutes!
Email and text spam is something that everyone experiences at least once in their lives. DoNotPay has a solution for that too. Access your DoNotPay account and count on us to help you block spam and get compensation by reporting pesky robocalls.