How to Start an Xfinity Free Trial With a Virtual Credit Card

Xfinity is a child-brand under Comcast, the vast media and signal provider. Xfinity is known for providing high-speed internet, phone, home security, and digital television. Many households build their entire media and signal package with Xfinity. It is considered both an essential services and entertainment brand. Whether you're looking to get a new cable internet line to your house, or want to try out the smart TV features, saving money is always the right idea.
How can you get anfor one or more of the Xfinity product lines? The fact of the matter is that, with Xfinity, free trial deals come and go. But the 30-day money-back guarantee is forever. DoNotPay is here to help you make the most of your Xfinity trial period to decide if you want to pay - and to avoid paying if you are not satisfied.
Does Xfinity Offer a Free Trial?
Here, we'll cover three main points.
Money-Back Guarantee
Xfinity TV Free Trial
Channel Free Trials
Xfinity is a well-established company with millions of customers, but they do not have a standard free trial package for any of their four service categories. Promotional free trials may come and go, but what they do have is a money-back guarantee that applies to all their products. If you are dissatisfied within the first 30 days of your service, cancel any time within that span and your first-month charges will be reversed.
The Xfinity 30-Day Money-Back Guarantee
Xfinity's guarantee covers at least four points:
Internet Plans
Television Packages
Phone Plans
Home Security Services
The 30-day money-back guarantee is a classic move for a large company. For internet, television, phone and home security, you can have your money back if you don't want to continue during the first month of service. This is a great deal for many people who want to try out Xfinity services but aren't sure about the right fit for their needs.
This money-back guarantee is also a great way to almost have an Xfinity free trial without offering free service time to happy customers who will stay with the brand. Cancel your Xfinity account at any time during the first 30 days of service to get your money back.
The Xfinity Instant TV Free Trial - 1 Month
Sometimes, there is a free trial available for Xfinity Instant TV. When this happens, it is a 1-month free trial in which all the core content is available for free exploration. However, this free trial does have limitations built-in.
While enjoying your 1-month Xfinity TV free trial, you will not be able to add new content for free and you will find some of your selection limited from a full-featured subscription account.
Individual Channel Free Trials - 7 Days Each
Within Xfinity television, you can choose from dozens of channels to add to your content library. Some channels are free, and some offer a free trial. With this free trial, you can spend some limited time exploring a new channel without paying an extra cost on your monthly television subscription. From there, you can unsubscribe to cancel the free trial (and charges) or accept a slightly higher cost per month per channel you add when the free trial concludes.
How Can I Get an Xfinity Free Trial?
To take advantage of the Xfinity free trial in the form of the 30-day money-back guarantee, you will need to cancel your Xfinity account at exactly the right moment. In other words, if you want the time to be free, you must cancel your service within the first month.
The only way to get free trial time is to start a new account and then cancel it. The process goes like this:
Open a new Xfinity customer account
Subscribe to one or more Xfinity services
Wait to cancel until after Day 25
Cancel on-time to get your money back
Does the Xfinity Free Trial Automatically Renew Into a Paid Subscription?
Yes, absolutely. The Xfinity subscription model is designed to flow from one payment to the next. Officially, you pay for services up front, so the free trial is only free if you cancel in the right amount of time. Otherwise, you will pay for the first month, then the second month, and so on until you do cancel the account.
When you cancel on a month you have paid subscription, you will have access to your Xfinity services until the end of the month.
How DoNotPay can Help You Save Money on an Xfinity Free Trial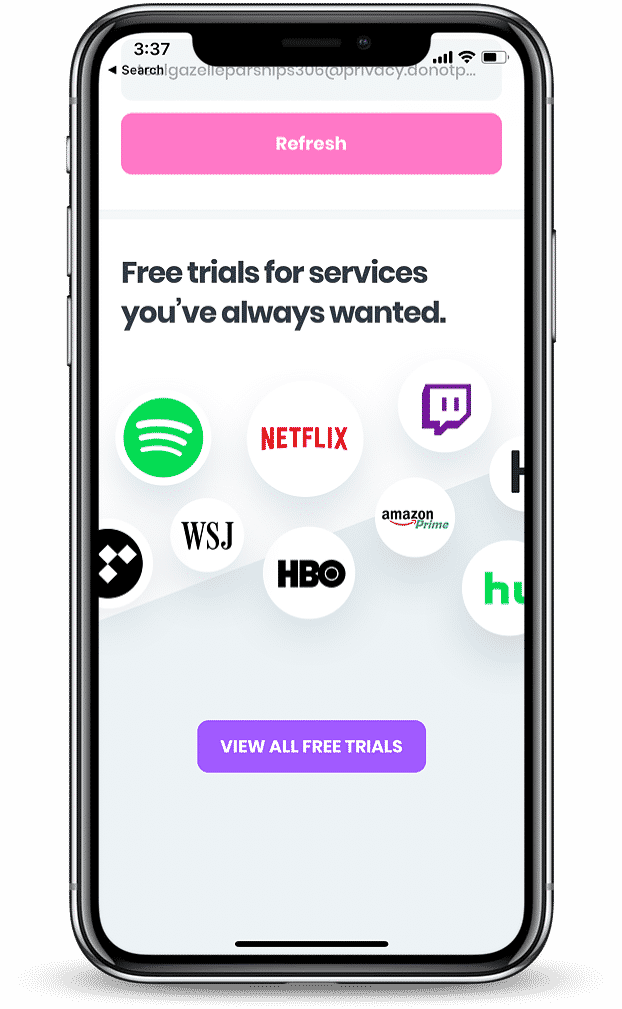 With DoNotPay you can:
Cancel Xfinity
Contact Xfinity customer service
Get Xfinity refunds
Use virtual credit cards to sign up for trials so you never get charged for them
Trying out Xfinity for free is tricky business. You will need to be fast on the cancellation call at the end of your first month to get the true value of your trial period with Xfinity. If you are certain you don't want to continue with your subscribed service, DoNotPay can help make sure you cancel successfully, on time, and get your money back.
Need to cancel your Xfinity plan right now? We can do that for you. Let us know and we'll take care of the customer service hassle of getting it done fast. This way, you can be sure your cancellation gets in before the final hour on your money-back window.
Need to talk to Xfinity customer service about something, but keep getting hold music? DoNotPay can cut through the red tape and make sure your issue is addressed as soon as possible so you can make the right subscription decision.
Need a refund on your last Xfinity charge? DoNotPay will take on haggling with company reps about why and how much to get you that refund.
Last but not least, if you do see an opportunity for an Xfinity free trial, you can make use of our Virtual Credit Card product to avoid giving your personal financial information. Instead, the free virtual credit card can be entered when you register, but will not allow you to be charged when the end of your free trial rolls around.
How Much Does Xfinity Cost After the Trial?
If you don't cancel your Xfinity account within the first 30 days, how much could it cost you? Xfinity has a wide range of services, so prices may vary. The services you picked during account creation will determine the price you are not refunded and then charged each month should you not cancel during the refund period.
| | |
| --- | --- |
| Service: | Price: |
| Xfinity Internet | $30 - $300 /mo |
| Xfinity Instant TV | $20 - $90 /mo |
| Xfinity Phone Plans | $30 - $35 /mo |
| Xfinity Home Security | $50 - $60 /mo |
What Else Can DoNotPay Do?

DoNotPay can help you in more ways than just managing free trials and account cancellations. We have enough tools and services to keep any size community busy taking care of long-forgotten checklist items. Let us help you with those old parking tickets or notarize a document. We've got you covered.