How to Start a Wix Trial in a Flash

Wix is a popular website-building tool that allows you to create your web presence exactly as you would like it. While the site offers hundreds of templates and other resources for free, upgrading to a premium subscription will get you many more tools to work with. And getting a risk-free is now easier than you might expect. 
Does Wix Offer a Free Trial?
 of its Premium plan. If you opt for a free trial, you can use Wix's premium features for 14 days before committing to paying for them. There are a couple of specifications that are important to keep in mind when it comes to this free trial:
When upgrading from one Premium plan to another, the new upgrade is not considered an "initial purchase." You will not receive a refund unless you cancel your plan within the 14 -day trial period of the original purchase.
The 14-day trial period does not apply to domain names, mailboxes, Wix Email Marketing Premium Plans, or App Market purchases. It only applies to Premium plan purchases.
How Can I Get a Wix Premium Free Trial?
If you already have a free Wix account, you can request a free 14-day free Premium trial by opting to change your plan. When you do that, you will be prompted to enter your payment information.
Does the Wix Premium Free Trial Automatically Renew Into a Paid Subscription?
If you do not cancel your Premium free trial within 14 days, it will automatically become a paid subscription. If you fail to cancel your Wix subscription within 14 days and are charged for Premium service but feel that you deserve a refund, you can submit a refund request to Wix to have them consider it.
Getting refunds can often be a hassle, however, and your request may not go as smoothly as you would like. In that case, DoNotPay can help you request a refund from Wix as well. 
Avoid Automatic Renewal With DoNotPay Virtual Credit Card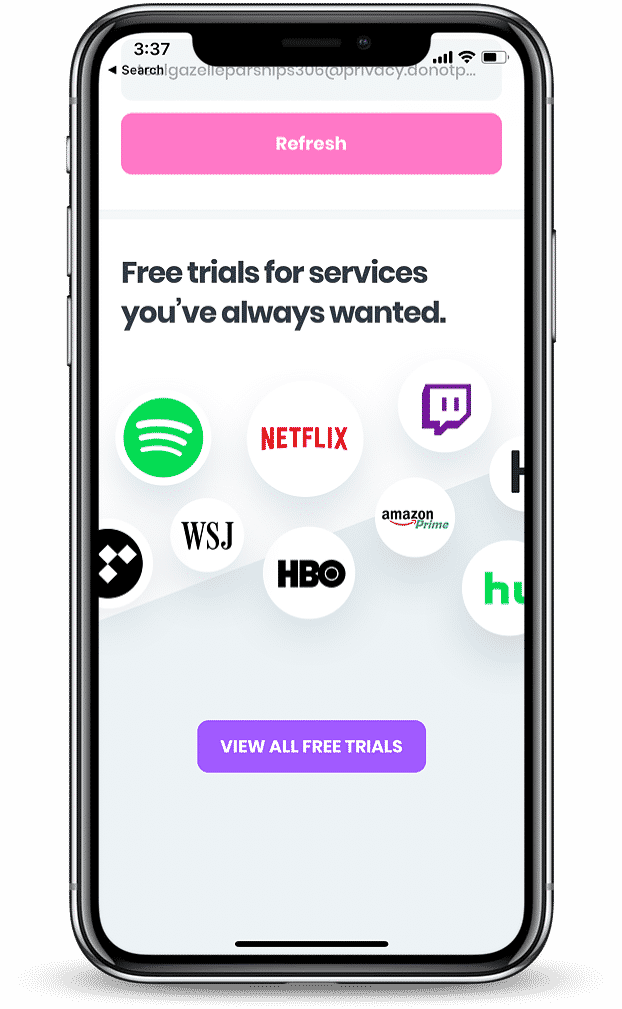 Free trials can seem like a great deal until you accidentally forget to cancel them. At that point, you're likely to end up shelling out monthly for a service you may not even want. Even worse, you may not even notice the charges on your credit card.
If you'd like to give the free Wix Premium trial a try but don't want to risk forgetting to cancel your Wix subscription and paying for it long-term, now you can sign up with a virtual credit card from DoNotPay. With the free virtual credit card, DoNotPay generates a random number and credit card information that you can use for trial subscriptions.
As soon as the free trial expires, you no longer have to worry about getting charged. There's no money on the card, so you're automatically unsubscribed. You can learn more about DoNotPay's virtual credit card service by checking our website.
How Much Does Wix Premium Cost After the Trial?
There are four main types of Premium Wix accounts that you can sign up for. They are priced as follows:
| | | |
| --- | --- | --- |
| Plans |  Costs | Best For |
| Combo | $14/month | Ideal for individuals |
|       2.  Unlimited | $18/month | For entrepreneurs and freelancers |
|       4.  VIP | $39/month | First Priority Support |
As you can see, failing to cancel one of these services could end up being quite costly, particularly if you don't notice the charges for months.
What Are the Most Popular Alternatives to Wix?
There are several other popular alternatives to Wix on the market. These include the following websites:
Squarespace
Squarespace is a popular site that allows you to create your own website. Customers who choose Squarespace are usually interested in using it for selling and marketing a product.
GoDaddy
GoDaddy also allows you to build a website using drag and drop tools. The most basic features are free, but doing anything truly useful with your site will often require payment.
Weebly
A third popular option is Weebly. Weebly allows you to create a basic website for free, although you will need to upgrade to do things like connect to a custom domain name or add customization.
What Else Can DoNotPay Do?
DoNotPay can do a lot more than just help you get a . DoNotPay can help you with almost anything! Including:
Disputing traffic tickets
Fighting speeding tickets
Give DoNotPay a try today to see all the different ways in which it can save you time and money. Your life just got a whole lot simpler.