What Is a Mailing Address? An In-Depth Guide To Letter Addressing
Sending letters by snail mail might seem complicated because there are many aspects you need to consider. Besides learning about the correct way to start, finish, and structure your formal and informal letters, you also have to:
Purchase enough stamps 

Pay attention to

labeling the letter

properly

Locate the closest USPS mailbox or post office
If you need to address the letter and you're wondering, "What is a mailing address and where should I write it?" you'll find our guide useful. 
Read our article to find out all about envelope labeling and learn how to mail letters and documents from the comfort of your home. Sign up for DoNotPay, upload your letter, and let us take care of everything!
What Does the Mailing Address Show?
A mailing address is an address where an individual, business, or organization receives letters, packages, and other mailpieces. For some people and businesses, the mailing address is the same as the physical one, while others prefer having a separate P.O. box. 
How To Format a Mailing Address 
The mailing address contains the recipient's info. You have to write it in the center of the front of the envelope and format it like this:
Where To Write
Informal Letters
Formal Letters

First line

Name

Title + name

Second line

Full street address—including the house or apartment number—or P.O. box details

Third line

City, state, and postal code
Do you want to send the letter to an individual in a company? Here's how the mailing address should look like:
ATTN: or c/o Title + name of the recipient

Company name

Street address of the company or P.O. box details

City, state, and postal code
When mailing letters internationally, you should check the addressing rules of the country you want to send mail to. In some countries, the postal code has to precede the street address. 
What Else Should a Correctly Labeled Envelope Include?
Other than the mailing address, your envelope should also include:
The

return address

in the top-left corner 

Postage stamps in the top-right corner 
The return address needs to contain your info, and your must format it like this:
First line

—name

Second line

—P.O. box details or your street address and the house or apartment number 

Third line

—city, state, and postal code

Fourth line (when sending letters overseas)

—USA
How To Determine the Number of Stamps You Need To Affix
You can determine how many stamps you need for a letter by calculating the postage price. To do so, you should:
Measure the envelope's:

Weight

Height

Length

Width

Enter those values in an online postage price calculator

Divide the mailing cost by the price of a Forever stamp (currently $0.55)
You can consult the following table to check how many stamps you need for a First Class Mail letter according to its weight:
| | | |
| --- | --- | --- |
| Weight of the First Class Mail Letter | Postage Price | Number of Stamps |
| One ounce | $0.55 | One Forever stamp |
| Two ounces | $0.75 | One Forever stamp + one Additional Ounce stamp |
| Three ounces | $0.95 | One Forever stamp + two Additional Ounce stamps |
What Postage Prices Should You Expect?
Mailing cost depends on the mail class you choose as well as the shape, weight, and dimensions of the envelope. The USPS prices change from time to time, which means that you should check the price list before heading over to the post office. 
At the time of writing this article, the USPS charges the following postage rates:
U.S. Postage Rates
International Postage Rates

First Class Mail Letter (standard rectangular envelopes)

—$0.55 for the first ounce and $0.20 for each additional ounce

First Class Mail Letter (square, oversized, and unusual envelopes)

—$0.75 and up

First Class Mail Flat

—$1 for the first ounce and $0.20 for every additional ounce

Priority Mail

—$7.16 and up

Priority Mail Express

—$22.75 and up

First Class Mail International

—$1.20

Priority Mail International

—$28.50 and up

Priority Mail Express International

—$45.95 and up

Global Express Guaranteed

—$67.80 and up
Don't Bother Addressing the Letter—Learn How To Send Mail Online With DoNotPay
If you'd like to send letters and documents by snail mail but find the enter process overly complicated and frustrating, you should rely on DoNotPay. 
We have developed a product that will make the mailing process quick and stress-free. You don't have to walk or drive to the post office or fret about the right addressing format because we will take care of everything for you.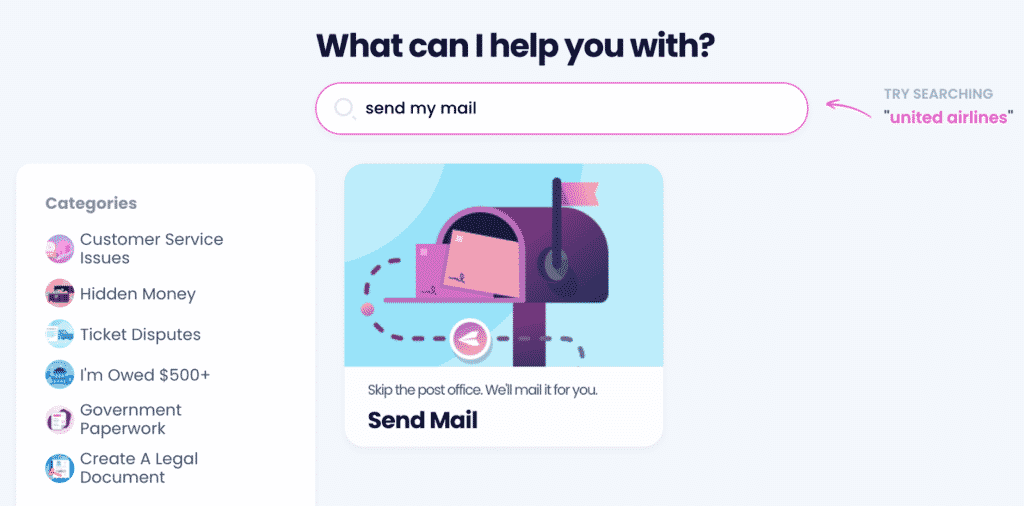 To mail your letters or documents in a matter of minutes, do the following:
Click on the

Send Mail

product

Respond to our questions 

Upload your letter
We will mail your letter automatically, and it will reach the recipient within seven business days.
Need To Draft a Legal Doc? DoNotPay Can Help You!
You can definitely use our Send Mail feature to deliver any legal doc to its recipient, but that is only the last step. 
Figuring out how to write even a simple contract can be a nightmare, and hiring a lawyer will likely burn a hole in your wallet. Still, you do need a professionally written document.
DoNotPay helps you:
Generate any

legal doc

you want

Send a physical copy of the document to any destination

Fax your documents

using only your phone
DoNotPay Keeps Your Data Safe
Our award-winning app is here to keep your info safe. 
Scammers everywhere are trying to get your personal info, but with DoNotPay's anti-spam tools, you can protect yourself from email, mail, and online spam, text spammers, and even get compensation for robocall scams. 
That's not all! You can use DoNotPay's virtual credit card to sign up for free trials without disclosing your credit card info. If a website asks for your phone number to verify your profile, our Burner Phone tool will protect your privacy!
DoNotPay's Cash-Saving Tools
Don't let greedy corporations get their fingers into your wallet! Let us introduce you to a super-simple way to manage your finances.
Your virtual assistant helps you: