Looking for a Rent Payment Letter Sample? We Can Help!
Is your tenant a few days late with his or her rent? While you can call to remind him or her to pay, a better option is to send a written notice via snail mail. If you're not sure how to compose the notice, one option is to search for a rent payment letter sample, but it's not your only choice. In this guide, you'll learn what to include in your unpaid rent demand notice and how to mail the letter in two minutes.
DoNotPay can take care of the postage stamps and help you send all of your letters without wasting time going to the post office!
How To Write a Letter Requesting Rent Payment
Before you start writing your demand letter for unpaid rent, you should review the lease agreement to ensure all the data is accurate. Try to be polite and to use short, straight-to-the-point sentences to avoid confusion. The letter should be formal since it can serve as evidence if you have to go to court.
Which Sections Should Your Rent Payment Letter Include?
When writing your demand letter, you should abide by specific formatting rules and include the following sections:
Sections

Explanation

Your info

Start a letter

by writing your: 

Name

Address

City, state, and postal code

Phone number (if the tenant has some questions and wants to contact you)

Date 

Include the date of writing the letter

The tenant's info

Write the tenant's:

Name

Street address and house or apartment number

City, state, and postal code

Formal greeting

Open the letter with "Dear" and follow up with the tenant's name. You should avoid the "Dear tenant" greeting as it is considered impersonal 

Body of letter 

Remind the tenant that he or she is late with the rent. Make sure to include the following info:

The exact date the rent was due 

Terms of the lease agreement

The section of the agreement that covers late payments

The amount that the tenant owes (include late fees if necessary)

The new due date for the total amount (rent + late fees) 

Formal closing

End the letter

with "Sincerely" or any other appropriate formal closing 

Signature

Sign the letter by hand and include the typed version of the signature as well

List of enclosures

Include this section if you decide to send a copy of the original lease agreement or any other document to the tenant 
Where To Find a Sample Demand Letter for Unpaid Rent
If you need some ideas about what to write in the body of the letter, you can find various samples online. Some of the most popular websites are pdfFiller, Lettercrank.com, and Word Templates Online.
A Guide to Addressing the Rent Payment Letter
Once you finish writing the letter, you should know how to label the envelope correctly to ensure the letter reaches the tenant. The front of the envelope should include:
Both the return and the tenant's addresses should look like this:
First row

—Name

Second row

—Street address, including the number of house or apartment 

Third row

—City, state, and ZIP code
How Much Does It Cost To Mail a Demand Letter for Unpaid Rent?
The price of postage depends on multiple factors, such as the mail class and the width, height, and length of the envelope. If your rent payment letter is one page long, it will probably fit the standard envelope, and it shouldn't weigh more than one pound. This means that you can send it via First Class Mail and pay $0.55 for one Forever stamp.
If you decide to include other documents and your envelope is heavier than one ounce, you will have to pay $0.20 for each additional ounce. 
Do You Need To Go to the Post Office To Send Mail?
While sending your rent payment letter via snail mail is a better solution than sending an email, going to the post office can be bothersome. Luckily, visiting the post office isn't the only choice you have. 
Would you like to avoid spending ages choosing the envelope, addressing the letter, buying stamps, and waiting in lines? We've got your back! Once you subscribe to DoNotPay, you'll be able to mail all your letters online in under five minutes. 
DoNotPay Saves Your Time! Rely on Us and Send Letters Quickly Online!
If you're annoyed by the whole mailing procedure, you should rely on DoNotPay. With our app, you can send letters in a few clicks from your preferred device, and here's how:
Pick our

Send Mail

product

Enter the recipient's info

Upload your letter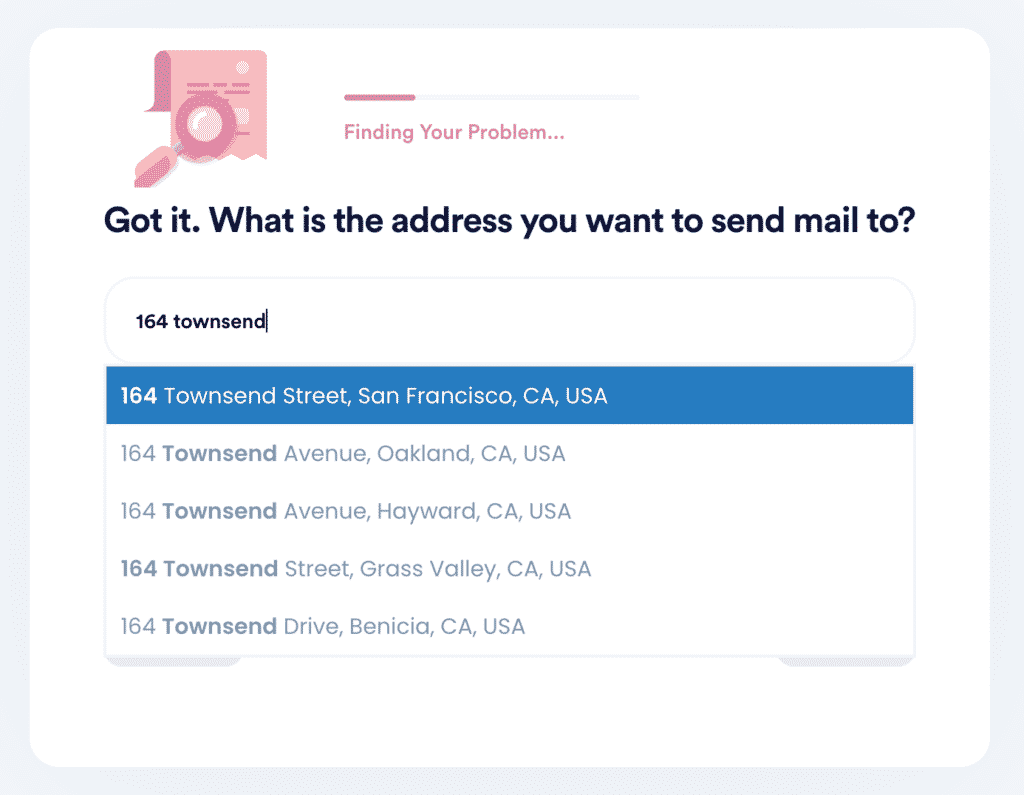 Once you upload your letter and hit the Submit button, we will take care of most of the annoying steps, including stamps and addressing. DoNotPay even enables you to track your mail by visiting the My Disputes page on your account. 
DoNotPay Is the Perfect Virtual Assistant
DoNotPay does so much more than speeding up the classic snail mail process. You can use our app to draft various legal documents and get them notarized in a few clicks!
We can also help you:
The best part is that you can accomplish all of this from the comfort of your home! No more long phone calls, short-tempered customer service reps, or endless waiting in queues. 
Stay Safe Online With Our App
DoNotPay presents you with an assortment of tools that will keep you safe online. Check out how to deal with online scammers and cyberbullies:
You can also use our app to get compensation for robocalls and text scams!