First Impressions Matter—Learn How To Start a Letter
Do you need to mail a letter to a friend, send a cover letter to a potential employee, or notify a tenant about the rent increase? If you don't know how to start a letter the right way, you'll find DoNotPay's guide super useful. We will give some examples of appropriate letter openings and teach you how to format your letter to leave a good first impression on the recipient. 
Register for DoNotPay to mail your letters online without wasting time buying stamps and waiting in endless lines in front of the post office!
How To Open a Letter to a Friend 
While you can begin your informal letters however you want, most people start by including the date of writing in the upper right corner. When it comes to informal greetings, there aren't any rules that you should abide by. If you want, you can open your letter with one of the following greetings on the left side of the letter:
Dear

Hello

Hi there

Hey

Ciao
You should follow the greeting word or phrase with a comma. Once you address the recipient, skip a line and start writing the introduction of the letter. 
How To Start a Formal Letter 
Formal letters are more challenging to write because they require you to follow certain rules regarding the greeting, formatting, and closing. Before you choose the appropriate salutation, you should include the following info on the left-hand side of the letter:
Your:

Name

Address

Phone number

Email address

The date of writing

The recipient's title, name, and address

The subject of your letter (optional)
Skip a line after the recipient's address—or the subject of the letter—and start off the letter with a proper greeting. Here are some salutations you can use for your formal correspondence:
Very Formal 
Less Formal but Professional 

To Whom It May Concern

Dear Sir or Madam

Dear Hiring Manager

Dear Recruiting Team

Dear (Company Name) Recruiter 

Dear Mr./Ms./Dr. + last name

Dear + first and last name 

Dear + name

Dear colleagues  
If you choose the "To Whom It May Concern" greeting, make sure to follow it with a colon. Other formal salutations should be followed by a comma. 
After the appropriate greeting, skip one line and begin the opening paragraph.   
The Correct Way To Format Your Letters—Sections To Include After the Greeting
The general rule of thumb is that your letter should be divided into multiple sections and paragraphs to be easier to read. While you can organize your personal letters however you see fit, writing formal letters is a different story. If you don't compose your business letter the right way, you risk leaving a very bad impression on the recipient. 
After you include all of the above-mentioned sections, you should continue your letter by writing:
Introduction—state the purpose of the letter 

Body of letter—provide more details to explain your issue, concern, or intention 

Conclusion—thank the recipient for his or her attention and politely ask for an answer

Closing—sign off your letter with an appropriate formal closing, such as:

Sincerely

Cordially

Yours truly

Regards

Kind regards

Yours sincerely

Signature—skip a few lines after the closing and type your signature. Once you print the letter, sign it by hand above the typed signature  
Addressing Your Envelope—From A to Z
Other than knowing how to begin, structure, and finish your letter, you should also learn how to address the envelope. If you don't address your letter correctly, the post office might refuse to mail it. 
Here's how your addressed envelope should look like:
Where To Write

What To Write

The top-left corner of the front of the envelope

Return address:

Name

Street address

City and ZIP code

The center of the front of the envelope

Mailing address:

Name 

Title and company (if you're sending a letter to a business)

Street address

City and ZIP code
Once you address the letter, place the right number of stamps on the top-right corner of the front of the envelope. 
How Much Does Mailing a Letter Cost?
The cost of sending a letter by mail depends on the mail class as well as the weight, size, and shape of the envelope. Currently, the prices of mailing services start at:
$0.36 for

postcards

$0.55 for First Class Mail letters

$1 for First Class Mail Flat letters

$7.16 for Priority Mail 

$22.75 for Priority Mail Express
These rates can increase every once in a while, so make sure to check the newest price list before going to the post office. 
The Most Convenient Way To Mail Letters Is With DoNotPay!
While snail mail is sometimes the only way to send certain documents and legal papers, going to the post office doesn't have to be your only option. If you'd like to avoid crowded places because of the pandemic or you don't want to waste time waiting in a queue, DoNotPay can help you out!
We have developed the Send Mail product to help our users mail letters from their tablets, laptops, or smartphones.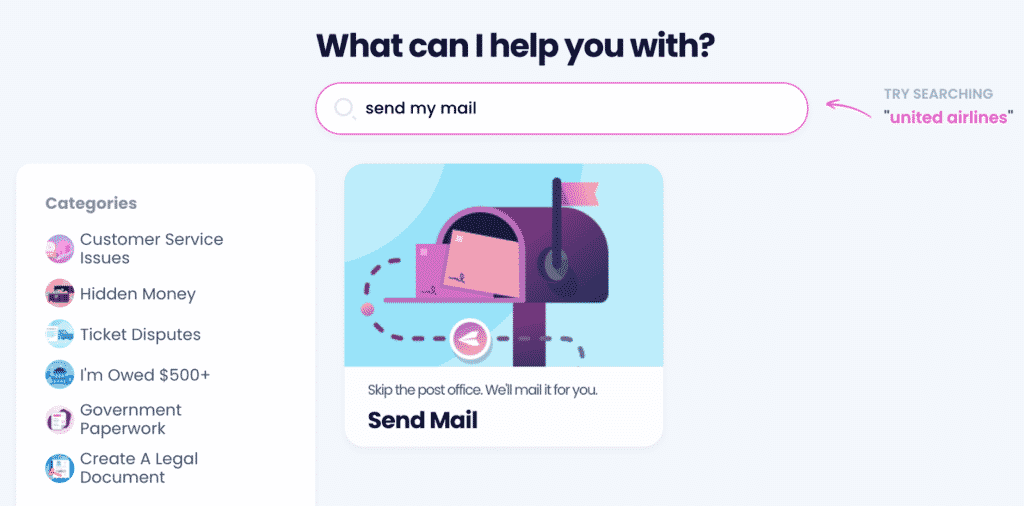 To send your mail in a few clicks, log in to your DoNotPay account and do the following:
Open the

Send Mail

feature

Type in the required info

Upload the file with your letter 
DoNotPay will take care of addressing, stamps, and every other annoying detail on your behalf. Your letter will reach its destination up to seven business days after you complete the above-described steps.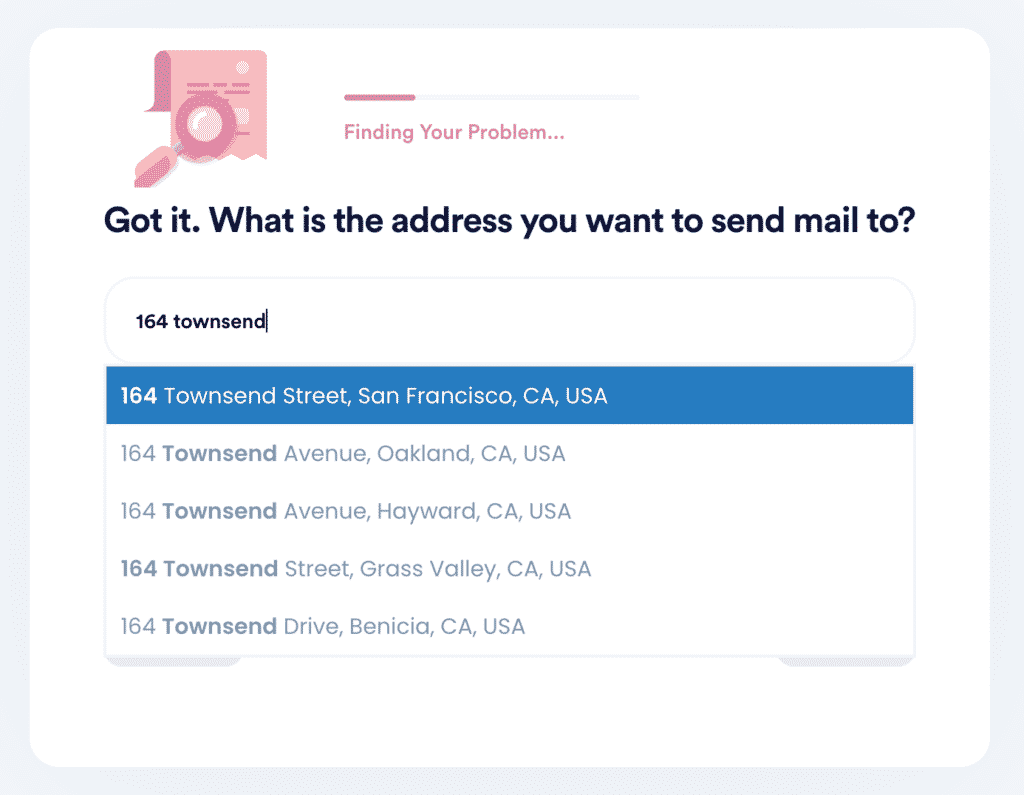 Simplify Your Day-To-Day Life With DoNotPay
Why stop at sending letters super-fast?
Our app helps you draft, notarize, and even fax different documents—all from your laptop or smartphone!
That is not all! 
A company is refusing to cancel your subscription or refund your money? Don't waste your time on calling customer service reps or driving to their office. 
DoNotPay will cancel any subscription for you in a few minutes! We will also request a refund for an unsatisfactory purchase, poor service, or late delivery.
Your virtual assistant cuts through the red tape for you by:
DoNotPay Safeguards Your Privacy
If you enjoy free trials but not so much disclosing your personal information, we present you with the two tools perfect for you:
Our

burner phone

tool lets you verify online accounts with a fake phone number

DoNotPay's

virtual credit card

allows you to sign up for

free trials

without providing your real credit card details or even your email address
DoNotPay makes your online experience stress-free!