Learn How To Find Snail Mail Pen Pals and Mail Letters Online
Do you want to find snail mail pen pals to exchange letters with, but you're not sure where to start? You're in the right place!
Nothing beats the excitement of sending and receiving letters from a new friend via postal mail, but the entire procedure can be rather lengthy. Luckily, DoNotPay can handle most of the work for you! Continue reading our guide to find out how to find pen pals and mail letters online hassle-free.
Where To Find a Snail Mail Pen Pal?
Communicating with people from all around the world via social media is easier, but it's not as exciting as sending physical letters. Finding a pen pal today is easy. There are many websites, organizations, and online communities dedicated to connecting people through the art of hand-written correspondence.
Some of the most popular ones are:
General advice is not to disclose your home address but get a separate P.O. box instead. Once you get to know your pen pal better and feel confident enough, you can exchange personal mailing addresses.
How To Compose a Letter to Your Pen Pal
Letters to pen pals are typically informal. If you're writing to someone a lot older than you, you should use semi-formal language, at least in the beginning. While you don't have to follow any specific structure when writing informal letters, these are the common letter formatting rules that most people follow:
Sections To Include

Description

Date

Record the date of writing the letter in the upper right corner

Informal greeting

Skip one line after the date and

start your letter

with an informal salutation on the left side. Most people choose to open with:

Dear + first name of the recipient

Hi

Hello

Hey there

Don't forget to follow the salutation with a comma

Body of letter

Divide your letter into multiple logical sections. You can start by introducing yourself and then follow up with whatever you want to write about. The best topics for the first letter would be your hobbies, occupation, field of study, and similar.

Conclude by asking a few questions about the recipient and thank him or her for reading your letter.

Informal closing

Finish the letter

with an informal closing. These are some of the examples:

Signature

Skip one line and sign your letter by hand
Find Out How To Label the Envelope Correctly
To address your letter correctly, you should include the following info on the front side of the envelope:
The return address in the top-left corner

The mailing address in the center
Both the return and the mailing address need to be formatted like this:
Name

Address (or the P.O. box)

City, state, and ZIP code
Once you write the addresses, affix the stamps in the upper right corner of the envelope.
Is Snail Mail Expensive?
The cost of sending a letter via mail depends on mail class and the envelope's size, weight, and shape.
When sending a regular one-ounce letter via First Class Mail, you will have to pay only $0.55 for the postage, which is affordable. If your letter is larger or heavier or if you choose a different mail class, the postage price will be higher.
Here's a short overview of the current postage rates:
Mail Class

Price

First Class Mail Letter

$0.55 for one-ounce letters

$0.20 for every additional ounce

First Class Mail International

$1.20 and up

First Class Mail Flat

$1 for one-ounce letters

$0.20 for every additional ounce

Priority Mail Express

$22.75 and up

Priority Mail

$7.16 and up
Note that these prices change occasionally. Make sure to check the newest price list before trying to determine the postage price for your letter.
The Main Issue With Snail Mail
While sending letters via snail mail can be exciting, most people get frustrated by how time-consuming the entire procedure can be. Not only do you need to worry about finding the proper envelope and labeling the letter correctly, but you also have to waste time:
Trying to determine how many stamps to affix

Purchasing the stamps

Waiting in a long line queue of the post office
For that reason, many people avoid sending letters and rely on emails instead. If you'd like to avoid all of the above-mentioned problems and send your mail the easy way, you should .
Register for DoNotPay and Send Letters Online
Communicating with a pen pal should be an enjoyable experience, but the tedious snail mail process usually spoils the fun. DoNotPay has created a nifty product called Send Mail to help you send your letters without having to lose time buying stamps or going to the post office. With us, you can mail letters to pen pals from the comfort of your home.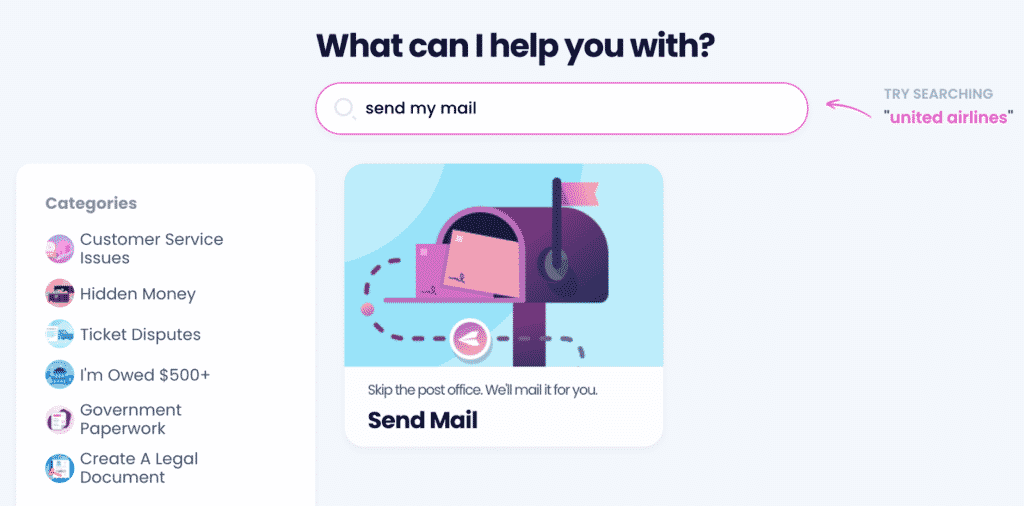 To send mail stress-free, follow these steps:
Type in

Send Mail

in the

Search

tab

Answer our questions

Upload your letter in one of these formats:
When you click on Submit, DoNotPay will address the envelope, affix the stamps, and send the letter to the recipient.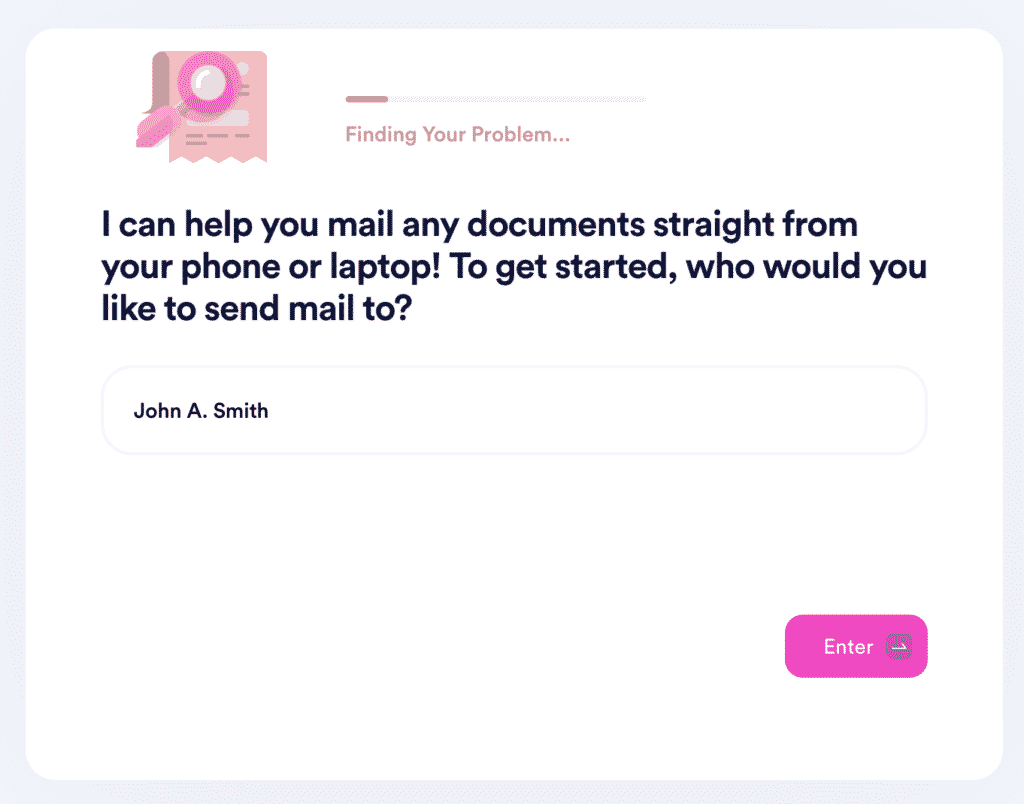 Need To Draft a Legal Doc? DoNotPay Can Help You!
You can definitely use our Send Mail feature to deliver any legal doc to its recipient, but that is only the last step.
Figuring out how to write even a simple contract can be a nightmare, and hiring a lawyer will likely burn a hole in your wallet. Still, you do need a professionally written document.
DoNotPay helps you:
Generate any

legal doc

you want

Send a physical copy of the document to any destination

Fax your documents

using only your phone
DoNotPay Keeps Your Data Safe
Our award-winning app is here to keep your info safe.
Scammers everywhere are trying to get your personal info, but with DoNotPay's anti-spam tools, you can protect yourself from email, mail, and online spam, text spammers, and even get compensation for robocall scams.
That's not all! You can use DoNotPay's virtual credit card to sign up for free trials without disclosing your credit card info. If a website asks for your phone number to verify your profile, our Burner Phone tool will protect your privacy!
DoNotPay's Cash-Saving Tools
Don't let greedy corporations get their fingers into your wallet! Let us introduce you to a super-simple way to manage your finances.
Your virtual assistant helps you: