How To End a Letter—The Ultimate Guide
Knowing how to end a letter is essential because it's your last chance to leave the best first impression on the recipient. There's no point in wasting hours writing a perfect letter only to ruin it with the wrong closing.
If you're not sure how to start, end, or format your letter, DoNotPay is here to provide the answers. We will tell you all about the formatting rules and help you mail letters online without having to walk or drive to the post office.
How To End a Business Letter
Before you decide how to end a professional letter, you should think about what your relationship with the recipient is. Do you know the individual you're sending the letter to? Is the recipient your business colleague you are close to?
While you should try to keep your business correspondence reserved and professional, you can end your letter less formally if you know the recipient well enough.
Here are some popular ways to end a formal letter and the closings you should avoid:
Simple and Reserved

Sincerely

Yours truly

Yours sincerely

Regards

Slightly More Personal

Cordially

Best regards

Yours respectfully

More Personal (Use Only When Appropriate)

Best wishes

Warm regards

With appreciation

Kind wishes

Many thanks

All the best

Letter Closings To Avoid

XOXO

Take care

Love

Cheers

Always
Now that you know which closing to use, you should learn how to sign a professional letter. When sending physical mail, you need to:
Put a comma after the closing word or phrase

Leave four spaces above the typed signature for the handwritten one

Type your signature

Sign the letter by hand once you print it
Make sure your signature is neat and readable.
How To End a Friendly Letter
Choosing the proper closing for an informal letter is much less stressful because you don't have to follow any rules. The following list contains some of the common casual endings, but you should feel free to use anything you want:
Ciao

Always and forever

Adios

Hugs

Kisses

XOXO

Lots of love

Love

Missing you

See you around
The closing of a friendly letter is also followed by a comma. While professional letters need to contain your typed and handwritten signature, informal letters should be signed only by hand to make them more personal.
Formatting Matters—Learn How To Structure Your Letter
Besides knowing how to sign off your letters, it's also crucial that you learn how to structure them.
Informal letters don't have any specific rules that you should follow, but—if you wish—you can use this structure:
Date of writing

Informal greeting

Your letter (preferably divided into paragraphs, so it's easier to read)

Informal closing

Your signature
As you can imagine, formal letters should follow strict formatting rules. Your professional letter should look like this:
Your personal info:

Name

Address

City and ZIP code

Phone number

Email address

Date of writing

The recipient's info:

Name

Title

Company

Address

City and ZIP code

Formal greeting—some of the best options are:

Dear Sir or Madam

Dear Mr./Ms. + last name

To Whom It May Concern

Dear Hiring Manager

Introduction—explain what your letter is going to be about

Body of the letter—provide specific details

Conclusion—thank the reader and politely indicate that you're expecting his or her answer

Formal closing (as discussed before)

Your handwritten signature

Your typed signature
Why Do People Still Use Snail Mail?
Snail mail doesn't lose its popularity even today when more than 50% of the world's population has an email address.
Besides sending handwritten personal letters to their loved ones, people also rely on snail mail when they need to:
Cancel a certain service or membership

Apply for university, scholarships, various compensation programs, and similar

Send court papers, government forms, and other legal documents that require return receipts and signatures

Mail their resignations, job cover and recommendation letters, and other business documents
Even though it is still popular, snail mail isn't the most convenient way to communicate with someone. Each time you want to mail a letter, you need to waste hours going to the post office and worry about various issues, such as:
All of this can be time- and energy-consuming, which is why you should consider and sending your mail through our app!
Sign up for DoNotPay and Send Letters From the Comfort of Your Home!
Did you know that you can mail letters without having to leave your house? DoNotPay's Send Mail feature enables you to upload your letter, answer some questions, and allow us to mail the letter on your behalf.
You don't have to spend ages in a queue in front of the post office or worry about any of the above-mentioned problems. DoNotPay has got you covered.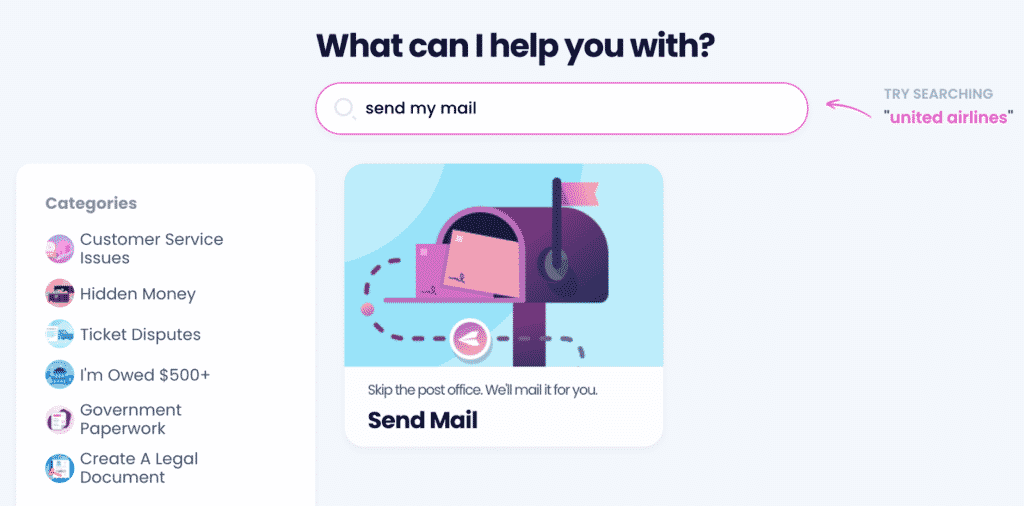 To mail a letter in a few clicks, and do the following:
Open the

Send Mail

product

Enter the recipient's name and address

Upload your letter
DoNotPay Has the Most Convenient Solution to Most of Your Problems
Whether you want to cancel subscriptions, request refunds for services, purchased items, or late delivery, or enjoy free trials without being charged, DoNotPay has a product for you.
We strive to help you users solve their issues as quickly and effortlessly as possible. With us, you can enter various raffles and sweepstakes, claim warranties or insurance, report copyright infringement, and reduce your property taxes in less than five minutes.
Protect Your Privacy With DoNotPay
Protecting your privacy can be challenging nowadays since most platforms require your phone number and email address upon registration. DoNotPay is here to ensure your personal info stays as secure as possible. Choose our Burner Phone product to register for services without phone verification or our virtual credit card if you want to use a randomly generated email address and payment details.
By using a fake phone number and email address, you can also avoid receiving annoying spam emails, text messages, and shady robocalls. DoNotPay can even make correspondence with inmates safer. If you don't feel comfortable sharing your address with an inmate, DoNotPay can receive the letters for you, scan them, and forward them to you risk-free.