Snail Mail Delivery Time—How Long Does It Take To Send a Letter?
If you're sending mail for the first time, you're probably wondering, "How long does it take to send a letter?" The answer to this question is far from simple because it depends on various aspects. You can consult DoNotPay's guide to learn more about snail mail delivery time.
Want to take care of the mailing process as quickly and effortlessly as possible? to find out how to mail your letters online and avoid wasting hours in front of the post office. We will handle postage stamps, letter addressing, and many other pesky tasks on your behalf.
Determining the Mail Delivery Time
The mail delivery time depends on multiple factors, including:
Mail class

—each mail class guarantees a different delivery time window. The higher the

postage price

, the sooner your letter will reach the recipient (in most cases)

Destination

—mailing letters

internationally

or to another state in the U.S. takes more time than sending mail locally. Mail delivery is also slower in rural areas

The USPS mail volume

—mail volume is usually increased during holidays, which means that the delivery time is longer.

You should take that into consideration when mailing

holiday cards to your loved ones
If your mail is certified, you can track it online to find out where it is and if it got delivered.
How Long Does Snail Mail Take in the U.S.?
Delivery time in the U.S. varies between one and seven business days, depending on the mail class you choose:
Mail Class
Delivery Time

First Class Mail

One to three business days

Priority Mail

Priority Mail Express

Overnight

to two days

Media Mail

Two to eight business days
How Long Does It Take To Send a Letter Internationally?
Take a look at the table below to see how long it takes to send letters overseas:
| | |
| --- | --- |
| Mail Class | Delivery Time |
| First Class Mail International | Varies by destination |
| Priority Mail International | Six to ten business days |
| Priority Mail Express International | Three to five business days |
| Global Express Guaranteed | One to three business days |
| Airmail M-Bags | Varies by destination |
Do People Still Use Snail Mail?
Even though mailing a letter is much slower than sending an email, the USPS still has a lot of work. People prefer using snail mail to:
Serve court papers

Send important legal documents and business contracts

File forms with the government

Apply for universities, scholarships, federal grants, fee waivers, financial aid, and similar

Cancel certain subscriptions and memberships (e.g., LA Fitness)

Manage isolation and express their feelings through hand-written letters
The main problem with snail mail is that it is time-consuming, and the whole process can be annoying. To handle mailing in under five minutes, you should rely on DoNotPay.
Forget All About Complicated Mailing Procedures! Send Your Mail Online With DoNotPay
DoNotPay has created a product that makes sending letters by mail less frustrating. By using our app to mail your letter, you don't have to worry about addressing, postage stamps, or trips to the post office.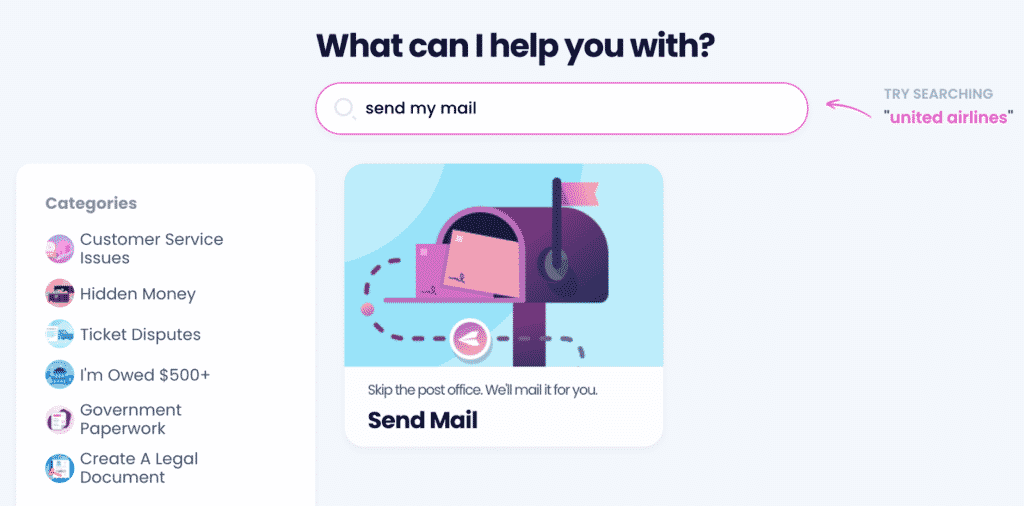 You can mail letters online by completing these four steps:
Choose our

Send Mail

product

Enter the required info

Upload your letter in one of the supported formats: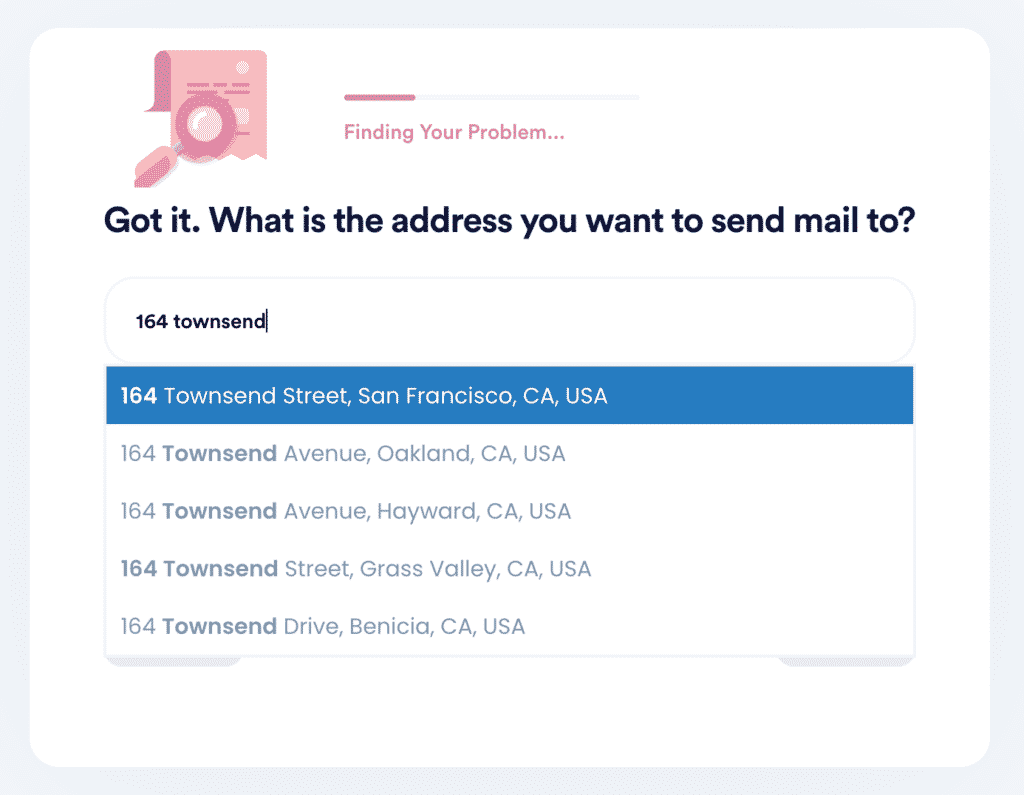 The file you upload should exceed 20 MB. When you click on Submit, DoNotPay will mail your letter or any other document to the recipient right away. Your mail will be delivered no later than seven business days after you use our app.
Do you want to track your mail? To do so, visit your DoNotPay account and click on the My Disputes page.
Not Sure How To Format Your Letter? Check Out Our Simple Guide!
If you're not sure how to format your letter or which sections to include, you will find the following table useful:
Sections
Informal Letters
Formal Letters

The sender's info

/

Write your name, full address, and contact info on the left side of the letter

Date

Include the date of writing the letter in the top-right corner

Record the date of writing

The recipient's info

-

Structure the recipient's info like this:

Company (if applicable)

Title, name, and job position

Full address

Salutation

Open the letter with an informal greeting. These are some options:

Hello

Hi

Dear + first name

Start your letter

with a formal salutation, for example:

Dear Mr./Ms. + last name

Dear + full name

To Whom It May Concern

Body of the letter

Organize the letter however you want

You should introduce yourself and the topic of your letter in a few sentences.

Divide the letter into a few paragraphs to make it easy to read.

Thank the reader and ask for the answer at the end of the letter

Closing

Finish the letter

with an informal closing, such as:

Choose a suitable formal closing. Most people finish their letters with:

Sincerely

Yours truly

Kind regards

Signature

Sign the letter by hand

Type your full name and include your hand-written signature above it
Simplify Your Day-To-Day Life With DoNotPay
Why stop at sending letters super-fast?
Our app helps you draft, notarize, and even fax different documents—all from your laptop or smartphone!
That is not all!
A company is refusing to cancel your subscription or refund your money? Don't waste your time on calling customer service reps or driving to their office.
DoNotPay will cancel any subscription for you in a few minutes! We will also request a refund for an unsatisfactory purchase, poor service, or late delivery.
Your virtual assistant cuts through the red tape for you by:
DoNotPay Safeguards Your Privacy
If you enjoy free trials but not so much disclosing your personal information, we present you with the two tools perfect for you:
Our

burner phone

tool lets you verify online accounts with a fake phone number

DoNotPay's

virtual credit card

allows you to sign up for

free trials

without providing your real credit card details or even your email address
DoNotPay makes your online experience stress-free!