Discover What the Proper Mailing Address Format Should Look Like
Whether you want to send a letter, business contract, rent increase notice, or any other document by snail mail, you should address the envelope properly. If you make even a minor mistake, your letter might not reach its destination. In this guide, you'll learn what a correctly addressed letter should include and which mailing address format is the right one.
If you don't want to lose time worrying about how to address the letter or going to the post office, . With us, you can mail your letters online in under five minutes!
A Guide to Addressing a Letter Correctly
To address the letter correctly, you have to include the following info on the front of the envelope:
Mailing address

Return address
Another requirement is to place the right number of stamps in the top-right corner of the envelope. You can calculate how many stamps you need by:
Measuring your letter's height, length, weight, and thickness

Using an online postage calculator to determine the

cost of mailing your letter

Dividing the postage price by the price of one Forever Stamp (currently $0.55)
How To Write a Proper Mailing Address
The mailing address has to be in the middle of the envelope, and it needs to contain the recipient's info:
| | | | |
| --- | --- | --- | --- |
| Where To Write | Informal Letters | Formal Letters | Letters Addressed to an Individual in a Company |
| First Line | Name | Title and name | (ATTN:) Title and name of the recipient |
| Second Line | Street address | Street address | Name of the company |
| Third Line | City, state, and ZIP code | City, state, and ZIP code | Street address of the company |
| Fourth Line | - | - | City, state, and ZIP code |
Do you want to send a letter overseas? While the U.S. mailing address format is similar to international ones, you should still check the rules of the state where the recipient lives.
Mailing Address Examples
You can check out the following table to see some mailing address examples:
Addressing a Letter to a Friend
Addressing a Formal Letter
Addressing a Letter to an Individual in a Company

John Doe

123 Heirloom ST

Anytown CA 01234

Mr. John Doe

123 Heirloom ST

Anytown CA 01234

(ATTN:) CEO John Doe

XYZ Co.

123 Heirloom ST

Anytown CA 01234
How To Write a Return Address Correctly
Write the return address in the upper left corner of the envelope like this:
Name

Street address (including the number of your house or apartment)

City, state, and ZIP code
Don't Waste Time Addressing Letters—Send Your Mail Online With DoNotPay!
Sending letters by snail mail is usually inconvenient and time-consuming, but it's sometimes the only option people have. The good news is—you don't have to go to the post office to mail your letters!
DoNotPay's Send Mail product enables you to upload a file with your letter in a few simple steps and leave everything else up to us. We will address the envelope, take care of the stamps, and mail the letter to the recipient.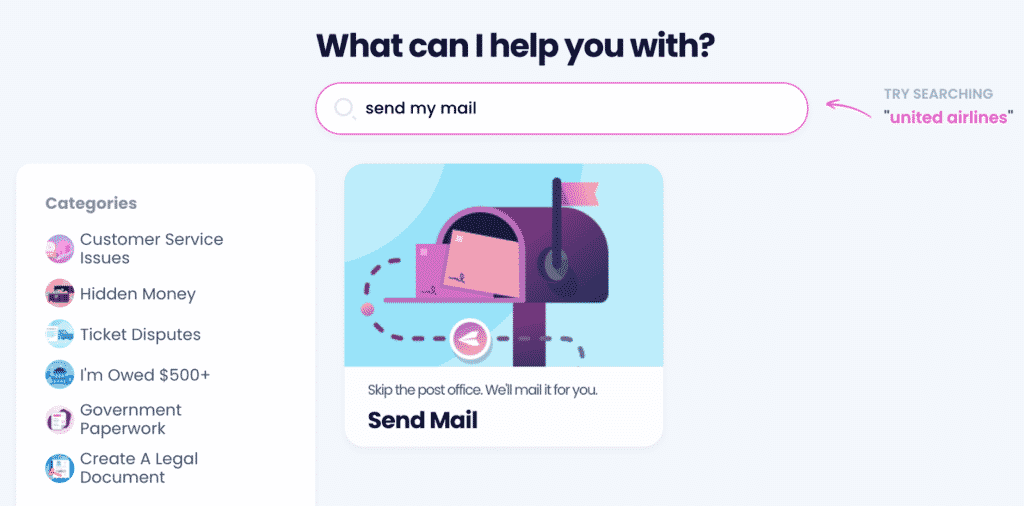 You can mail all your letters with zero effort by completing these four steps:
Open the

Send Mail

product

Respond to our questions

Upload your letter (make sure the file doesn't exceed 20 MB)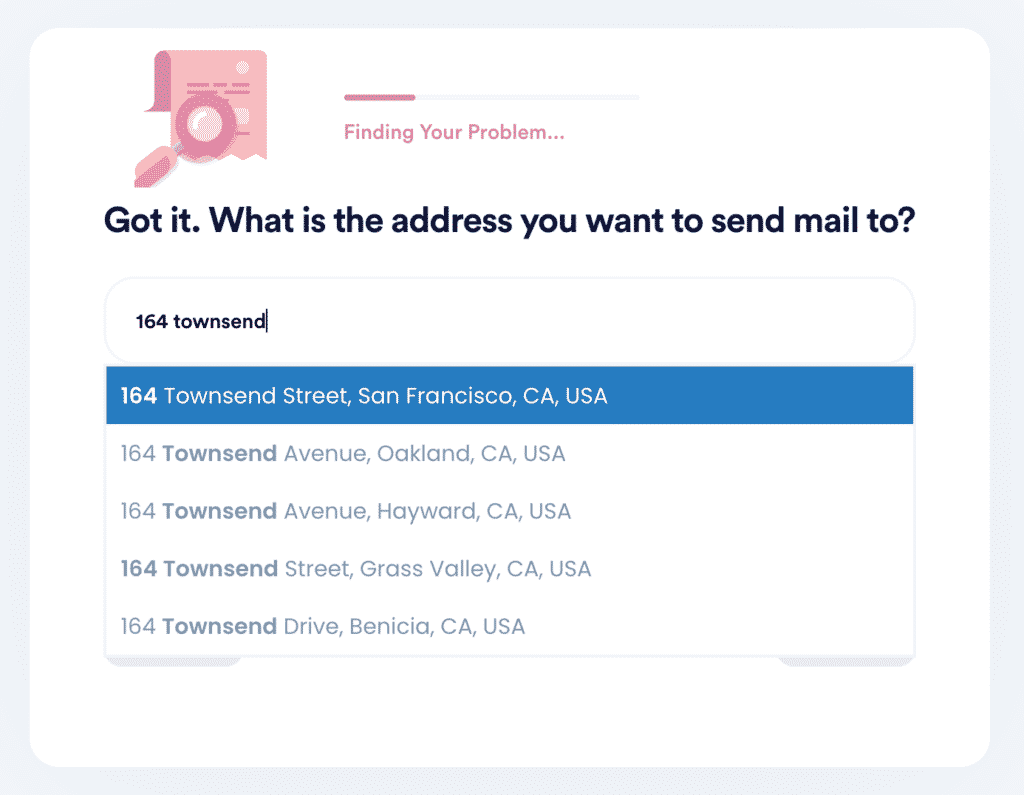 Currently, our app supports the following formats:
Do you wish to track your letter? Head over to the My Disputes page of your DoNotPay account to do so!
How To Write a Letter—Letter Formatting 101
While you don't need to worry about letter structure when sending mail to your loved one, writing formal letters is much more complex.
If you want your letter to be professional, you have to respect certain formatting rules and include the following sections:
Your inf

o—

begin your letter

by writing your name, address, phone number, and email address either in the top left corner of the letter or on the letterhead

Date

—include the date of writing the letter

Reference line (Re:)

—this section is optional, and it's typically used when responding to another letter or a job ad

The recipient's info

—follow the reference by the recipient's:

Title and name

Company (if applicable)

Address of the company or the recipient

City, state, and ZIP code

Salutation

—to address the recipient, choose one of the following formal greetings:

Dear Mr./Ms./Dr. + last name

Dear Hiring Manager

Dear + full name

Dear Sir or Madam

To Whom It May Concern

Introduction

—the first paragraph should offer a short explanation of why you're writing the letter. If you're writing to the recipient for the first time, you should introduce yourself in the first sentence

Body of letter

—this is the main section of your letter, and it should contain more details regarding your request or the information you're sharing

Conclusion

—in the last paragraph, you should:

Thank the recipient for his or her attention

Politely ask for his or her answer

Closing

—

end your letter

with a formal closing, such as:

Regards

Kind regards

Yours truly

Sincerely

Signature

—include your typed and handwritten signature
Save Cash for Important Things
Our Send Mail tool saves you time, but did you know that DoNotPay can also help you save money?
Do you love subscribing to free trials but tend to forget canceling before they turn into a paid subscription? DoNotPay's virtual credit card with no deposit solves this problem! Try any service for free without worrying about unexpected charges!
We can do more! Our app assists you with canceling services or getting refunds from difficult companies in a few clicks!
DoNotPay helps you keep your money in your wallet by:
Presenting you with property tax exemptions you are eligible for
What Else Can DoNotPay Do for You
Did you know that you can draft and get your documents notarized with our app before using our Send Mail feature to deliver them to your desired recipient?
We can also help you communicate safer and faster!
Do you need to fax your doc as well? Use DoNotPay's Online Fax feature and send a fax to any number without ever touching a fax machine!
Send letters to your incarcerated loved ones. Get in touch with customer service reps from any company without waiting on the phone queue for ages. Keep yourself safe from annoying spam emails, texts, or calls.
You can do it all from one app!