How Many Stamps Do I Need for a Letter? DoNotPay Knows the Answer!
Besides knowing how to start, finish, format, and address a letter, you should find out more about stamps to mail your letters successfully. The answer to the question "How many stamps do I need for a letter" might seem complicated since there are multiple stamps with different values. DoNotPay is here to provide an explanation. 
Don't feel like dealing with postage stamps or going to the post office to mail a letter? Register for DoNotPay and discover how to mail letters without leaving your home or office! 
Types of Stamps for Letters
Before we explain how many stamps you need to purchase for one letter, you should know more about the most common postage stamp types:
Types of Stamp

Explanation

First Class Mail One-Ounce Price Forever Stamp

The Forever Stamp is a non-denominated stamp. This means that the stamp is and will always be equal to the price of First Class Mail postage for one-ounce letters. The Forever Stamp you buy today will be valid in the future even if the postage price increases

First Class Mail Additional Ounce Forever Stamp

The "Additional Ounce" part indicates the usage value of this stamp. The Additional Ounce Forever Stamp is also a non-denominated stamp

First Class Mail Presorted Stamp

This type of stamps is available for:

Marketing mail

Presorted First Class mail

Postcard Stamp

The stamp for postcards is also non-denominated, which means that it will always be valid no matter the future cost of postage 

Definitive Stamp, including Priority Mail Stamp and Priority Mail Express Stamp

Definitive stamps are stamps with the value printed on their face. The value of these stamps varies from one cent to Priority Mail Express prices. These stamps are typically used to add postage to older stamps if their value isn't sufficient to cover current postage rates

Global Forever Stamp

This stamp has the same value as the price of the First Class Mail International one-ounce letter 
How Many Stamps Do I Need To Send a Letter in the U.S.?
The number of stamps you need for a letter depends on multiple factors, such as:
The size of the letter

The weight of the letter

Mail class

The location you're sending the letter to
Consult the following table to find out how many stamps you currently need for a regular First Class letter:
| | | |
| --- | --- | --- |
| Weight of the Letter | Cost at the Time of Writing this Article | Number of Stamps |
| 1 oz. | $0.55 | One Forever stamp |
| 2 oz. | $0.75 | One Forever stamp + One Additional Ounce stamp |
| 3 oz. | $0.90 | One Forever stamp + Two Additional Ounce stamps |
| Every additional ounce | $0.20 | Additional Ounce stamp |
Standard four-page letters usually weigh around one ounce, which means that you'll only need one Forever stamp. 
In case your letter is more than four pages long, and your envelope seems thicker than usual, you can:
Measure the envelope on your kitchen scale to check how much it weighs

Use an online postage price calculator to establish the

mailing cost

Divide the postage cost by the price of one stamp to determine how many stamps you need
Do You Have To Calculate the Number of Stamps in Advance?
If you already have stamps you'd like to use, you can calculate the number of stamps on your own, but it's not necessary. 
Trying to figure out the number of stamps you need can be exhausting and time-consuming. You also risk not placing enough stamps and having to purchase additional ones at the post office. 
The good news is—you don't have to bother doing the math. You can go to the post office, pay for postage, and the clerk will print and place the stamps on your letter. 
Why Do People Choose To Pay Postage for Snail Mail Instead of Sending an Email?
There's no doubt that sending an email is much more convenient than walking or driving to the post office. Besides being time-efficient, email correspondence is also free, which is not the case with snail mail. 
Even though annoying, inconvenient, and potentially costly, snail mail is sometimes the only option people have. For example, important legal and business documents that require signatures or return receipts can be sent only by mail. The same goes for certain application and cancellation forms. 
Another reason why people still rely on physical mail is that they enjoy exchanging personal handwritten letters with their loved ones.    
Send Letter the Easy Way—DoNotPay Has a Simple Solution!
Do you need to cancel your LA Fitness membership via mail, send a rent increase letter to your tenant, or surprise your partner with a love letter? DoNotPay can make snail mail less stressful by dealing with the entire procedure for you. 
With our Send Mail product, you can send your letters online in a few clicks. DoNotPay will handle all pesky mail-related issues—such as stamps, the proper addressing format, and similar—so that you don't have to.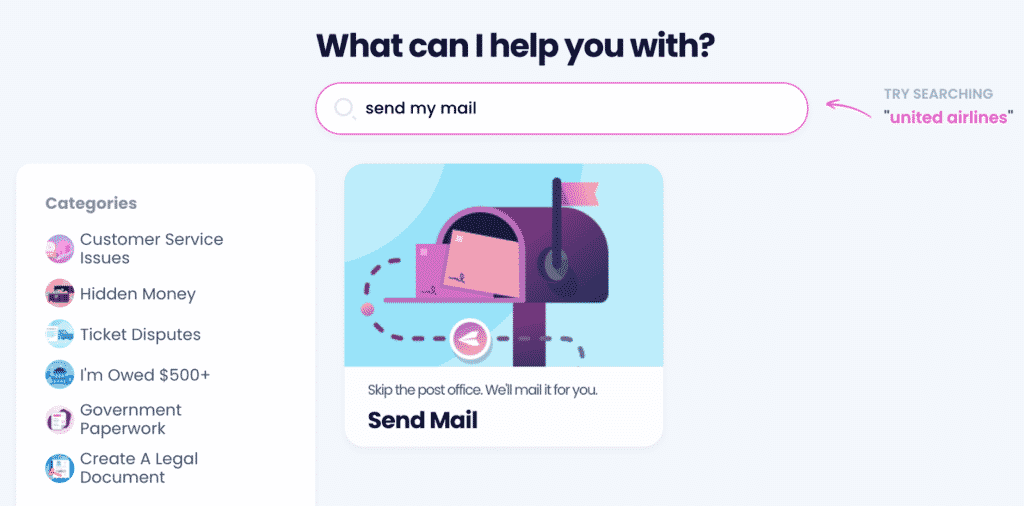 To send your mail quickly and hassle-free, follow these steps:
Open our

Send Mail

product

Answer our questions

Upload your letter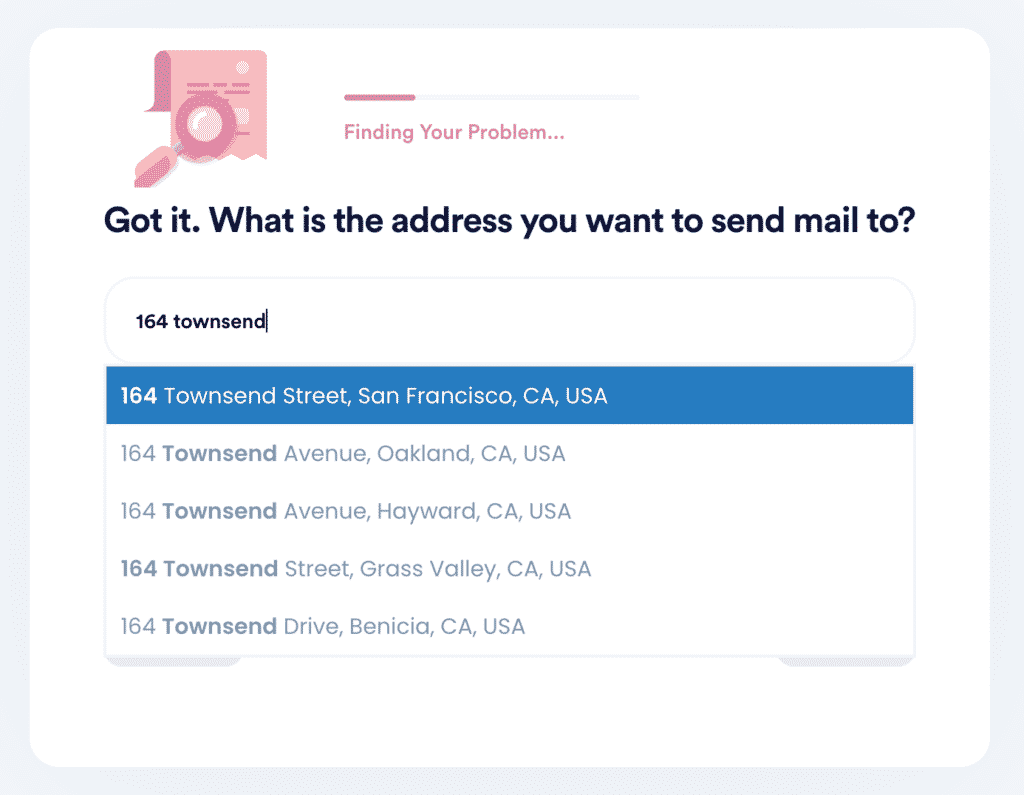 DoNotPay Is the Perfect Virtual Assistant
DoNotPay does so much more than speeding up the classic snail mail process. You can use our app to draft various legal documents and get them notarized in a few clicks!
We can also help you:
The best part is that you can accomplish all of this from the comfort of your home! No more long phone calls, short-tempered customer service reps, or endless waiting in queues. 
Stay Safe Online With Our App
DoNotPay presents you with an assortment of tools that will keep you safe online. Check out how to deal with online scammers and cyberbullies:
You can also use our app to get compensation for robocalls and text scams!