The Easiest Way to Send Your Snail Mail Online
Even though sending emails is free, fast, and convenient, many people still use snail mail, primarily for legal and business correspondence. Sending your letters by snail mail requires a lot of time and effort.
Luckily, DoNotPay is here to make the process easier. Register for DoNotPay and learn how to mail letters using nothing but your laptop or smartphone!
Do People Still Use Snail Mail?
Even though much slower than email correspondence—hence the name—snail mail is still used a lot. In 2020, the total mail volume that the USPS delivered was almost 130 billion. People send physical mail for various reasons:
Resignations, cover letters, job recommendations, and other business contracts or legal documents can be sent only by snail mail in some cases

Some services—such as LA Fitness membership—can be canceled only by sending a cancellation form via mail

Prospective students usually rely on snail mail when sending their college applications

People prefer sending and receiving physical letters as it is much more personal than sending an email
How Much Do Postal Services Cost?
The cost of mailing a letter depends on the following factors:
Weight of the letter

The shape of the envelope

Mail class
The table below shows current USPS postage rates for each mail class:
Mail Class
Postage Rate

First Class Mail Letter (1 oz.)

$0.55 for postage purchased in a post office

$0.51 for postage purchased through stamps.com

$0.20 for every additional ounce

Postcard

$0.36

First Class Mail Flat (1 oz.)

$1 

$0.20 for every additional ounce

First Class Mail International Letter

$1.20

Priority Mail Express (0.5 lb. for zones 1&2)

From $22.75

Priority Mail (1 lb. for zones 1&2)

From $7.16

First Class Package Service (1-6 oz.)

From $3.01

Parcel Select Ground (1 lb. for zones 1&2)

From $7.01

Retail Ground (1 lb. for zones 1&2)

From $7.70
The Main Disadvantage of Snail Mail
While sending and receiving physical letters from your loved ones is exciting, the entire process can be stressful and time-consuming. Besides having to waste ages waiting in long lines in front of the post office—especially now during the pandemic—you also need to worry about:
You can bypass all of these hurdles by sending your mail through DoNotPay's easy-to-use app.
Skip a Visit to the Post Office—Send Your Mail With DoNotPay's Help
If you want to send physical letters but would like to avoid going to the post office, DoNotPay has got your back. 
Forget all about stamps, envelopes, and trips to the post office or the USPS mailbox. Your only job is to compose a letter, upload it to our app, and answer some questions—we will handle everything else.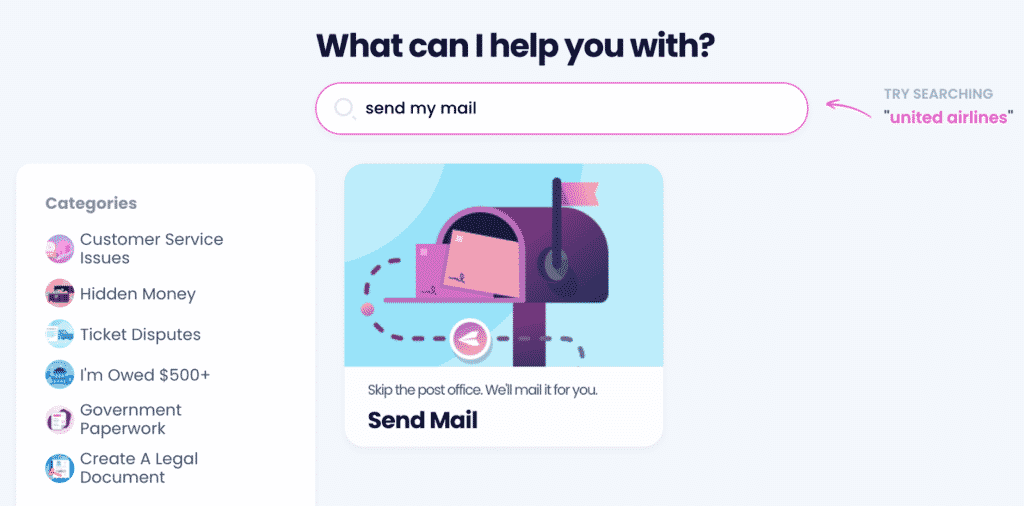 Here's how to send physical mail the convenient way:
Open our

Send Mail

product

Provide the recipient's info

Upload your letter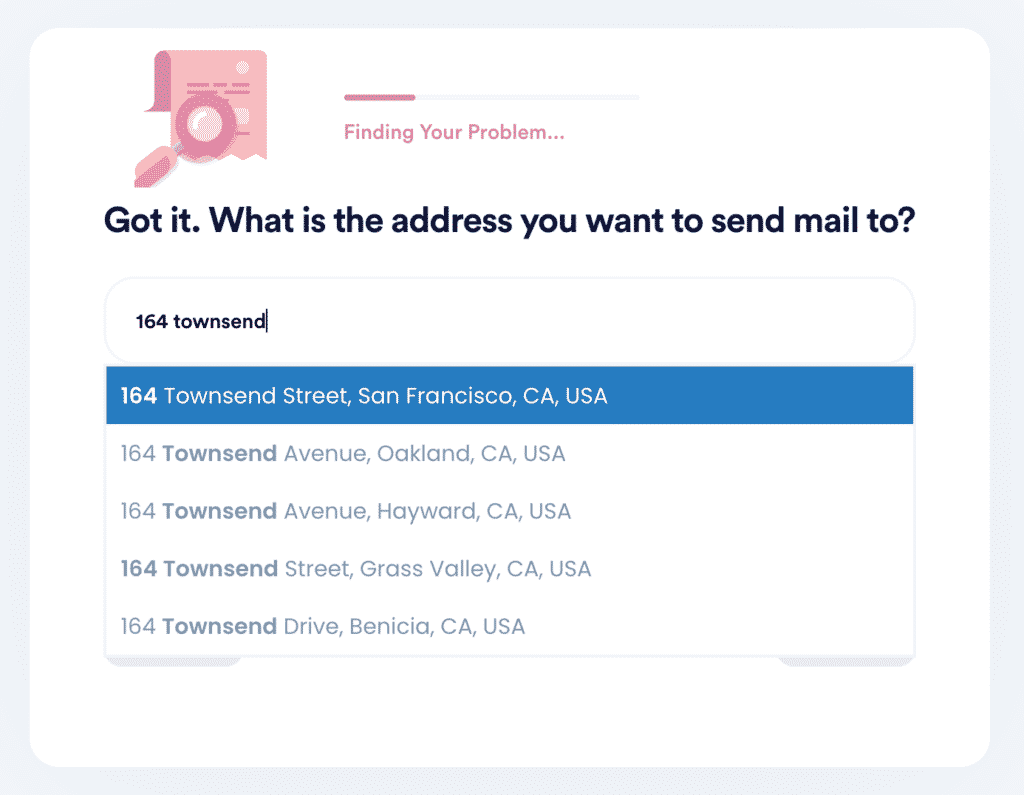 DoNotPay will mail the letter right away, and the recipient will get it within seven business days. Our app currently supports the following file formats:
PDF

Image (JPG & PNG)

HTML
Your file should not exceed 20 MB. 
Learn How To Structure a Letter Properly
Before you compose your letter and send it through DoNotPay, you should learn how to structure it. Formal letters should follow strict formatting rules, while informal letters offer more freedom. 
Consult the following table to find out how to start, end, and structure both formal and informal letters:
Sections To Include
Formal Letters
Informal Letters

Your contact info

Include your:

Name

Address

City and ZIP code

Phone number

Email address

-

Date

You can either write the date when you started writing the letter or when you finished it

The recipient's contact info

Write the recipient's:

Name

Title

Company

Address

City and ZIP code

-

Greeting

A formal letter can start with one of the following greetings:

Dear Mr./Ms. + last name

Dear Dr./Judge/any other title + last name

Dear Hiring Manager

To Whom It May Concern

Dear Human Resources Manager

Dear Sir or Madam

When writing an informal letter, you can choose any friendly salutation that comes to your mind. Most people start with "Dear + name or nickname of the recipient" 

Introduction, body, and conclusion

The introduction should inform the recipient about why you're writing the letter

The body of the letter should include more details

In the conclusion of the letter, you should thank the reader and ask for the response

An informal letter doesn't havCe to follow a strict structure, but you should try to organize your writing in multiple paragraphs. Short and straight-to-the-point sentences are easier to follow

Closing

You can finish your letter with one of the following formal greetings:

Best regards

Sincerely

Yours truly

Yours respectfully

Kind regards

End an informal letter with any casual greeting, including Love, Hugs, Kisses, and similar

Signature

Place your signature at the end of each letter 
DoNotPay Can Help You Solve Pesky Issues Stress-Free
Dealing with everyday issues can become overwhelming, especially if they include bureaucracy. DoNotPay can help you handle numerous problems in a few minutes. With us, you can schedule your DMV appointments, get documents notarized remotely, and create various legal documents—including child travel consent statements—in a snap.
Do you need help paying your bills or disputing parking tickets? Once you register for DoNotPay, you'll be able to manage all of these and many more issues in no time. 
What Else Can You Use Our App For?
Besides helping you handle tedious administrative hurdles, DoNotPay can do much more for you! You can use DoNotPay to:
With us, you can send online faxes or mail letters from the comfort of your home. Do you have friends or family members who are serving time? We can help you connect with inmates in a flash by enabling you to locate them and send them letters.