Learn How To Make a Letter Correctly
Do you want to send your resignation, recommendation, rent increase notice, or any other type of letter, but you're not sure how to write it? Composing a formal letter can be a complicated task, which is why you'll find this article useful. DoNotPay's guide will teach you how to make a letter the correct way. 
We can even help you mail all your letters in a matter of minutes. Wasting ages buying stamps, addressing the envelope, and waiting in a queue in front of the post office is the thing of the past. By signing up for DoNotPay, you'll allow us to manage the entire mailing process on your behalf!
A Guide to Writing a Letter the Right Way
Before you start writing your letter, you should consider its formality level to set the right tone and plan the letter's structure:
Formal

—for job covers letters, value propositions, and other business letters

Casual

—when writing to a friend, partner, or family member
How To Structure a Formal Letter
Formal letters are usually challenging to write because—other than ensuring your grammar is impeccable—you need to abide by strict formatting rules. 
If you're not sure how to structure your business letters and which sections to include, you will find the following table useful:
Sections
Brief Description

Your info

Begin each letter

by writing your personal info, including your:

Name

Street address

City and ZIP code

Phone number

Email address

Date

Record the date of writing the letter

Reference line (Re:)

Include a reference line when replying to another letter or applying for a job. This section is optional

The recipient's info

Write the recipient's:

Title and name

Company (if applicable)

Street address 

City

and ZIP code

Salutation

Open the le

tter with a formal salutation such as:

To Whom It May Concern

Dear Hiring Manager

Dear Sir or Madame

Dear Mr./Ms. + last name

Dear Dr./Judge + last name

Dear + full name

Follow the greeting with a comma

Body of letter

Start the letter by introducing yourself and the topic of the letter in two to three short sentences. Describe the reason why you're sending the letter in the following paragraphs. The conclusion should be the place where you thank the recipient and politely indicate that you're expecting an answer

Closing 

Finish the letter

with a formal closing. Some of the most popular choices are:

Kind regards

Sincerely

Yours truly

Regards

Typed signature

Leave four blank spaces below the closing and type your signature

Hand-written signature

Sign the letter by hand above the typed signature
Additional Tips
Your business letter needs to fit one page, which means that you should strive to use concise sentences. Make sure to divide the letter into multiple logical paragraphs so that the recipient can read it effortlessly. 
Use Arial, Verdana, Courier New, or Times New Roman font. The size of the font needs to be at ten or 12 points.
Leave a blank space before the salutation, after the closing, and between every paragraph.
If you want, you can include the date of writing as well as your and the recipient's info on the letterhead. 
How To Compose a Letter to a Loved One
When writing a letter to your partner, relative, friend, or family member, you have much more freedom both grammar- and formatting-wise. A rule of thumb is that informal letters include the following sections:
Date of writing

Friendly greeting

Body of letter

Friendly closing

Hand-written signature 
You don't have to follow this structure. While you can organize the letter however you like, you should ensure it's easy to read.
Why Is Snail Mail Still Relevant?
Regardless of the fact that email correspondence is quicker and more convenient than sending physical letters, many people rely on snail mail for various reasons:
Banks and other institutions prefer sending credit cards, bank statements, and other documents by mail because there's no risk of hackers

Most Americans choose snail mail over fax and emails when they need to send their legal and business documents

Some universities accept applications and fee waiver requests only if prospective students send them by snail mail

People typically find sending hand-written letters exciting and more meaningful than sending cold emails
Would you like to bypass going to the post office? DoNotPay comes to the rescue! With us, you do not have to worry about addressing the letter, purchasing the right number of stamps, or bringing enough money for postage. DoNotPay will take care of all of these and many more mailing-related hurdles for you!
Find Out How To Mail Letters in a Few Clicks With DoNotPay!
DoNotPay's Send Mail feature enables you to send physical letters from your tablet, laptop, or smartphone in under five minutes. Once you compose your letter and upload it to our app, we will manage all the annoying issues related to mailing.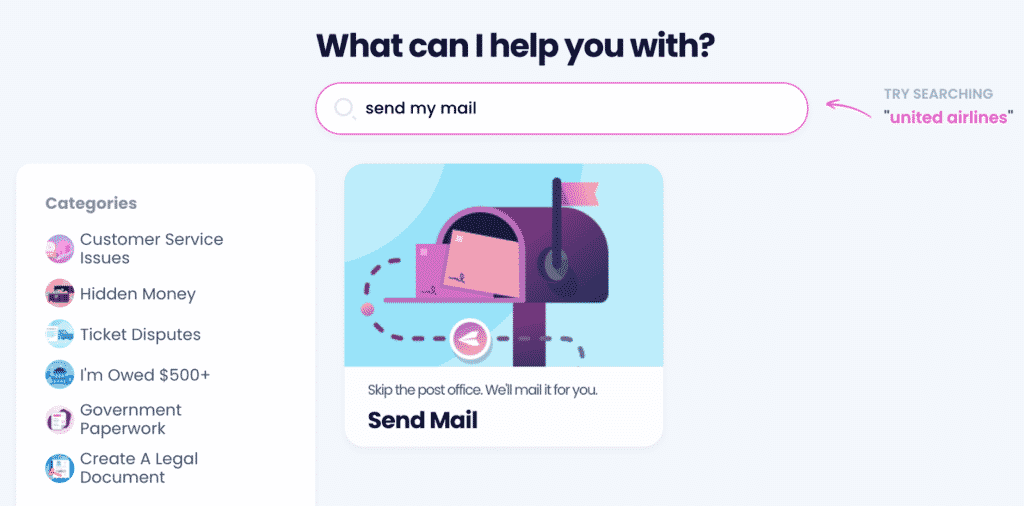 To avoid spending hours in the post office and mail all your letters as quickly and effortlessly as possible, do the following:
Open the

Send Mail

product

Respond to our questions

Upload your letter 
If you'd like to track the letter, you should go to the My Disputes page on your DoNotPay account.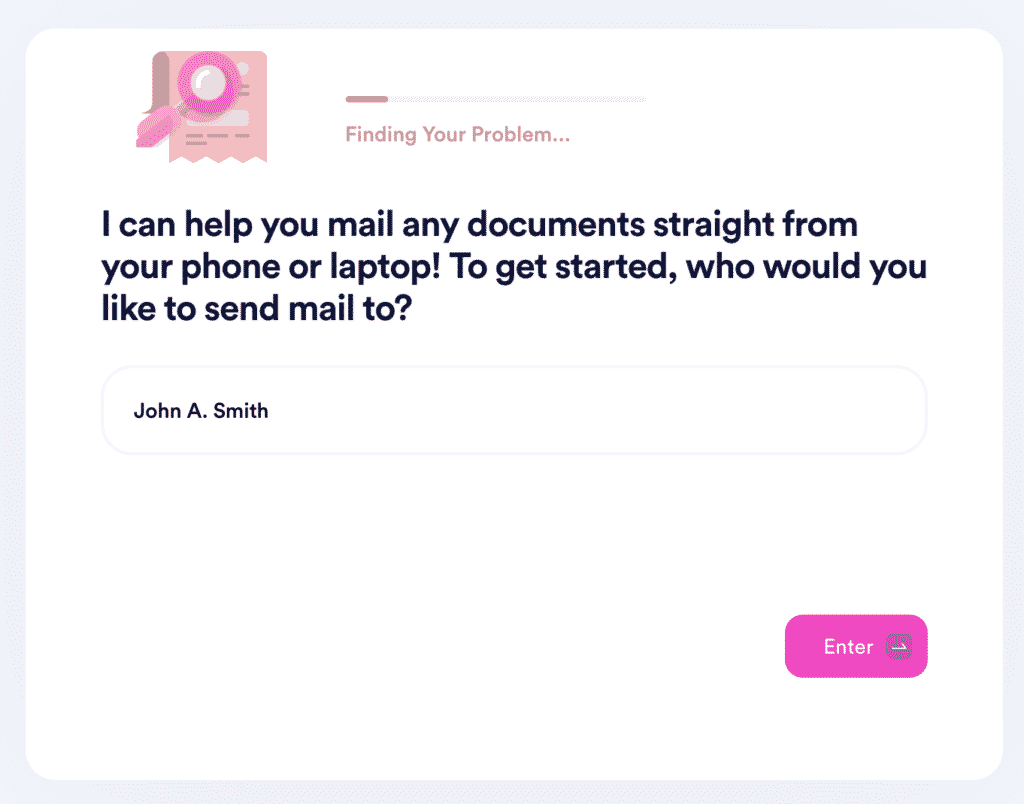 Get Rid of the Paperwork With DoNotPay
DoNotPay can help you send mail faster, but what else can you do with our app?
This digital assistant helps you manage all kinds of bureaucratic issues without ever leaving your couch. 
Our app helps you:
Money-Saving 101 With DoNotPay
Writing legal documents and solving various administrative issues is not the only help DoNotPay provides. 
Our award-winning app is the ultimate money-saving tool! Check out some of DoNotPay's useful tools:
Tool:
Description:

Virtual Credit Card

Sign up for any

free trial

without any risk of being charged when the trial period ends.

Our virtual credit card is not connected to your bank account, which means that there is the company cannot charge you for a full subscription

Connect With an Inmate

Our app helps you locate your friends or family members in prison, but we can do more than that.

You can send and receive letters from your incarcerated loved ones using only your phone or laptop

Chargeback Instantly

Get your money back from any company in a few clicks. Our app helps you bypass the company refusing to issue a refund and requests a chargeback directly from your bank

Missing Money

Do you know that you may have hundreds of dollars in unclaimed money to your name without even knowing it?

There are almost 60 billion dollars in the U.S. that are considered unclaimed, and some of that cash can be yours!

Find and claim your lost property with our app

College Fee Waiver

Get college application fees waived in a few clicks. 

Applying to any school comes with a lot of expenses, and if you're planning to apply for more than one college, the amount can go up to a few hundred dollars. Requesting fee waivers is easy with DoNotPay