How Much Does It Cost To Mail a Letter? Rely on DoNotPay To Find Out!
Answering questions such as "How much does it cost to mail a letter?" or "How many stamps do I need for a letter?" is far from easy. Many factors influence the price of sending a letter or package by snail mail, and this guide will tell you all about it. 
Besides providing valuable info, we can also make your written correspondence more enjoyable by enabling you to mail your letters online. 
What Influences the Cost of Mailing a Letter?
To determine the postage price for your letter, post office employees take these factors into account:
Mail class

—depending on how fast you want your letter to arrive at its destination and the type and size of mail you're sending, you can choose one of the following classes:

First Class Mail Letter

First Class Mail Flat

First Class Mail International Letter

Priority Mail 

Priority Mail Express 

First Class Package Service

Parcel Select Ground

The size and weight of the envelope

—the larger or heavier an envelope is, the more you'll have to pay for postage 

The shape of the envelope

—standard envelopes are rectangular, which means that unusually shaped envelopes can be more expensive to mail
How Much Does It Cost To Send a Letter?
The table below shows the prices of each letter mail class at the time of writing this article:
Mail Class
Dimensions/Delivery Time
Price

Postcard

Height—up to four inches 

Length—up to six inches 

Thickness—up to 0.016 inches 

$0.36

First Class Mail Letter 

Height—up to six inches

Length—up to 11.5 inches

Thickness—up to 0.25 inches 

Delivery time—two to three business days

$0.55 for one ounce

$0.20 for every additional ounce

From $1.20 for international letters

First Class Mail Flat 

Height—up to 12 inches

Length—up to 15 inches

Thickness—up to 0.75 inches

Delivery time—two to three business days

$1 for one ounce

$0.20 for every additional ounce

From $2.40 for international letters

Priority Mail 

Delivery time—one to three business days

$7.16 and up

Priority Mail Express 

Delivery time—the next business day (overnight shipping)

$22.75 and up
Why Do People Pay for Snail Mail When Emails Are Free?
Snail mail might not be expensive in most cases, but it's still not free like email correspondence. Even though emails and text messages are more convenient, so many people rely on postal mail even today for multiple reasons:
Nothing beats the excitement of writing a letter by hand, mailing it, and waiting for the response. Letters are more meaningful than emails, which is why most people turn to physical mail when they want to express their feelings

Relying on snail mail to send legal papers, business contracts, and personal documents that require signatures is easier than faxing for most people

Some institutions accept application or cancellation forms sent by snail mail only

Banks prefer snail mail because it's the safest solution for sending credit cards, bank records, and similar documents since email addresses can be easily hacked
Problems With Mailing 
Even if you love exchanging letters with your loved ones, you're probably annoyed by the entire mailing procedure. Addressing your letter correctly, purchasing stamps, heading over to the post office, and waiting in long lines can take a few hours, which can be frustrating. 
Why would you waste time sending a simple letter when you can subscribe to DoNotPay and allow us to take care of everything for you?
Don't Waste Time in the Post Office—DoNotPay Can Mail Letters for You
DoNotPay knows that queueing for hours is never pleasant, especially now during the pandemic. Use our Send Mail product and—instead of wasting hours going to the post office—mail your letters online in under five minutes.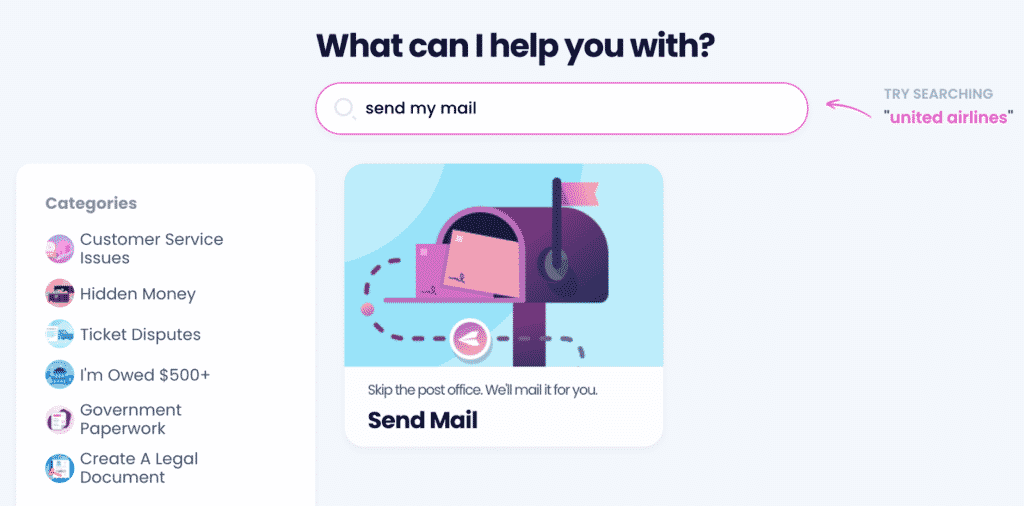 With our help, you can avoid crowded places and handle your mail safely from the comfort of your home. This is how you can use our app to send letters stress-free:
Pick our

Send Mail

product

Enter the recipient's name and address

Upload your letter in one of the following formats:
The recipient will get the letter within seven days. If you'd like to track your mail, you can do so through the My Disputes page on your DoNotPay account.
Not Sure How To Format Your Letter? Check Out Our Simple Guide!
If you're writing a letter for the first time, you might be confused and unsure of how to start, format, or finish it. In case you're writing a letter to a friend or family member, you don't have to worry about the rules. 
When it comes to formal letters, the situation is completely different. Here's how you should structure your resignations, job recommendations, and other formal letters:
Start each letter by writing your info, including your:

Name

Address 

City and ZIP code

Phone number

Email address

Include the date of writing

Write the recipient's name, title, company, and address

Use a formal greeting to begin your letter. Some of the common ways to address the recipient are:

Dear Mr./Ms. plus last name

Dear Hiring Manager

Dear Sir or Madam

To Whom It May Concern

In the first paragraph, you should mention the reason why you're writing the letter

Provide more explanation in the following paragraphs, but keep sentences short and clear

Conclude the letter by thanking the recipient (you can also ask for his or her answer)

Sign off by writing a formal closing, such as:

Kind regards

Yours Truly

Sincerely

Regards

Include your typed signature

Sign the letter by hand above the typed signature
DoNotPay Helps You Organize Your Day
Using DoNotPay to send letters in a more efficient way is only a fragment of what you can do with our app. 
Explore fascinating time-saving features DoNotPay offers.
You'll never have to spend ages navigating a phone tree to reach a customer service rep of some company. We do it all for you:
You will also never have to hire a lawyer to draft a legal doc or go out of your way to get it notarized! DoNotPay lets you draft, notarize, and fax any document using only your phone or laptop! 
Get That Money With DoNotPay!
Did you know that our app can locate any unclaimed money to your name (in any state) and help you claim it.
How else can DoNotPay help you get your hands on some cash? We can:
Avoid spending extra money and use our app to reduce your property taxes, dispute parking tickets, or sign up for free trials with our virtual credit card.