Dispute West Hollywood parking tickets and win every time

Do you think paying for your parking citation is easier and faster than disputing it? Think again! DoNotPay can contest any parking ticket in less than two minutes! According to Newsweek, our app has an astounding 73% success rate and has beaten hundreds of thousands of fines to date. Even if there are no grounds for overturning your ticket, we can still get your fine reduced. We make every dispute a win-win situation.
Contest your parking infringement with DoNotPay in less than 120 seconds

Contesting your parking ticket traditionally is a long, exhausting process that will probably take your whole day. With DoNotPay, you can dispute your citation in under two minutes. All it takes is four simple steps:
Open the app. You can access it in any

of your choice.

Answer our chatbot's questions about your violation

Attach a photo of your citation

The app will generate an appeal letter that you can also use as a script for your appeal. All you need to do is send it!
Watch how to dispute parking citations in any city
Will DoNotPay save me some time?

Preparing your parking ticket appeal can take hours, and sometimes days. When writing your appeal, you need to do thorough research on West Hollywood and California laws related to parking violations. If you don't do your research properly, you are likely to lose. You can easily forget to include some information that could be crucial for your case.
DoNotPay can save you all that time and effort. Our app will point out all loopholes that could get your ticket overturned and generate a letter that complies with California laws. Then, you just have to send the generated letter and wait several days for an answer. If your ticket doesn't get dismissed, you have a right to an Administrative Hearing, where you can use the letter as a script.
There's no reason for you to spend so much time working on your case. Our app will do all the hard work for you in only a couple of minutes.
Can DoNotPay help me fight tickets issued by private companies?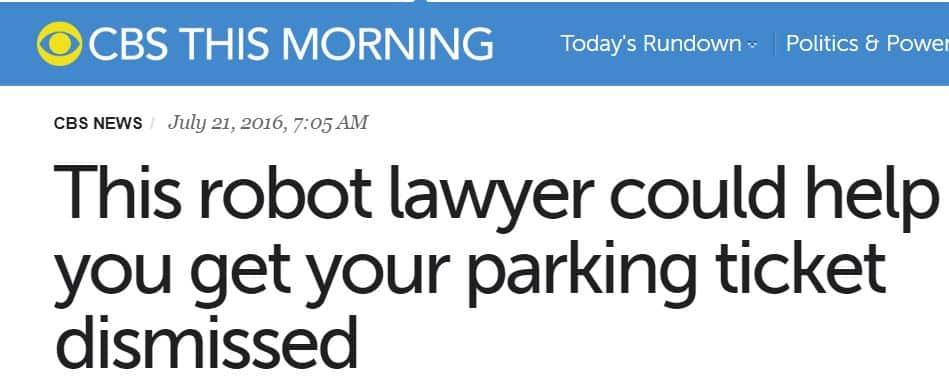 Yes, it can. DoNotPay can fight any ticket, no matter who issued it. With DoNotPay, you can contest citations issued by all private companies, including:
Towne Park

Lanier Parking

Imperial Parking, aka Impark

ABM Parking Services

Laz Parking

SP+, aka Standard Parking

Ace Parking
How much does the city of West Hollywood earn from parking tickets?
WeHo parking tickets range from $23 to $300, based on the severity of your violation. The city's annual revenue from parking tickets is around $8,5 million. WeHo gets to keep only $3.5 million, while the rest of the money is spent on parking enforcement and similar services.
Do I have to hire an attorney to dispute my citation?

No, you don't need to hire a lawyer to win a parking citation dispute. The process is simple enough to do it without a legal representative. If having a lawyer would make you feel more confident, make sure to do thorough research and spend at least a couple of days selecting the right candidate before hiring anyone. Here are some things you should do:
Look up lawyers with experience in battling parking infringements.

You don't want someone who has no idea what they are doing.

Run background checks on all candidates

. Check their credentials and prices. We also recommend digging up their clients' online reviews.

Watch out for scammers.

West Hollywood is full of con men who might take an advance payment and disappear.

Interview each candidate

to see who is the right fit for you and your case.

Consider the costs

. You don't want to pay a lawyer's services more than you will gain from the hearing.
How much would I have to spend on a parking ticket lawyer?

Lawyers charge based on their reputation and experience. Prices are usually between $200 and $1000, although an attorney with a stellar reputation could ask for much more. Having in mind that most fines cost less than lawyers, hiring a legal aid probably won't be profitable.
If you want to save money and not waste it, don't hire a lawyer. Instead, you can contest your ticket with our robot lawyer, DoNotPay.
Is disputing tickets in West Hollywood worth it?
Definitely! There is no reason for you to spend money on parking tickets when we can help you overturn them in such a short time. Even if you did make a parking violation, you could get a reduction of the fine with our help. You can read about some experiences on this Reddit thread.
The reason many drivers avoid disputing the tickets is that they think there's no ground for ticket dismissal. Our app, however, will go through the county's laws and identify circumstances and factual errors that could make the ticket invalid. Here are some examples:
You weren't the one driving the car when the violation happened

You weren't the owner of the car at the time of the violation

The handwriting on the ticket is illegible

The street sign paint is faded

The parking regulations in the street are unclear or contradictory

Any of this information on the ticket is incorrect or missing:

The license plate number

Time and date

Precise location (street, city, county, and state)

Type and make of the vehicle

Model and year of the vehicle

Registration status of the vehicle

Color of the vehicle
How can I pay the parking fine?
Disputing your ticket will yield results almost every time. Still, it is possible to lose the case, and the only thing you can do is pay the fine. The city of West Hollywood offers several options when it comes to payments:
Online payment:

this is the most convenient method. You can use your Visa, American Express, or Mastercard.

Credit card payment over the phone:

dial 1 (800) 687-2458 and follow the instructions.

Payment by mail:

when sending your payment, you can use personal checks, cashier's checks, and money orders. Cash and credit card numbers won't be accepted. Send your payment to this address: City of West Hollywood, P.O. Box 51852, Los Angeles, CA 90051-6152.

In-person payment

: if you need a receipt, paying in-person is your best option. Credit cards are not accepted. You can pay your fine on this address: West Los Angeles Service Center, 1575 Westwood Blvd, Suite 100 B, Los Angeles, CA 90024
Paying the fine has advantages only if you've lost your case. Don't waste your money on parking tickets. Dispute them with DoNotPay instead!
Pay or dispute?
Ease
Time it takes
Cost
Benefits
Dispute

Super easy if you use DoNotPay

Traditionally: hours;

With DoNotPay: two minutes

With DoNotPay, your costs are $0!

You will save both your time and money

Pay

Online: easy;

Other methods: quite complicated

By mail: several days;

In-person: several hours;

By phone or online: around 15 minutes

Much more than you want to spend

No advantages come with paying. Do it only if you lose the case
Will my parking violations go on my driving record?
Unlike speeding and traffic tickets, parking tickets will not be seen on your records. Although they won't bring you any penal points, they do come with several unpleasant consequences. If you have several unpaid fines, DMV will be notified and cause you some trouble.
Do I have to pay for the ticket if I don't live in West Hollywood?
Yes, you are liable for your parking tickets even if you don't live in the city or state that issued it. Leaving the state won't help as your ticket will be sent to your home address. You will have to pay the fine or suffer the consequences based on the laws of the state where the parking violation happened. Fortunately, you can dispute the ticket remotely with DoNotPay.
Do I need to pay the fine if I was driving a rental car?
Yes, you are responsible for every parking violation you make, including those received while driving a rental. Rental car companies, such as Turo, demand that their customers obey the law. If you get a citation and return the car without paying it, the company will pay the ticket for you. Then, they will charge your credit card to cover the costs, including additional administrative expenses.
I can't get a parking ticket if I'm inside the car, right?
Wrong! You will get a ticket. Even if you're sitting behind the wheel (or any other seat in the car), stopping your car in a forbidden spot is considered a parking violation. If you're inside the car, you can ask the officer to let you go without a ticket, provided that you move the vehicle at once. Don't try to run away — if they have your plate number, you will get a ticket on your home address. You can read more about this topic on this Quora thread.
What's the worst thing that could happen if I don't pay the fine?
Unfortunately, parking tickets don't have an expiry date. You can't just ignore them and hope they will disappear eventually. In West Hollywood, you are allowed 21 days to pay the fine. If you do not make a payment in the allotted period, you will suffer several consequences. If you pile up several unpaid tickets, the repercussions will get more severe. Here is what is likely to happen if you don't pay your fines on time:
Your fine will increase. You will have to pay late penalties and the amount will eventually double or even triple.

After six months, your case will be transferred to the collection agency

You won't be able to register your car

You won't be able to renew your driver's license

Your credit score will be affected
There's no reason why you should let all this happen. Instead of wasting your time and effort, use DoNotPay to dispute your parking infringement.
Can tickets cause an increase in my insurance rates?
Car insurance companies, such as EZ Center, take into consideration only the violations that are shown on your driving record. As parking tickets are not among them, they will not increase your insurance rate. But that doesn't mean they cannot affect your insurance at all. If the DMV doesn't renew your car registration or driver's license because of unpaid tickets, your insurance company will probably refuse to renew your policy.
DoNotPay helps users fight and beat tickets in any city
DoNotPay helps users fight parking tickets in every city in the US and UK. Here are a few cities we've helped users dispute the most tickets in:
Keep Your Money Safe With DoNotPay
Don't let greedy companies threaten your consumer rights by holding back refunds, refusing to cancel your subscriptions, or charging you after your free trial ends.
DoNotPay helps you try out different services without providing your credit card info or phone number—you will never again have to deal with unexpected post free trial charges!
Our app also helps you avoid paying unnecessary parking tickets, delay challenging bills, or waive your college application fees.
If any company refuses to issue you a refund or an airline won't compensate for canceled flights, we can help you sue them in small claims court.
DoNotPay Is a Time-Saving App
How many customer service reps do you have to deal with only to file an insurance claim or book your DMV appointment?
DoNotPay helps you sort out these tasks and much more in only a few clicks.
Get your revenge on robocallers, report text scammers, find validated clinical trials, claim your warranties, get in touch with your loved ones in prison, and protect your creative content—all in less than five minutes.
No more hours-long phone calls, emails, or in-person visits.
We cover everything from freeing your inbox from spam to providing excellent prep tests for government exams! Save time with your all-in-one app!
To Summarize:
| | |
| --- | --- |
| What is DoNotPay? | DoNotPay is a robot lawyer that has beaten hundreds of thousands of parking tickets so far |
| How can I dispute a ticket in less than two minutes? | Open DoNotPay, answer several questions and send the letter we make for you |
| Will DoNotPay save me some time? | Yes! It will save you a lot of time and even more effort |
| Can DoNotPay help me dispute infringements from private companies? | Yes, it can |
| How much does WeHo earn from parking tickets? | The city receives around $8.5 million every year |
| Do I need to get a lawyer? | No, there's no need for that |
| How much do parking violation lawyers cost? | $200–$1000 |
| Is disputing worth the trouble? | Every time! You have only to gain and nothing to lose |
| How can I pay the parking infringement? | Online, by mail, in-person, or through the phone |
| Do I have to pay if I don't live in WeHo? | Yes, you do |
| What if I was driving a rental car? | Yes, unless you want to pay even more money later |
| Can I get a parking ticket while inside the car? | Of course |
| What if I don't want to pay for the ticket? | You can dispute it! Otherwise, the fine will get bigger, and you will have all sorts of issues with DMV |
| Can my insurance go up? | If you contest or pay the fine, it can't |
| What else can DoNotPay do for me? | Help you reach customer service reps, beat traffic and speeding tickets, and many other super useful things |